Schumi on surprising Valencia podium
June, 27, 2012
06/27/12
3:31
PM ET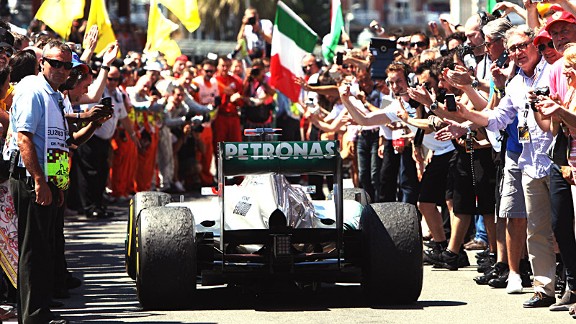 Ker Robertson/Getty ImagesIt had been a very long time since Michael Schumacher had drawn applause for a podium finish.
The opening laps in Valencia suggested that this year's version would be similar to recent editions on the street circuit.
Sebastian Vettel looked to be in complete control as he opened up a commanding lead, but mechanical gremlins ultimately ended his run early, opening the door for the competition.
Fernando Alonso took full advantage, to the delight of the home-country crowd, and collected a remarkable victory after starting 11th on the grid.
Aside from his memorable and controversial victory in Singapore in 2008, it was his worst starting position in an event he went on to win.
In addition, his victory earlier this year in Malaysia saw him start eighth, meaning he has been forced to make up some serious ground en route to his two wins this season.
Alonso has done an incredible job this season of pushing his car to the limits, but Ferrari still has plenty of room for improvement, as he told reporters after Valencia.
"It's true that we believe and we will never give up, we will have confidence in ourselves and we will arrive with optimism at every grand prix we go to," he said. "But at the same time, apart from winning today or finishing sixth today, we know that we are not in the position that we want to be and there are a few cars quicker than us and we cannot be blind to that.
"We need to work."
Red Bull still appears to have the quickest car lately, but Vettel now finds himself 26 points behind championship leader Alonso. That gap can certainly be closed, as Vettel eliminated a 19-point deficit in 2010 after eight rounds to win the championship, but it is a surprising position for him this far into the season.
Vettel was certainly not the only driver to suffer misfortune in Valencia, as Romain Grosjean also became a casualty of his Renault power plant. When Lewis Hamilton crashed late, it allowed for Michael Schumacher to score his first podium with Mercedes.
In what has been a very tough year, it was a standout result, and it marked the first time in nearly 2,100 days that Schumacher had reached the podium.
It was a finish that surprised many, as Schumacher found himself outside of the points with fewer than 20 laps remaining. It surprised even the driver himself, as he detailed to reporters.
"I didn't actually think about a podium at all at the end of the race," he said. "It was crossing the line that I asked my guys 'where did we finish?' I saw [Mark] Webber's pit board and close to the end it showed him eighth and seventh, and I knew I was one place ahead of that one. And then the boys told me 'that's third, that's podium.'
I can't believe that! It's something I didn't really expect."
Sure, he was on fresher tires than many other drivers, but he did a great job of dicing through the field. When several front-runners ran into trouble, he was able to secure an impressive day.
What's more, this season has now seen 11 different drivers on the podium, more than the previous two seasons combined. That's a pretty clear indication of just how varied this year has been, even when compared to a very thrilling 2010 season.
As the F1 calendar moves on, a storyline to watch next time out will be Vettel's pursuit of a 34th-career pole. It is a significant milestone, as it will give him sole possession of third place on the all-time pole ranks behind only Schumacher and Ayrton Senna.