Category archive:

Tony Stewart
December, 3, 2012
12/03/12
9:51
AM ET
LAS VEGAS -- Brad Keselowski met Jim Hunter only two or three times. He didn't know much about the longtime NASCAR executive when he died of cancer in October 2010, leaving a void in the sport that still hasn't been filled.
So when Tony Stewart said during Friday night's Sprint Cup banquet that Hunter would be proud of Keselowski, that he would like his style, the 28-year-old from Michigan may not have known exactly what he meant.
Those of us who knew Hunter did.
It was perhaps the highest praise the three-time champion or anybody in the sport could have given NASCAR's newest champion.
Here's what he meant:
"I don't think Brad's learned to be cautious yet,'' Stewart said backstage during the nationally televised event from the Las Vegas Wynn. "Hopefully, that won't bite him like it has a lot of drivers in the past.
[+] Enlarge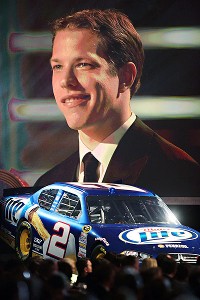 John Gurzinski/Getty ImagesTony Stewart on 2012 Sprint Cup champion Brad Keselowski, above: "It's nice to see somebody who speaks form the heart and isn't guarded when he speaks. That's the way all of us should be."
"It's refreshing. It's nice to see somebody who speaks form the heart and isn't guarded when he speaks. That's the way all of us should be.''
That's the way Hunter wanted drivers in the sport to be. He worked behind the scenes in ways many never will know to make sure the competitors didn't lose sight of who they were amid the politics of rules and sponsors that often tainted their views.
That made them change.
He didn't always succeed, but he fought relentlessly for the personalities who made the sport what it is today.
"Jim was always so good at putting into perspective and taking back to NASCAR and explaining to them that you really weren't a complete jackass,'' Kevin Harvick said. "He was 'always be yourself, express yourself.' ''
Stewart and Harvick knew Hunter about as well as any driver. They admittedly wouldn't be in the sport if it weren't for his guidance and support at times when they appeared on the path of self-destruction.
So when Stewart brought up his name in the midst of the mandatory thanks to sponsors and congratulations to the new champion, it struck a chord.
Hunter understood better than most that what took NASCAR to the national level wasn't necessarily the competition on the track. He understood it was the personalities of the drivers.
He also understood corporate America and intense attention from the media sometimes makes the competitors guarded, afraid to be themselves for fear of offending a sponsor paying millions to put them on the track.
Keselowski personifies what Hunter wanted. His 12-minute, unscripted speech captured everything many of us have been telling you about him for several years.
It was honest.
It was humble.
It was spoken in a way that made everyone in the room of about 1,500 industry people realize everyone is responsible for the future of the sport.
And it came at the ideal time with the sport at a turning point with the introduction of the new car that has raised expectations for the future.
"As we look into '13, I hope as a sport we can continue to find common ground to unify," Keselowski said as though he were speaking to a room full of Republicans and Democrats in Congress. "We have some of the smartest people that can solve any problem. As a champion, I want to be your leader, and I want to help you make it happen."
It was a serious moment, but not an unexpected moment for one who has entertained us all year through Twitter and other social media outlets. Amid the pranks of drivers running up a huge tab on his hotel suite, of filling him up with shots of liquor while they unknowingly to him drank soft drinks, this week has been about unification and representation for Keselowski.
Although his voice was almost gone from all the parties and late nights, that he wants what's best for the sport could be heard loud and clear.
"I know he's enjoying the heck out of himself, and I'm proud of him for how he's handled himself,'' four-time champion Jeff Gordon said. "We've thrown everything at him, let me tell you. And some have thrown more than that at him, and he's stepped up like a pro.
"He's going to make a great champion. It's great to see a young guy like him enjoying the moment the way he is. He's got a great appreciation for the sport to be able to respect where he is as well."
Stewart's message said it all:
Don't change.
Stewart has scars from feeling he was burned by things he's done and said over the years. They are scars Hunter helped heal before he passed. They are scars he hopes Keselowski doesn't have to deal with, because he understands -- as he believes Hunter would -- that this new champion is good for the sport.
"To be perfectly honest, I hope you guys continue to treat him the way you are now,'' Stewart told reporters in an almost sermon-like tone. "That gives him that opportunity to be that way.
"I'm so scared that at some point somebody is going to turn on him and it goes downhill from there. But I'm proud to see you guys give him the chance to be open like he is.''
As funny as banquet host Howie Mandel was with cracks about Gordon taking him out in the hotel's massive corridors, as much as we all agreed with Clint Bowyer that our job is done for this season and "my a-- is clocking out,'' that is what we should take away from the banquet.
That is what we should take from the season that appropriately began with its champion-to-be tweeting from the track during a red-flag situation.
Yes, Hunter would love Keselowski's style.
September, 18, 2012
09/18/12
5:11
PM ET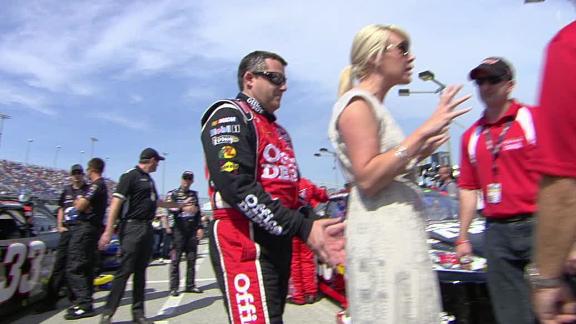 Tony Stewart Caught On Tape
CONCORD, N.C. -- Had Jimmie Johnson, Jeff Gordon or practically any other driver in the Sprint Cup garage been caught on video grabbing the rear end of a fellow driver's wife during prerace festivities, we would be jaw-dropping shocked.
Tony Stewart does it and it's defended as normal.
Expected.
Accepted.
"It's good for me, at least," Stewart joked on Tuesday at Charlotte Motor Speedway.
Stewart's two-handed goose of DeLana Harvick before Sunday's Chase opener at Chicagoland Speedway has been huge in terms of Internet traffic. The video went viral, appearing on "CNN Headline News" among other major news outlets. It was all over Twitter with the hashtag #sneakyassgrabber.
Stewart spent more time Tuesday answering questions about the video than the Wounded Warrior Project that he was at CMS to promote for the October race. He reminded us he'd been goosing DeLana for years for good luck and it wasn't intended to be offensive at all.
As far as I know, there hasn't been any outcry from women's rights organizations.
Told the video got more attention than Brad Keselowski winning Sunday's Chase opener, the three-time champion said, "That's pathetic."
It speaks volumes about the society we live in.
It also speaks volumes about Stewart. Whether he's winning a race, knocking a tape recorder out of a reporter's hand or goosing a good friend's wife, he gets attention.
"Anything I do gets that attention, which still amazes me," Stewart said. "I guess it's a compliment."
It's why Stewart is one of the most marketable drivers in NASCAR behind Dale Earnhardt Jr., why he really shouldn't be all that worried about losing primary sponsor Office Depot for 22 races in 2013.
Like Earnhardt, who revealed this past weekend he has more demand than he can supply for spots on his car despite Diet Mountain Dew reducing its involvement next year, sponsors come to Stewart.
The three-time champion doesn't spend his down time cold-calling companies to see if they want to be on the side of his No. 14 Chevrolet. He has a marketing team that handles that. He usually doesn't get involved until the end to close the deal.
When it comes to sponsors, Stewart's personality is charming and appealing. They come to him because they know people will pay attention when he pushes their product just like they pay attention when he grabs a rear end.
And he wins.
It's why Bass Pro Shop reportedly will jump from Jamie McMurray's Earnhardt Ganassi Racing car to Stewart's in 2013 even though the sponsor appeared headed back to EGR before inventory on the 14 became available.
"Smoke" draws attention, and sponsors love that. It's why Gene Haas in 2008 basically gave Stewart half of his organization to drive for him.
Stewart immediately brought on Office Depot and Mobil 1.
"That's the whole point in having us a part of the team ownership," Stewart said. "There's nobody going to give half their team away just for the heck of it. That's part of the draw of us being a car owner is hopefully helping draw sponsorship."
Stewart would much rather be known for grabbing up sponsors, wins and championships than the rear end of a driver's wife.
But if there is one driver that can get away with the latter, it's Stewart.
May, 17, 2012
05/17/12
1:02
PM ET
CONCORD, N.C. -- Here's what was learned at Tony Stewart's news conference Tuesday to promote the eighth annual Prelude to the Dream charity race on June 6 at Eldora Speedway:
• Stewart wants to keep Ryan Newman, whose contract is up at Stewart-Haas Racing after this season, in 2013. It all hinges on sponsorship, but if that can be found SHR will have Stewart, Newman and Danica Patrick next season.
This came on the heels of a report that Newman was given permission to look for options if sponsorship isn't found.
"Obviously, we're working on the sponsorship to make sure we have the funding to keep that going," Stewart said of Newman's No. 39 team. "I have every intention of keeping him for next year. I like him as a teammate. He's been somebody from day one that believes in what we're doing.
"He can still win a lot of races. I think he can still win a championship with us. I have every intention of hiring him back for next year."
• Stewart and Darrell Waltrip called Danica Patrick's 31st-place showing in the Sprint Cup race and 12th-place finish in the Nationwide race one of the best first-time attempts they've seen at Darlington Raceway.
"She showed maturity that a lot of drivers don't show the first time at Darlington," Stewart said. "It's hard to not make a mistake at Darlington. She ran about 600 laps and only had a couple of places where she got herself in trouble. I thought she showed her worth there, and I think she showed her talent level."
• As successful at Stewart's charity event has been -- this year it benefits the Feed the Children program -- the three-time Cup champion would do anything to have Dale Earnhardt Jr. participate.
"If he called in the next 30 minutes, I'd have him a car in the next 35," Stewart said.
Earnhardt's standing reason for not participating is he doesn't like to compete on dirt. But if Patrick can give it a whirl, you'd think NASCAR's most popular driver could.
"The Prelude has always been an example of showing people why these drivers got to the level they are, because they really do pick it up real quick," Stewart said.
• Remember when Stewart went on his sarcastic tirade about not wrecking enough cars at Talladega? Well, he really doesn't like wrecking cars, particularly at Eldora.
Apparently, there is a $2,000 crash clause he has to pay to cover the expenses of each car damaged. That could reach more than $50,000 if the entire field crashed.
"You can't expect guys to bring nice race cars like that and not do something," said Stewart, who had to pay $10,000 one year. "I don't usually think about it until after the race. Then I cringe."
• Drivers scheduled to compete in the Prelude include Stewart, Patrick, Newman, Jimmie Johnson, Clint Bowyer, Kasey Kahne, Bobby Labonte, Kurt Busch, Kyle Busch, Austin Dillon, Ty Dillon, Steve Kinser, Donny Schatz, Cruz Pedregon, Ron Capps and Tony Kanaan.
In case you aren't aware, Feed the Children is a U.S.-based charity that has helped more than 365,000 families since 2009 through its Americans Feeding Americans Caravan.
December, 3, 2011
12/03/11
9:12
PM ET
LAS VEGAS -- If you missed the start of Friday night's Sprint Cup banquet at the Wynn Las Vegas, you missed one of the funnier moments of the week, one of the funnier moments of any celebration involving NASCAR's champion.
If you missed the start, you missed one of the best examples of why Tony Stewart is great for the sport.
[+] Enlarge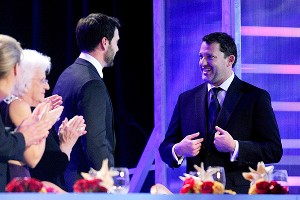 Ethan Miller/Getty ImagesFive-time champ Jimmie Johnson, left, caused an uproar when he walked onstage and to the head table when the Sprint Cup champion was introduced.
On a night that was supposed to be all about him, a night of pomp and ceremony, Stewart convinced Jimmie Johnson to walk out on the stage and go to the head table when the champion was introduced -- just like Johnson had the past five years when he actually won the title.
The look of confusion on Johnson's face was priceless.
The reaction of the crowd was priceless.
It happened because Stewart was more interested in entertaining and collecting a good laugh than he was wrapped up in himself like you might see others be. Had NASCAR not called the three-time champion to the Vegas "hauler" before the event, it would have been funnier.
It would have been funnier than Jeff Gordon break-dancing a day earlier at the After The Lap event.
"I had an Elvis suit I was going to throw on and come out with," Stewart said afterward. "[NASCAR chairman] Brian [France] thought that might be a little too risky for an awards ceremony."
Stewart is all about risk. He took a huge risk when he left the comforts of Joe Gibbs Racing after the 2008 season to become the owner/driver for Stewart-Haas Racing. He took huge risks all race in the season finale at Homestead-Miami Speedway, going three- and four-wide to make passes to get to the front for the win he would need to steal the title from Carl Edwards.
Had NASCAR's chairman not vetoed the Elvis costume, who knows how many more risks we would have seen at the banquet?
"He told me he only got to do about half of what he wanted to do," Johnson said.
It was a fun ending to a fun championship run, one that began at the onset of the Chase with a struggling Stewart saying he would be a "total bumbling idiot" if he took home the title.
During his speech Friday night, Stewart reminded us that he wasn't married like many champions, but that he had a hot date in the elderly mother of SHR co-owner Gene Haas, adding, "I like cougars."
He took several shots at the length of Edwards' second-place acceptance speech -- just shy of 10 minutes -- in which the runner-up thanked everyone but the banquet room help.
"I fight hard in the race car every week," said Stewart, who had to fight for five wins in the 10 Chase races to beat Edwards in a tiebreaker. "We like to have a good time. I'm looking forward to finally going home and have fun with my friends."
Which will include?
"A lot of pool. A lot of Schlitz. I'm sure there is a deer that is going to be pretty upset over the next few days, too," Stewart said as he anticipated his return to Columbus, Ind.
Naturally.
Stewart as champion will be great for the sport. That he doesn't take himself too seriously as we saw on Friday will endear him to many fans.
"This year, I've never seen a more laid-back and happy Tony Stewart in the Chase," said Ryan Newman, Stewart's teammate. "Before that, he was an emotional wreck. He was struggling."
The only thing Stewart struggled with on Friday was convincing NASCAR to let him have more fun with his wild ideas.
"Getting called to the [NASCAR] trailer after the season for doing something stupid didn't seem right," Stewart said. "I thought I'd better end this all on a good note."
He did.
January, 18, 2011
01/18/11
10:00
AM ET
Several of you have suggested in the past 48 hours that Tony Stewart is the only Sprint Cup team owner in NASCAR who would allow himself to get involved in a fight like the one that reportedly occurred Saturday in Australia.
You're right.
Rick Hendrick wouldn't get into a physical confrontation with a track owner as Stewart reportedly did with Sydney Speedway co-owner Brett Morris over track conditions. Joe Gibbs certainly wouldn't. Neither would Jack Roush, Richard Childress or Michael Waltrip.
But none of those other owners still climbs behind the wheel of a race car -- whether it's a Cup car in which Stewart is a two-time champion or a sprint car like the one that took Stewart to Australia -- on a weekly basis.
Stewart does. He's constantly dealing with the heated emotions one faces on the track, the anger that will make a relatively level-headed driver such as Jeff Gordon go after an equally level-headed driver such as Jeff Burton, as occurred last season at Texas Motor Speedway.
So although many of you were outraged that Stewart reportedly lost his cool Down Under, you shouldn't be surprised if the media reports are true.
Maybe you simply were lulled into believing that Stewart had mellowed, as many of us wrote -- guilty as charged -- since he took over Stewart-Haas Racing after the 2008 season. In truth, there still are two Stewarts, as there always have been: the owner who can charm the money out of a sponsor and the competitor who can lose his cool in the heat of the moment.
Stewart's list of off-track incidents as a driver is longer than most. There was the 2002 shoving of a photographer at Indianapolis Motor Speedway and the 2008 shoving of a USAC official at O'Reilly Raceway Park in Indianapolis, to name a couple. Goodyear officials have left many a track feeling they've had Stewart's footprint on their backsides over tire issues.
What happened in Australia isn't much different other than that this one reportedly got Stewart a black eye after he allegedly hit Morris in the face with a racing helmet. No charges were filed.
Stewart fans will think this is great, that he'll channel this anger into the 2011 Cup championship.
Stewart haters will think this is inexcusable.
If all happened as reports indicate they did, it is simply Stewart being Stewart.
You're right. Stewart isn't like other owners. But that's not necessarily a bad thing.
October, 14, 2010
10/14/10
6:17
PM ET
CONCORD, N.C. -- Ticktock, ticktock.
The first practice at Charlotte Motor Speedway was under way on Thursday and Tony Stewart's car sat idle in the garage.
Ticktock, ticktock.
Apparently, the two-time Sprint Cup champion was caught in interstate traffic because he didn't realize one of the back roads was closed.
Ticktock, ticktock.
Four-time defending champion Jimmie Johnson, Carl Edwards, Jeff Gordon -- heck, most of the field -- were back from their first run and still no Stewart.
Ticktock, ticktock.
Stewart finally ran into the garage, smiled sheepishly at his crew and crawled behind the wheel of his No. 14 Chevrolet. He took a minute or so to get his equipment in place and then took off eight minutes late.
We don't often think of drivers as having the same problems as us. If they run into traffic, there has to be a helicopter around the corner waiting to save them. If they run out of gas, there's a truck nearby ready to fill the tank.
But when you really get to know these guys, you understand they make the same silly mistakes we do. Heck, Johnson thought the series went to Talladega next weekend instead of Martinsville.
"I just get on a plane, and where it drops me off, I get off," Johnson said when asked if he really didn't realize what venue was next on the schedule.
Stewart probably wished he had a helicopter when he was sitting in traffic, but it turned out to be no big deal. After a slow start, he finished sixth in practice and was in a good mood by the time he got to us, which doesn't happen all the time.
"I'm pretty sure since we're sixth on the board we're all right," Stewart said.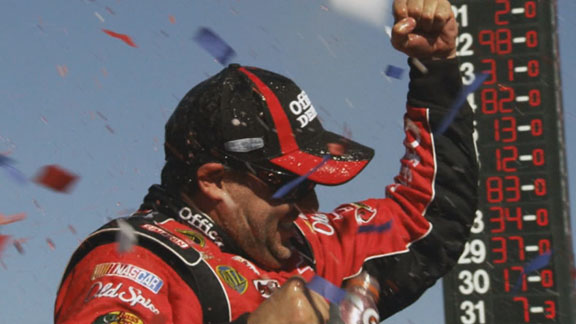 October, 12, 2010
10/12/10
4:27
PM ET
CONCORD, N.C. -- Tony Stewart was talking about his new sponsorship deal with Mobil 1 on Tuesday when he was asked if the lubricant could have helped him save enough fuel to make it another lap and a half around New Hampshire Motor Speedway.
"That's a good question," said Stewart, who uses Quaker State. "In all honesty, I'm sure they probably could. It would have been nice to have that high-tech technology a few weeks ago. The good thing is, if we get in that situation next year, maybe we'll make it."
Arguably the biggest decision in the Chase thus far was crew chief Darian Grubb's call to gamble on fuel in the Chase opener at Loudon.
Had Stewart made it the final two laps and collected the full 190 points for the victory instead of the 96 he got for finishing 24th, the two-time Sprint Cup champion would be 13 points behind Jimmie Johnson instead of 107.
Or if he'd just come in for a splash-and-go and collected a top-10, he would be in a much better situation.
But he didn't, and he's not looking back.
"I still, to this day, stand behind Darian's decision," Stewart said. "I just didn't know how grave the situation was, and I didn't do a good enough job on my part driving the car and saving fuel.
"So it was 100 percent my fault."
Stewart wasn't blowing smoke, no pun intended. Moments before the media conference at Stewart-Haas Racing to introduce Mobil 1, he told everyone in a team meeting "I would rather lose five spots again trying to win the championship than I would saying, 'Hey, this is good enough.' "
Of all the competitors Johnson should fear the most over the final six races, Stewart may be the guy. He's the only driver between his position in fifth and Johnson who has won a title under the Chase format. He understands what it takes and isn't about to panic.
He also has the comfort of knowing his cars are performing as well, maybe better, as any other outside of the 48 camp coming off a win at California and a fourth the week before when he led a race-high 76 laps.
Plus, Stewart is having fun, and anybody who knows him knows he's most dangerous when he's smiling.
"Staying on kill," Stewart said. "Staying on kill."
Stewart has a ways to go. He'll probably need Johnson and the others to have a bad race to truly get back into this thing, so he's not quite in the "here, kitty, kitty" mode we hear over the radio when he's chasing down the leader in a race.
"We'll wait until Homestead for that, hopefully," Stewart said.
Don't be surprised if you do.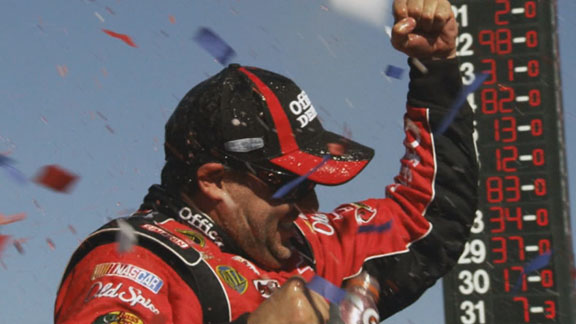 August, 4, 2010
08/04/10
1:43
PM ET
CHARLOTTE, N.C. -- Tony Stewart was having one of his be-cute-and-difficult moments with the media Friday at Pocono Raceway when asked if he noticed Jimmie Johnson's qualifying speed didn't mesh with his practice laps.
"You got to remember, everything doesn't revolve around Jimmie Johnson," Stewart said smugly.
Kurt Busch apparently thinks it does.
Or at least he thinks Johnson thinks it.
When asked about the wreck between him and Johnson that triggered Elliott Sadler's horrific crash, Busch responded, "Got wrecked on the straightaway. Jimmie drove straight through us."
Keep an eye on this one as they head to Watkins Glen. Busch and the four-time defending Sprint Cup champion got into it last year on the road course at Sonoma and had a bumper exchange battling for the lead at New Hampshire in June.
They talked through those, but Busch didn't seem all that interested in mediation as he left the Pocono infield medical center.
"Kurt is not very fond of me, never has been, so I think whenever he has a chance to take a shot at me, he'll probably do so," Johnson said Sunday. "But [it was] certainly nothing intentional, and if he'd like to talk, I'd be more than willing to talk about it."
Stay tuned.
• Speaking of two people who need to talk, did you hear the radio chatter Sunday between Juan Pablo Montoya and crew chief Brian Pattie during a late rain delay after a four-tire pit stop?
Pattie felt Montoya wasn't quite sharp on that stop and at least one other, so he radioed that Montoya was going to come to Charlotte to practice pit stops. Montoya responded, "Screw you!"
When another voice came over the radio and asked Montoya to calm down, the fiery Colombian-born driver yelled, "Calm down my a--. This is bull----. It's always the same crap."
Montoya muttered something about how taking four tires was a mistake -- again -- apparently referring to the previous week at Indianapolis when a late four-tire stop ended a dominating performance.
Stay tuned.
• Jeff Gordon on his first race with new spotter Jeff Dickerson: "I thought he did a great job. He gave me all the right information that I needed on the restarts. I mean, we had a solid day as a team. Overall, I thought we had a really, really solid day."
Dickerson was Kyle Busch's Camping World Truck Series crew chief and business partner, but after Dickerson made it clear he had different plans for 2011, the two parted. Gordon's crew chief, Steve Letarte, quickly snatched Dickerson up, calling him one of the best spotters in the garage and a potential difference-maker in putting Gordon back in Victory Lane.
Asked if Dickerson could help Gordon win races, Busch said, "I don't think a spotter can help you win races. I mean, restrictor-plate track, yeah, I think there's some help there. Keeping you out of messes and keeping you out of the wrong lane and stuff like that. Places like [Pocono], it's not going to help Jeff Gordon go to Victory Lane."
Stay tuned.
February, 25, 2010
02/25/10
4:39
PM ET
A fan called the Las Vegas Motor Speedway ticket office recently with a single focus: "I want tickets to that Danica race."
Not the Nationwide Series race.
Not the Saturday NASCAR race at LVMS.
The Danica race.
"He didn't ask what time it starts or how much tickets were," said Jeff Motley, the public relations director at LVMS. "He just said, 'that Danica race.' That gives you an indication of the impact she's had here."
The she -- if not obvious -- is Danica Patrick. Although a 30-to-1 longshot to win Saturday's Nationwide race in Sin City, her last before taking a four-month break to focus on the IndyCar Series, she already is a winner in NASCAR.
At least she is in terms of marketing, television ratings and ticket sales.
First marketing. Dale Earnhardt Jr., Jeff Gordon and Tony Stewart hold down the top three spots in trackside merchandise sales, but Patrick ranks among the top five. That, according to those who follow such trends, is unheard of, particularly for a part-time Nationwide driver.
If you ranked Patrick on single-trailer sales -- Earnhardt, Gordon and Stewart have multiple trackside trailers compared to one for Patrick -- she'd be first.
Studies indicate Patrick is resonating fairly equally with males and females, as well as young and old NASCAR fans. Both are good signs for a sport yearning to branch out beyond its traditional borders.
This shouldn't come as a surprise. Before Patrick climbed into a stock car, the Davie Brown Index that measures a celebrity's ability to influence brand affinity and consumer purchase intent had Patrick tied for third in NASCAR with seven-time Sprint Cup champion Richard Petty.
Gordon and Earnhardt held the top two spots.
In terms of consumer likability, Patrick ranked second only to Petty.
Gamblers apparently like Patrick as well, even though she crashed and finished 35th at Daytona and was 31st at California.
"Despite Danica's two first races being a disappointment, money still rolls in on her to win a race," said Richard Gardner of Bodog Sportsbook.
Cha-ching, cha-ching.
Patrick also has exposed NASCAR to markets not normally associated with the sport. She recently appeared on "The Ellen Degeneres Show," "The Bonnie Hunt Show," "Jimmy Kimmel Live" and the "Ryan Seacrest Show." She made a guest appearance on "CSI: NY" and is a candidate to be on the cover of Self Magazine.
The sport can't buy that kind of publicity.
Now for ratings. After events at Daytona and California, ESPN2's coverage is averaging a 2.5 rating -- an increase of 19 percent over last year's 2.1 average. Most of that can be attributed to the record 3.2 rating, an increase of 33 percent from 2009, at Daytona.
California ratings actually dropped from 1.9 to 1.7.
Still, not bad overall.
Last but not least: attendance. Daytona president Robin Braig estimated Patrick accounted for at least a 10 percent increase in ticket sales for his race. Attendance at California Speedway grew from a reported 15,000 in 2009 to about 36,000 last weekend.
Motley said the phones have been ringing constantly at LVMS since it was announced Patrick would race there. He added that 13,000 people entered a recent online contest to win $10,010 if Patrick finishes in the top 10.
"That blew away anything else we've ever done," Motley said. "We had entries from all over the country. Pretty remarkable."
And "remarkable" pretty much sums up the impact Patrick has had on NASCAR so far.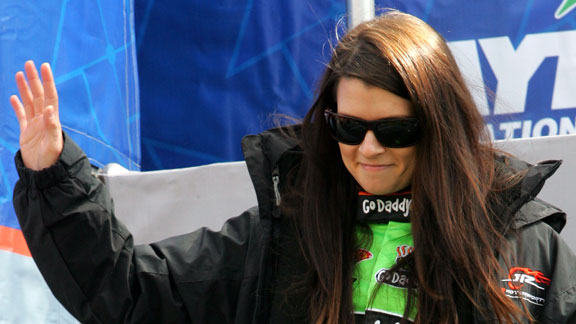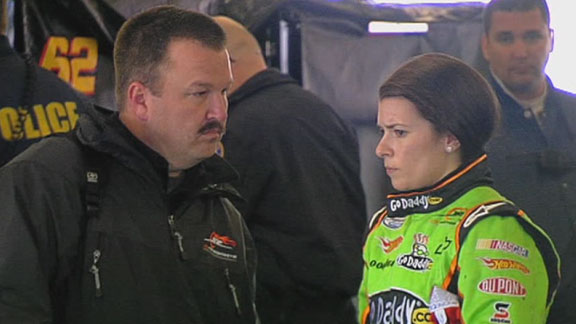 February, 4, 2010
02/04/10
5:46
PM ET
DAYTONA BEACH, Fla. -- Leftover sights and sounds from Thursday's media day at Daytona International Speedway:
• Denny Hamlin is bummed. Doctors have told him he won't be able to play basketball for 18 months because of the torn ACL in his left knee suffered two weeks ago playing hoops.
Why so long? Because Hamlin can't have surgery until after the Sprint Cup season due to the length of the recovery. He then must wait another six months before the injury is healed enough to handle cuts.
"What bothers me the most is I'm not able to do what I love to do," said Hamlin, considered by many a favorite to win the title despite the injury. "Everybody has a hobby outside of racing. If you told them you couldn't do that for a year and a half it would bother them."
The good news is Hamlin has tested the knee inside his No. 11 Toyota and all was fine -- just as doctors said it would be. He's had a brace designed for support, but because the fit is so tight when he's in his seat he likely won't use it.
• Hamlin's knee kept the first part of his interview session from being all about last year's feud with Brad Keselowski.
Keselowski wasn't so fortunate.
Asked if he's cleared everything up with the driver that purposely took him out in the Nationwide Series finale last season, Keselowski said, "I don't know. I feel good about it. On my end, it's clear. You have to ask him on his end. I'm cool."
Asked if he had a face-to-face with Hamlin during the offseason, Keselowski said, "I saw him a couple of times face to face. We didn't talk life or anything like that."
• Baby boomers? Four-time Sprint Cup champion Jeff Gordon and his wife, Ingrid, are expecting again. Their second child is due sometime in August.
"What's going on in our sport right now?" Gordon said.
Must be in the water. The wives of Gordon, Jimmie Johnson, Juan Pablo Montoya, Elliott Sadler and Carl Edwards all are expecting.
• Thoughts and prayers of drivers and media are with Lynda Petty, the wife of seven-time champion Richard Petty. She has been diagnosed with Central Nervous System Lymphoma.
Lynda Petty is being treated at the Brain Tumor Center at Duke University.
How much Richard Petty will be at the track during Speedweeks is uncertain. He missed the media tour in Charlotte, N.C., two weeks ago to be at Duke for a doctor's appointment.
• Tony Stewart didn't wait for the first question to be asked before calling me a bloodsucking reporter, or something like that. Oh, well, Stewart has called other reporters -- and me -- worse.
And he did smile when he said it. He also answered all of my questions, too. No blood was spilled. Good interview.
Good day.