Category archive:

Dale Earnhardt Jr.
April, 5, 2013
04/05/13
4:09
PM ET
CHARLOTTE, N.C. -- Remember the little kid in kindergarten who stood almost invisible in the corner and smiled while the other kids got in trouble?
That's Dale Earnhardt Jr. right now.
NASCAR's most popular driver has avoided all of the drama of the past few weeks between Joey Logano and Denny Hamlin, Logano and Tony Stewart and the question of who will replace Hamlin while he recovers from a compression fracture in his lower back.
[+] Enlarge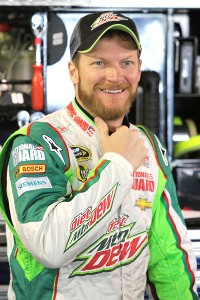 Jerry Markland/Getty ImagesSprint Cup points leader Dale Earnhardt Jr. is working on a streak of five top-10 finishes to start the season.
He's gone about his business in workmanlike fashion without drawing much, if any, attention to himself. It hasn't gotten him into Victory Lane, but he does have five top-10s that have him in the points lead heading into Sunday's Sprint Cup race at Martinsville Speedway.
Avoiding the spotlight -- for a driver who always seems to be in it -- is just fine with him.
"I feel like it gives us the opportunity to keep focusing on what we need to do," Earnhardt said of the attention being focused elsewhere. "We've finished well, but there's a lot of areas that we can improve, and we get to focus on that sort of being out of the scope and out of the spotlight. We can pay more attention to how do we get better as a team.
"You know, if we go out and win some races, we'll get credit where credit is due."
With a little luck -- and continued avoidance of the drama that could unfold if Stewart decides to take short-track revenge out on Logano for blocking him on the final restart at Auto Club Speedway -- a win can't be far away.
It could be staring him in the face.
Martinsville statistically has become Earnhardt's best track. Before a 21st-place finish last fall, he had four straight finishes of seventh or better, including a second and a third in the past two spring events at the quirky half-mile track.
His driver rating at Martinsville is 99.8, better than any track on the circuit -- including Michigan (97.1), where he has scored his past two wins. He's led more laps here (868) than any track by more than 100. He has as many top-5 finishes here (10) as he does Daytona, where he once was the restrictor-plate king.
He's come a long way from being the rookie who once hit everything at Martinsville but the concession stand where they sell the famous hot dogs.
"I ran into other race cars, walls, pace cars ... just about everything that could be ran into, I found it," Earnhardt recalled.
Even an ambulance.
"Yeah, the ambulance wouldn't move, so I had to give him a bit of the bumper," Earnhardt said. "I ran over everything and finally Dad was like, 'Man, tell that kid to park it.' "
But Earnhardt finally learned the rhythm it takes to maneuver the paper-clip-shaped track. After an average finish of 25th in his first four attempts, he rattled off five straight finishes of fifth or better.
His 14 career top-10s here now rank second to the 15 he has at Daytona.
He really loves this place -- from the nostalgia standpoint, little has changed here from the first Cup race in 1949 to the tight racing.
"Every track has something about it that you like or something characteristic about it that you enjoy," Earnhardt said. "But Martinsville is just a fun place, really fun track to race on.
"The fans get a great event. They get a great show when we're there. I think it's a good ticket between it and Bristol and Richmond. It's some of the best short-track racing in the country that you can see."
He'd like it better with a win.
And if he gets it, he won't be so invisible anymore.
March, 16, 2013
03/16/13
4:49
PM ET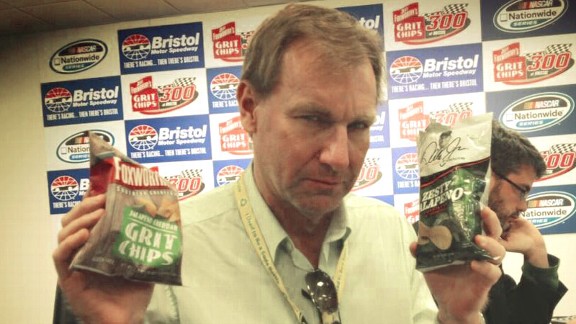 Special to ESPN.comIntrepid ESPN.com NASCAR writer David Newton holds up the title contenders for best chip in the media center on Saturday at Bristol Motor Speedway.
BRISTOL, Tenn. -- A battle was brewing Saturday between two superstars at Bristol Motor Speedway.
Jeff Foxworthy versus Dale Earnhardt Jr.
Grit Chips versus Dale Jr. Chips.
Let the chips fall where they may.
"I didn't know Junior had chips," said Foxworthy, the honorary sponsor of Jeff Foxworthy's Grit Chips 300 Nationwide Series race. "We may have to go rasslin in the infield after this."
This is big, folks. The world's most popular comedian of redneck jokes versus the most popular driver of a sport some call redneck. The host of "Are You Smarter Than a Fifth Grader?" versus a Sprint Cup driver who made it past the fifth grade.
It has to be settled.
Here.
Now.
As any good investigative reporter will tell you, research is the key when you get involved in controversies such as this. For the sake of chip lovers everywhere, and against my heart doctor's advice, I performed a taste test.
First Dale Jr.'s zesty jalapeno, which Earnhardt is on record saying he likes better than the Carolina barbeque. The texture is light and crispy. The jalapeno flavor is initially mild before kicking in just enough spice to tickle your taste buds.
I cleanse my palate.
Foxworthy's jalapeno cheddar is a bit more overpowering. The chip, due to the nature of the grits, has a stiff tortilla texture. It is good, but the aftertaste leaves me wanting a beer.
That's not necessarily a bad thing.
So which is better?
"Mine are better," Foxworthy declared in the media center before the race.
The pick?
Dale Jr. Chips.
It was the only choice. I don't have to deal with Foxworthy for 36 weeks.
CHARLOTTE, N.C. -- Well, NASCAR, you wanted to reach a broader audience.
So far in 2013, you've done that.
The past few weeks the sport has been all over CNN, MSNBC and even MTV between Danica Patrick setting history at the Daytona 500, the Daytona Nationwide Series crash that left more than 28 injured, little-known Nationwide driver Jeremy Clements being suspended for using a racial slur and the NRA sponsoring a race at Texas Motor Speedway.
Only a few days ago you had CNN host Piers Morgan passionately talking about the sport -- albeit in a not-so-positive way -- in a gun control debate with a Texas politician.
"I'm slightly baffled why you can't have a tobacco company sponsoring this race because, presumably, it's bad for Americans' health -- but you can have the NRA, which is basically funded by gun manufacturers," an outraged Morgan said to Texas State Sen. Dan Patrick.
Speaking of outraged, Denny Hamlin kept the TMZ mood going on Thursday when he lashed out at NASCAR for docking him $25,000 for being critical of the new "Gen-6" car.
It probably won't land on headline news, but it'll draw national attention.
When will it end?
Next thing you know Dale Earnhardt Jr. will be on "The Dr. Oz Show" talking about his detox diet.
In case you missed it, Earnhardt told reporters in Phoenix last weekend that he's down 15 to 20 pounds after a 15-day diet that included prune juice and carrot juice.
[+] Enlarge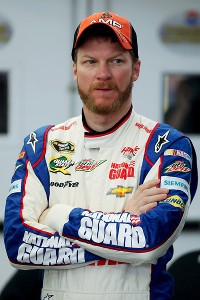 Chris Graythen/NASCAR/Getty ImagesA slimmer Dale Earnhardt Jr. is coming to a track near you.
It apparently was prompted by a "shrinking" firesuit last year.
"That's really what it's about for me is just trying to maintain my weight so I don't have to keep getting my driver suits altered throughout the season," Earnhardt explained. "Last year, I was like, 'Man, they're shrinking, something is wrong with the washer.'
"This offseason I lost a lot of weight … just trying to do a better job of managing my calories and stuff like that. I never really worried about it before. Just eat all kinds of stuff like pizza and wings and stuff every day and not really watching portion controls and stuff like that. Just getting out of control so reining all that back in. Not getting too crazy about it though. I'm no health freak by no means."
That is a relief. The sport may not be able to handle its most popular driver being a health freak around all the other issues.
The good news is all these other issues drowned out much of the debate -- much of that negative, too -- over whether the new Gen-6 car has been a success or failure yet at Daytona and Phoenix.
Hopefully, all will settle down and we'll get a better grip on that this weekend at Las Vegas Motor Speedway, one of the mile and a half tracks.
It's time for the talk to return to the drivers and competition, although NASCAR fining Hamlin for what seemed like harmless comments about the new car and single-file racing at Phoenix probably didn't help any.
Particularly since Hamlin is so mad he nearly begged to be suspended.
The bad news? The drivers and competition likely won't connect to a broader audience like everything else has.
November, 20, 2012
11/20/12
6:08
PM ET
CHARLOTTE, N.C. -- Brad Keselowski doesn't want a fancy new car, a million-dollar home or a big yacht for nearby Lake Norman as a reward for winning his first Sprint Cup championship.
He wants a tank.
You heard me right.
We knew Keselowski would be a different kind of champion when he announced he had a buzz during Sunday night's postrace "SportsCenter" interview, but this cements it.
[+] Enlarge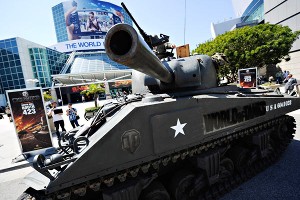 Kevork Djansezian/Getty ImagesThis World War II era M4A3 Sherman tank may fit the bill nicely for Brad Keselowski.
The Penske Racing driver wants a tank from either World War II or the Korean War era to drive around his property that is adjacent to that of Dale Earnhardt Jr. near Mooresville, N.C.
He also wants Earnhardt to get one so they can "chase each other around in the woods with them."
Yes, this is getting more strange all the time.
The thought of owning a tank first entered Keselowski's mind over the summer when he heard a story about Wally Dallenbach owning one. So he promised himself if he won the Cup title, "I would buy one whether Dale does or not."
"It was kind of a little bit of motivation, I should say," Keselowski said on Tuesday during a national conference call. "I'm not one to really buy trophies for myself, but I think a tank would be pretty cool.
"I want to put one together and have some fun with it. When I'm done playing with it, I'll just park it in the driveway and scare off people who aren't supposed to be around. I don't know. It will be fun either way."
Keselowski, by the way, has no regrets about his "SportsCenter" interview, during which he admittedly was intoxicated after quickly consuming beer and champagne during the postrace celebration.
"It looked like a guy that was having fun, which is what I was having," he said after seeing clips of the live broadcast. "I'm proud of that moment. I'm proud to be a Sprint Cup champion."
And maybe soon he'll be the proud owner of a tank.
November, 10, 2012
11/10/12
12:23
PM ET
AVONDALE, Ariz. -- There were a few must-share moments from Dale Earnhardt Jr.'s behind-the-hauler media availability Friday at Phoenix International Raceway.
First, to those who still question Earnhardt's drive and desire to be a champion, I offer this:
[+] Enlarge

Christian Petersen/Getty ImagesDale Earnhardt Jr. on the fast-approaching offseason: "I'm ready to go testing. I'm not ready to sit down."
"I wish we could race on into February and start back over, if it was up to me," said Earnhardt, who is 12th in points after missing two races with a concussion. "It's been a good year, but this should be like par for the course. It's been a good year, but we want to do better than this.
"I'm not ready to stop trying to be better."
Earnhardt hasn't always wanted the season to continue. There have been years when, with two races remaining, he couldn't wait for the offseason. There have been times when he dreaded even testing during the offseason.
He admitted that maybe only 30 percent of the time since 2000, when he began driving in the Sprint Cup Series full time, has he wanted the season to keep going this late.
"I'm excited about next year, excited about the opportunities with a new car, working on the new car," Earnhardt said. "I'm ready to go testing. I'm not ready to sit down."
That was enlightening.
Listening to Earnhardt respond to what Brad Keselowski said Tuesday about having to sign a clause in his previous contract at JR Motorsports never to write a book about the experiences he had with NASCAR's most popular driver was downright funny.
"I don't have anything that I would rather him not write about," Earnhardt said with a laugh. "I think he was telling a lie, to be honest with you. We've had some fun times together, and he grew up a whole lot when he was around us."
Such as?
"He hadn't been exposed to a whole lot when we got ahold of him," Earnhardt said. "All he had ever done was race cars. We took him to town and got him some clothes and dressed him up and showed him what was going on.
"It wasn't too crazy."
Now who's lying?
October, 11, 2012
10/11/12
6:48
PM ET
CONCORD, N.C. -- What's it like to step into the seat of NASCAR's most popular driver?
Regan Smith is about to find out.
Smith was picked on Thursday to replace Dale Earnhardt Jr., who is out for at least the next two races to recover from multiple concussions suffered at an Aug. 29 test at Kansas Speedway and last Sunday at Talladega Superspeedway.
It won't turn into a job at Hendrick Motorsports, but perhaps it could turn into a job for Earnhardt's Nationwide Series team co-owned by Rick Hendrick. They're looking for a driver who could help take JR Motorsports back to Victory Lane, and Hendrick said they'd talked "about running a Nationwide car for a championship."
"He's a good driver, and again, Dale likes him, and we're familiar with him," Hendrick said.
Or maybe this will convince another Sprint Cup team owner to give Smith a job after seeing the confidence Earnhardt and Hendrick put in him. Hendrick does supply cars for Phoenix Racing, which is looking for a driver.
Or maybe Smith could run for JRM and Phoenix.
Regardless, it has been a crazy week for Smith. He wrapped up his tenure at Furniture Row Racing with a season-best fifth-place finish at Talladega because he survived the 25-car crash on the final lap that put Earnhardt in this position.
He then was selected to replace Kurt Busch, who took his seat at Furniture Row, at Phoenix Racing for at least this weekend's race at Charlotte Motor Speedway.
When Earnhardt wasn't medically cleared to drive the next two weeks, Smith moved to a car that is 11th in points after getting a 7 a.m. text message from crew chief Steve Letarte.
Next thing you know Smith will be treated like NASCAR's most popular driver.
"I wouldn't expect that," Smith said with a smile. "I do know that Dale has a huge following. The Junior Nation is a big group of people. I have seen the good side of them before. I've seen the bad side of them. I'm glad to be on their good side for a couple of weeks, anyway."
Smith may not be the most popular, but he is a good guy and deserves this chance. He had his ride at Dale Earnhardt Inc. ripped from him after his rookie-of-the-year season in 2008 due to lack of sponsorship.
He had a win at Talladega ripped from him in the fall of 2008 because he had to go below the sacred yellow line to prevent crashing himself and winner Tony Stewart.
He had his ride at Furniture Row ripped from him because ownership thought it could do better with Busch.
"It is certainly a good opportunity," Smith said. "I am very fortunate that I am the guy they chose to call. I really appreciate that. It is going to be the best car I have sat in, yes, there is no denying that.
"I just want to go out and make the most of it. Run all 500 miles and see where we are at when it is all said and done."
Don't be surprised if it leads to something good.
September, 14, 2012
09/14/12
6:30
PM ET
JOLIET, Ill. -- I rarely refer readers to a competitor, but in this case it's worth the exception.
If you want a raw, compelling, personal inside look into the life of Dale Earnhardt Jr., you need to catch the "Note to Self" segment that aired Wednesday on "CBS This Morning."
The segment, which in the past has featured Oprah Winfrey, Maya Angelou and artist Chuck Close, shows Earnhardt sharing a note he wrote to a 16-year-old version of himself. In it he shares his inner most thoughts -- and fears -- on his relationship with his father, mother and career.
He goes outside his shy, private, personality to let us know what makes him who he is.
"It's probably nothing I would have volunteered to do," Earnhardt said on Friday at Chicagoland Speedway, where he is about to embark on what he calls his best chance to win the Sprint Cup title. "I thought it was a good challenge, a little bit outside of the typical things we do, just to get outside the norm.
"It was not easy to do. I really don't like talking about myself. I felt like if anything I could make my mother happy. She really enjoyed it. I got a lot of really good feedback on it. I'm glad that I did it."
The transcript doesn't give you the full depth of the segment, but it is revealing nonetheless.
Enjoy:
"Now writing this letter to you is going to force me to think pretty deeply about my life, and you know thinking deeply was never one of your favorite activities. You always did and always will shoot for the C on your report card, anything more than that is always going to be a surprise to you, right?
"You just got your driver's license … your heart belongs to no one … and you're going to spend a lot of nights in the bed of your S10 pickup truck out in the field staring up at the stars worrying about your future. Your father's accomplishments on the race track already cast a pretty heavy shadow over your existence. He's going to accomplish more in the years to come and your fear of living anonymously and forgotten -- that's going to grow.
"You don't have much of a connection to your mother … your efforts in that regard are disappointing. In the future, she is going to become a consistent and prominent figure in your life … but you shouldn't waste the years in between, because her love is the truly unconditional kind. You shouldn't take it for granted.
"Living under your father's roof doesn't bridge the incredible gap between you guys. In due time, you will enjoy the most incredible relationship with him.
"One afternoon after an accident, you're going to go home thinking your career is over. And then bustin' in through the door comes your dad and he's wondering what you're doing sitting on your butt feeling sorry for yourself. And you are going to go out on the back porch and sit down and have a two-hour conversation that is the most influential conversation you'll ever have with him. He is going to finally assure you of what lies ahead. It's not the end of your career like you thought, it's the just the beginning of a very, very long incredible journey.
"You'll share laughs and triumphs at his side. It'll be in your best interest that when these times come, you get everything out of them that you possibly can. I mean, when it is you and him, in that moment, you live it to the fullest.
"Now you want to be a race-car driver, so let's talk about the racing. As I look back on it as a whole, starting out from go-karts all the way to Cup today, it's going to feel clunky and impromptu, and is going to be lacking in successes. But fortunately for you every weekend there will be another race.
"Now with that said, you're going to be so deathly frightened of potential failure that you're not going to realize just how much fun you're having. You're going to win a lot of races, and as painfully shy as you are you'll overcome and accomplish in arenas not just limited to driving cars. You're going to meet presidents. You're going to guest on late-night shows. I mean, it's incredible, but it's true.
"That's not too bad for an oil mechanic. Yes, you are going to change oil for a few years -- and it's not as bad as it sounds.
"And I knew you'd want to know about your Redskins. Now your Redskins are goin' to win another Super Bowl in '91. But after that it's a pretty rough road. But your support for them Redskins doesn't waiver one bit.
"Overall, you need to just be more sure of yourself. You're going to do great things, man. You're going to have an awesome life. You have a great heart and it's going to stay with you throughout. So don't be so timid and worrisome about the future so much so that you can't enjoy the present. You're there, worried about me here. You just need to have some fun, man. Jump in that S10, go down to Concord and cruise the strip. Because you're going to be here … soon enough."
Raw. Emotional. Honest.
"When you write something like that and say the things you say, you don't know how they're going to get received," Earnhardt said. "I looked at some of the other ones they [CBS] did, and they were incredible … as inspiring as hell.
"I hope to be able to accomplish that. I was hoping to put myself in that category with people before me."
You did.
July, 28, 2012
07/28/12
2:47
PM ET
INDIANAPOLIS -- Dale Earnhardt Jr. doesn't think he's much of a comedian, but some of NASCAR's best and funniest commercials have featured him in a comic role.
There was the one in 2000 in which NASCAR's most popular driver and his father are in the backseat of a Chevrolet while the Tasmanian Devil drives. It's priceless as Earnhardt goes "blah, blah, blah, blah" while his father tells the Devil how to drive.
There was the one in 2004 in which Earnhardt drives long distance to return the lipstick to the date he had just seen off on a plane, only to find out it belonged to another woman. The look on his face is priceless when he learns it is not hers.
Now there's his latest Nationwide Insurance commercial with Danica Patrick, which will debut during Saturday's Nationwide Series race.
Patrick is shown on pit road talking about vanishing deductibles. As the camera pans down pit road to pit signs showing dollar figures the insurance will decrease, you hear laughter in the background as the final sign -- Danica's cell phone number, 480-388-0988 -- comes into the picture.
The camera then pans to Earnhardt, standing on pit wall, laughing and holding up his hand as though he's telling Patrick, "Call me."
It's one of three Nationwide commercials that debuted during the Indy Super Weekend. The other two are pretty straightforward and serious, the first with Earnhardt and Nationwide chief marketing officer Matt Jauchius and the second with Earnhardt and the Jarretts -- Ned and Dale -- talking about how long their families have used the insurance.
Despite Earnhardt's critique, his funny side wins out.
Hands down.
"I appreciate the sincere ones a bit more," Earnhardt said. "I feel like that's me, more genuine and more sincere. The funny stuff, I don't think I'm a good comedian.
"I do what they say. The sincere stuff, the stuff where they get really down to it, that's what I like."
Trust me, he's funny.
By the way, if you call the cell phone number, you'll hear Patrick's voice saying she can't get to the phone but she'll get right back to you.
It ends with her saying, "If you'd rather leave a message on how I can get back at Dale, that would be great. If I like your idea, I might just call you back."
May, 17, 2012
05/17/12
1:02
PM ET
CONCORD, N.C. -- Here's what was learned at Tony Stewart's news conference Tuesday to promote the eighth annual Prelude to the Dream charity race on June 6 at Eldora Speedway:
• Stewart wants to keep Ryan Newman, whose contract is up at Stewart-Haas Racing after this season, in 2013. It all hinges on sponsorship, but if that can be found SHR will have Stewart, Newman and Danica Patrick next season.
This came on the heels of a report that Newman was given permission to look for options if sponsorship isn't found.
"Obviously, we're working on the sponsorship to make sure we have the funding to keep that going," Stewart said of Newman's No. 39 team. "I have every intention of keeping him for next year. I like him as a teammate. He's been somebody from day one that believes in what we're doing.
"He can still win a lot of races. I think he can still win a championship with us. I have every intention of hiring him back for next year."
• Stewart and Darrell Waltrip called Danica Patrick's 31st-place showing in the Sprint Cup race and 12th-place finish in the Nationwide race one of the best first-time attempts they've seen at Darlington Raceway.
"She showed maturity that a lot of drivers don't show the first time at Darlington," Stewart said. "It's hard to not make a mistake at Darlington. She ran about 600 laps and only had a couple of places where she got herself in trouble. I thought she showed her worth there, and I think she showed her talent level."
• As successful at Stewart's charity event has been -- this year it benefits the Feed the Children program -- the three-time Cup champion would do anything to have Dale Earnhardt Jr. participate.
"If he called in the next 30 minutes, I'd have him a car in the next 35," Stewart said.
Earnhardt's standing reason for not participating is he doesn't like to compete on dirt. But if Patrick can give it a whirl, you'd think NASCAR's most popular driver could.
"The Prelude has always been an example of showing people why these drivers got to the level they are, because they really do pick it up real quick," Stewart said.
• Remember when Stewart went on his sarcastic tirade about not wrecking enough cars at Talladega? Well, he really doesn't like wrecking cars, particularly at Eldora.
Apparently, there is a $2,000 crash clause he has to pay to cover the expenses of each car damaged. That could reach more than $50,000 if the entire field crashed.
"You can't expect guys to bring nice race cars like that and not do something," said Stewart, who had to pay $10,000 one year. "I don't usually think about it until after the race. Then I cringe."
• Drivers scheduled to compete in the Prelude include Stewart, Patrick, Newman, Jimmie Johnson, Clint Bowyer, Kasey Kahne, Bobby Labonte, Kurt Busch, Kyle Busch, Austin Dillon, Ty Dillon, Steve Kinser, Donny Schatz, Cruz Pedregon, Ron Capps and Tony Kanaan.
In case you aren't aware, Feed the Children is a U.S.-based charity that has helped more than 365,000 families since 2009 through its Americans Feeding Americans Caravan.
April, 3, 2012
04/03/12
1:34
PM ET
In case you're wondering whether Chad Knaus and Jimmie Johnson will bring the infamous C-post Daytona 500 car to Talladega Superspeedway next month, let me help.
No.
Team owner Rick Hendrick told me on Sunday at Martinsville Speedway the No. 48 car that NASCAR deemed illegal, the one that cost him 30 days of "hell'' fighting the penalties, will be laid to rest in the woods surrounding Dale Earnhardt Jr.'s property in Cleveland County, N.C.
It'll be in Junior's car graveyard with the mangled No. 42 that Juan Pablo Montoya drove into a jet dryer to cause a two-hour delay in the Daytona 500 and more than 50 other cars Earnhardt calls "yard ornaments."
So is this an admission that the car was illegal, even though chief appellate officer John Middlebrook overturned the 25-point deduction for Johnson and six-week suspensions to crew chief Knaus and car chief Ron Malec?
You know, the car that Johnson said was "completely legal'' when the appeals process was over?
No. Hendrick's just not willing to test the governing body and possibly create another 30 days of turmoil.
Smart move. Sprint Cup Series director John Darby told me that if the 48 car with the same C-posts goes to Talladega, it will be confiscated again and the same penalties will be applied.
Remember, Middlebrook didn't remove the $100,000 fine on Knaus, an indication he felt something was wrong.
And as Hendrick noted, one of the big issues he fought during the appeals process was that NASCAR didn't give Johnson's team a chance to fix the C-posts after they were discovered in initial tech inspection. Several other teams got that chance without penalty.
So the infamous C-post car -- or at least the legal version that was wrecked on the second lap of the 500 -- is in a proper place. It is in a place with other cars that, if they could speak, could tell great stories.
And that's the end of this story.