Category archive:

Richard Petty
January, 26, 2011
01/26/11
3:27
PM ET
CHARLOTTE, N.C. -- If you want a king's perspective on the new points system NASCAR is considering for the 2011 season, read on.
Richard Petty, otherwise known as The King of NASCAR, won seven championships under five points systems. If anybody is an authority, he is.
[+] Enlarge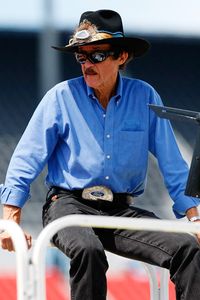 Geoff Burke/NASCAR/Getty ImagesRichard Petty, who won seven titles under five points systems, is a fan of simplified scoring.
Petty likes that the governing body is simplifying the system to award 43 points for first, 42 for second and so on by increments of one point through last place. He doesn't like that three points will be awarded for a win, one for a lap led and one for the most laps led.
He doesn't like bonus points at all, particularly when you see a driver in the back of the pack stay out under caution to lead a lap for the bonus.
"That has nothing to do with the race," Petty said Wednesday during the NASCAR media tour. "We're the only sport there is that gives points or gives relief for leading a race or winning a race. ... Basketball, the last shot has got to count. You could lead the whole ballgame or golf game and get beat on the last deal and that's it, you're beat.
"That's the way it ought to be in NASCAR. They ought to make it so simple a 10-year-old can keep up with points."
In other words, no bonus points, which goes against fans saying they want wins to count more.
"The guy that wins the race, he gets the trophy, he gets all the money, he gets publicity for himself, for his crew, for his sponsors," Petty said. "Hey, man, he won. That's all he needs. He needs 43 points. Of course, that's the way Richard Petty thinks."
No offense to The King, but in other sports the team that wins the last game wins the title. There are no guarantees that happens under the new system. Under Petty's scenario, and even under the new format, consistency is rewarded more than wins.
Petty also doesn't like that NASCAR is allowing 10 drivers in on points and two more on the most wins outside the top 10. He used the NFL's Carolina Panthers (two wins this past season) as an example, suggesting somehow they were allowed to compete for the title.
"That's how dumb it is from that standpoint," Petty said. "If a guy wins five races or six races, so what? The points is what it's all about and the championship is what it's all about, which is a collection of winning and losing, and who does the best.
"Anything that is complicated, people are not going to sit down and learn about it. But if you've got 43 for winning and one for last, then anybody who is just a casual fan can keep up with the points. The only thing that will confuse that is that if they throw in ... bonus points. I don't like bonus points."
Petty let NASCAR chairman Brian France know that, too. But, as he pointed out, "I've been here since 1949 and they haven't listened to me yet."
February, 4, 2010
02/04/10
5:46
PM ET
DAYTONA BEACH, Fla. -- Leftover sights and sounds from Thursday's media day at Daytona International Speedway:
• Denny Hamlin is bummed. Doctors have told him he won't be able to play basketball for 18 months because of the torn ACL in his left knee suffered two weeks ago playing hoops.
Why so long? Because Hamlin can't have surgery until after the Sprint Cup season due to the length of the recovery. He then must wait another six months before the injury is healed enough to handle cuts.
"What bothers me the most is I'm not able to do what I love to do," said Hamlin, considered by many a favorite to win the title despite the injury. "Everybody has a hobby outside of racing. If you told them you couldn't do that for a year and a half it would bother them."
The good news is Hamlin has tested the knee inside his No. 11 Toyota and all was fine -- just as doctors said it would be. He's had a brace designed for support, but because the fit is so tight when he's in his seat he likely won't use it.
• Hamlin's knee kept the first part of his interview session from being all about last year's feud with Brad Keselowski.
Keselowski wasn't so fortunate.
Asked if he's cleared everything up with the driver that purposely took him out in the Nationwide Series finale last season, Keselowski said, "I don't know. I feel good about it. On my end, it's clear. You have to ask him on his end. I'm cool."
Asked if he had a face-to-face with Hamlin during the offseason, Keselowski said, "I saw him a couple of times face to face. We didn't talk life or anything like that."
• Baby boomers? Four-time Sprint Cup champion Jeff Gordon and his wife, Ingrid, are expecting again. Their second child is due sometime in August.
"What's going on in our sport right now?" Gordon said.
Must be in the water. The wives of Gordon, Jimmie Johnson, Juan Pablo Montoya, Elliott Sadler and Carl Edwards all are expecting.
• Thoughts and prayers of drivers and media are with Lynda Petty, the wife of seven-time champion Richard Petty. She has been diagnosed with Central Nervous System Lymphoma.
Lynda Petty is being treated at the Brain Tumor Center at Duke University.
How much Richard Petty will be at the track during Speedweeks is uncertain. He missed the media tour in Charlotte, N.C., two weeks ago to be at Duke for a doctor's appointment.
• Tony Stewart didn't wait for the first question to be asked before calling me a bloodsucking reporter, or something like that. Oh, well, Stewart has called other reporters -- and me -- worse.
And he did smile when he said it. He also answered all of my questions, too. No blood was spilled. Good interview.
Good day.
November, 5, 2009
11/05/09
1:38
PM ET
LAS VEGAS -- Richard Petty had signed about his 300th autograph at the SEMA Show on Wednesday when I informed him that
Danica Patrick
was
close to a deal
with JR Motorsports.
"To do what?" NASCAR's seven-time champion said.
I smiled and said, "To drive in the Nationwide Series."
Petty smiled back and replied, "Just being politically correct."
Another first for the King: being politically correct on the subject of women in NASCAR.
About 40 years ago Petty told a group of women from Queens College in Charlotte, N.C., that the pits at a NASCAR event "was no place for these girls."
In 2006, his opinion hadn't changed.
"I just don't think it's a sport for women," Petty told me at the time. "And so far, it's proven out. It's really not. It's good for them to come in. It gives us a lot of publicity, it gives them publicity.
"But as far as being a real true racer, making a living out of it, it's kind of tough."
Petty wasn't trying to be harsh then any more than he was trying to be harsh about IndyCar Series darling Patrick being close to finalizing a deal to drive in the Nationwide Series for JRM. He was just noting the obvious: that women have tried to make it in NASCAR's premier series many times before and failed.
His reasons are the same now that they have always been. Stock cars are heavy machines that are tough enough for 200-pound men to handle, much less for a 100-pound woman, even with power steering and all the other advanced technology.
"The deal is, this is not as easy as it looks," the Hall of Fame driver said. "And if you've had championship drivers come from that league that are struggling, then where does it leave her?"
Let's get this straight. Petty doesn't wish Patrick ill will because she is a woman. He understands more than most what Patrick would mean to the sport from a public-relations standpoint, particularly in tough economic times.
He simply doesn't believe, like many I've talked to, that Patrick can succeed in NASCAR.
But apparently she's going to try. Sources say the deal with JRM is close to done and that the goal is to put her in the ARCA event at Daytona International Speedway in February. If that goes well and officials approve, she'll make her Nationwide Series debut, then compete in another 11 or so races.
She'll have the best money can buy with Hendrick Motorsports equipment. She'll have a top sponsor with GoDaddy.com. She likely will have her IndyCar number (7).
Will that be enough for her to successfully compete, to make her a candidate for the Sprint Cup Series when her three-year deal with Andretti Green Racing in the IndyCar series ends?
"I'm going to tell her good luck," said Petty, peering under the rim of his signature cowboy hat and again flashing his famous smile.
Politically correct -- you know what I mean.