Category archive:

Kurt Busch
March, 22, 2013
03/22/13
12:04
PM ET
FONTANA, Calif. -- Finding the Phoenix Racing hauler used to be easy when arriving at Auto Club Speedway -- or any Sprint Cup track.
Just go to the back of the garage and count forward.
In case you didn't know, haulers are parked according to where teams rank in owner points. Before this season, the single-car team out of Spartanburg, S.C., never had been ranked higher than 23rd after more than one race.
Now it's tied for seventh.
"I can tell you there's a lot of people who came looking for us that went down there and had to come back this way," general manager Steve Barkdoll said with a laugh.
[+] Enlarge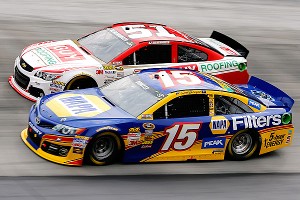 Jared Wickerham/Getty ImagesPhoenix Racing has taken the tag-team approach with three different drivers: AJ Allmendinger (51), Regan Smith and Austin Dillon.
And get this: James Finch's No. 51 team, which gets its Chevrolet engines and chassis from Hendrick Motorsports, ranks ahead of four other teams with the same equipment and all three Richard Childress Racing cars that field Chevrolets.
"Don't think we haven't noticed," an executive from one of those other organizations told me last week at Bristol.
HMS's Kasey Kahne ranks ninth and four-time Cup champion Jeff Gordon is 22nd. Stewart-Haas Racing's Tony Stewart is 25th, Ryan Newman is 24th and Danica Patrick is 30th.
RCR's Paul Menard is 11th, Kevin Harvick is 19th and Jeff Burton is 26th.
Did I mention that the Furniture Row team that gets its engines from RCR is 18th? That's nine spots behind the Phoenix Racing team that Kurt Busch said was not on par with the Denver-based organization when he left late last season.
And Phoenix has been able to do this with three different drivers -- Regan Smith, AJ Allmendinger and Austin Dillon. It'll be four by the time the team gets to Richmond and puts Ryan Truex behind the wheel.
"For them to be where they are in points, not only with three different drivers, but just in general, is a real testament to what they're doing," Burton said.
And if Phoenix -- unsponsored this weekend -- could somehow stay in the top 12 after 26 races and become eligible for the owners' championship in the Chase?
"If they could be in the top 10, it would be one of the bigger upsets in NASCAR's history," Burton said.
Barkdoll credits part of the early success to the new car that is easier to build. Because most of the parts are stamped out and body builders don't have to waste countless hours rolling sheet metal, they can spend more time in other areas.
Barkdoll spent part of that time two weeks ago explaining to his crew of 18 that there's a different routine for getting on the track for practice.
"When you're 27th in points, you go to templates first," Barkdoll said. "You don't get on the track. They send out 25 cars in practice for the first part until they start coming off. So we had to prep ourselves to know that we've got to get ready and do different things."
He hopes that continues.
"We know we've got to stay on top of things to stay here," Barkdoll said. "But think about the head table [at the banquet] if we happen to stay up here and James Finch gets to be the owners' champion and they have to split the title."
Then Phoenix Racing would be easy to find.
March, 9, 2012
03/09/12
12:21
PM ET
There's a solution to save Dodge's presence in NASCAR.
It's not totally realistic thanks to existing contracts and a few other not-so-minor details, but if the manufacturer could pull this off, it would remain a major player in the Sprint Cup Series after Penske Racing moves to Ford in 2013.
Busch Brothers Motorsports.
[+] Enlarge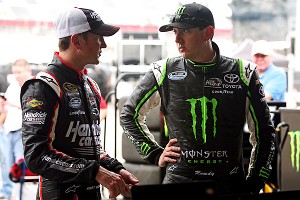 Jerry Markland/Getty ImagesIf Dodge could lure Kurt Busch, left, and Kyle Busch into its Sprint Cup program, the manufacturer would have two of the most talented drivers in NASCAR.
Yes, throw a ton of money at Kyle and Kurt Busch the way Dodge did with Ray Evernham when he re-entered the series in 2001, persuade Kyle to turn his Nationwide Series organization into a Cup organization, and have at it.
There are issues. Kyle is under contract with Joe Gibbs Racing and Toyota. He also doesn't have an engine shop at Kyle Busch Motorsports.
Otherwise, it's the best solution to keep Dodge viable.
And Dodge wants to remain a player. Otherwise, it wouldn't be revealing the 2013 Charger designed for NASCAR's premier series before Sunday's race at Las Vegas Motor Speedway despite Penske's recent announcement that leaves the manufacturer basically homeless.
But look at the options:
Hendrick Motorsports and satellite team Stewart-Haas Racing aren't leaving Chevrolet. Neither is Richard Childress Racing. Earnhardt-Ganassi Racing could, but it also doesn't have an engine shop, and the Earnhardt part of the equation never will leave Chevy.
Roush Fenway Racing is more committed to Ford than many husbands are committed to their wives. Richard Petty Motorsports could be a viable option, and Petty has a big history with Dodge. But RPM doesn't have an engine shop, and there's no realistic reason to believe that the financially strapped organization could survive on its own.
Toyota might be susceptible to a raid. Michael Waltrip always is open to ideas, but like others, he doesn't have an engine shop and is heavily invested with the Japan-based manufacturer.
Joe Gibbs Racing left a comfortable situation at Chevrolet a few years ago to stand on its own, and it has the infrastructure to build engines again. Outside of Busch Brothers Motorsports, that may be the best option, but it's not likely.
So the best option is BBM. Kyle and Kurt are two of the most talented drivers in the series, and without great talent you have no chance. Kurt is in the market for a ride, and the brothers might behave better if they're forced to apologize for themselves instead of having an owner do it for them.
It might be a costly initial investment for Dodge, which was totally blindsided by Penske's decision. But it's better than throwing money into a dark hole with smaller teams that will reap few benefits.
Maybe it would be a gradual process. Put Kurt in the Monster Energy Drink Dodge for a year or two until Kyle's contract with JGR expires or JGR simply releases him.
But Busch Brothers Motorsports is the best solution despite all the roadblocks.
September, 30, 2011
09/30/11
10:58
PM ET
DOVER, Del. -- Brad Keselowski didn't know what "dead weight" Tony Stewart got rid of last week, but his mischievous smile suggested he had a few ideas. Dale Earnhardt Jr. hadn't even heard of the issue that the points leader strangely brought up after his win at New Hampshire.
"I wonder what he did?" Earnhardt said Friday.
Told Stewart wouldn't say, Earnhardt laughed and said, "Maybe I should go ask. … I don't know what he did, whether he broke up with his girlfriend or fired somebody."
We've ruled out fired somebody.
But everything else is open season since Stewart isn't talking about the subject he initiated by saying, "We got rid of some dead weight earlier this week, so it made it a lot easier. It's been a big weight lifted off our shoulders. Just sometimes you have to make adjustments in your life, and we did that and it has definitely helped."
And then he said, "We're just going to leave it at that."
But people are curious, so here's my list of 10 things Stewart might have gotten rid of:
1. His girlfriend, Jessica Zemken: The World of Outlaws and sprint car driver is the most popular answer. She had a slew of consoling messages posted on her Facebook fan page that no longer are there, fueling that speculation.
2. His platinum membership at Dairy Queen: Stewart's weight battle is no secret, as is his love of extra thick chocolate milkshakes from the DQ in Columbus, Ind. And these cars do run better when they are lighter.
3. His attitude toward the media: We can't all be idiots as Stewart has called us the past two weeks.
4. Any thoughts he might have had to replace crew chief Darian Grubb with former crew chief Greg Zipadelli: Not saying Stewart doesn't miss Zipadelli, with whom he won titles in 2002 and 2005 at Joe Gibbs Racing, but it's hard to knock the guy who has led him to consecutive Chase wins.
5. Back hair: It has been since 2008 that Stewart, as part of a charity bet/deal with Kevin Harvick, had his back waxed on live radio. Again, these cars run better with less weight.
6. Danica Patrick: OK, he's not that big of an idiot. Patrick, who will drive a partial Sprint Cup schedule for Stewart next year, is a money maker.
7. Any aspirations to replace Goodyear with Hoosier: We can't forget this line by Stewart in 2009: "Same stuff that we always talk about every year, failures Goodyear has. I think that's part of their marketing campaign; the more we talk about it, the more press they get."
8. His pet monkey: Nah, Stewart gave Mojo to the Louisville Zoo a few years ago.
9. All the Schlitz in his house : Are you kidding?
10. His dream of being NASCAR's Most Popular Driver: Well, there is that chance as long as the media isn't voting.
Or this could be Stewart's sick sense of humor to get us all talking about something other than his leading the points.
September, 21, 2011
09/21/11
3:11
PM ET
Monday's race at Chicagoland Speedway was only moments old and Kurt Busch was in such a hurry to get away that he didn't stop for interviews.
Not to go home after rain extended his stay by a day.
To go to a baseball game at Wrigley Field.
Outside of racing, the 2004 Sprint Cup champion has no bigger passion than baseball. He spent Monday night on a rooftop beyond the ivy-covered walls at Wrigley watching his beloved Cubs beat the Milwaukee Brewers 5-2.
[+] Enlarge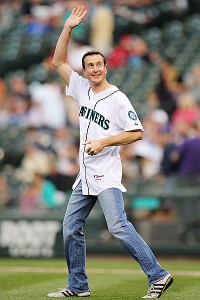 Otto Greule Jr/Getty ImagesKurt Busch threw out the first before the Seattle Mariners played the Los Angeles Angels at Safeco Field on Aug. 31.
Twenty-four hours later, he was at Toronto's Rogers Centre watching the Blue Jays play the Angels.
"I'm a big baseball fan," said Busch, who is fourth in points after Monday's sixth-place finish.
How big? The Toronto game concluded a 12-year odyssey that has taken Busch to all 30 major-league parks. So if you think these drivers don't have a life outside of the stock car, think again.
"I don't know what the initial trigger was to start it," said Busch, who began this journey at Wrigley Field in 2000 when he was driving for Roush Fenway Racing in the Truck series. "It was like, 'Hey, I can go to all these parks and accomplish something that is a personal goal in life.' "
Wrigley easily is Busch's favorite park. Beyond the ivy and history, this is the team he grew up cheering for because his parents were born and raised in Chicago before moving to Las Vegas.
Busch's favorite baseball memory came at Wrigley in 2003 when the Cubs were a game away from reaching the World Series before everything went awry with the infamous "Steve Bartman incident," with a fan attempting to catch a foul ball before it got into the stands.
"It was the week leading into Martinsville," recalled Busch, who played second base and catcher in Little League. "The Cubs have never in my mind been playing baseball when the ivy turns brown in the fall. That was a big moment for me."
Many of Busch's baseball trips have been planned around sponsor appearances or as a celebrity guest. He's thrown out the first pitch at Chicago, Boston, Arizona and Milwaukee. He's sung "Take Me Out to the Ball Game" for the seventh-inning stretch at Wrigley.
And, no, he didn't butcher it like Jeff Gordon and Danica Patrick.
"I'm a Cubs fan," Busch said. "I know it from the word 'go.' "
But most of Busch's baseball excursions have come as a fan.
"Just buy a ticket and go in," said Busch, noting he tries to sit in a different place each time he visits a park.
Along the way Busch began collecting the wooden mini-bats with team logos, albeit he's had to order many online because airport security confiscated them as potential weapons.
Busch also has befriended many players and managers along the way. Nothing has topped meeting childhood heroes Sammy Sosa and Ryne Sandberg.
Unlike his sometimes volatile demeanor in a race car, Busch is relatively calm and quiet while watching baseball. You don't find him screaming "kill the umpire" after a bad call.
"He doesn't have his helmet on at the baseball game, so there's a difference," team owner Roger Penske said jokingly.
No, but the passion is there.
And it will continue to be.
"It's been neat to cap this off, but to know they are always building more parks to go to," Busch said.
August, 13, 2011
08/13/11
2:29
PM ET
WATKINS GLEN, N.Y. -- Kurt Busch did a nice job of stirring the pot on his feud with Jimmie Johnson Saturday at Watkins Glen International.
He didn't take any personal shots.
He didn't get emotional.
Busch knows he's in the head and under the skin of the five-time defending Sprint Cup champion, so he played it cool in a smug way that has to infuriate Johnson even more.
Ok, Johnson would call Busch's demeanor "smart ass" instead of smug, as he did during last week's postrace pit road confrontation about the way Busch raced him for third place on the final lap.
But you get the point. Busch is going to use this as much as he can to give him an edge, should the championship come down to the two former champions.
"I learned from one of the greats about how to keep a memory on who does you right and who does you wrong," Busch said. "And that was Jimmy Spencer. He taught me a lot."
How times have changed. The driver who in 2003 at Michigan punched Busch in the nose apparently has become Busch's role model.
Busch mentioned Spencer several times Saturday, including in his opening remark when asked what he thought of Johnson's comments in the same room Friday.
"When you said Jimmie was in here I didn't know if you meant Spencer or Johnson," Busch deadpanned.
Johnson was direct with his attacks on Busch, referring to the way the 2004 Cup champion has bad-mouthed his crew and owner Roger Penske over the in-car radio, basically calling Busch a coward for fueling last week's postrace confrontation with comments only after Johnson had turned to walk away and only after a crowd had gathered.
Busch was more subtle.
Granted, Busch had an advantage since he had a day to digest Johnson's comments and plan a rebuttal. That was most obvious when he brought up Johnson's explanation of trying to break a side draft the first time the two got into each other on the final lap.
Johnson, by the way, said he didn't touch Busch.
"That's not a move of a five-time champion," Busch said. "That's a move of a guy who has an issue with a guy like me."
Busch knows about having issues with a guy like him. He learned from one of the best in Spencer, who in June told SceneDaily.com he "made a better person out of Kurt by punching him."
There's some truth to that. Busch realized a feud of that magnitude makes it tough to win a championship because your focus isn't solely on the championship.
That doesn't mean Busch won't stir the pot with Johnson, realizing that "if I'm in his head, then he's got to worry about us" in the Chase.
So far, he's doing a nice job of that.
May, 9, 2011
05/09/11
4:21
PM ET
DARLINGTON, S.C. -- A few humorous leftovers from Saturday night's Sprint Cup race at Darlington Raceway that got tossed in the trash in the aftermath of Regan Smith's win and the postrace confrontation between Kevin Harvick and Kyle Busch:
---
Juan Pablo Montoya and Ryan Newman stayed clear of each other after their physical confrontation in the NASCAR hauler on Friday, but Montoya did make a new enemy in five-time defending Cup champion Jimmie Johnson.
On Lap 83, Montoya got into the back of Johnson's car, sending the No. 48 into a spin.
Montoya immediately and repeatedly apologized, saying, "really sorry" and how he didn't mean that.
Told what Montoya said, Johnson sarcastically responded, "I'm sure he is."
---
Kurt Busch, a week after his profanity-laced tirade at his Penske Racing organization, remained relatively calm despite countless issues. After receiving a one-lap penalty on 224 he was told to keep his head.
To which Busch calmly responded, "I have to turn off my radio now."
He's learning.
---
David Ragan's car turned into a can opener and peeled the left side of Brian Vickers' car off, shredding the blue foam blocks underneath that help protect the driver.
Vickers later said the car was "the best it's been all night."
Go figure.
---
After losing to Smith on the green-white-checkered finish, Carl Edwards said he needed a mattress, so he might go to Furniture Row and buy one.
Smith is sponsored by Furniture Row Racing.
---
Soon after the pit-road confrontation with Kyle Busch, Harvick tweeted he was going to run the Truck race this weekend at Dover.
Busch will be in it as well.
Hmmm.
October, 7, 2010
10/07/10
4:52
PM ET
CHARLOTTE, N.C. -- The question for Kurt Busch was simple: Did little brother Kyle get what he deserved from David Reutimann on Sunday at Kansas Speedway?
The answer wasn't so simple.
The 2004 champion explained how he's been on both sides of the "non-Chase driver wrecking a Chase driver" issue. He recalled how in 2005, non-Chaser Scott Riggs wrecked him on the third lap of the Chase opener at New Hampshire, basically taking him out of contention to defend his title before he began.
His conclusion?
"Being in the Chase doesn't protect you from guys slamming into you," Kurt Busch said Thursday during a stop at NASCAR's Hall of Fame to promote next week's race at Charlotte Motor Speedway. "The times I've been in run-ins, it's easier to try and discuss things and really get each person's perspective from it with a discussion.
"If there still is a conflict, have at it. Let's wreck some cars."
In other words, Reutimann could have talked things over with Kyle before deciding that an earlier incident between the two was just cause for retaliation.
"If the talk didn't go well, then maybe you come back and retaliate later on when the spotlight is not on you," Kurt continued. "If you get wrecked in that race, NASCAR is always looking for you to do something in that same race. I think Reutimann could have done a different job."
Kurt gave us something else to think about, too. He reminded us that when Riggs wrecked him in 2005, there was speculation that was payback for an incident between the two at Indianapolis.
Now consider what Kurt said about Riggs after that race. Remember? "There are guys you race with, there are guys you can't. He [Riggs] doesn't really know where he is most of the time."
Sounds kind of like what we heard in August when Kyle questioned Reutimann's talent after the Bristol race. That sparked a war of words and likely had Reutimann on a short rope when it came to tolerance of anything involving Kyle.
"It all comes down to we don't like each other very much," Reutimann said the ensuing week. "It's been [going on for] a while. We just don't like each other, and we agree that we don't like each other and we're fine with it. We're pretty honest about it. I'm good with it."
In other words, when Kyle saw Reutimann loose ahead of him at Kansas, he should have known better than to get close enough to make contact. And after there was contact, he should have expected Reutimann to take some action.
"The spotter should have told Kyle [that] Reutimann was coming, and if Kyle wanted to get out of the way, he could have yielded to him then," Kurt said.
But there's more to this story. Reutimann complained earlier in the week about having potentially good finishes this year ruined by other drivers who have run over him. He said "sometimes you just have to do things to make people see what was once deemed acceptable is no longer acceptable."
Said Kurt, "If he's continuously getting run over, then he's a common denominator."
"I ran over him at Richmond because [when] he drove into the corner I thought he was giving me the bottom lane. I drove in to make a pass, and first thing you know we're together.
"He's setting the tone 'You can't push me around.'"
So did Kyle get what he deserved?
"It's racers being racers," Kurt said. "It's not every day that cars are running into each other, so when guys are running into each other, it's good to talk about. It's good for our sport."
Kurt then looked over his shoulder at the row of famous cars on Glory Road, from the black No. 3 that was driven by Dale Earnhardt to the No. 11 once driven by Darrell Waltrip.
"Everybody in here on top of this row has had their run-ins with other drivers," Kurt said. "It's what makes our sport what it is today. The fierce rivalries, the competitiveness, the fire you have to be a champion and to be a winning driver -- you're going to have conflicts.
"That's part of our sport."
Told you it wasn't simple.
August, 4, 2010
08/04/10
1:43
PM ET
CHARLOTTE, N.C. -- Tony Stewart was having one of his be-cute-and-difficult moments with the media Friday at Pocono Raceway when asked if he noticed Jimmie Johnson's qualifying speed didn't mesh with his practice laps.
"You got to remember, everything doesn't revolve around Jimmie Johnson," Stewart said smugly.
Kurt Busch apparently thinks it does.
Or at least he thinks Johnson thinks it.
When asked about the wreck between him and Johnson that triggered Elliott Sadler's horrific crash, Busch responded, "Got wrecked on the straightaway. Jimmie drove straight through us."
Keep an eye on this one as they head to Watkins Glen. Busch and the four-time defending Sprint Cup champion got into it last year on the road course at Sonoma and had a bumper exchange battling for the lead at New Hampshire in June.
They talked through those, but Busch didn't seem all that interested in mediation as he left the Pocono infield medical center.
"Kurt is not very fond of me, never has been, so I think whenever he has a chance to take a shot at me, he'll probably do so," Johnson said Sunday. "But [it was] certainly nothing intentional, and if he'd like to talk, I'd be more than willing to talk about it."
Stay tuned.
• Speaking of two people who need to talk, did you hear the radio chatter Sunday between Juan Pablo Montoya and crew chief Brian Pattie during a late rain delay after a four-tire pit stop?
Pattie felt Montoya wasn't quite sharp on that stop and at least one other, so he radioed that Montoya was going to come to Charlotte to practice pit stops. Montoya responded, "Screw you!"
When another voice came over the radio and asked Montoya to calm down, the fiery Colombian-born driver yelled, "Calm down my a--. This is bull----. It's always the same crap."
Montoya muttered something about how taking four tires was a mistake -- again -- apparently referring to the previous week at Indianapolis when a late four-tire stop ended a dominating performance.
Stay tuned.
• Jeff Gordon on his first race with new spotter Jeff Dickerson: "I thought he did a great job. He gave me all the right information that I needed on the restarts. I mean, we had a solid day as a team. Overall, I thought we had a really, really solid day."
Dickerson was Kyle Busch's Camping World Truck Series crew chief and business partner, but after Dickerson made it clear he had different plans for 2011, the two parted. Gordon's crew chief, Steve Letarte, quickly snatched Dickerson up, calling him one of the best spotters in the garage and a potential difference-maker in putting Gordon back in Victory Lane.
Asked if Dickerson could help Gordon win races, Busch said, "I don't think a spotter can help you win races. I mean, restrictor-plate track, yeah, I think there's some help there. Keeping you out of messes and keeping you out of the wrong lane and stuff like that. Places like [Pocono], it's not going to help Jeff Gordon go to Victory Lane."
Stay tuned.
June, 22, 2009
06/22/09
7:49
PM ET
CHARLOTTE, N.C. -- Kurt Busch and Jimmie Johnson could have taken shots at each other following Sunday's Sprint Cup race at Infineon Raceway. Busch may have had every right to take a swing at the three-time defending champion after he clipped him on Lap 90 and sent him straight into the tire barrier in the ess turns to ruin a top-5 day.
Instead, they talked it out and shook hands.
That won't spike television ratings or increase Web site hits. It won't have people talking by the watercooler all week long as they would have had this been Kyle Busch and Dale Earnhardt Jr.
It was downright boring, to be honest.
But it was the right way to resolve their issues even if this isn't a gentleman's game like golf.
Johnson went directly to Busch after the race to apologize. He didn't wait to text or call him, which some drivers do. That only gives the anger time to fester.
He simply walked over to Busch's hauler before changing into street clothes and explained what happened.
"It was just a racing deal, nothing more," Johnson said.
We've seen racing deals turn into outright shouting matches in the past. We've seen them turn into fisticuffs.
Five or six years ago, Busch may have let his temper get the best of him and done something stupid.
We may have been waiting for a fine.
But the drivers worked it out and that was the end of it.
"He hit the curb and just launched into us," Busch said. "It was just two champion drivers going after the same spot."
Busch went on to salvage 15th. Johnson finished fourth.
It won't linger until next week at New Hampshire, where Busch is the defending champion.
Maybe racing is turning into a gentleman's game.
Nah, somebody will lose their cool next week.
May, 1, 2009
05/01/09
9:08
PM ET
RICHMOND, Va. -- The official NASCAR Sprint Cup stats say this is the first time
Kurt Busch
has led the point standings since the Las Vegas race on March 13, 2005.
There needs to be an asterisk by it.
Jimmie Johnson left Las Vegas Motor Speedway with the lead that day. He won the race to take a 15-point lead over Busch, who finished third.
Johnson led on the 14th, as well.
Then on the 15th, NASCAR docked Johnson 25 points and suspended crew chief Chad Knaus for two races because the car failed to meet the minimum height requirement in postrace inspection.
That vaulted Busch into the lead by 10.
Now for an even tougher trivia question: When was the last time the No. 2 Miller car was first in points without Busch behind the wheel? You have to dig much deeper for that answer, all the way back to May 2, 1998.
That's the day before the season's 10th race at California Speedway. Rusty Wallace had the lead over Jeremy Mayfield going in, but finished 34th with an engine problem to fall to fourth.
For a while, it looked as though the car never would make it back to the top. Busch finished 16th, seventh and 18th in his first three seasons with Penske Racing. He had only four wins after collecting 14 in his previous four seasons at Roush Fenway Racing.
The program was so far down last season that many forgot how good the 2004 champion was -- or is. Six top-10s in the first nine races, including a win, have been a good reminder.
"When I switched to Penske, I didn't understand how much rebuilding that we were going to be going through when they let over 120 people go during the season between '05 and '06," Busch said Friday at Richmond International Raceway. "We won at Bristol right away, but after that, we definitely were on the quiet side of things.
"Then we switched to the COT, which I felt that we really shot ourselves in the foot. Roger [Penske] was gung ho for the car and thought it would help our program. I looked at it as it would only make us go backwards for a while until we figured it out."
They've figured it out. Busch has shown the consistency he used to win the first Chase. That has to make the folks at Chrysler, which filed for bankruptcy Thursday, smile.
Their poster boy has to make them smile, regardless. He's a walking billboard for the company, pushing the product better than a showroom salesman.
He has backed his words by purchasing three Chrysler products -- a Durango, Jeep Wrangler and Challenger -- in the past few months. "I'm doing what I can to help move some Dodge products and keep people on the assembly line," he said.
Busch has donated the SRT8 Challenger with a one-of-a-kind paint scheme for a lottery that will help raise money for his foundation to donate to the Victory Junction Gang Camp. He'll sell $100 tickets through the summer, with the winner selected Sept. 30.
He hopes to be leading the points then, as well.
The last time he was in this position, it lasted only a week.