Category archive:

Ryan Newman
August, 9, 2013
08/09/13
3:56
PM ET
CHARLOTTE, N.C. -- My, how Ryan Newman's season has turned around since last month when Stewart-Haas Racing announced he would not return in 2014.
First he wins the Brickyard 400 in his home state of Indiana.
Then his boss, Tony Stewart, breaks his leg to move Newman into prime position for the second wild-card spot.
[+] Enlarge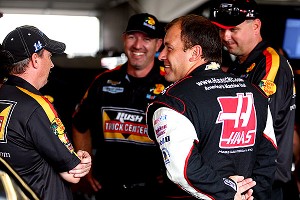 Warshaw/Getty ImagesTony Stewart's misfortune opens the door for Chase wild-card contender Ryan Newman and crew.
The only thing he hasn't gotten is a job offer.
But first things first, and that is making the Chase. Newman's playoff hopes, much to his chagrin, improved dramatically when Stewart broke his leg in a sprint car race in Iowa on Monday night.
With Stewart out at least several weeks, Newman is in prime position to move into the second wild-card position -- maybe even the first depending on what happens this weekend at Watkins Glen.
He'll also have even more focus from SHR in making sure he gets there.
"Obviously, now that the 39 is our only chance, we will do whatever we can to help," SHR competition director Greg Zipadelli said. "I don't know that it's any more than what we have been doing, but we'll certainly do our best to work together as a team, and if there's anything they need, we will certainly do our best to give them what they need to have that opportunity."
Newman is 15th in points with a victory. He's 19 points behind Stewart, who at 11th with a victory holds the first wild-card spot. If Newman finishes 23rd or better at Watkins Glen, he'll pass his boss.
But that doesn't guarantee Newman will move into a wild-card spot. He still has to pass Martin Truex Jr., who holds the second wild-card spot at 14th in points with a victory.
Greg Biffle (10th in points with a win) and Kasey Kahne (eighth with two victories) easily could fall outside the top 10 with a poor finish. That would move them into prime spots for a wild card.
Defending Cup champion Brad Keselowski and 2004 champion Kurt Busch, 12th and 13th in points, could move into one of the wild-card spots or into the top 10 with a victory.
Both will be among the favorites this weekend at the 2.45-mile road course, particularly Keselowski, who has finished second there the past two years.
Jamie McMurray and Joey Logano, 16th and 17th in points, also could get into the mix with a win.
It's not completely out of the question that Marcos Ambrose gets into wild-card position. He is only seven points outside the top 20 needed for consideration, and he's won the past two races at The Glen.
So Stewart's injury doesn't guarantee Newman anything as far as the Chase. As far as his future there are no guarantees either.
There have been rumors in recent weeks that he could return to Penske Racing if the organization expands to three or four teams. I'm told that won't happen, that Penske plans to remain a two-car organization.
There have been rumors he could go to Richard Childress Racing if enough sponsorship can be found. I've also heard RCR could consider bringing the No. 47 team of JTG Daugherty Racing in house with AJ Allmendinger as the driver.
Both seem like long shots.
Newman's name has come up with the No. 55 at Michael Waltrip Racing, which has yet to officially announce Brian Vickers with current sponsor Aaron's. But all signs still point to Vickers being in that ride with an announcement possible by the Chase.
Roush Fenway Racing also has been rumored as a landing spot for Newman in a fourth car, but RFR appears focused on developing younger stars such as Trevor Bayne.
So as much as Newman's Chase fortune has turned around since it was announced he would not be a part of SHR with Stewart, Kevin Harvick and Danica Patrick in 2014, his future remains cloudy.
May, 17, 2012
05/17/12
1:02
PM ET
CONCORD, N.C. -- Here's what was learned at Tony Stewart's news conference Tuesday to promote the eighth annual Prelude to the Dream charity race on June 6 at Eldora Speedway:
• Stewart wants to keep Ryan Newman, whose contract is up at Stewart-Haas Racing after this season, in 2013. It all hinges on sponsorship, but if that can be found SHR will have Stewart, Newman and Danica Patrick next season.
This came on the heels of a report that Newman was given permission to look for options if sponsorship isn't found.
"Obviously, we're working on the sponsorship to make sure we have the funding to keep that going," Stewart said of Newman's No. 39 team. "I have every intention of keeping him for next year. I like him as a teammate. He's been somebody from day one that believes in what we're doing.
"He can still win a lot of races. I think he can still win a championship with us. I have every intention of hiring him back for next year."
• Stewart and Darrell Waltrip called Danica Patrick's 31st-place showing in the Sprint Cup race and 12th-place finish in the Nationwide race one of the best first-time attempts they've seen at Darlington Raceway.
"She showed maturity that a lot of drivers don't show the first time at Darlington," Stewart said. "It's hard to not make a mistake at Darlington. She ran about 600 laps and only had a couple of places where she got herself in trouble. I thought she showed her worth there, and I think she showed her talent level."
• As successful at Stewart's charity event has been -- this year it benefits the Feed the Children program -- the three-time Cup champion would do anything to have Dale Earnhardt Jr. participate.
"If he called in the next 30 minutes, I'd have him a car in the next 35," Stewart said.
Earnhardt's standing reason for not participating is he doesn't like to compete on dirt. But if Patrick can give it a whirl, you'd think NASCAR's most popular driver could.
"The Prelude has always been an example of showing people why these drivers got to the level they are, because they really do pick it up real quick," Stewart said.
• Remember when Stewart went on his sarcastic tirade about not wrecking enough cars at Talladega? Well, he really doesn't like wrecking cars, particularly at Eldora.
Apparently, there is a $2,000 crash clause he has to pay to cover the expenses of each car damaged. That could reach more than $50,000 if the entire field crashed.
"You can't expect guys to bring nice race cars like that and not do something," said Stewart, who had to pay $10,000 one year. "I don't usually think about it until after the race. Then I cringe."
• Drivers scheduled to compete in the Prelude include Stewart, Patrick, Newman, Jimmie Johnson, Clint Bowyer, Kasey Kahne, Bobby Labonte, Kurt Busch, Kyle Busch, Austin Dillon, Ty Dillon, Steve Kinser, Donny Schatz, Cruz Pedregon, Ron Capps and Tony Kanaan.
In case you aren't aware, Feed the Children is a U.S.-based charity that has helped more than 365,000 families since 2009 through its Americans Feeding Americans Caravan.
May, 6, 2011
05/06/11
12:13
PM ET
DARLINGTON, S.C. -- Juan Pablo Montoya and Ryan Newman met with NASCAR officials Friday at Darlington Raceway to discuss the issues they had during last weekend's Sprint Cup race at Richmond International Raceway.
It was long overdue and it didn't go as planned.
"The meeting didn't go as well as we had hoped it would and we're not completely through with this issue," said NASCAR spokesman Kerry Tharp.
So what happened Friday? Rumors are swirling things got physical, but neither driver, nor NASCAR, would confirm that.
The two have had conflicts since Newman got into the back of the Earnhardt Ganassi Racing driver and turned his car into a mangled fireball in Montoya's Sprint Cup debut at Homestead-Miami Speedway in 2006.
By Montoya's account, Newman had taken him out three times -- Homestead once and Richmond twice -- before he wrecked Newman at Richmond in retaliation for an earlier incident in which the Stewart-Haas driver put him into the wall.
NASCAR's only Colombian-born driver reminded us that until he retaliated at Richmond, he'd never done anything wrong to Newman. Newman, meanwhile, would argue he never has done anything wrong to Montoya, other than race him hard.
A mediation definitely was in order, particularly after Newman spent 30 minutes in the NASCAR hauler after the Richmond race discussing the issue.
"I've been wrecked by him a lot of times," Montoya said. "I've never done anything about it. I felt it was [time]."
Many are wondering if Newman will seek further retaliation Saturday night at Darlington Raceway. Probably not.
But is it really ever over?
"I don't think once you have an issue it's ever over in what we do," said Newman, adding that all his respect for Montoya went out the window at Richmond.
If either has any hope of winning a title this year or any other year, they need to get over whatever is causing them to race each other tighter than most. One more retaliation over the next 17 races could be the difference between making or not making the Chase.
One retaliation during the Chase could mean the difference between winning and not winning the title.
"Boys, have at it" sounds fine in principal. It's entertaining for the fans. But if these two continue to have at it they won't have a chance for the prize they covet most.
"That's the thing they need to realize, both of them," said three-time Cup champion Darrell Waltrip, who ticked off his share of drivers during his career. "You can't hold grudges against people. You have to control that if you're trying to win a race or a championship.
"That might feel good when you're doing it, and you might feel like you've accomplished something when you spin the other guy out. But that's where the crew chief and owner and all those guys have to get involved and say, 'Look, you're killing us.'"
Newman and Montoya are killing each other because they're both stubborn drivers with a you-wreck-me-and-I'll-wreck-you-back mentality. It's good for ratings but not good for their careers.
Newman, in a contract year, dropped a spot to eighth in the standings with his 20th-place finish at Richmond. Montoya, also in a contract year, fell from ninth to 12th in points with a 29th-place finish.
Maybe their meeting with NASCAR will settle this. They both seem to get it despite all this talk about lost respect.
"The big picture is always the points," Montoya said. "We're here to score big points to make the Chase. You're only here to make the Chase."
And holding grudges won't get you there.
August, 21, 2010
08/21/10
3:05
AM ET
BRISTOL, Tenn. -- Since when does a college education have anything to do with driving a Sprint Cup car?
Apparently, Ryan Newman thinks it does.
That was the case on Friday at Bristol Motor Speedway when Purdue graduate Newman discussed last week's postrace Michigan run-in with Joey Logano, resulting in both drivers being physically separated by NASCAR officials.
Newman still insists the 20-year-old Joe Gibbs Racing driver was at fault when the 39 car spun out, even though Logano and other drivers suggested Newman brought the accident on himself by side-drafting Logano too long.
"I think he lost it before he ever got into the corner," Newman said. "I'm pretty sure there's about 80 feet of asphalt there. He could have chosen any lane he wanted to. He drove up into me and hit me in the left rear quarter panel.
"He can call it what he wants. It's his story. I've got a college education. I didn't just get out of elementary school."
To refresh, Newman spun out after Logano got into the back of his car in Turn 4. Newman confronted Logano in the garage about 10 minutes after the race and told him he needed to "learn how to drive." When Logano's hand brushed Newman as the two argued, Newman said, "Don't touch me," and officials intervened.
Logano accused Newman of door-jamming him to the point that Newman took the air off Logano's car and got him out of control. Logano said at the time of the incident that he was "sideways because you were on my ... door." Logano also said Newman raced him too hard all the time, which several competitors said he shouldn't have said publicly even if it were true.
"I don't care how hard I raced him," Newman said. "Because he ran out of talent and drove into my car and thinks it's my fault -- I don't understand the logic there."
Let's go to a third party to see if he can explain it better. Kyle Busch says it's an "accurate assessment" to say Newman races people too hard every week. Although Logano is Busch's teammate, Kyle didn't seem to be taking sides as much as he was trying to make a point about side-drafting that led to him wrecking at the July race at Daytona.
"The thing that Joey should've been most upset about was Newman going in on his door and side-drafting him and spinning him out," Busch said. "That's a problem. You've gotta give guys room to race."
He says this without a college degree, so take it for what it's worth.
March, 31, 2009
03/31/09
7:05
PM ET
CHARLOTTE, N.C. -- OK, who kidnapped Tony Stewart and what do we have to pay to get him back?
The Stewart I listened to for more than 30 minutes on a Tuesday afternoon conference call sounded like the voice of the two-time Sprint Cup champion, but was much too calm, much too content, much too practical to really be him.
[+] Enlarge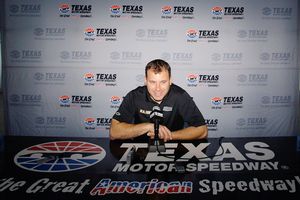 AP Photo/Matt SlocumRyan Newman is on the rise heading to Texas Motor Speedway, and that makes boss Tony Stewart happy.
There was no shot at Goodyear, no questioning of NASCAR, no controversial statements or comments that could be taken in or out of context the wrong way.
He sounded like an … owner.
Oops. Forgot. He is.
And a pretty good one from what we've seen so far. In six weeks he has turned an organization that had absolutely no chance of winning a race, much less a title, into a legitimate contender for both.
Sunday's third-place finish at Martinsville was higher than any in the eight-year history of Haas CNC Racing before it became Stewart-Haas Racing this season. Johnny Sauter finished fifth at Richmond in 2007, but no other Haas driver scratched the top five.
In fact, Haas drivers had only 14 top-10s in 284 races, only one all of last season. Stewart and teammate Ryan Newman already have six, including two at Martinsville.
I'm not sure Haas CNC ever had two drivers in the top 10 in one race.
It also can't go without mention that Stewart is ranked seventh in points and Newman 18th. No Haas driver finished in the top 20 and I'm pretty sure there wasn't one in the top 10 after six events.
No wonder Stewart was in such a good mood. But he's not getting cocky. He's not scrambling to find sponsorships for a third or fourth team, even though that was the goal of the organization before he came on board.
He wants to make sure he and Newman can contend for wins and championships before considering expansion.
"I don't know that it'll happen for next year," Stewart said. "Right now, I want to make sure I give Ryan and I the best opportunity to run for a championship. Until we have that I don't know that diluting into a three- or four-car operation is the best thing right now."
Nobody ever said Stewart was stupid. But perhaps this ownership thing is good for him. He admitted there have been times when he would have left Martinsville mad after a third-place finish. As an owner he understands success isn't always measured in wins, although that contradicts the way he thinks as a driver.
To realize that in six weeks he's competed on almost even terms with Hendrick Motorsports, Roush Fenway Racing and even his former organization, Joe Gibbs Racing, has been almost humbling.
"Success isn't just necessarily measured by wins," Stewart said. "It's measuring yourself against the competition. … A win is more of an individual feeling. Being a car owner helped put that in perspective."
Maybe this is the new improved Stewart. Maybe all those hauler lectures from former team owner Joe Gibbs about how to talk to the media are sinking in.
Maybe Kyle Busch should get into ownership.