Category archive:

Greg Biffle
June, 6, 2013
06/06/13
11:24
AM ET
CHARLOTTE, N.C. -- Greg Biffle's paint scheme for an upcoming Sprint Cup race at Michigan may be about smiles, but the Roush Fenway Racing driver isn't smiling much these days.
Ranked 13th in points, the perennial Chase contender says RFR and Ford are searching for ways to improve performance for all of its cars, including more open communication with Penske Racing.
[+] Enlarge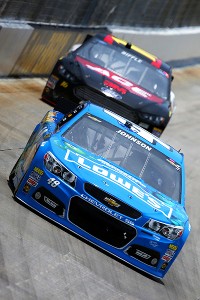 Tom Pennington/Getty ImagesA familiar sight in the Sprint Cup Series in 2013: Ford playing catch-up with Chevrolet.
"We are currently having discussions on how to make the Ford brand better across the board," Biffle said on Wednesday during a conference call to promote his 3M "Give Kids A Smile" paint scheme program for the June 16 race at Michigan. "They're [Penske] definitely not trumping the Cup series right now, but they're running better than us.
"As Ford, we need to be running better overall, Penske and Roush. Ford sparked the discussion of how can our teams elevate one another without an open book, without giving away our speed secrets."
RFR's Carl Edwards at second in points is the highest-ranked Ford driver. Reigning Cup champion Brad Keselowski of Penske Racing is next at 10th.
After that it's Aric Almirola of Richard Petty Motorsports in 12th, Biffle in 13th, RFR's Ricky Stenhouse Jr. in 15th, Penske's Joey Logano in 18th and RPM's Marcos Ambrose in 23rd.
Biffle said Edwards' position doesn't paint an accurate picture of where RFR and Fords are.
"I'm not going to downplay Carl's success so far this season, but we were all not very good at Dover," he said of Sunday's race. "We have a systemic problem similar to what we did two years ago with our cars when we were struggling bad company-wide."
At Dover, Stenhouse was 13th, Edwards 14th, Biffle 15th, Almirola 18th and Ambrose 19th. By contrast, Keselowski was fifth and Logano seventh.
"We had an hour and a half call-in debrief meeting the other day, and those are normally 30 minutes," Biffle said. "They're getting longer and longer because everybody is working so hard and we're all on board, but we're just struggling with our cars to get them where they need to be."
Laps led is a good indicator. After Edwards with 153, the next-highest Ford driver is Keselowski with 109. Biffle has led only 39.
Edwards, Keselowski and Biffle combined have led 301 laps. By contrast, former RFR driver Matt Kenseth has led 922 laps in his Joe Gibbs Racing Toyota, with teammate Kyle Busch leading a series-best 955.
"We're missing some part of the puzzle right now," Biffle said. "We recognize that. The cat's out of the bag. You look at our performance this season, company-wide, and Petty cars too. All of our chassis are, let's say our cars, are just not up to snuff."
Biffle hopes to see a turnaround the next two weeks at Pocono and Michigan.
"We recognize we have a problem," he said. "We're working very hard on it. We've got huge plans in place going to Pocono and Michigan to get better, get these cars fast again and get these cars competitive.
"Clearly, we're not there right now."
Working more closely with Penske Racing, which gets its engines from Roush Yates, is one area to start. Ford officials acknowledged there is an increased effort to encourage that.
"It's a delicate situation," Biffle said. "It's hard to do. We have proprietary stuff and they do. We're still racing against them for the championship and Chase spots."
April, 17, 2012
04/17/12
4:02
PM ET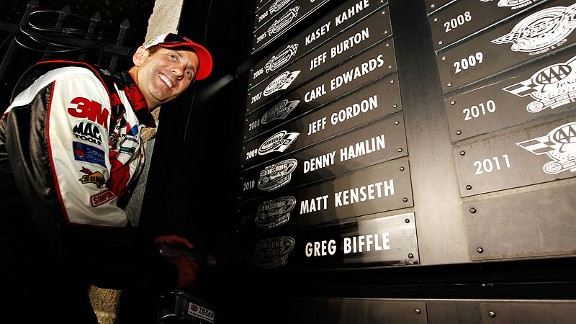 Brandon Wade/Getty ImagesSprint Cup points leader Greg Biffle had reason to smile Saturday night at Texas Motor Speedway.
MOORESVILLE, N.C. -- Greg Biffle flashed a winning smile on Tuesday as he addressed a group of youngsters at Lake Norman Elementary School.
Not because the Roush Fenway Racing driver was still riding high after Saturday night's victory at Texas Motor Speedway -- although he is still riding high.
Not because he extended his points lead to 19 over teammate Matt Kenseth and Dale Earnhardt Jr.
But because he can.
In case you missed it when Biffle posed in Victory Lane, he's not wearing braces anymore. He had them removed about this time a year ago, but because he didn't make the 2011 Chase or win a race there weren't many opportunities for him to be photographed with a smile.
Nor were there many reasons for him to smile with the way his team struggled.
But with a win and five top-10s in seven races, Biffle finds himself smiling all the time.
So what does this have to do with Tuesday's appearance? Everything.
Biffle was there to promote the American Dental Association's "Give Kids A Smile" program in conjunction with Henry Schein Inc. and his primary sponsor, 3M, which made the braces that gave him his winning smile.
His No. 16 car will feature the "Give Kids A Smile" paint scheme for the April 28 Richmond race, and there will be free dental health screening and education for selected children who can't afford it.
So, yes, this is personal for The Biff.
"There are over 16 million kids that live with dental disease," Biffle said. "There are so many things you probably don't know about, that once you start learning and get educated about it you're amazed."
How Biffle, 42, wound up with braces at an age when most are getting them for their kids also is a good lesson. He opted not to get them as a teenager because he wrestled and didn't want to go through the discomfort while in competition.
Next thing you know he was racing and there wasn't time.
So when his teeth started "moving all over the place" after having impacted molars removed a few years ago, braces became a necessity. He had them put on at the time of the 2009 spring race at Texas and scheduled orthodontist trips around race weekends at Indianapolis, Dover and a few other places near specialists.
"I would have been way happier with wrestling with braces on than driving a car," said Biffle, who still wears a permanent retainer. "To have that helmet squeezing your cheeks, then my mouth's sore ... it was a lot."
But at least now Biffle has a winning smile to go along with his winning car.
March, 30, 2011
03/30/11
3:21
PM ET
CONCORD, N.C. -- Greg Biffle says his contract extension with Roush Fenway Racing should be completed within the next two weeks. He'd like to think teammate and points leader Carl Edwards will re-sign for the same reason -- a chance to win the Sprint Cup title.
He makes a valid point.
You could argue there no better place than RFR at the moment, including Hendrick Motorsports, Richard Childress Racing or Joe Gibbs Racing.
"The next three to five years is going to be good at Roush Fenway," Biffle said on Tuesday after beating 15-time Funny Car champion John Force in an exhibition at zMax Dragway. "Our engine is new and we're going to continue to find better, new stuff with it.
"Are there other places to go? Probably. Ultimately, we want to win races. Economics is a part of it. If we were going to drive something we'd win in damn near every weekend, we probably would drive for nothing because that's the way it is."
Edwards said last weekend at Auto Club Speedway in California that his contract talks were on hold so he could focus on the best start of his career. Although most in the business expect Edwards to stay put, there are teams that will make a run at him.
Red Bull Racing, which is looking for a replacement for Kasey Kahne in 2012, comes up most often.
"If I'm going to make a change, it's going to be better than what I have," Biffle said. "Do I consider Red Bull a better team than us, competitive wise? I don't think so.
"Now I'm not saying they are bottom of the barrel. They're a good team. But to say, 'Oh, I'm going to go over there and win a championship,' for sure I don't think that's in the cards."
Roush Fenway has won Cup championships with Matt Kenseth and Kurt Busch, and collected 121 Cup wins. Red Bull has more of a reputation for its edgy promotions than winning races -- one win and no titles since entering the sport in 2007.
"If you're in it for the lifestyle and parties, go to Red Bull," Biffle said jokingly.
October, 14, 2009
10/14/09
11:17
AM ET
CHARLOTTE, N.C. -- Before we get to the first five selections for NASCAR's inaugural Hall of Fame class that will be named at 4 p.m. ET on Wednesday, let's get this out of the way: Tom Logano won't be on the list.
[+] Enlarge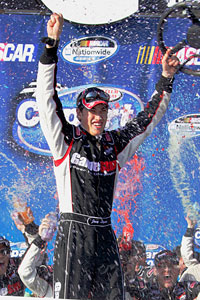 AP Photo/Reed SaxonWhile Joey Logano celebrated his Nationwide Series win Saturday at Auto Club Speedway, daddy Tom Logano was getting reprimanded by NASCAR.
His son, Joey, may one day 20 or 30 years from now.
But Daddy Logano won't ever be there. He also lost some votes for NASCAR's 2009 Father of the Year Award -- if there were such a thing -- after Saturday's pit road incident following the Nationwide Series race at Auto Club Speedway in California.
Let's rewind.
Greg Biffle sent Joey into the wall on Lap 50 after reportedly hinting over his in-car radio that he planned to do so. Joey received some damage, but not enough from keeping the 19-year-old phenom from winning the race.
While running down pit road toward Victory Lane, Tom, I'm told, saw Biffle's car headed to its pit stall. Instead of running past, Tom paused and made a gesture -- he gave him the finger, if you must know -- and said a few words that can't be repeated on a Web site owned by Disney.
Tom then was called to the Nationwide Series principal's office to meet with series director Joe Balash and a few Sprint Cup series officials. They took his hard card that gives him full access to the garage, which meant he had to stand in line for a single-event pass for Sunday's Cup race.
It was an inconvenience that Tom may have to deal with the rest of the season, but only an inconvenience.
I have mixed emotions about this. Having seen Little League fathers embarrass themselves countless times, my first inclination was to suggest the elder Logano be banned from a couple of races. What he did set a bad example.
But we're not dealing with 12-year-olds in Little League here. These are grown men, even if one of them still is a teenager.
And this is a family sport where family members curse and flip opponents off every weekend. You can count way past your middle finger how many times drivers flip each other off during a race, and NASCAR doesn't limit their access.
That Biffle reportedly said he was going to put Joey into the wall, apparently still miffed that Joey smashed in his fender a week earlier at Kansas, is the bigger issue.
If Brad Keselowski is warned for driving too aggressively against Juan Pablo Montoya in a Cup race as he was at Kansas two weeks ago, then a premeditated shot at another driver should warrant some sort of punishment, don't you think?
I'm not condoning what Tom did, but as a father I can imagine the anger he felt after thinking another driver purposely put his son in harm's way. It had only been a couple of weeks since he saw Joey roll the No. 20 seven times at Dover.
That day we saw images of him on television running toward the infield medical center to check on his son as any father would. I understood how he felt then, just as I understand how he felt on Saturday.
Could he have shown better judgment? Definitely. He told team president J.D. Gibbs he "messed up." He admitted to others I have talked to that he was embarrassed.
He also has been judged enough for it.
He wasn't a candidate for NASCAR's Hall anyway.
September, 26, 2009
09/26/09
12:59
PM ET
DOVER, Del. -- Let's straighten out a few issues from Dover International Speedway.
Dale Earnhardt Jr., who is ranked 21st in points and has had trouble finding his own pit box this season, told a reporter that David Reutimann, who is 16th in points and a contender to make the Chase until the final cutoff, needs to "polish up his craft."
Greg Biffle said it was an unfair advantage that Chase drivers -- he didn't mention names, but we should assume he's talking about Friday's pole-winner Jimmie Johnson and second-fastest Juan Pablo Montoya -- were allowed to participate in a tire test at Dover even though the test occurred a month before the 12-driver field was set.
Brian Vickers said the best way to make pit road safer is to get rid of it altogether, or maybe not race real cars at all, "just play video games."
OK, so Vickers' comment was tongue-in-cheek.
But it's been that kind of a crazy weekend so far at Dover, and it likely will get crazier before the second race of the Chase concludes Sunday afternoon.
Let's get Earnhardt and Reutimann out of the way first. Earnhardt obviously was upset that he had a car capable of at least a top-5 finish last weekend at New Hampshire before Reutimann lost control and sent him into the wall.
Reutimann admitted he made a mistake. He looked NASCAR's most popular driver in the eye and said he was sorry.
But Earnhardt still criticized him after the race and did so again at Dover. Just a guess, but this has to do more with frustration from a disappointing season for Earnhardt than Reutimann, or one wreck.
"He definitely hasn't had the kind of season I'm sure he would like," Reutimann said Saturday. "A lot of us haven't. He obviously had a very good racecar. When you get taken out, that's not going to sit very well with you.
"I can't blame him, but I've been hand-whipped pretty hard this week. … You can only talk about somebody for so long before you get tired of it. That's kind of the point I'm at right now."
For the record, Reutimann didn't comment on how many times Earnhardt has missed his pit stall this season. He also didn't note that he qualified fifth this weekend and his chief critic will start 24th.
Now for the tires. The new compound Goodyear brought to the "Monster Mile" has some drivers and crew chiefs scratching their heads for the right setup.
Denny Hamlin, whose teammate Kyle Busch was one of eight drivers who participated in the earlier tire test, called the tires "just crap, really" and insisted that cars will slide all over the place.
"From what I hear they didn't bring back the tire that everyone liked," he said. "Same as Atlanta. They keep increasing the stagger in the tires, and it just keeps making guys loose in and loose off [the turns].
"They won't listen to us drivers, so I don't know why we even tire test these tracks anymore."
Apparently, Goodyear listened to Johnson, who suggested the tire manufacturer bring a combination that would put more mechanical grip in the car and let teams "back off some of the crazy setups we are running and tighten these cars up."
But if testing is such a big advantage, how do you explain the fact that Johnson wasn't one of what he called the "75,000 cars" that tested at Indianapolis and won the race?
"There is no doubt there is an advantage to it, but we overcame that at Indy and didn't have a chance to test there," he said.
In other words, everybody stop complaining.
Biffle should have more pressing worries. Although he qualified fourth, his four Roush Fenway Racing teammates qualified 21st or worse, and Bobby Labonte, using Roush Fenway equipment, was slower than only two cars.
What's alarming about that is the No. 71 Labonte drove last week at New Hampshire qualified 18th with David Gilliland.
"That constitutes how poorly we're doing [our] job [as well as] that Yates organization across the street," Biffle said. "We all have the same equipment and we're just not getting it done."
At least Biffle finally explained why the Roush cars are struggling. Apparently, it's all about corner speed.
"Let me explain that," he said. "There's two ways of getting a car to turn around the corner. One is the car turns with the front tires when you turn the steering wheel, it turns with the front tires, and it turns around the center of the corner … you can push the gas down and off you go.
"The second way is if the front tires don't turn, they slide up the race track -- you cannot get them to turn. The only thing you could do is loosen the car up, take wedge out, do whatever you could do to try and get the back of the car loose enough to where you go around the corner with the back of the car turning. So the back of the car is sliding around the corner, almost, if you will, like a forklift."
And a forklift, he says, turns with the back tires and not the front. He says drivers have run faster on seven cylinders than the Roush cars because their corner speed is faster.
That's crazy.
And then there was real crazy, when Vickers was asked if crew members deliberately run out in front of other cars to slow them down on pit road.
"I can assure you that I'm trying to avoid people on pit road because I don't want to hurt anybody," he said.
Well, that's good to know.
That's when Vickers went from making pit roads wider to eliminating them to playing video games. Johnson, who was next in line for his weekend press appearance, seemed a bit surprised by the whole exchange.
"Everybody clear on the whole pit road deal Brian was talking about … playing video games instead of driving?" he asked as he left the media center.
Yep, we've got it all straight.