Category archive:

Jimmie Johnson
May, 23, 2013
05/23/13
5:05
PM ET
CONCORD, N.C. -- For most of his career Jimmie Johnson has been called vanilla and boring even though he is neither.
Now some are calling him arrogant.
He's not that, either.
But the five-time Sprint Cup champion was called that by some of you after Saturday night's All-Star Race, when he joked about fans wanting to hate him for winning the event for the fourth time, when he joked that races were rigged and he was lucky as fans screamed conspiracy theory.
He simply was being funny, responding to a question about how the network televising the race confused fans by posting a graphic that incorrectly showed the Hendrick Motorsports driver should have entered pit road 11th instead of fourth, as he was.
[+] Enlarge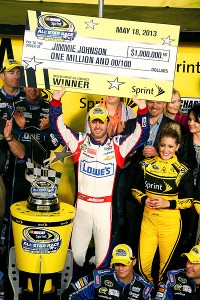 Jeff Zelevansky/NASCAR/Getty ImagesJimmie Johnson won his record fourth All-Star Race on Saturday night at Charlotte.
But some didn't take it that way. They took Johnson's response as being smug and arrogant.
Maybe fans simply were frustrated from the lack of passing and slam-bang racing in what was billed as a no-holds-barred event at Charlotte Motor Speedway. Maybe they were upset at having to face the reality that the No. 48 team may win a sixth title this year.
Maybe they were ticked that Danica Patrick won the fan vote.
Or that Bobby Labonte didn't.
Whatever, it was misdirected.
When you think of Johnson, words such as winner, champion, father, husband, athletic and consistent should come to mind.
Arrogant shouldn't be anywhere on the list.
Johnson is as humble as the sport has seen. Ask him how he compares with the Pettys and Earnhardts of the sport, as he was several times before Friday's first practice for Sunday's Coca-Cola 600, and he becomes almost shy.
"I just don't pay that much attention to it all," Johnson said. "It's very difficult to think about where I fit in while I'm still racing. I think of drivers' careers ending mid-40s. I still have 10 years or so to even think about that, worry about that.
"So to be recognized and thought of and even in the conversation with Petty, Earnhardt, Gordon, that's a huge compliment I'm very proud to have, proud to be a part of that conversation. But I haven't thought that much about it."
Peers certainly don't look at Johnson as arrogant. They may be jealous of his success -- 62 wins and five titles -- but they also respect him in the way they do a Hall of Famer.
"People can say whatever they want about him, but I don't know how you [can] say that he's not the best ever," 2003 Cup champion Matt Kenseth said. "Nobody has ever won five championships in a row and probably never will.
"It's kind of cool to be a part of that, because I think someday you will look back at history and be like, 'Oh, yeah, I raced against him.' But at the same time it stinks because you get beat so many times."
Four-time champion Jeff Gordon called his teammate's career "pretty phenomenal." Reigning champion Brad Keselowski called it "pretty damn good so far."
"I know there are a lot of people that would like to have it," he added.
None of the drivers called him arrogant.
That's because he isn't.
February, 25, 2013
02/25/13
3:09
PM ET
DAYTONA BEACH, Fla. -- The image of five-time Sprint Cup champion Jimmie Johnson and the No. 48 team has been vanilla in the minds of those who don't really know them.
Businesslike.
Boring.
That might change if people get to see the video of Johnson, on top of the No. 48 hauler parked on the front stretch of Daytona International Speedway, doing the Harlem Shake with his crew dancing below.
It happened at about 9:15 p.m. ET on Sunday, four hours after Johnson won his second Daytona 500.
[+] Enlarge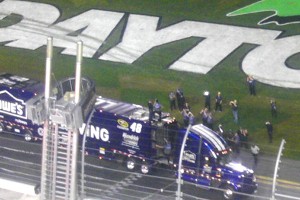 Special to ESPN.comJimmie Johnson performs the Harlem Shake atop his hauler at Daytona International Speedway as his crew plays along Sunday night.
The good news is Johnson didn't fall off the hauler and break his wrist, as he did while surfing the top of a golf cart after winning the 2006 championship, in which he won his first Daytona 500.
"No broken wrist! I survived," Johnson said with a laugh during Monday morning's championship breakfast.
Was anybody concerned?
"I have concerns about him all the time," crew chief Chad Knaus said. "I'm not going to lie, I did have some flashbacks to broken wrists on top of the golf cart and all that. We were keeping everybody in check pretty good."
This priceless moment was totally impromptu. Knaus wanted a picture of the 48 hauler parked on the front stretch of DIS with the track logo painted in the background.
"One of the pit crew guys jumped up and said, 'Let's do the Harlem Shake,' " Knaus said of the contemporary dance that has gone viral on YouTube. "I was, 'All right. Let's see if we can get this thing rolling.'
"We found a photographer from somewhere. He was on a motorcycle. He went back and got his tripod. It was funny."
And it defied the image of Johnson and the 48 team.
"People don't understand what this team is about," Knaus said. "We're serious racers. We want to come out, race to win. And when we have an opportunity, we have a good time. That's the way this team has always been and always will be.
"Jimmie is a guy that likes to have a lot of fun. I like to have a lot of fun. But when it's time to get to work, we work."
Johnson won the 500 in workmanlike fashion, being patient most of the day and then surging to the front with about 16 laps remaining.
Four hours later, he was gyrating his upper torso in a way you've never seen.
"One of the guys arranged it all, and he has some editing to do," Johnson said. "We'll see if it's worthy to put out there. Clearly there's some discussion about it, so I think we might be forced to put it out before long."
As Johnson and Knaus discussed the celebration, team owner Rick Hendrick interrupted.
"Why wasn't I invited?" he said.
There are shakes, and then there are shakes. NASCAR may not be ready for that one.
But Hendrick is glad to see Johnson and the team enjoy their success, something they haven't always done.
"They need to have more fun," Hendrick said. "It's a hard deal out here on the road all the time."
Hendrick also liked the video of four-time champion Jeff Gordon and his team doing the Harlem Shake before the season. Approximately 4 million people have viewed that.
Who knows how many will view Johnson's Shake. Maybe it'll change a few impressions about him, though.
"Jimmie is a funny guy," Hendrick said. "He's the life of the party if you get him … "
Hendrick paused, then continued: "But what you see with Jimmie is he's such a professional. When he walks into that gate he goes into that mode where he's totally in focus. He's not going to clown around in the garage area.
"He might do it later."
He did on Sunday night.
And it was anything but vanilla.
February, 20, 2013
02/20/13
3:53
PM ET
DAYTONA BEACH, Fla. -- There's a picture that didn't make the book Jimmie Johnson and his wife published last year that sums up how the five-time Sprint Cup champion feels about restrictor-plate racing.
The picture is entitled "Farewell Talladega." It didn't make the book because it showed Johnson delivering a one-fingered salute to the Alabama track from the seat of his private jet.
He probably felt like doing it again -- this time aimed at Daytona International Speedway -- after Saturday night's Sprint Unlimited, when he crashed out in the first segment.
"I keep telling myself I like plate racing, but it's getting harder and harder," Johnson wrote on Twitter after the race.
Here's why. Counting last year's Budweiser Shootout and this year's Sprint Unlimited, Johnson has gone six consecutive races on a restrictor-plate track without finishing -- mostly due to wrecks.
His average finish in the past six points races at Daytona International Speedway, the site of Sunday's Daytona 500, is 31.8. He's finished on the lead lap in only one of those.
His average finish in the past three Talladega races is 26.0, and that includes a 17th last fall when he crashed coming to the checkered flag.
So if you're looking for a driver to bet on Sunday, Johnson may not be the best choice.
"It's such a balance, too, because one win and you are in Victory Lane and it's the coolest rush because you are gambling the whole race," said Johnson, who won the 2006 Daytona 500. "When it hits, it's a lot like hitting it in the casino. The rush is amazing.
"But it's a different kind of racing. Especially for the No. 48 team, we have had a lot of torn up race cars lately. It's starting to get a little old, but we will keep racing. We will keep building cars and be out there trying to get all the points we can."
A year ago, after waiting an extra 24 hours for the 500 to start due to a rain delay, Johnson crashed hard into the wall after a nudge from Elliott Sadler. On the first lap.
"Last year's was about as bad as it gets," Johnson said. "Leaving the first lap crashing, that wasn't a good one. We will hopefully make 2.7 miles this year before anything happens."
July, 14, 2012
07/14/12
3:30
PM ET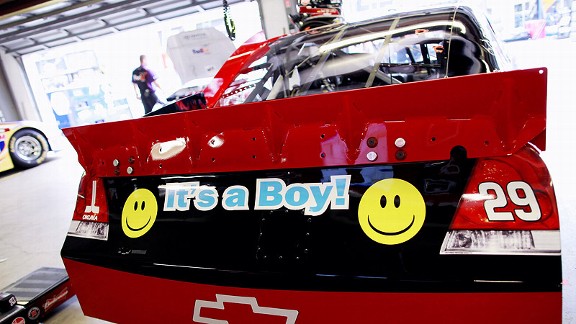 Tom Pennington/Getty Images/NASCARThe back of Kevin Harvick's car says it all for the new father.
LOUDON, N.H. -- Baby talk and triathlons.
That's what you may have missed over the past week as the Sprint Cup world focused on AJ Allmendinger's suspension for a failed drug test and the subsequent news and speculation.
If you didn't hear, Kevin and Delana Harvick became first-time parents -- no, dogs and cats don't count here -- on Sunday as Keelan Paul was born. That same day Kasey Kahne beat Jimmie Johnson in a triathlon in Charleston, S.C.
Friday's interviews surrounding both of these events were as entertaining as anything you'll see or hear this weekend at New Hampshire Motor Speedway. I'll give you a few nuggets on each.
• Harvick on Keelan having his own Twitter page: "Well, Keelan has his own everything because I didn't want some crazy-ass fan getting hold of his twitter name or his website."
• Harvick on driving Delana to the hospital: "It wasn't very fast because she was obviously in a lot of pain. That was partly my fault because I made her wait too long, so we didn't make any real fast corners. I had been to the doctor's office several times so I knew where every bump was. So I didn't get yelled at, and that was my goal."
• Harvick on whether Keelan has his own go-kart yet: "We're hoping for no go-karts. We're hoping for golf clubs. We're hoping that we go in a different direction there."
• Johnson on having cramps in the triathlon the day after a hard crash at Daytona: "I went to the curb and was stretching my calves real quick, and a guy in a No. 24 hat came running up with a Bud Light and said, 'Hey, this will help, this will help.'"
• Johnson on seeing a woman riding a beach cruiser during the bike portion of the race: "The only thing she was missing was a basket on the front."
• Johnson on Kahne saying he beat his Hendrick Motorsports teammate by 27 seconds: "Oh, twenty-something."
• Dale Earnhardt Jr. on whether Johnson has asked him to compete in a future triathlon: "Jimmie knows better than to waste too much time on that."
Hey, it can't be Allmendinger 24-7.
April, 3, 2012
04/03/12
1:34
PM ET
In case you're wondering whether Chad Knaus and Jimmie Johnson will bring the infamous C-post Daytona 500 car to Talladega Superspeedway next month, let me help.
No.
Team owner Rick Hendrick told me on Sunday at Martinsville Speedway the No. 48 car that NASCAR deemed illegal, the one that cost him 30 days of "hell'' fighting the penalties, will be laid to rest in the woods surrounding Dale Earnhardt Jr.'s property in Cleveland County, N.C.
It'll be in Junior's car graveyard with the mangled No. 42 that Juan Pablo Montoya drove into a jet dryer to cause a two-hour delay in the Daytona 500 and more than 50 other cars Earnhardt calls "yard ornaments."
So is this an admission that the car was illegal, even though chief appellate officer John Middlebrook overturned the 25-point deduction for Johnson and six-week suspensions to crew chief Knaus and car chief Ron Malec?
You know, the car that Johnson said was "completely legal'' when the appeals process was over?
No. Hendrick's just not willing to test the governing body and possibly create another 30 days of turmoil.
Smart move. Sprint Cup Series director John Darby told me that if the 48 car with the same C-posts goes to Talladega, it will be confiscated again and the same penalties will be applied.
Remember, Middlebrook didn't remove the $100,000 fine on Knaus, an indication he felt something was wrong.
And as Hendrick noted, one of the big issues he fought during the appeals process was that NASCAR didn't give Johnson's team a chance to fix the C-posts after they were discovered in initial tech inspection. Several other teams got that chance without penalty.
So the infamous C-post car -- or at least the legal version that was wrecked on the second lap of the 500 -- is in a proper place. It is in a place with other cars that, if they could speak, could tell great stories.
And that's the end of this story.
March, 12, 2012
03/12/12
5:12
PM ET
CONCORD, N.C. -- The scene outside of NASCAR's Research and Development Center on Tuesday will be much like you'd see outside of a courthouse during a big trial.
It will be a media circus -- or a stakeout, as some call it -- but on a much smaller scale than you'd see with Casey Anthony or O.J. Simpson.
CNN and CNBC won't be here.
There will be a hearing going on inside, but there will be no judge in the pure legal sense, or attorneys cross examining witnesses. And there's no pretense that those under the spotlight are innocent until proven guilty.
Here you are guilty, without question, going in.
This is the scene of the National Stock Car Racing Commission. There are 45 members, but they rotate through for hearings. Two members and the chairman, who doesn't vote, hear each case. They will be listening to the Hendrick Motorsports appeal of the hefty penalty given to Jimmie Johnson's team for violations discovered last month during initial inspection for the Daytona 500.
Team owner Rick Hendrick doesn't believe the six-race suspensions that NASCAR handed to crew chief Chad Knaus and car chief Ron Malec -- as well as the 25-point penalty given to Johnson -- are fair. He'll argue that the governing body confiscated the C-posts deemed illegal before they went through tech.
He'll argue that the same car with the same C-posts -- pillars that come down from the roof to the rear quarter panel -- passed NASCAR's inspection 16 times previously.
Odds are, he'll lose.
Not necessarily because he doesn't have a good case, but because the commission seldom overturns decisions.
When Richard Childress Racing appealed Clint Bowyer's 150-point penalty in the fall of 2010, the commission had upheld 88 of 132 decisions between the Sprint Cup, Nationwide and Truck Series, reduced 42 and increased two.
Most of the reductions were in the lower series. The last time a Cup penalty was reduced was in 2008 with Robby Gordon's team.
The last time a Sprint Cup penalty was completely overturned came in 2005, when insufficient evidence was found that Michael Waltrip made an inappropriate gesture during a television broadcast.
That the C-posts were deemed illegal on eyesight before the car was measured with templates in the inspection process might leave NASCAR vulnerable, but the system in place doesn't leave opportunity for HMS to directly question officials.
It also doesn't leave HMS the opportunity to question officials about what Hendrick believes could be a possible bias against Knaus for a history of violations.
So it's not a true hearing.
Former Roush Fenway Racing president Geoff Smith, a former attorney who was oh-for-at-least-five against the commission, said it best in 2010 when he explained what Childress faced.
"Well, the appeal process has got a public veneer of fairness attached to it," Smith said. "But the reality is that it's quite a bit different than what you would be thinking from looking at the veneer.
"I would say when the actual Cup series director makes a call, the penalty reduction [chances are] minuscule."
Former driver and current analyst Kyle Petty was a bit more direct during Sunday's "NASCAR RaceDay" broadcast on SPEED.
"This appeals process is a crapshoot," he said before the Las Vegas race. "There are 45 members on this board. … I challenge anybody out there to find me more than eight or 10 out of this 45 who have been to the race track in the last 12 to 24 months. These people don't go to the race track, they don't understand the process. They don't understand sometimes where this sport is."
Petty went on and on, but his bottom line was a point Smith made in 2010, that violators should be judged by their peers -- current drivers, owners and engineers -- not by track presidents and others who have a vested interest in NASCAR as a business.
"That's why I say it's one of these things where the deck is stacked against you," Smith said.
You could argue that current drivers and owners might be biased against another team, but if they expect to be treated fairly when their reputation is at stake, they're more likely to be fair with others.
Plus, they understand what a C-post is.
So there's a good chance Hendrick will lose, then make his final appeal to John Middlebrook, a retired General Motors executive who serves as the chief appellate officer.
That will create another small media circus.
And that will gives us all time to ponder if the system in place is fair.
October, 18, 2011
10/18/11
5:54
PM ET
CHARLOTTE, N.C. -- Things you may have missed at Charlotte Motor Speedway and in NASCAR in general on Monday as the motorsports world mourned the loss of Dan Wheldon:
• They had a test at CMS, preparing Sprint Cup cars for next year's switch from carburetors to electronic fuel injection, otherwise known as EFI, as was on the hood of most cars. About a dozen teams participated and the media actually took an EFI 101 class with professor Doug Yates of Yates-Roush Engines.
There was no final exam, thank goodness.
The test was a big deal in that NASCAR finally is putting, as Yates said, the stock back in stock cars. You won't be able to tell much of a difference from the stands. The speeds will be about the same and the noise is just as loud.
Fuel mileage should be somewhat better, but teams won't be able to figure out all the issues with that until NASCAR decides on the final design of the tank.
Otherwise, this is more to make manufacturers happy. Automakers long have wanted the cars on the racetrack to simulate the cars in the showroom.
• Kasey Kahne got behind the wheel of a Hendrick Motorsports car that he'll be driving next year for the first time. He said there were more differences than he expected from the Red Bull Racing cars he currently drives.
Some might have to do with it being an EFI car.
"The power, the on and off throttle, and the way the engine reacts to what you do with your foot, to me that was the biggest difference," Kahne said.
• Jeff Gordon unveiled at the nearby Jeff Gordon Children's Hospital the "Sounds of Pertussis" quilt in his continued effort to educate the masses on whooping cough.
The "Race to Blanket America" quilt has 2,400 squares designed by individuals with the March of Dimes donating $1 for each square up to $10,000 (for more information, go to www.SoundsofPertussis.com). Gordon and his wife, Ingrid, designed one square and Gordon designed another.
"All of us take calculated risks in our lives to some degree," Gordon said. "But when it comes to our children, I don't think that's anything we can afford to be risky on."
October, 11, 2011
10/11/11
5:23
PM ET
CHARLOTTE, N.C. -- Jimmie Johnson pulled out his phone on Tuesday to show that his alarm always is set on 6:48 a.m. He usually sets the microwave for a minute and 48 seconds, and he has been known to share what his fortune cookie says.
I once saw the five-time defending Sprint Cup champion go back to a candy basket at a restaurant in Daytona Beach half a dozen times until he got one close to the blue color of his No. 48 Lowe's Chevrolet.
But Johnson insists he's not superstitious, particularly about being on the upcoming cover of Sports Illustrated.
"There's a curse?" Johnson asked a group of reporters Tuesday during an appearance at the NASCAR Hall of Fame.
Well, yeah. It's kind of famous as far as curses go.
It began in 1954 with Atlanta Braves third baseman Eddie Matthews. Shortly after he appeared on the cover in the magazine's inaugural year, Mathews broke his hand and missed seven games.
The list goes on and on. In 1958, race driver Pat O'Conner was killed on the first lap of the Indianapolis 500 four days after appearing on the cover. In 1956, Indy 500 winner Bob Sweikert was killed in a Sprint Car crash three weeks after his cover shot.
More recently, Chicago Bears quarterback Jay Cutler appeared on the Jan. 19, 2011 cover and promptly injured his knee in a loss to the Green Bay Packers in the NFC Championship Game.
Not everyone falls victim to this curse, mind you. Michael Jordan appeared on the cover 49 times and did pretty well for himself with six NBA titles and countless MVP awards.
"It didn't seem to bother me in '06 or '07, or whenever we were on it," Johnson said.
Actually, it was November 2008. By then Johnson had won his third straight title.
This appearance, though, comes in the heat of a playoff run, which Johnson is handling just fine with consecutive second- and first-place finishes to move within four points of leader Carl Edwards.
"There is nothing to worry about," said Johnson, destined to be one of the Hall's most prestigious members. "If I lose the championship it has nothing to do with being on the cover of a magazine. It means we didn't do our jobs or had some bad luck.
"I think talk about a curse thing is a bunch of B.S."
August, 13, 2011
08/13/11
2:29
PM ET
WATKINS GLEN, N.Y. -- Kurt Busch did a nice job of stirring the pot on his feud with Jimmie Johnson Saturday at Watkins Glen International.
He didn't take any personal shots.
He didn't get emotional.
Busch knows he's in the head and under the skin of the five-time defending Sprint Cup champion, so he played it cool in a smug way that has to infuriate Johnson even more.
Ok, Johnson would call Busch's demeanor "smart ass" instead of smug, as he did during last week's postrace pit road confrontation about the way Busch raced him for third place on the final lap.
But you get the point. Busch is going to use this as much as he can to give him an edge, should the championship come down to the two former champions.
"I learned from one of the greats about how to keep a memory on who does you right and who does you wrong," Busch said. "And that was Jimmy Spencer. He taught me a lot."
How times have changed. The driver who in 2003 at Michigan punched Busch in the nose apparently has become Busch's role model.
Busch mentioned Spencer several times Saturday, including in his opening remark when asked what he thought of Johnson's comments in the same room Friday.
"When you said Jimmie was in here I didn't know if you meant Spencer or Johnson," Busch deadpanned.
Johnson was direct with his attacks on Busch, referring to the way the 2004 Cup champion has bad-mouthed his crew and owner Roger Penske over the in-car radio, basically calling Busch a coward for fueling last week's postrace confrontation with comments only after Johnson had turned to walk away and only after a crowd had gathered.
Busch was more subtle.
Granted, Busch had an advantage since he had a day to digest Johnson's comments and plan a rebuttal. That was most obvious when he brought up Johnson's explanation of trying to break a side draft the first time the two got into each other on the final lap.
Johnson, by the way, said he didn't touch Busch.
"That's not a move of a five-time champion," Busch said. "That's a move of a guy who has an issue with a guy like me."
Busch knows about having issues with a guy like him. He learned from one of the best in Spencer, who in June told SceneDaily.com he "made a better person out of Kurt by punching him."
There's some truth to that. Busch realized a feud of that magnitude makes it tough to win a championship because your focus isn't solely on the championship.
That doesn't mean Busch won't stir the pot with Johnson, realizing that "if I'm in his head, then he's got to worry about us" in the Chase.
So far, he's doing a nice job of that.
June, 22, 2011
06/22/11
10:41
PM ET
CHARLOTTE, N.C. -- One week people are wondering if Jimmie Johnson is laying low like a snake in the grass, ready to pounce on a sixth straight Sprint Cup championship. The next they are wondering if there's a chink in Superman's armor that possibly could open the door for somebody else to claim the prize.
To those that are hoping for the latter, particularly after last week's 27th-place finish at Michigan in which Johnson spun out on his own and finished a lap back, sorry.
[+] Enlarge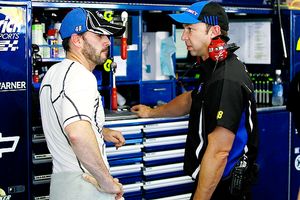 Chris Trotman/Getty ImagesDon't let Chad Knaus and Jimmie Johnson fool you, they're right where they usually are.
The No. 48 team is right where it has been the past five seasons, and we all know how that turned out.
It's amazing, really, when you compare Johnson's statistics after 15 races this season with 15 in each of his championship runs. Other than a win or two here, a top-5 or two there and a few laps led there, there's really no difference.
Let's break it down year by year:
• 2011: One win, five top-5s, nine top-10s, 473 laps led and fourth in points.
• 2010: Three wins, six top-5s, nine top-10s, 625 lap sled, sixth in points.
• 2009: Two wins, six top-5s, nine top-10s, 794 laps led, third in points.
• 2008: One win, four top-5s, seven top-10s, 573 laps led and fifth in points.
• 2007: Four wins, eight top-5s, nine top-10s, 668 laps led and third in points.
• 2006: Three wins, seven top-5s, 12 top-10s, 325 laps led, first in points.
Outside of 2006, Johnson hasn't been better than third in points at this point. There have been times when he's led fewer laps and had fewer top-5s.
In other words, things are status quo, which can't be good for the rest of the competition.
"I don't know where people have had this impression it's all holding hands and singing 'Kumbaya' for the 48 team," said Johnson, who is the defending champion at this week's race in Sonoma, Calif. "We're racers. We don't enjoy running midpack. We've been through this each and every year. That's just racing."
And don't read anything into the frustration you may have heard in crew chief Chad Knaus' voice on occasion, particularly at Charlotte where after a late pit stop in which many teams took two tires to gain track position, Knaus radioed, "Oh, hell, I don't know how to work these races anymore."
That was just frustration of several weeks in which a solid run, maybe a potential win, slipped away because of strategy.
"All in all, things are good," Johnson said. "Things can be better. We're very aware of that. We want more for ourselves."
Unfortunately for the competition, that typically comes around during the Chase.