Category archive:

Brian Vickers
March, 31, 2012
03/31/12
12:34
PM ET
MARTINSVILLE, Va. -- NASCAR finally has entered the wacky world of college football.
There could be a split champion in the Sprint Cup Series.
For the first time since the sport went to a playoff format in 2004, there is the opportunity for a different driver and owner champion. What's next? A BCS poll to determine who makes the Chase?
Here's how this scenario -- that few if any in NASCAR ever imagined when making the guidelines -- would work. Michael Waltrip Racing's No. 55 driven by Mark Martin, Brian Vickers and Waltrip is eighth in owner points. If it is in the top 10 after 26 races the car's points will be reset just like the driver's points and it is eligible for the owner's championship.
[+] Enlarge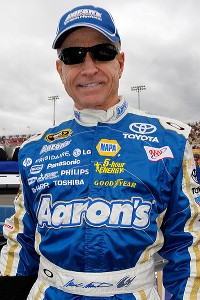 Jonathan Ferrey/Getty ImagesIs Mark Martin going to be the key to a split Sprint Cup title?
If the car has the most points after the 10 Chase races, it wins the title, not the owner of the car for the driver who wins the title, as has been the case so far.
That means there would be two tables on the stage for the banquet in Las Vegas, one for the driver's champion and one for the owner's champion.
If you really want to get crazy, try this scenario: MWR's Clint Bowyer or Martin Truex Jr. wins the driver title and the 55 has the most owner points. Where does owner Michael Waltrip sit in Vegas?
"On cloud nine," Waltrip joked.
But trust me, the split title is a possibility. It's on Page 36 of the NASCAR rulebook under Section 17-3-B. And you thought the only rule that existed was Section 12-4-A, aka "actions detrimental to stock car racing."
Here's what the rulebook says, "After the completion of the first 26 Events of the current NASCAR Sprint Cup Series Championship season, the top 10 drivers in the driver championship point standings and the top 10 car owners in the car owner championship point standings will each have their accumulated aggregate total adjusted to $2,000 points."
"It's always been there," Series director John Darby said.
Darby said the odds of that happening are long. The 55 could fall out of the top 10 on Sunday if Brian Vickers has another run here like he had in October.
Darby also admits that anything is possible when you have Martin driving a majority of the races.
Wouldn't that be crazy?
May, 9, 2011
05/09/11
4:21
PM ET
DARLINGTON, S.C. -- A few humorous leftovers from Saturday night's Sprint Cup race at Darlington Raceway that got tossed in the trash in the aftermath of Regan Smith's win and the postrace confrontation between Kevin Harvick and Kyle Busch:
---
Juan Pablo Montoya and Ryan Newman stayed clear of each other after their physical confrontation in the NASCAR hauler on Friday, but Montoya did make a new enemy in five-time defending Cup champion Jimmie Johnson.
On Lap 83, Montoya got into the back of Johnson's car, sending the No. 48 into a spin.
Montoya immediately and repeatedly apologized, saying, "really sorry" and how he didn't mean that.
Told what Montoya said, Johnson sarcastically responded, "I'm sure he is."
---
Kurt Busch, a week after his profanity-laced tirade at his Penske Racing organization, remained relatively calm despite countless issues. After receiving a one-lap penalty on 224 he was told to keep his head.
To which Busch calmly responded, "I have to turn off my radio now."
He's learning.
---
David Ragan's car turned into a can opener and peeled the left side of Brian Vickers' car off, shredding the blue foam blocks underneath that help protect the driver.
Vickers later said the car was "the best it's been all night."
Go figure.
---
After losing to Smith on the green-white-checkered finish, Carl Edwards said he needed a mattress, so he might go to Furniture Row and buy one.
Smith is sponsored by Furniture Row Racing.
---
Soon after the pit-road confrontation with Kyle Busch, Harvick tweeted he was going to run the Truck race this weekend at Dover.
Busch will be in it as well.
Hmmm.
September, 26, 2009
09/26/09
12:59
PM ET
DOVER, Del. -- Let's straighten out a few issues from Dover International Speedway.
Dale Earnhardt Jr., who is ranked 21st in points and has had trouble finding his own pit box this season, told a reporter that David Reutimann, who is 16th in points and a contender to make the Chase until the final cutoff, needs to "polish up his craft."
Greg Biffle said it was an unfair advantage that Chase drivers -- he didn't mention names, but we should assume he's talking about Friday's pole-winner Jimmie Johnson and second-fastest Juan Pablo Montoya -- were allowed to participate in a tire test at Dover even though the test occurred a month before the 12-driver field was set.
Brian Vickers said the best way to make pit road safer is to get rid of it altogether, or maybe not race real cars at all, "just play video games."
OK, so Vickers' comment was tongue-in-cheek.
But it's been that kind of a crazy weekend so far at Dover, and it likely will get crazier before the second race of the Chase concludes Sunday afternoon.
Let's get Earnhardt and Reutimann out of the way first. Earnhardt obviously was upset that he had a car capable of at least a top-5 finish last weekend at New Hampshire before Reutimann lost control and sent him into the wall.
Reutimann admitted he made a mistake. He looked NASCAR's most popular driver in the eye and said he was sorry.
But Earnhardt still criticized him after the race and did so again at Dover. Just a guess, but this has to do more with frustration from a disappointing season for Earnhardt than Reutimann, or one wreck.
"He definitely hasn't had the kind of season I'm sure he would like," Reutimann said Saturday. "A lot of us haven't. He obviously had a very good racecar. When you get taken out, that's not going to sit very well with you.
"I can't blame him, but I've been hand-whipped pretty hard this week. … You can only talk about somebody for so long before you get tired of it. That's kind of the point I'm at right now."
For the record, Reutimann didn't comment on how many times Earnhardt has missed his pit stall this season. He also didn't note that he qualified fifth this weekend and his chief critic will start 24th.
Now for the tires. The new compound Goodyear brought to the "Monster Mile" has some drivers and crew chiefs scratching their heads for the right setup.
Denny Hamlin, whose teammate Kyle Busch was one of eight drivers who participated in the earlier tire test, called the tires "just crap, really" and insisted that cars will slide all over the place.
"From what I hear they didn't bring back the tire that everyone liked," he said. "Same as Atlanta. They keep increasing the stagger in the tires, and it just keeps making guys loose in and loose off [the turns].
"They won't listen to us drivers, so I don't know why we even tire test these tracks anymore."
Apparently, Goodyear listened to Johnson, who suggested the tire manufacturer bring a combination that would put more mechanical grip in the car and let teams "back off some of the crazy setups we are running and tighten these cars up."
But if testing is such a big advantage, how do you explain the fact that Johnson wasn't one of what he called the "75,000 cars" that tested at Indianapolis and won the race?
"There is no doubt there is an advantage to it, but we overcame that at Indy and didn't have a chance to test there," he said.
In other words, everybody stop complaining.
Biffle should have more pressing worries. Although he qualified fourth, his four Roush Fenway Racing teammates qualified 21st or worse, and Bobby Labonte, using Roush Fenway equipment, was slower than only two cars.
What's alarming about that is the No. 71 Labonte drove last week at New Hampshire qualified 18th with David Gilliland.
"That constitutes how poorly we're doing [our] job [as well as] that Yates organization across the street," Biffle said. "We all have the same equipment and we're just not getting it done."
At least Biffle finally explained why the Roush cars are struggling. Apparently, it's all about corner speed.
"Let me explain that," he said. "There's two ways of getting a car to turn around the corner. One is the car turns with the front tires when you turn the steering wheel, it turns with the front tires, and it turns around the center of the corner … you can push the gas down and off you go.
"The second way is if the front tires don't turn, they slide up the race track -- you cannot get them to turn. The only thing you could do is loosen the car up, take wedge out, do whatever you could do to try and get the back of the car loose enough to where you go around the corner with the back of the car turning. So the back of the car is sliding around the corner, almost, if you will, like a forklift."
And a forklift, he says, turns with the back tires and not the front. He says drivers have run faster on seven cylinders than the Roush cars because their corner speed is faster.
That's crazy.
And then there was real crazy, when Vickers was asked if crew members deliberately run out in front of other cars to slow them down on pit road.
"I can assure you that I'm trying to avoid people on pit road because I don't want to hurt anybody," he said.
Well, that's good to know.
That's when Vickers went from making pit roads wider to eliminating them to playing video games. Johnson, who was next in line for his weekend press appearance, seemed a bit surprised by the whole exchange.
"Everybody clear on the whole pit road deal Brian was talking about … playing video games instead of driving?" he asked as he left the media center.
Yep, we've got it all straight.