Category archive:

Kasey Kahne
May, 15, 2013
05/15/13
12:00
PM ET
CHARLOTTE, N.C. -- Before Kyle Busch wrecked him for the second time in two weeks and the third time this season, I asked Kasey Kahne what it would take for him to get red-in-the-face mad.
You know, so mad that he would go out and retaliate the way Busch and others have done when they believe another driver has wronged them.
"I don't know," Kahne said last week in his usual soft tone. "It might happen."
Maybe it's time.
Maybe the only way for Kahne to send the message to Busch and others that he simply won't tolerate being wrecked -- even if it's unintentional -- is to send the Joe Gibbs Racing driver into a spin.
It probably won't happen, although Saturday night's Sprint All-Star Race is the perfect setting since no points are involved. It's not in Kahne's makeup to retaliate, at least in such an obvious way as Busch did to Ron Hornaday Jr. in the Camping World Truck Series two years ago at Texas or the way Jeff Gordon did to Clint Bowyer last year at Phoenix.
His way of sending a message is more subtle, like the not-so-friendly tap he gave to Mark Martin after Martin crashed him at Richmond.
"At Richmond, I was really mad," Kahne said.
Kahne shows his anger the way the Mona Lisa shows she's happy: You have to look hard to see it.
But you could hear it Saturday night in the sarcastic tone he used to describe how Busch "screwed up" and what likely will happen this week.
"I imagine he will call me again tomorrow and say he's sorry," said Kahne, referring to the apology he got after Talladega.
Busch knows he messed up, just as he knew he did at Daytona and Talladega. You could hear it in his voice over his in-car radio even if you didn't get to hear it after the race. He left Darlington Raceway without talking to media after a late tire issue left him with a sixth-place finish in a race he dominated.
Kahne stayed and talked after a 17th-place finish that could have been a win.
Maybe he is reaching a boiling point.
"Well, he needs to quit. … I mean he's got to just race me," Kahne said of Busch, who's not known as a dirty driver.
But when asked how he would race Busch moving forward, Kahne gave the answer you would expect.
"I will race him the way I've always raced him, the way I have always raced everybody," he said. "You try not to screw up and take people out when you are around them."
Maybe he needs to make an exception. Like in school, sometimes you have to stand up to the bully to let them and others know they can't walk all over you without consequences.
Were it not for Busch, as I wrote last week when Kahne told of the Talladega apology, Kahne would be near the points lead instead of in sixth. He might be the one with a series-best three wins instead of Busch's teammate Matt Kenseth.
Maybe this will work itself out. Maybe Busch will pull over and let Kahne pass the rest of the season when he knows Kahne has a faster car.
But that's not in Busch's makeup.
So maybe it's time for Kahne to send a message he's not to be messed with, to let people know he's a serious championship contender.
The All-Star Race would be the perfect place.
May, 8, 2013
05/08/13
10:22
AM ET
CONCORD, N.C. -- Kasey Kahne and Kyle Busch have agreed to stay away from each other the next time they compete on a restrictor-plate track.
They said it in fun on Monday when Busch called to apologize for wrecking Kahne in Sunday's race at Talladega Superspeedway, but it would be a smart move.
Twice this season -- first in the February Daytona 500 and again on Sunday -- Busch wrecked Kahne in almost the same way. If Busch had done that to almost any other driver in the garage, there might have been a brawl.
[+] Enlarge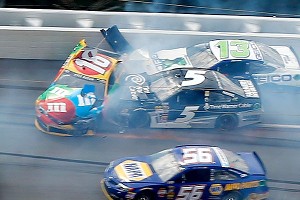 Jared Wickerham/Getty ImagesKyle Busch (18) wrecked Kasey Kahne (5) for the second time in two plate races this season.
If he had done that to Kevin Harvick or Tony Stewart, who were innocent victims in Sunday's Lap 42 incident that triggered a 16-car melee, it could have gotten real ugly.
Kahne's reaction?
"When I first got in that accident, I was sitting there and was like, 'Where is he?' I was looking for him and thinking, 'What should I do? Should I run down and grab him? Should we wrestle?'" Kahne said during a Tuesday event promoting the May 26 Coca Cola 600 at Charlotte Motor Speedway.
"See, that's what I'm thinking, but that's really not me. I just got in the ambulance."
Kahne appreciated Busch's apology, saying by the end of the conversation, "I told him at Daytona [in July] I'll stay away from him and he said he'll stay away from me."
He smiled as he said this.
That doesn't mean Kahne wasn't surprised a driver of Busch's talent wrecked him for the second time in as many plate races. It also doesn't mean he wasn't frustrated.
Were it not for those two crashes, Kahne likely would be no worse than second in points behind Jimmie Johnson instead of sixth, 84 points back. With a little luck, Kahne could be in the lead.
Consider: Kahne finished 36th at Daytona and 42nd at Talladega. He collected a mere 10 points between the two races. If he finished fifth in both races, which was entirely reasonable because he had a fast car in each, he would have another 68 points, without bonus points for leading a lap.
That would have put him in second, 16 behind Johnson.
If he won both races -- highly unlikely, but possible -- he would be at least tied for the points lead with his Hendrick Motorsports teammate. If he led the most laps for additional bonus points, he would have the outright lead.
But Kahne isn't losing sleep over all the lost points. He was more upset that he lost the Las Vegas race to Matt Kenseth and that Mark Martin wrecked him at Richmond, where the driver has more control over his car than at Dega or Daytona.
"At Richmond, I was really mad," Kahne said.
Not that anyone could really tell. The soft-spoken Kahne is one of the nicest drivers in the garage. He seldom lets his emotions get the better of him.
And Kahne could tell from the look on Busch's face in the infield care center that the wreck wasn't intentional.
"It's that type of racing there," he said. "There is a couple of times when you're racing at other tracks and you get wiped out by the same guy and you're definitely in a much different place. I don't know. I just try not to let it bother me."
Kahne still needs to stay away from Busch at Daytona.
July, 14, 2012
07/14/12
3:30
PM ET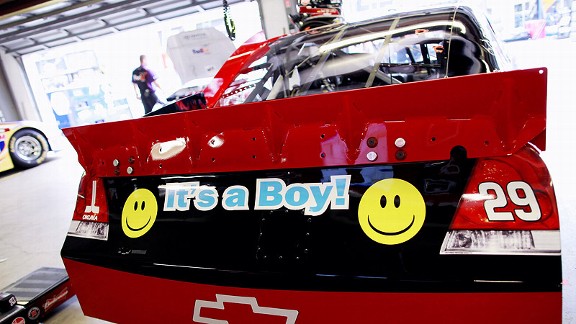 Tom Pennington/Getty Images/NASCARThe back of Kevin Harvick's car says it all for the new father.
LOUDON, N.H. -- Baby talk and triathlons.
That's what you may have missed over the past week as the Sprint Cup world focused on AJ Allmendinger's suspension for a failed drug test and the subsequent news and speculation.
If you didn't hear, Kevin and Delana Harvick became first-time parents -- no, dogs and cats don't count here -- on Sunday as Keelan Paul was born. That same day Kasey Kahne beat Jimmie Johnson in a triathlon in Charleston, S.C.
Friday's interviews surrounding both of these events were as entertaining as anything you'll see or hear this weekend at New Hampshire Motor Speedway. I'll give you a few nuggets on each.
• Harvick on Keelan having his own Twitter page: "Well, Keelan has his own everything because I didn't want some crazy-ass fan getting hold of his twitter name or his website."
• Harvick on driving Delana to the hospital: "It wasn't very fast because she was obviously in a lot of pain. That was partly my fault because I made her wait too long, so we didn't make any real fast corners. I had been to the doctor's office several times so I knew where every bump was. So I didn't get yelled at, and that was my goal."
• Harvick on whether Keelan has his own go-kart yet: "We're hoping for no go-karts. We're hoping for golf clubs. We're hoping that we go in a different direction there."
• Johnson on having cramps in the triathlon the day after a hard crash at Daytona: "I went to the curb and was stretching my calves real quick, and a guy in a No. 24 hat came running up with a Bud Light and said, 'Hey, this will help, this will help.'"
• Johnson on seeing a woman riding a beach cruiser during the bike portion of the race: "The only thing she was missing was a basket on the front."
• Johnson on Kahne saying he beat his Hendrick Motorsports teammate by 27 seconds: "Oh, twenty-something."
• Dale Earnhardt Jr. on whether Johnson has asked him to compete in a future triathlon: "Jimmie knows better than to waste too much time on that."
Hey, it can't be Allmendinger 24-7.
March, 9, 2011
03/09/11
5:27
PM ET
CHARLOTTE, N.C. -- Kasey Kahne seemed shocked when he was told NASCAR's most popular driver isn't guaranteed a spot in the May Sprint All-Star Race at Charlotte Motor Speedway.
"He's not in?" Kahne asked of Dale Earnhardt Jr. during a Wednesday news conference at Earnhardt's Whisky River bar in uptown Charlotte. "He'll get voted in, won't he?"
If not, it would be one of the biggest upsets in the sport's history. It might be bigger than Charlie Sheen being fired from "Two and a Half Men."
But as it stands today Earnhardt has to win a Sprint Cup race between now and the event, finish first or second in the preliminary race for all drivers not in the main event or win the fan vote as Kahne did in 2008.
His 10-year exemption as a past All-Star winner ended a year ago.
"It's been [more than] 10 years since he won the race?" Kahne asked after being reminded Earnhardt won the race 11 years ago. "Time flies."
That Earnhardt isn't eligible for the All-Star event arguably was the biggest news on a day when Charlotte Motor Speedway held a news conference to push the event and NASCAR chairman Brian France held a conference call to promote the momentum the sport has enjoyed through the first three weeks.
And there is momentum. Grandstands have been nearly full at Daytona, Phoenix and Las Vegas. Television ratings are up significantly, although still below what they were in 2009. Danica Patrick recorded the highest finish ever by a woman in a NASCAR event with her fourth-place finish in the Nationwide race at Phoenix.
But if France wanted to make real news he would have said the governing body plans to eliminate the early off week that threatens to derail any momentum the sport has.
That'll be the case next year with the Daytona 500 moved back a week, but after repeated questions, France wouldn't guarantee it's a long-term plan.
If it isn't, it should be.
Even if things weren't as rosy as they have been, NASCAR needs to build momentum for as long as it can before entering the long summer months. Having an off week for the Sprint Cup and Nationwide series this weekend is like an NFL team getting a bye in Week 3.
Nobody wants it.
"I feel like we just started racing," Kahne said. "It's time to race."
France said there are logistical reasons for why the open week traditionally falls early in the season. There shouldn't be. Make Weeks 2 through 4 a West Coast swing with Phoenix, Las Vegas and California and continue on with Bristol in Week 5. It might save teams money as well.
"All things being equal, we'd like to be racing this weekend," France said. "I don't believe that to be a significant challenge for us. We have a long season. We're going to have open weeks."
But the first doesn't need to come this early, not when fans and drivers are thirsting for something they went December and January without.
"We sit so long over the offseason," Kahne said. "The first three weeks you're kind of happy you're not racing, taking a little break. The next month and a half, myself anyway, I want to get going.
"Once we start you want to race for a while."
Think of it this way, too. An extra race early in the season would give Earnhardt one more chance to make the All-Star Race.
"I'll say he'll either win before or the fans will vote him in," said Kahne, still in disbelief. "He needs to be in that race. He'll be in it."
October, 21, 2010
10/21/10
3:05
PM ET
CONCORD, N.C. -- The Kasey Kahne-Richard Petty Motorsports split Wednesday night was nothing more than a sound business decision and likely only a small piece of the big picture of what's really happening.
[+] Enlarge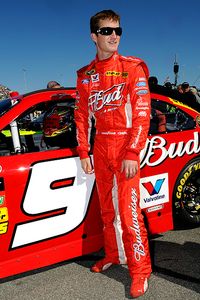 John Harrelson/Getty ImagesKasey Kahne has driven his final race in the No. 9 Budweiser Ford.
Let's look at what we know.
Kahne is scheduled to drive full-time for Red Bull Racing in 2011 so it makes sense that he gets a head start on that switch by driving the final five races for that team. That Red Bull Racing wanted him there now -- as general manager Jay Frye said, there was a sense of urgency -- makes the release make even more sense.
By releasing Kahne early, RPM relieved itself from the financial responsibility of paying the driver for the rest of the season. Since the organization is under somewhat of a financial strain based on published reports regarding owner George Gillett and his issue with selling the Liverpool soccer team, making the change now makes sense for him.
In other words, Red Bull will pay Kahne for the final five races.
You could say it's a win-win scenario, sort of.
But the bigger story here isn't that Kahne was released (by the way, he has been paid in full for services rendered to this point). It's the future of RPM.
There have been rampant rumors that Roush Fenway Racing, which supplies engines and chassis to RPM, was not providing engines or parts beyond this weekend's race at Martinsville until it was paid. There have been crew members suggesting they're not guaranteed a job past this weekend, and according to one source close to the situation, "the s---" is about to hit the fan.
Perhaps there will be some layoffs, but there are no signs that RPM won't be at Talladega next weekend. Team officials said the Talladega cars were delivered and being prepared, but they would not comment further on RPM's financial picture.
Roush Fenway president Geoff Smith told me "with us they are working to finishing the year and get ready for a minimum two[-car] team operation for next year."
Did RPM have to release Kahne to free up the bottom line for accountants? If it did, it makes financial sense. Companies trim fat all the time to make ends meet, and you can bet it'll be a lot cheaper having Aric Almirola in the car this weekend than Kahne.
As I was told late Wednesday night when all this was unfolding, the release had nothing to do with performance or Kahne being upset that his brakes went out Saturday night at Charlotte for the third time this season and second time in three races.
What we've all learned under these tough economic situations is that NASCAR is a business now more than ever. Tough business decisions have to be made, and usually when all the facts are in, they make sense, as sad as it may be for some people involved.
Will RPM implode at some point? Or will Gillett once again find a way to survive? Nobody knows, or can say, for sure.
All we can say until people start to elaborate is the split between Kahne and RPM from a business standpoint needed to happen.
October, 20, 2010
10/20/10
11:34
PM ET
CONCORD, N.C. -- Welcome to NASCAR's version of musical chairs.
It began around 10 p.m. ET on Wednesday when Richard Petty Motorsports announced that Kasey Kahne had been released from his contract and that Aric Almirola would drive the No. 9 this weekend at Martinsville Speedway.
[+] Enlarge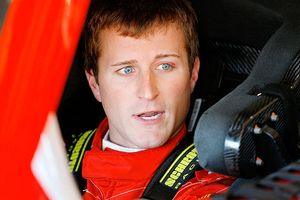 Tom Pennington/NASCAR/Getty ImagesKasey Kahne will drive the 83 car for Red Bull Racing for the remaining five races in 2010 after being released by Richard Petty Motorsports.
A source then told me that Kahne would move into Red Bull Racing's No. 83 Toyota for the final five races of the season.
Another source said this opened the door for Marcos Ambrose to step into the 9 for the final four races before taking over that ride full-time next season. The same source said if that happens, Bobby Labonte will step into the No. 47 car Ambrose has been driving at JTG Daugherty Racing.
All this was in the works before Kahne became an unhappy camper on Saturday night at Charlotte Motor Speedway, but more on that later.
Yes, we often have to deal with anonymous sources, particularly in a breaking story this late at night. Until all parties have had time to sit down and talk, nobody wants to go on the record until seeing what others have said.
Or they just want to sleep.
Kahne's crew chief, Kenny Francis, talked on the record, but as he subtly put it, "I don't want to get involved."
What we do know is that an ailing Kahne was very frustrated after Saturday's race at Charlotte Motor Speedway, that he refused to finish the race after brake issues forced a wreck with Sam Hornish Jr., and that he failed to run a 17-minute 5K at his charity event on Sunday morning a day after throwing up at the racetrack.
We also know that being in a lame-duck situation isn't easy on either side.
Kahne doesn't show a lot of emotion, but after an RPM official told him at Charlotte that he needed to "do his part," implying that he hadn't been, then Kahne cut loose as much as you'll see him cut loose. He complained at the 5K event about the brake issues that have sidelined him three times, twice in the past three races, and about all the other parts that have broken on his car. He said he'd never been so mad inside a car as he was on Saturday.
The irony here is that while Kahne has struggled, RPM teammate AJ Allmendinger has enjoyed moderate success. He has qualified inside the top 10 in four of the past six races and finished 12th or better four times during that stretch.
The difference? Allmendinger is staying at RPM next season and Kahne isn't.
Maybe Kahne felt he was being slighted in terms of quality of equipment because of his lame-duck status, although he sat on the pole two weeks ago at Kansas and qualified fifth and finished fourth the next week at California.
Maybe we'll learn more on Thursday or Friday at Martinsville if and when Kahne and RPM officials decide to speak on the record. Maybe Kahne will go back to biting his tongue as he often does and start looking ahead to the next 41 races he has with Red Bull Racing.
All we know for sure is that NASCAR's version of musical chairs apparently has no respect for Major League Baseball's playoffs. Otherwise, I'd be watching Game 4 of the National League Championship Series instead of talking to sources.
April, 19, 2010
04/19/10
12:12
PM ET
CHARLOTTE, N.C. -- While sifting through all the news conference transcripts from the weekend at rain-plagued Texas Motor Speedway -- and hoping they finally get to race Monday -- the following comment by
Mark Martin
jumped out.
"I'm going to drive for a long time, and I might get involved in other capacities as well," Martin said. "For the first time ever, I would consider an opportunity like Tony Stewart had. I don't want to be an owner, but if I can be an owner like Tony Stewart, maybe I want it."
Maybe this is part of the master plan Rick Hendrick has for Kasey Kahne in 2011.
Stick with me here.
Martin made it clear Friday that he doesn't plan to give Kahne the wheel to the No. 5 Chevrolet at Hendrick Motorsports before 2012. He also made it clear he plans to drive in 2012 and perhaps beyond.
But until now the 51-year-old Martin never showed any interest in owning a team.
So what if Hendrick offered to supply Martin engines and chassis for a new team as he did Stewart in 2009, when the two-time Sprint Cup champion took over Haas Racing? Stewart proved such an arrangement could work from the get-go, putting his car and teammate Ryan Newman's in the Chase in their first season.
Maybe the ownership could be part of third team at Stewart-Haas. Maybe it could be with another Chevrolet organization that could use the experience and expertise of a veteran such as Martin to take it to another level as Stewart did at Haas.
Hendrick could put Kahne in that car for a year and then flip the drivers in 2012 when Kahne is scheduled to replace Martin. If you really want to use your imagination, Kenny Francis and many of his crew now with Kahne at Richard Petty Motorsports could move over and run that team, making it even stronger as a start-up organization.
Take it another step and sponsor Budweiser could move there as well, backing Kahne for a year and then moving to Martin. According to reports, Budweiser isn't likely to move to HMS with Kahne anyway because of Hendrick's longtime affiliation with Pepsi.
Think about it: This would solve Hendrick's dilemma of what to do with Kahne, keep Martin in racing with sponsorship and give HMS another way to circumvent NASCAR's four-car cap.
You also need to consider that Stewart and officials at JR Motorsports, the most obvious choices for Kahne to land next year, said they'd had no conversations about Kahne before Hendrick announced the deal last week.
And as owner Joe Gibbs said over the weekend, he believes Kahne already knows where he'll be racing in 2011.
You know Hendrick has something up his sleeve, and helping make Martin an owner might just be it.
"I've been in the sport long enough to know and have the confidence to know that really interesting opportunities come up," Martin said. "And they will, and they'll be fun and exciting, and I'll explore driving and other things as well."
April, 14, 2010
04/14/10
4:35
PM ET
CHARLOTTE, N.C. -- It is May 2007, and Rick Hendrick is discussing whether he will go after free-agent Sprint Cup driver Dale Earnhardt Jr. He says there's no room at the inn, that "right now, I'm full."
Fast forward to Wednesday's conference call in which Hendrick tries to explain what will happen to his newest driver, Kasey Kahne, when he goes under contract in 2011 and Mark Martin, who is under contract through 2011 and is still in the No. 5 car.
Specifically, he is answering whether there is any way Kahne could be in the No. 5 in 2011.
[+] Enlarge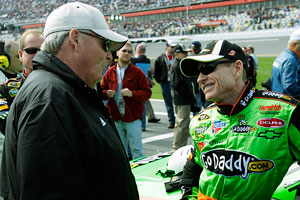 AP Photo/John RaouxMark Martin, right, is under contract to drive one more season for Rick Hendrick. Whether it'll be in the No. 5 Chevy remains to be seen.
"Mark wants to drive that car, and that's where we are headed, right now," Hendrick says.
Right now.
There seems to be a theme here.
Here's what I think will happen. At some point, the 51-year-old Martin will tell Hendrick, if he hasn't already, that he will step aside next season for the betterment of the organization. He might agree to go to Hendrick's satellite team, Stewart-Haas Racing, for his final full season. Hendrick might find a way to keep him in his equipment with another team.
But no matter how many times Hendrick and Kahne tell us they finalized this deal without knowing exactly what will happen in 2011, anything short of Kahne being in the 5 makes no sense.
To put Kahne at SHR for a year means he'll have to start over with a new team in 2011 and then another new team in 2012. Kahne, 30, is far from an old man, even though he doesn't look a day past 21.
But he is at an age at which he doesn't need to throw away two seasons for what Hendrick calls a long and successful future.
This deal didn't just happen overnight, either. Kahne said they've been working on it for several months. I was told before the start of the season by one person close to the situation that Kahne would wind up at Hendrick. The same person said Martin was willing to step aside if it was in the best interest of Hendrick Motorsports.
It is.
And remember, Hendrick said Martin was one of the first to go to him as far back as last season and say Kahne should be the next driver of the 5.
You've got to believe Martin appreciates the opportunity Hendrick gave him to resurrect his career at an age when most are retired enough to step aside.
Hendrick says he has a "ton of options" and that no decision has been made yet. He also said in May 2007 that there was no room at the inn for Earnhardt. A month later, Earnhardt had a five-year deal with NASCAR's top organization.
"Right now" became right now.
I might be wrong, but I believe "right now" will land Kahne in the 5 in 2011. Hendrick didn't become NASCAR's most powerful owner flying by the seat of his pants.
"We're going to figure out '11," Hendrick said. "It if it was under the old regime, I'd add a building over here and have five teams. I understand that and [Kasey] understands that. We're just gonna figure it out."
Maybe they already have.
September, 18, 2009
09/18/09
3:09
PM ET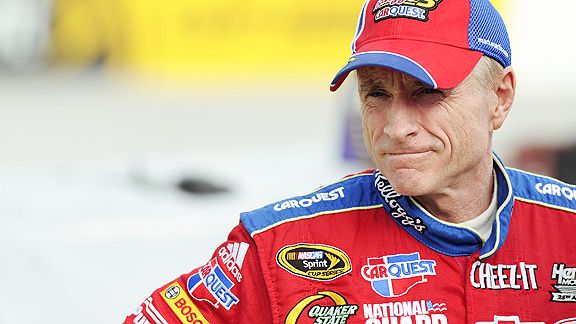 John Harrelson/Getty ImagesMark Martin had already announced he would be back with Hendrick Motorsports in 2010. He will also return in 2011, with GoDaddy.com as his sponsor for both seasons.
We all like to speculate on why certain things happen. Like the fans on my Thursday chat who decided Matt Kenseth overshot his pit box in Saturday night's Sprint Cup race at Richmond on purpose to force Michael Waltrip, who appeared on numerous occasions to block the 2003 champion in his pit box, to make an extra lap.
The conspiracy theory here is that Waltrip was doing what he could to keep Kenseth out of the Chase and help fellow Toyota driver Brian Vickers get in.
Makes sense when you think about it.
So when it was announced Friday that 50-year-old Mark Martin had extended his contract with Hendrick Motorsports yet another season into 2011, I began to wonder why.
Here are a few theories:
• Martin will drive the No. 5 GoDaddy.com-sponsored car until IRL darling Danica Patrick is ready to take over. Patrick, who already has a relationship with GoDaddy.com, will drive two years in the Truck and Nationwide Series for Kevin Harvick Inc., with an assist from Tony Stewart.
In 2011, Stewart will have expanded to four teams with Kevin Harvick, who will leave Richard Childress Racing, and Kasey Kahne, who will say goodbye to Richard Petty Motorsports -- or whatever it is called by then. Stewart doesn't hold a seat open for Patrick because, quite frankly, the two-time Cup champion has a hard time keeping a woman.
Patrick will become the fourth member of HMS with Jimmie Johnson, Dale Earnhardt Jr. and Kyle Busch. Oh, did I mention, Jeff Gordon will have retired and Busch will be brought back to drive the No. 24? OK, so that part is a bit far-fetched, but everything else could happen.
• Martin will sign his third extension with HMS, keeping him in the No. 5 GoDaddy.com car through 2012. By then Brad Keselowski's deal with Penske Motorsports will have expired and he'll return to drive the car he was meant to have before Martin signed his first extension.
Remember, Hendrick already warned fellow owners he might get Keselowski back one day.
• Martin will drive the No. 5 until his son, Matt, is married and starting a family. GoDaddy.com will change its name to GoGranddaddy.com and Martin will win his first championship at the age of 55 and retire to replace Ellen DeGeneres as a judge on "American Idol."
Hey, the guy knows music almost as well as he drives.
• Martin will drive the No. 5 through 2011, and by then another sponsor and another up-and-coming driver will be in the picture. Maybe it will be Austin Dillon, who by then will realize he's better off in HMS equipment than sticking with his granddaddy in the No. 3 at RCR.
Oh, did I mention the No. 3 would be back on the track again?
I have no evidence to suggest any of this will occur. As a friend in the sport often has said, he likes discussing scenarios with me because I think outside the box and about 70 percent of them wind up coming true.
Got a better scenario? Let's hear it.