Category archive:

Austin Dillon
March, 22, 2013
03/22/13
12:04
PM ET
FONTANA, Calif. -- Finding the Phoenix Racing hauler used to be easy when arriving at Auto Club Speedway -- or any Sprint Cup track.
Just go to the back of the garage and count forward.
In case you didn't know, haulers are parked according to where teams rank in owner points. Before this season, the single-car team out of Spartanburg, S.C., never had been ranked higher than 23rd after more than one race.
Now it's tied for seventh.
"I can tell you there's a lot of people who came looking for us that went down there and had to come back this way," general manager Steve Barkdoll said with a laugh.
[+] Enlarge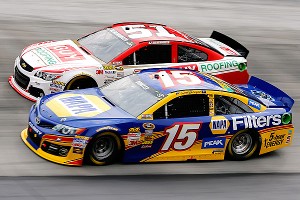 Jared Wickerham/Getty ImagesPhoenix Racing has taken the tag-team approach with three different drivers: AJ Allmendinger (51), Regan Smith and Austin Dillon.
And get this: James Finch's No. 51 team, which gets its Chevrolet engines and chassis from Hendrick Motorsports, ranks ahead of four other teams with the same equipment and all three Richard Childress Racing cars that field Chevrolets.
"Don't think we haven't noticed," an executive from one of those other organizations told me last week at Bristol.
HMS's Kasey Kahne ranks ninth and four-time Cup champion Jeff Gordon is 22nd. Stewart-Haas Racing's Tony Stewart is 25th, Ryan Newman is 24th and Danica Patrick is 30th.
RCR's Paul Menard is 11th, Kevin Harvick is 19th and Jeff Burton is 26th.
Did I mention that the Furniture Row team that gets its engines from RCR is 18th? That's nine spots behind the Phoenix Racing team that Kurt Busch said was not on par with the Denver-based organization when he left late last season.
And Phoenix has been able to do this with three different drivers -- Regan Smith, AJ Allmendinger and Austin Dillon. It'll be four by the time the team gets to Richmond and puts Ryan Truex behind the wheel.
"For them to be where they are in points, not only with three different drivers, but just in general, is a real testament to what they're doing," Burton said.
And if Phoenix -- unsponsored this weekend -- could somehow stay in the top 12 after 26 races and become eligible for the owners' championship in the Chase?
"If they could be in the top 10, it would be one of the bigger upsets in NASCAR's history," Burton said.
Barkdoll credits part of the early success to the new car that is easier to build. Because most of the parts are stamped out and body builders don't have to waste countless hours rolling sheet metal, they can spend more time in other areas.
Barkdoll spent part of that time two weeks ago explaining to his crew of 18 that there's a different routine for getting on the track for practice.
"When you're 27th in points, you go to templates first," Barkdoll said. "You don't get on the track. They send out 25 cars in practice for the first part until they start coming off. So we had to prep ourselves to know that we've got to get ready and do different things."
He hopes that continues.
"We know we've got to stay on top of things to stay here," Barkdoll said. "But think about the head table [at the banquet] if we happen to stay up here and James Finch gets to be the owners' champion and they have to split the title."
Then Phoenix Racing would be easy to find.
November, 9, 2012
11/09/12
6:28
PM ET
AVONDALE, Ariz. -- Richard Childress was visibly upset as he stood next to grandson Ty Dillon's black truck during Friday's qualifying at Phoenix International Raceway.
It had nothing to do with Dillon's chances to win the Camping World Truck Series championship, trailing James Buescher by 15 points with two races remaining.
It had everything to do with an ESPN.com report that Sprint Cup driver Kevin Harvick has signed a multi-year deal to begin driving for Stewart-Haas Racing in 2014.
"I've got a contract for 2013 and this is 2012," the owner of Richard Childress Racing said of his deal with Harvick. "I'm not talking to you about nothing [regarding that]. Too far out."
Asked if Harvick had told him he will not drive for RCR beyond 2013, Childress barked, "You need to go talk to them people. Don't talk to me about it. If you want to talk to me about [the truck] championship, I'll talk about it. But don't talk to me about anything else."
It has been 18 years since Childress won the last of his six Cup titles with the late Dale Earnhardt. Harvick was RCR's lone Chase competitor this season and has been the only legitimate title contender for the organization the past two seasons, finishing third each year.
Losing him was the last thing Childress needed.
Harvick's departure will be huge, particularly if he takes primary sponsor Budweiser with him. Remember, RCR lost Chaser Clint Bowyer to Michael Waltrip Racing after last season due to lack of sponsorship and had to shrink from four to three teams.
[+] Enlarge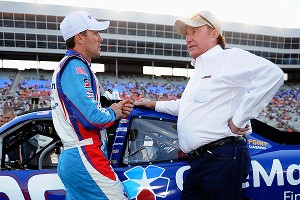 John Harrelson/Getty ImagesKevin Harvick has driven for Richard Childress at the Sprint Cup level since 2001. That relationship appears to be ending.
Some will say Harvick leaving only opens the door for Childress' other grandson, Nationwide Series driver Austin Dillon, to move to Cup in 2014.
But plans already were in place for Dillon to make the move then, either in the fourth car that is vacant or as a replacement for Jeff Burton, whose contract expires after 2013.
And by the way, while Dillon will make his Daytona 500 debut in the No. 33 next year, Childress left open the possibility the No. 3 Earnhardt drove remains a strong possibility for his grandson.
"That's still on the table," Childress said.
What isn't on the table, according to Marty Smith's report, is Harvick. Smith's sources say the deal has been signed.
Sources close to the situation told me Childress was blindsided by the news, which explains his mood. Replacing Harvick has to now be his No. 1 goal in order to remain relevant in the series.
As good as Dillon has been in the Nationwide Series, he remains an unknown in Cup. Burton appears past his prime and Paul Menard, beyond winning the Brickyard 400 last year, has done little to prove worthy of filling Harvick's shoes.
Convincing a sponsor to add 2004 Cup champion Kurt Busch to the mix may be the best solution. Busch already has a good relationship with Childress, often going to him for advice.
Busch already is driving a Furniture Row Racing car with a Childress engine the rest of this season and in 2013.
No matter what you think of Busch's off the track -- and sometimes on the track -- behavior, he would give RCR a legitimate threat to compete for the championship.
RCR needs that.
This is a pivotal time in the history of Childress' organization. It recently lost Earnhardt Ganassi Racing as an engine customer to Hendrick Motorsports for 2013. It apparently has lost Harvick to an SHR team that has HMS support.
By 2014, if it hasn't done so already, RCR could go from the second-best Chevy team to third behind HMS and SHR. It could even fall to fourth behind EGR.
So you can see why Childress would be visibly upset.
July, 12, 2010
07/12/10
6:03
PM ET
CHARLOTTE, N.C. -- So Austin Dillon, how did it feel on Sunday to become the first driver in NASCAR's top three series to take the black No. 3 to Victory Lane since Dale Earnhardt's death? Do you feel pressure driving the No. 3? Are you intrigued by the power of the No. 3? Do you see yourself driving the No. 3 for the rest of your career? Can the No. 3 stop global warming?
OK, nobody asked the last question.
But all the rest and more were. The number Earnhardt drove to six of his seven Sprint Cup championships got as much or more attention during Monday's conference call as the person who won with it in the Truck series race at Iowa.
[+] Enlarge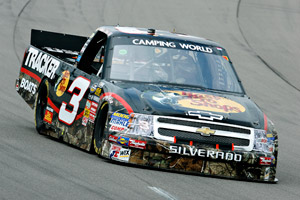 John Sommers II/Getty ImagesAustin Dillon, the grandson of team owner Richard Childress, piloted the famed black No. 3 into Victory Lane at Iowa Speedway on Sunday.
It's time for this to stop.
Let Dillon be Dillon, not Dillon the driver of the 3.
If Richard Childress wants his grandson in the 3, then let him be without all the Earnhardt hubbub. Dillon doesn't want to replace Earnhardt anymore than Dale Earnhardt, Jr., who a week earlier won a Nationwide race in a blue and yellow No. 3. He's just carrying on the family tradition that began when Childress took the number in 1976 and drove it for six years before turning it over to Earnhardt late in the 1981 season.
And even then Earnhardt didn't drive the number full-time until 1984.
Earnhardt wasn't the first famous driver with the 3 on the side of his car and hopefully he won't be the last. It was the number of NASCAR founder Bill France when he raced on the beaches of Daytona before there was a NASCAR.
Everyone from Bill Snowden to Fireball Roberts to Junior Johnson to Cale Yarborough to David Pearson drove with that number during their careers. It belongs on the track.
"It's a powerful number," Dillon said. "It makes the people in the stands stand up and cheer. I love driving it. It's a lot of fun."
It should be. It shouldn't be a burden as Earnhardt Jr. has sometimes been made to feel when he's climbed into a 3 car. It shouldn't be all about honoring Earnhardt, either.
Do you think the "Intimidator" thought about Pearson or Yarborough when he stepped into the 3? Doubt it.
Dillon shouldn't have to think about Earnhardt.
Fortunately, it sounds like Dillon has his head in the right place when it comes to the number. He likes the attention the number gets because he knows that, in turn, gets him attention. He likes the challenge of winning with the number because what he wants to do more than anything is win.
Since his last name isn't Earnhardt, he doesn't feel the pressure to carry on that legacy.
I'm betting one day we'll see Dillon drive the 3 in the Cup series. He's doing well in the Truck series with finishes of fifth, third and first in the past three races to improve to seventh in the standings.
He had a good run going at New Hampshire in the Nationwide Series before an incident left him 25th, and there are talks about him running in future events. At 20, he could easily be in the top series in two or three years.
When he makes it, and if Childress wants to put him in the 3, he should be judged on his own merits and not compared to the number's former driver.
"Like you said, there is pressure behind it," Dillon said. "The fans want it to run well when it's out on the track. It's something you have to take on, and take on as a challenge, is the way I look at it.
"It's different, like you said, from Dale to me, from family background. I do enjoy running it. But it's grandfather's decision when we run it and how long we run it."