Category archive:

Carl Edwards
July, 17, 2012
07/17/12
11:42
AM ET
CHARLOTTE, N.C. -- For weeks we've been hearing Carl Edwards tell us how close his team is to performing at a high level. For weeks we've been hearing him say the struggles of the No. 99 team have nothing to do with a hangover from losing the 2011 title on a tiebreaker to Tony Stewart.
For weeks I've been saying Edwards was kidding himself.
Tuesday's announcement that Chad Norris will replace Bob Osborne as crew chief doesn't sound like something a team close to turning the corner would do.
It reeks of desperation.
And it should have happened a lot sooner.
Edwards, winless in the past 52 races and 11th in points, has been a nonfactor this season. Outside the 206 laps he led at Richmond, a race he could have won had he not jumped a restart, he's led one lap.
His average finish is 14.3, on pace for the third worst of his career after recording a career-best average 9.3 a year ago. He has only two top-5s a year after posting 19 -- 10 by this point.
If you weren't looking for him Sunday at New Hampshire Motor Speedway, where he finished 18th, you wouldn't have known he was in the race.
You can't call it a RFR performance problem, because teammate Matt Kenseth is first in points and Greg Biffle is third. Each of them has won a race and contended in others.
Edwards needed a change just like Denny Hamlin needed a change after coming so close to winning the 2010 title with Mike Ford, something that took that team a year to realize.
The release doesn't say that. The release says Osborne has issues with his health that necessitate a change in roles. Not to make light of the health issues, which are serious enough and will come out later when Osborne is out of pocket for an extended time, but this was a move that would have been made regardless.
For the health of the 99 team, for the health of Edwards, a change was needed.
"There was clearly concern about performance,'' Roush Fenway president Steve Newmark said.
The frustration has been building in Edwards for some time. It became almost comical on Friday at New Hampshire when Edwards was asked if he did all qualifying runs in the first practice instead of work on race setups.
"It's never good when people ask, 'Did you do all qualifying runs?' '' Edwards said. "That means you were slow. There's nothing worse than people come over and say, 'Man, you still in race trim?' No. That's as fast as we can go."
He laughed. But inside you know it was eating at Edwards, who has gone from three poles and an average start of 9.4 in 2011 to one pole and an average start of 16.4.
The good news for Edwards is that he's only one win from one of the two wild-card spots and he has two tracks -- Atlanta and Richmond -- where he's almost always a threat. The bad news is he's really only been a threat to win once all year.
But it can be done. Edwards reminded us of that at New Hampshire when he mentioned Stewart last season going from a nonfactor with no wins to champion with a record five Chase wins.
"That whole 14 team and what they did last year showed all of us that it's not over until it's over,'' Edwards said. "If you can make it into the Chase, truly, just by making it in, you have as good a shot as anyone for the championship.''
Norris had better find speed quick for Edwards to make the Chase. He also better find chemistry. The last time Edwards and Osborne split, seven races into 2006, they were back together for the final two races after Edwards missed the Chase.
At the time, they said they were better together than apart.
Desperate times call for desperate measures, and these are desperate times for Edwards.
May, 9, 2011
05/09/11
4:21
PM ET
DARLINGTON, S.C. -- A few humorous leftovers from Saturday night's Sprint Cup race at Darlington Raceway that got tossed in the trash in the aftermath of Regan Smith's win and the postrace confrontation between Kevin Harvick and Kyle Busch:
---
Juan Pablo Montoya and Ryan Newman stayed clear of each other after their physical confrontation in the NASCAR hauler on Friday, but Montoya did make a new enemy in five-time defending Cup champion Jimmie Johnson.
On Lap 83, Montoya got into the back of Johnson's car, sending the No. 48 into a spin.
Montoya immediately and repeatedly apologized, saying, "really sorry" and how he didn't mean that.
Told what Montoya said, Johnson sarcastically responded, "I'm sure he is."
---
Kurt Busch, a week after his profanity-laced tirade at his Penske Racing organization, remained relatively calm despite countless issues. After receiving a one-lap penalty on 224 he was told to keep his head.
To which Busch calmly responded, "I have to turn off my radio now."
He's learning.
---
David Ragan's car turned into a can opener and peeled the left side of Brian Vickers' car off, shredding the blue foam blocks underneath that help protect the driver.
Vickers later said the car was "the best it's been all night."
Go figure.
---
After losing to Smith on the green-white-checkered finish, Carl Edwards said he needed a mattress, so he might go to Furniture Row and buy one.
Smith is sponsored by Furniture Row Racing.
---
Soon after the pit-road confrontation with Kyle Busch, Harvick tweeted he was going to run the Truck race this weekend at Dover.
Busch will be in it as well.
Hmmm.
March, 30, 2011
03/30/11
3:21
PM ET
CONCORD, N.C. -- Greg Biffle says his contract extension with Roush Fenway Racing should be completed within the next two weeks. He'd like to think teammate and points leader Carl Edwards will re-sign for the same reason -- a chance to win the Sprint Cup title.
He makes a valid point.
You could argue there no better place than RFR at the moment, including Hendrick Motorsports, Richard Childress Racing or Joe Gibbs Racing.
"The next three to five years is going to be good at Roush Fenway," Biffle said on Tuesday after beating 15-time Funny Car champion John Force in an exhibition at zMax Dragway. "Our engine is new and we're going to continue to find better, new stuff with it.
"Are there other places to go? Probably. Ultimately, we want to win races. Economics is a part of it. If we were going to drive something we'd win in damn near every weekend, we probably would drive for nothing because that's the way it is."
Edwards said last weekend at Auto Club Speedway in California that his contract talks were on hold so he could focus on the best start of his career. Although most in the business expect Edwards to stay put, there are teams that will make a run at him.
Red Bull Racing, which is looking for a replacement for Kasey Kahne in 2012, comes up most often.
"If I'm going to make a change, it's going to be better than what I have," Biffle said. "Do I consider Red Bull a better team than us, competitive wise? I don't think so.
"Now I'm not saying they are bottom of the barrel. They're a good team. But to say, 'Oh, I'm going to go over there and win a championship,' for sure I don't think that's in the cards."
Roush Fenway has won Cup championships with Matt Kenseth and Kurt Busch, and collected 121 Cup wins. Red Bull has more of a reputation for its edgy promotions than winning races -- one win and no titles since entering the sport in 2007.
"If you're in it for the lifestyle and parties, go to Red Bull," Biffle said jokingly.
March, 27, 2011
03/27/11
8:59
PM ET
FONTANA, Calif. -- Carl Edwards isn't in a hurry to negotiate a new contract with Roush Fenway Racing or any other Sprint Cup organization.
You can't blame him.
Edwards is leading the Cup standings after Sunday's sixth-place finish at Auto Club Speedway. He's won three of the past seven races dating back to last season, and with a little luck could have won six.
"The biggest thing I don't want to do is mess anything up by focusing too much on that," Edwards said. "We all work very hard to be in the exact position we are in right now. I don't want to mess that up by focusing on the contract right now."
So could this last the entire season?
"I am leaving it alone for right now," Edwards said. "We will just see what happens."
As long as Edwards continues on this run he will maintain a huge bargaining edge. He's by far the most sought-after free agent, and in tough economic times when most drivers with new deals are taking huge cuts he is in position to perhaps maintain.
Roush Fenway has to be the odds-on favorite to keep Edwards, but the 31-year-old driver will have options. Red Bull Racing likely will make a run at him to replace Kasey Kahne, who will move to Hendrick Motorsports in 2012. Edwards' star power also could help draw a sponsor that would make a fourth team at Joe Gibbs Racing feasible.
The longer Edwards stays on this roll, the more he can demand.
July, 19, 2010
07/19/10
10:51
AM ET
CONCORD, N.C. -- The Legends Million had just ended Saturday night, with Daniel Hemric making a clean pass for the win in the closing laps at Charlotte Motor Speedway. Track President Marcus Smith was feeling good about the event as he discussed it on a radio show.
Then Smith saw on a computer monitor how the Nationwide Series race at Gateway International Raceway ended.
[+] Enlarge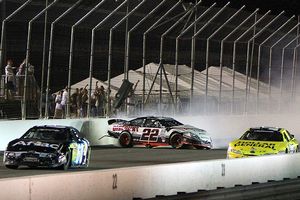 Dilip Vishwanat/NASCAR/Getty ImagesBrad Keselowski's No. 22 car is spun sideways by Carl Edwards, left, on the final lap at Gateway International Raceway.
His mood got even better.
"Alllllll riiiiiiiight!" Smith said. "That's the way racing ought to be."
My jaw nearly hit the floor. I asked if he saw the same finish I did. I asked if Carl Edwards wrecking Brad Keselowski on the straightaway to take the lead as he approached the checkered flag was the way racing ought to be.
Smith said it should be anything goes if it's the last lap and you're going for the checkered. He said more races should end like that, even though it ruined a lot of good equipment and good finishes for other drivers who were innocent bystanders.
He said if this incident incited payback, well, that's a good thing, too.
Cha-ching! Cha-ching!
It may be good if you're a race promoter trying to sell tickets.
But there has to be a limit. Wrecking somebody intentionally, even for a win, can't be what NASCAR meant by "have at it, boys."
Apparently many of you agree. My e-mail and Twitter accounts have been working overtime with fans outraged by the way Edwards got the victory. Some of you have called for having the win taken away. Some of you have suggested Edwards should be suspended for the rest of the Nationwide season before he, as Keselowski's father said, kills somebody.
Likely nothing will happen. NASCAR has backed itself into a corner by letting much worse go unpunished. If it didn't penalize Edwards for sending Keselowski into an airborne flip in the Sprint Cup race at Atlanta Motor Speedway earlier this season, it's not going to do so now.
But eventually NASCAR must step in. If not, there will be chaos and somebody is going to get hurt.
We're pretty close to it now.
Bumping in the corners as Keselowski and Edwards did in Turn 1 when Keselowski put himself in position to win is one thing. Turning somebody at high speed on the straightaway is another.
I'm not sure even the late Dale Earnhardt would approve.
But I am sure this is going to get worse before it gets better. I don't think Martin Truex Jr. has forgotten that he promised to get Jeff Gordon back for an incident at Sonoma. He's probably just waiting for the most opportune time, like maybe in the Chase when he could cost the four-time champion a shot at the title.
It wouldn't surprise me if Keselowski did something to prevent Edwards, 10th in the Cup standings, from making the Chase over the next two months. At 26th in points, Keselowski has nothing to lose.
Juan Pablo Montoya probably has a few targets in mind once the Chase begins as well.
They can think like this because NASCAR allows them to. No, because NASCAR encourages them to.
Is that the way racing was meant to be?
"Wrecking down the straightaway is never cool, whether he's at 200 mph or 120," Keselowski said.
Edwards argued differently. He said it was his job to win the race no matter how. He insisted he was justified because of the way Keselowski bumped him earlier.
"That's my job, to win the race, and to make sure I don't get walked on or get something taken away from me that's mine," Edwards said. "I'm sure tempers are up right now, but hopefully after looking at it, we can each step in the other's shoes and see it from the other perspective."
Doubtful. Keselowski has been in enough incidents with Edwards over the past two years -- including several of his own doing -- to know what it's like to walk in his shoes.
"I'm sure he'll say how sorry he is or how cool he thinks he is or how great of a guy he is in his own mind," Keselowski told reporters after having his points lead trimmed to 168 over Edwards. "But that's not reality."
Neither is the argument that this is how racing ought to be.
March, 24, 2010
03/24/10
11:33
AM ET
CONCORD, N.C. -- Darrell Waltrip, as usually the case, was on a roll Monday at the unveiling of his No. 11 Mountain Dew Buick that will be on display when the NASCAR Hall of Fame opens on May 11.
Here are some of the highlights:
• The driver with three Sprint Cup championships and 84 career wins obviously thinks he should be in the Hall's second class. Until he realized founding fathers Bill France and Bill France Jr. were eligible, you can read between the lines and figure he thought he should be in the first class.
"If someone said, 'How would you do that?' I'd have made the Frances the founding fathers of the Hall,'' Waltrip said. "The father and son that started the sport. They would have been the big plaques and statues out front of the place. That would have opened up room for a couple more drivers.
"My first impression was the place was just going to be drivers. If they took five drivers, I'm on the edge. Me, Bobby [Allison], Cale [Yarborough]. We have similar records. Wins, championships, performancewise, we all are about the same.''
Waltrip had no problem with Richard Petty, Dale Earnhardt and driver/owner Junior Johnson being the first three drivers. He admitted David Pearson being left out threw a wrench in things, but Waltrip said he still thinks he deserves a shot at the 2011 class.
"I heard Richard say they need to honor the old guys,'' said Waltrip, referring to those that began the sport but had lesser records than more recent stars. "Well, that's easy to say whenever you're already in.''
By the way, Waltrip believes his broadcasting career should count in his overall body of work.
Here are some more of his thoughts:
• On why points leader Kevin Harvick got into the Brad Keselowski-Carl Edwards feud by calling Edwards a fake in a radio interview: "This is just my observation. He's leading the points, none of you all were noticing. He's running really well. You all were noticing that a little bit. But he hasn't been the center of attention and Carl and Brad were, and he thought he ought to get his dog in that fight.
"That's where those comments came from. There are people in this sport who are antagonists, and he likes to be one of those. He stirs the pot.''
For the record, Harvick disagreed, saying, "No. You guys want it so you can give your opinion, then you want to bury us after we give it to you to make somebody look as bad as possible. It is one of those things. You say something, it goes as far as everybody wants to take it. But I have an opinion on a lot of things.''
• On what Steve Addington, the crew chief for Kurt Busch, has brought to Penske Racing: "I don't know what he's brought over there, but you look at Sam Hornish and Keselowski. Last year, Keselowski ran a few races in the 12 car and you didn't know he was in the race. Had a slow start this year, but Addington has helped the whole Penske program. He's a Penske prototype. That's where he helped the whole organization.''
• On Dale Earnhardt Jr.: "I told Rick [Hendrick] I'd run him in truck races. He needs to get somewhere he can win. I'd get him in a truck, not a Nationwide car, but a truck. They're fun to drive. You have a good time in the Truck Series. If I were Junior, I'd talk to Harvick and ask to drive the 2 truck.
"And I'd win a couple races. That's what he needs. Would really help his confidence, and his fans would enjoy seeing him do that. It'd be a win-win.''
Earnhardt's response: "Well, I mean, I don't have any interest in driving those trucks. I want to drive a truck race, I guess, before I retire just to see what they feel like. And Harvick said I could drive his truck anytime I wanted to. Hopefully, that offer will be around for quite a while, because I don't plan on doing it anytime soon. I have plenty of confidence in myself."
March, 12, 2010
03/12/10
12:04
PM ET
CHARLOTTE, N.C. -- Bristol Motor Speedway, once the toughest ticket in NASCAR and one of the toughest tickets in all of sports, has entered the world of sensationalism.
You know what I mean.
Brad Keselowski and Carl Edwards.
Within hours of Edwards' flipping Keselowski with two laps remaining in Sunday's Sprint Cup race at Atlanta Motor Speedway, brain cells were thinking of ways to use that to promote ticket sales at a track that has sold out for 55 consecutive races.
The streak almost ended last year, but thanks to an advertising plan that hadn't been needed in more than 13 years and to a heavy walk-up crowd, it remained intact.
Now, in serious danger of ending, track officials are doing everything possible to move packages. Radio spots promoting the Keselowski-Edwards feud are the last-ditch focus.
Sensationalism at its finest.
And there's nothing wrong with that. Dover did it with Joey Logano's spectacular crash last season. NASCAR still uses the 1979 Daytona 500 wreck and ensuing fight with Cale Yarborough and the Allison brothers to sell tickets.
One radio spot begins with "NASCAR is the talk of the sports world'' because of what happened in Atlanta. That's true, if you forget NFL free agency, spring training and that college basketball tournaments are in full swing.
That is followed by, "Next stop at the track made for chaos,'' which Bristol really is, or was before it was resurfaced it a couple of years ago.
There are sound bites from Sunday. There's the radio call of Edwards flipping Keselowski and several biting comments from the drivers.
Then, in a daunting voice, comes, "Just as the half mile of havoc has been narrowed and emotions run high, the one question on everybody's mind is: [insert more sound bites] What is going to happen [more sound bites] at Bristol?''
What forever was advertised as the "World's Fastest Half Mile'' is now billed the "Half Mile of Havoc.'' And it could be, with soft-wall additions tightening space in the corners.
Whether that moves enough tickets to get a sellout, we may not know until the morning of the race. I am told ticket sales picked up after Sunday. I am also told the track is far short of selling all 160,000 seats.
The only thing we know for sure is that Keselowski and Edwards will be there.
That's not sensationalism; that's a fact.
February, 4, 2010
02/04/10
5:46
PM ET
DAYTONA BEACH, Fla. -- Leftover sights and sounds from Thursday's media day at Daytona International Speedway:
• Denny Hamlin is bummed. Doctors have told him he won't be able to play basketball for 18 months because of the torn ACL in his left knee suffered two weeks ago playing hoops.
Why so long? Because Hamlin can't have surgery until after the Sprint Cup season due to the length of the recovery. He then must wait another six months before the injury is healed enough to handle cuts.
"What bothers me the most is I'm not able to do what I love to do," said Hamlin, considered by many a favorite to win the title despite the injury. "Everybody has a hobby outside of racing. If you told them you couldn't do that for a year and a half it would bother them."
The good news is Hamlin has tested the knee inside his No. 11 Toyota and all was fine -- just as doctors said it would be. He's had a brace designed for support, but because the fit is so tight when he's in his seat he likely won't use it.
• Hamlin's knee kept the first part of his interview session from being all about last year's feud with Brad Keselowski.
Keselowski wasn't so fortunate.
Asked if he's cleared everything up with the driver that purposely took him out in the Nationwide Series finale last season, Keselowski said, "I don't know. I feel good about it. On my end, it's clear. You have to ask him on his end. I'm cool."
Asked if he had a face-to-face with Hamlin during the offseason, Keselowski said, "I saw him a couple of times face to face. We didn't talk life or anything like that."
• Baby boomers? Four-time Sprint Cup champion Jeff Gordon and his wife, Ingrid, are expecting again. Their second child is due sometime in August.
"What's going on in our sport right now?" Gordon said.
Must be in the water. The wives of Gordon, Jimmie Johnson, Juan Pablo Montoya, Elliott Sadler and Carl Edwards all are expecting.
• Thoughts and prayers of drivers and media are with Lynda Petty, the wife of seven-time champion Richard Petty. She has been diagnosed with Central Nervous System Lymphoma.
Lynda Petty is being treated at the Brain Tumor Center at Duke University.
How much Richard Petty will be at the track during Speedweeks is uncertain. He missed the media tour in Charlotte, N.C., two weeks ago to be at Duke for a doctor's appointment.
• Tony Stewart didn't wait for the first question to be asked before calling me a bloodsucking reporter, or something like that. Oh, well, Stewart has called other reporters -- and me -- worse.
And he did smile when he said it. He also answered all of my questions, too. No blood was spilled. Good interview.
Good day.