Category archive:

Regan Smith
March, 22, 2013
03/22/13
12:04
PM ET
FONTANA, Calif. -- Finding the Phoenix Racing hauler used to be easy when arriving at Auto Club Speedway -- or any Sprint Cup track.
Just go to the back of the garage and count forward.
In case you didn't know, haulers are parked according to where teams rank in owner points. Before this season, the single-car team out of Spartanburg, S.C., never had been ranked higher than 23rd after more than one race.
Now it's tied for seventh.
"I can tell you there's a lot of people who came looking for us that went down there and had to come back this way," general manager Steve Barkdoll said with a laugh.
[+] Enlarge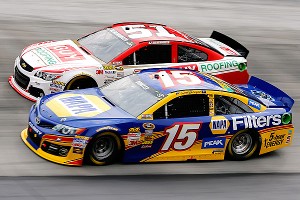 Jared Wickerham/Getty ImagesPhoenix Racing has taken the tag-team approach with three different drivers: AJ Allmendinger (51), Regan Smith and Austin Dillon.
And get this: James Finch's No. 51 team, which gets its Chevrolet engines and chassis from Hendrick Motorsports, ranks ahead of four other teams with the same equipment and all three Richard Childress Racing cars that field Chevrolets.
"Don't think we haven't noticed," an executive from one of those other organizations told me last week at Bristol.
HMS's Kasey Kahne ranks ninth and four-time Cup champion Jeff Gordon is 22nd. Stewart-Haas Racing's Tony Stewart is 25th, Ryan Newman is 24th and Danica Patrick is 30th.
RCR's Paul Menard is 11th, Kevin Harvick is 19th and Jeff Burton is 26th.
Did I mention that the Furniture Row team that gets its engines from RCR is 18th? That's nine spots behind the Phoenix Racing team that Kurt Busch said was not on par with the Denver-based organization when he left late last season.
And Phoenix has been able to do this with three different drivers -- Regan Smith, AJ Allmendinger and Austin Dillon. It'll be four by the time the team gets to Richmond and puts Ryan Truex behind the wheel.
"For them to be where they are in points, not only with three different drivers, but just in general, is a real testament to what they're doing," Burton said.
And if Phoenix -- unsponsored this weekend -- could somehow stay in the top 12 after 26 races and become eligible for the owners' championship in the Chase?
"If they could be in the top 10, it would be one of the bigger upsets in NASCAR's history," Burton said.
Barkdoll credits part of the early success to the new car that is easier to build. Because most of the parts are stamped out and body builders don't have to waste countless hours rolling sheet metal, they can spend more time in other areas.
Barkdoll spent part of that time two weeks ago explaining to his crew of 18 that there's a different routine for getting on the track for practice.
"When you're 27th in points, you go to templates first," Barkdoll said. "You don't get on the track. They send out 25 cars in practice for the first part until they start coming off. So we had to prep ourselves to know that we've got to get ready and do different things."
He hopes that continues.
"We know we've got to stay on top of things to stay here," Barkdoll said. "But think about the head table [at the banquet] if we happen to stay up here and James Finch gets to be the owners' champion and they have to split the title."
Then Phoenix Racing would be easy to find.
October, 11, 2012
10/11/12
6:48
PM ET
CONCORD, N.C. -- What's it like to step into the seat of NASCAR's most popular driver?
Regan Smith is about to find out.
Smith was picked on Thursday to replace Dale Earnhardt Jr., who is out for at least the next two races to recover from multiple concussions suffered at an Aug. 29 test at Kansas Speedway and last Sunday at Talladega Superspeedway.
It won't turn into a job at Hendrick Motorsports, but perhaps it could turn into a job for Earnhardt's Nationwide Series team co-owned by Rick Hendrick. They're looking for a driver who could help take JR Motorsports back to Victory Lane, and Hendrick said they'd talked "about running a Nationwide car for a championship."
"He's a good driver, and again, Dale likes him, and we're familiar with him," Hendrick said.
Or maybe this will convince another Sprint Cup team owner to give Smith a job after seeing the confidence Earnhardt and Hendrick put in him. Hendrick does supply cars for Phoenix Racing, which is looking for a driver.
Or maybe Smith could run for JRM and Phoenix.
Regardless, it has been a crazy week for Smith. He wrapped up his tenure at Furniture Row Racing with a season-best fifth-place finish at Talladega because he survived the 25-car crash on the final lap that put Earnhardt in this position.
He then was selected to replace Kurt Busch, who took his seat at Furniture Row, at Phoenix Racing for at least this weekend's race at Charlotte Motor Speedway.
When Earnhardt wasn't medically cleared to drive the next two weeks, Smith moved to a car that is 11th in points after getting a 7 a.m. text message from crew chief Steve Letarte.
Next thing you know Smith will be treated like NASCAR's most popular driver.
"I wouldn't expect that," Smith said with a smile. "I do know that Dale has a huge following. The Junior Nation is a big group of people. I have seen the good side of them before. I've seen the bad side of them. I'm glad to be on their good side for a couple of weeks, anyway."
Smith may not be the most popular, but he is a good guy and deserves this chance. He had his ride at Dale Earnhardt Inc. ripped from him after his rookie-of-the-year season in 2008 due to lack of sponsorship.
He had a win at Talladega ripped from him in the fall of 2008 because he had to go below the sacred yellow line to prevent crashing himself and winner Tony Stewart.
He had his ride at Furniture Row ripped from him because ownership thought it could do better with Busch.
"It is certainly a good opportunity," Smith said. "I am very fortunate that I am the guy they chose to call. I really appreciate that. It is going to be the best car I have sat in, yes, there is no denying that.
"I just want to go out and make the most of it. Run all 500 miles and see where we are at when it is all said and done."
Don't be surprised if it leads to something good.