Category archive:

Juan Pablo Montoya
May, 9, 2011
05/09/11
4:21
PM ET
DARLINGTON, S.C. -- A few humorous leftovers from Saturday night's Sprint Cup race at Darlington Raceway that got tossed in the trash in the aftermath of Regan Smith's win and the postrace confrontation between Kevin Harvick and Kyle Busch:
---
Juan Pablo Montoya and Ryan Newman stayed clear of each other after their physical confrontation in the NASCAR hauler on Friday, but Montoya did make a new enemy in five-time defending Cup champion Jimmie Johnson.
On Lap 83, Montoya got into the back of Johnson's car, sending the No. 48 into a spin.
Montoya immediately and repeatedly apologized, saying, "really sorry" and how he didn't mean that.
Told what Montoya said, Johnson sarcastically responded, "I'm sure he is."
---
Kurt Busch, a week after his profanity-laced tirade at his Penske Racing organization, remained relatively calm despite countless issues. After receiving a one-lap penalty on 224 he was told to keep his head.
To which Busch calmly responded, "I have to turn off my radio now."
He's learning.
---
David Ragan's car turned into a can opener and peeled the left side of Brian Vickers' car off, shredding the blue foam blocks underneath that help protect the driver.
Vickers later said the car was "the best it's been all night."
Go figure.
---
After losing to Smith on the green-white-checkered finish, Carl Edwards said he needed a mattress, so he might go to Furniture Row and buy one.
Smith is sponsored by Furniture Row Racing.
---
Soon after the pit-road confrontation with Kyle Busch, Harvick tweeted he was going to run the Truck race this weekend at Dover.
Busch will be in it as well.
Hmmm.
May, 6, 2011
05/06/11
12:13
PM ET
DARLINGTON, S.C. -- Juan Pablo Montoya and Ryan Newman met with NASCAR officials Friday at Darlington Raceway to discuss the issues they had during last weekend's Sprint Cup race at Richmond International Raceway.
It was long overdue and it didn't go as planned.
"The meeting didn't go as well as we had hoped it would and we're not completely through with this issue," said NASCAR spokesman Kerry Tharp.
So what happened Friday? Rumors are swirling things got physical, but neither driver, nor NASCAR, would confirm that.
The two have had conflicts since Newman got into the back of the Earnhardt Ganassi Racing driver and turned his car into a mangled fireball in Montoya's Sprint Cup debut at Homestead-Miami Speedway in 2006.
By Montoya's account, Newman had taken him out three times -- Homestead once and Richmond twice -- before he wrecked Newman at Richmond in retaliation for an earlier incident in which the Stewart-Haas driver put him into the wall.
NASCAR's only Colombian-born driver reminded us that until he retaliated at Richmond, he'd never done anything wrong to Newman. Newman, meanwhile, would argue he never has done anything wrong to Montoya, other than race him hard.
A mediation definitely was in order, particularly after Newman spent 30 minutes in the NASCAR hauler after the Richmond race discussing the issue.
"I've been wrecked by him a lot of times," Montoya said. "I've never done anything about it. I felt it was [time]."
Many are wondering if Newman will seek further retaliation Saturday night at Darlington Raceway. Probably not.
But is it really ever over?
"I don't think once you have an issue it's ever over in what we do," said Newman, adding that all his respect for Montoya went out the window at Richmond.
If either has any hope of winning a title this year or any other year, they need to get over whatever is causing them to race each other tighter than most. One more retaliation over the next 17 races could be the difference between making or not making the Chase.
One retaliation during the Chase could mean the difference between winning and not winning the title.
"Boys, have at it" sounds fine in principal. It's entertaining for the fans. But if these two continue to have at it they won't have a chance for the prize they covet most.
"That's the thing they need to realize, both of them," said three-time Cup champion Darrell Waltrip, who ticked off his share of drivers during his career. "You can't hold grudges against people. You have to control that if you're trying to win a race or a championship.
"That might feel good when you're doing it, and you might feel like you've accomplished something when you spin the other guy out. But that's where the crew chief and owner and all those guys have to get involved and say, 'Look, you're killing us.'"
Newman and Montoya are killing each other because they're both stubborn drivers with a you-wreck-me-and-I'll-wreck-you-back mentality. It's good for ratings but not good for their careers.
Newman, in a contract year, dropped a spot to eighth in the standings with his 20th-place finish at Richmond. Montoya, also in a contract year, fell from ninth to 12th in points with a 29th-place finish.
Maybe their meeting with NASCAR will settle this. They both seem to get it despite all this talk about lost respect.
"The big picture is always the points," Montoya said. "We're here to score big points to make the Chase. You're only here to make the Chase."
And holding grudges won't get you there.
August, 4, 2010
08/04/10
1:43
PM ET
CHARLOTTE, N.C. -- Tony Stewart was having one of his be-cute-and-difficult moments with the media Friday at Pocono Raceway when asked if he noticed Jimmie Johnson's qualifying speed didn't mesh with his practice laps.
"You got to remember, everything doesn't revolve around Jimmie Johnson," Stewart said smugly.
Kurt Busch apparently thinks it does.
Or at least he thinks Johnson thinks it.
When asked about the wreck between him and Johnson that triggered Elliott Sadler's horrific crash, Busch responded, "Got wrecked on the straightaway. Jimmie drove straight through us."
Keep an eye on this one as they head to Watkins Glen. Busch and the four-time defending Sprint Cup champion got into it last year on the road course at Sonoma and had a bumper exchange battling for the lead at New Hampshire in June.
They talked through those, but Busch didn't seem all that interested in mediation as he left the Pocono infield medical center.
"Kurt is not very fond of me, never has been, so I think whenever he has a chance to take a shot at me, he'll probably do so," Johnson said Sunday. "But [it was] certainly nothing intentional, and if he'd like to talk, I'd be more than willing to talk about it."
Stay tuned.
• Speaking of two people who need to talk, did you hear the radio chatter Sunday between Juan Pablo Montoya and crew chief Brian Pattie during a late rain delay after a four-tire pit stop?
Pattie felt Montoya wasn't quite sharp on that stop and at least one other, so he radioed that Montoya was going to come to Charlotte to practice pit stops. Montoya responded, "Screw you!"
When another voice came over the radio and asked Montoya to calm down, the fiery Colombian-born driver yelled, "Calm down my a--. This is bull----. It's always the same crap."
Montoya muttered something about how taking four tires was a mistake -- again -- apparently referring to the previous week at Indianapolis when a late four-tire stop ended a dominating performance.
Stay tuned.
• Jeff Gordon on his first race with new spotter Jeff Dickerson: "I thought he did a great job. He gave me all the right information that I needed on the restarts. I mean, we had a solid day as a team. Overall, I thought we had a really, really solid day."
Dickerson was Kyle Busch's Camping World Truck Series crew chief and business partner, but after Dickerson made it clear he had different plans for 2011, the two parted. Gordon's crew chief, Steve Letarte, quickly snatched Dickerson up, calling him one of the best spotters in the garage and a potential difference-maker in putting Gordon back in Victory Lane.
Asked if Dickerson could help Gordon win races, Busch said, "I don't think a spotter can help you win races. I mean, restrictor-plate track, yeah, I think there's some help there. Keeping you out of messes and keeping you out of the wrong lane and stuff like that. Places like [Pocono], it's not going to help Jeff Gordon go to Victory Lane."
Stay tuned.
July, 31, 2010
07/31/10
3:31
PM ET
LONG POND, Pa. -- When last seen at Indianapolis, Juan Pablo Montoya was shaking his head and disappearing into his motor coach.
So how long did it take for him to get over losing a second straight Brickyard 400 that he'd dominated?
"A couple minutes," Montoya said late Friday afternoon at Pocono Raceway. "It's kind of weird because I didn't really want to talk to the media because I was just pissed off, and when you're angry you'll say something dumb and you'll regret it.
"As a team we win together, we lose together, and actually in a crazy way with myself hitting the fence helped the team win the race. It's one of those deals where you never really know who you're working for."
In case you've forgotten, Montoya was leading with 21 laps remaining when caution came out. He took four tires. Six cars -- including Earnhardt Ganassi Racing teammate Jamie McMurray, who won the race -- took two, leaving him seventh on the restart.
A few laps later Montoya hit the wall and his day was over, just as it was a year earlier when a late speeding penalty kept him out of Victory Lane.
"It's one of those deals where I think if I would have taken two tires, everybody else would have taken four and we probably would have got beat anyways," Montoya said. "It sucks. We're nowhere near the Chase, does it really matter? Somebody actually said I threw the car in the fence because I was mad and I was just trying to keep [the car] up."
That wasn't the case.
And Montoya bounced back strong Friday at Pocono, qualifying second for Sunday's race. He even got an encouraging word from pole sitter Tony Stewart before qualifying.
"He actually came before I was going to take my lap and said, 'Dude, don't worry about that last week. You're fine,'" Montoya said. "He was trying to pump me up. … That was nice."
One day soon, maybe Sunday, Montoya is going to win a race on an oval. Once he does that he may get on a roll and win several.
He's that good.
March, 2, 2010
03/02/10
1:43
PM ET
CHARLOTTE, N.C. -- Let's put the
Jamie McMurray
-
Juan Pablo Montoya
conflict into context.
Or simply text.
McMurray texted his Earnhardt Ganassi Racing teammate to say he was sorry. Montoya replied with a text acceptance.
Feud over.
Not that there really was a Hatfield-McCoy type of feud. More like a family spat with some history.
Yes, Montoya was furious when his teammate wrecked him in Sunday's Sprint Cup race at Las Vegas Motor Speedway. He should have been. The incident took away a potential top-10 finish and left him tied for 26th in points, 127 behind 12th place.
It also may have dredged up memories from last year's spring race at Bristol, where an incident between the two left McMurray, then at Roush Fenway Racing, wondering if they ever would talk again.
But after Montoya cooled down Sunday, all apparently was forgiven. At least that's the impression he gave McMurray, who says "all is good'' and that the whole incident was overblown. That also is the impression he left a group of media attending his celebrity golf event in Bogota, Colombia.
Here's the account Colombia journalist Diego Mejia gave:
"He sent me a text message saying, 'Hey I'm sorry, I'm sure you're mad at me, you want me to call you and talk through [this] thing?''' said Montoya, who flew from Vegas to his native country. "And I said, 'Don't worry, it happened, yes I was real mad, but let's move forward.'

"It's frustrating because your teammate is the guy you've got to race the smartest. You have to give each other a lot of respect because you don't want to end up in a bad situation like last Sunday. He was running well and so was I. We were running in the top 10 and were competitive and we both threw a top-five finish out the window.''
That was a much calmer Montoya than the one who got out of his car and said, "He run straight into my a--. He nearly ran me into the fence in 2 as well. I don't know. He's not doing himself any favors.''
Montoya also went on to say after the race that McMurray "is just trying to prove to people he can drive a race car, and I guess he isn't doing too many favors on his team.''
Harsh, but understandable in the heat of the moment. It's no different than a kid cursing parents after being punished for something they felt they didn't deserve and the next day giving them a hug.
McMurray knew he screwed up as soon as the incident happened. The Daytona 500 champion immediately began apologizing over his radio.
He understands teammates need to get along, although it doesn't have to be that way. Rusty Wallace and Ryan Newman seemingly always were at odds at Penske Racing. It finally came to a head at Martinsville in 2004, when Wallace retaliated for an incident that took him out of win contention with a smack following the checkered flag.
As far as we know, no text apologies ever were exchanged.
Darrell Waltrip and Neil Bonnett weren't exactly buddies when they raced for Junior Johnson in the mid-1980s. Of course, back then teams didn't share information like they do today, so maybe it's more essential for teammates to get along.
But at least for now the McMurray-Montoya conflict is over -- unless it happens again. Then the family spat could turn into a feud.
February, 4, 2010
02/04/10
5:46
PM ET
DAYTONA BEACH, Fla. -- Leftover sights and sounds from Thursday's media day at Daytona International Speedway:
• Denny Hamlin is bummed. Doctors have told him he won't be able to play basketball for 18 months because of the torn ACL in his left knee suffered two weeks ago playing hoops.
Why so long? Because Hamlin can't have surgery until after the Sprint Cup season due to the length of the recovery. He then must wait another six months before the injury is healed enough to handle cuts.
"What bothers me the most is I'm not able to do what I love to do," said Hamlin, considered by many a favorite to win the title despite the injury. "Everybody has a hobby outside of racing. If you told them you couldn't do that for a year and a half it would bother them."
The good news is Hamlin has tested the knee inside his No. 11 Toyota and all was fine -- just as doctors said it would be. He's had a brace designed for support, but because the fit is so tight when he's in his seat he likely won't use it.
• Hamlin's knee kept the first part of his interview session from being all about last year's feud with Brad Keselowski.
Keselowski wasn't so fortunate.
Asked if he's cleared everything up with the driver that purposely took him out in the Nationwide Series finale last season, Keselowski said, "I don't know. I feel good about it. On my end, it's clear. You have to ask him on his end. I'm cool."
Asked if he had a face-to-face with Hamlin during the offseason, Keselowski said, "I saw him a couple of times face to face. We didn't talk life or anything like that."
• Baby boomers? Four-time Sprint Cup champion Jeff Gordon and his wife, Ingrid, are expecting again. Their second child is due sometime in August.
"What's going on in our sport right now?" Gordon said.
Must be in the water. The wives of Gordon, Jimmie Johnson, Juan Pablo Montoya, Elliott Sadler and Carl Edwards all are expecting.
• Thoughts and prayers of drivers and media are with Lynda Petty, the wife of seven-time champion Richard Petty. She has been diagnosed with Central Nervous System Lymphoma.
Lynda Petty is being treated at the Brain Tumor Center at Duke University.
How much Richard Petty will be at the track during Speedweeks is uncertain. He missed the media tour in Charlotte, N.C., two weeks ago to be at Duke for a doctor's appointment.
• Tony Stewart didn't wait for the first question to be asked before calling me a bloodsucking reporter, or something like that. Oh, well, Stewart has called other reporters -- and me -- worse.
And he did smile when he said it. He also answered all of my questions, too. No blood was spilled. Good interview.
Good day.
October, 8, 2009
10/08/09
11:01
PM ET
CHARLOTTE, N.C. -- In the NBA, officials typically let players get away with contact in the playoffs that might be called a foul in the regular season. It's the same way in the NFL and NHL.
Officials don't want a coach, owner or anybody else claiming they influenced the outcome.
Apparently, it's not that way in NASCAR -- at least for non-Chase drivers.
Brad Keselowski received a warning from Sprint Cup officials midway through Sunday's third race of the Chase at Kansas. They apparently felt he was too aggressive racing Chase contender Juan Pablo Montoya for position and told him to be "mindful" of the situation.
[+] Enlarge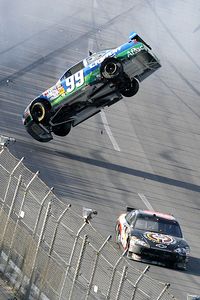 AP Photo/Glenn SmithNASCAR didn't have much to say when Brad Keselowski sent Carl Edwards flying at Talladega earlier this year, so what's the problem now?
Here was the explanation given a few days later: "Brad Keselowski is a young driver with limited experience as it relates to Sprint Cup Series racing. With that in mind, in NASCAR's opinion there were several instances in the early stages of a 400-mile race that he was being overly aggressive and NASCAR communicated that to his team.
"NASCAR has done that from time to time with other drivers. It had nothing to do with him racing against Chase drivers."
You can be the judge of that. A few reports after the race quoted NASCAR officials as saying they wanted Keselowski to be "aware and cognizant of who he was racing against."
Sounds as if it had everything to do with Montoya's being a Chase driver. This left many wondering whether this was NASCAR's way of making sure a non-Chaser didn't influence the outcome of the championship.
Let's hope not. If you're going to have a system that allows non-playoff drivers to compete for wins and top-10s, you can't tell them how to drive. Nobody warned Keselowski at Talladega earlier this season when he got underneath Carl Edwards and caused that horrific last-lap wreck en route to his first Cup win.
It was called a racing incident.
What Keselowski and Montoya, who has been called overaggressive more than once the past two seasons, were doing was racing. That, and nothing more, nothing less.
Montoya seemed to understand that because he didn't call out the rookie in the No. 25 Hendrick Motorsports car. Keselowski seemed to understand because he didn't change the way he raced the driver who is third in points. He almost laughed at the suggestion that he should back off.
"I thought it was kind of funny," he reportedly said after the race.
Rick Hendrick, the owner of Keselowski's car, took a more diplomatic approach, as one would expect.
"I can understand the Chase guys, that you've got a guy that's not running for the championship or points being careful," he said. "But Brad races hard, and that's what the fans come to see.
"I see both sides of it. We just kind of said, 'Hey, don't take a chance and wreck any of those guys.'"
Nobody wants to see anybody taken out of championship contention because of a mistake by a non-Chase driver -- or a Chase driver, for that matter. But it surely will happen in the Chase, just as it happened outside the Chase.
In 2007, Denny Hamlin finished 38th in the second race of the Chase at Dover because of an incident with Kyle Petty.
Kyle Busch might have won the 2009 Daytona 500 and been in the Chase had Dale Earnhardt Jr. and Brian Vickers, both a lap down, not caused a wreck that ended his day in the opener.
Nobody got a warning or even a slap on the hand for either of those incidents.
Fans, as Hendrick noted, come to see all the drivers race as hard as they can regardless of who they are or what they're running for. Unless there is a reason to believe a driver deliberately is trying to influence the outcome, let him drive.
September, 26, 2009
09/26/09
12:59
PM ET
DOVER, Del. -- Let's straighten out a few issues from Dover International Speedway.
Dale Earnhardt Jr., who is ranked 21st in points and has had trouble finding his own pit box this season, told a reporter that David Reutimann, who is 16th in points and a contender to make the Chase until the final cutoff, needs to "polish up his craft."
Greg Biffle said it was an unfair advantage that Chase drivers -- he didn't mention names, but we should assume he's talking about Friday's pole-winner Jimmie Johnson and second-fastest Juan Pablo Montoya -- were allowed to participate in a tire test at Dover even though the test occurred a month before the 12-driver field was set.
Brian Vickers said the best way to make pit road safer is to get rid of it altogether, or maybe not race real cars at all, "just play video games."
OK, so Vickers' comment was tongue-in-cheek.
But it's been that kind of a crazy weekend so far at Dover, and it likely will get crazier before the second race of the Chase concludes Sunday afternoon.
Let's get Earnhardt and Reutimann out of the way first. Earnhardt obviously was upset that he had a car capable of at least a top-5 finish last weekend at New Hampshire before Reutimann lost control and sent him into the wall.
Reutimann admitted he made a mistake. He looked NASCAR's most popular driver in the eye and said he was sorry.
But Earnhardt still criticized him after the race and did so again at Dover. Just a guess, but this has to do more with frustration from a disappointing season for Earnhardt than Reutimann, or one wreck.
"He definitely hasn't had the kind of season I'm sure he would like," Reutimann said Saturday. "A lot of us haven't. He obviously had a very good racecar. When you get taken out, that's not going to sit very well with you.
"I can't blame him, but I've been hand-whipped pretty hard this week. … You can only talk about somebody for so long before you get tired of it. That's kind of the point I'm at right now."
For the record, Reutimann didn't comment on how many times Earnhardt has missed his pit stall this season. He also didn't note that he qualified fifth this weekend and his chief critic will start 24th.
Now for the tires. The new compound Goodyear brought to the "Monster Mile" has some drivers and crew chiefs scratching their heads for the right setup.
Denny Hamlin, whose teammate Kyle Busch was one of eight drivers who participated in the earlier tire test, called the tires "just crap, really" and insisted that cars will slide all over the place.
"From what I hear they didn't bring back the tire that everyone liked," he said. "Same as Atlanta. They keep increasing the stagger in the tires, and it just keeps making guys loose in and loose off [the turns].
"They won't listen to us drivers, so I don't know why we even tire test these tracks anymore."
Apparently, Goodyear listened to Johnson, who suggested the tire manufacturer bring a combination that would put more mechanical grip in the car and let teams "back off some of the crazy setups we are running and tighten these cars up."
But if testing is such a big advantage, how do you explain the fact that Johnson wasn't one of what he called the "75,000 cars" that tested at Indianapolis and won the race?
"There is no doubt there is an advantage to it, but we overcame that at Indy and didn't have a chance to test there," he said.
In other words, everybody stop complaining.
Biffle should have more pressing worries. Although he qualified fourth, his four Roush Fenway Racing teammates qualified 21st or worse, and Bobby Labonte, using Roush Fenway equipment, was slower than only two cars.
What's alarming about that is the No. 71 Labonte drove last week at New Hampshire qualified 18th with David Gilliland.
"That constitutes how poorly we're doing [our] job [as well as] that Yates organization across the street," Biffle said. "We all have the same equipment and we're just not getting it done."
At least Biffle finally explained why the Roush cars are struggling. Apparently, it's all about corner speed.
"Let me explain that," he said. "There's two ways of getting a car to turn around the corner. One is the car turns with the front tires when you turn the steering wheel, it turns with the front tires, and it turns around the center of the corner … you can push the gas down and off you go.
"The second way is if the front tires don't turn, they slide up the race track -- you cannot get them to turn. The only thing you could do is loosen the car up, take wedge out, do whatever you could do to try and get the back of the car loose enough to where you go around the corner with the back of the car turning. So the back of the car is sliding around the corner, almost, if you will, like a forklift."
And a forklift, he says, turns with the back tires and not the front. He says drivers have run faster on seven cylinders than the Roush cars because their corner speed is faster.
That's crazy.
And then there was real crazy, when Vickers was asked if crew members deliberately run out in front of other cars to slow them down on pit road.
"I can assure you that I'm trying to avoid people on pit road because I don't want to hurt anybody," he said.
Well, that's good to know.
That's when Vickers went from making pit roads wider to eliminating them to playing video games. Johnson, who was next in line for his weekend press appearance, seemed a bit surprised by the whole exchange.
"Everybody clear on the whole pit road deal Brian was talking about … playing video games instead of driving?" he asked as he left the media center.
Yep, we've got it all straight.
June, 27, 2009
06/27/09
3:42
PM ET
Juan Pablo Montoya didn't mince words when asked what IRL star Danica Patrick faced if she jumped to NASCAR in 2010.
"Danica, I think she's got the talent and everything, but I don't think she knows what she's getting into," he told reporters Friday before rain washed out qualifying at New Hampshire Motor Speedway.
Montoya can speak to this better than most. The former Indianapolis 500 champion left Formula One three years ago to pursue a career in the Sprint Cup Series.
He's won on a road course, which came as no surprise since he is one of the best road course drivers in the country. He hasn't won on an oval and hasn't qualified for the Chase, although he is 12th with 10 races remaining before the 12-driver playoff field is set.
"They're so different to drive," said Montoya, explaining the difference between a stock car and Indy car. "It's not the same feeling. When you drive an open-wheel car on an oval you have the grip, you turn the wheel and it turns, you get on it and it goes and you get on the brakes and it stops.
"This it goes more with the momentum," he said of stock cars. "You've got to give time to the car and you've got to get used to the feeling that you've got to go fast when the car doesn't feel right. With time actually it becomes kind of normal."
But again, it takes time.
And Patrick's credentials aren't nearly what Montoya's were when he made the jump. He is the only driver to win the open wheel CART title, the Indianapolis 500 and 24 Hours of Daytona -- all on his first attempt.
He won numerous other races and titles in open wheel.
In Cup he finished 20th in points as a rookie and 25th in 2008. He has only one win and five top-5s in 89 races and has led only 51 laps.
Patrick has finished no better than fifth in points since joining the IndyCar Series in 2005, and she has only one win in 71 races.
But her contract with Andretti Green is over after this season and she insists she's looking at NASCAR, although many such as myself believe she's using the sport for leverage to get more money out of the IRL.
There has been speculation that she will join Chip Ganassi, the co-owner of Montoya's Cup team, in the IRL.
If she passes on that or other IRL offers for Cup, where she's made it clear she'd want to be with a top organization right away, it likely will take a few years in the Nationwide Series as well as the Cup series to help her adjust to stock cars.
If she makes the move, there's no guarantee she'll succeed even though sponsors would line up for the opportunity to partner with her. Dario Franchitti was gone from Cup within a year due to lack of sponsorship at Ganassi Racing. Sam Hornish Jr. is 26th in points for Penske Racing after a couple of years in NASCAR's premier series.
Both won Indianapolis 500s.
Patrick has not.
The NASCAR path, if she chooses it, will not be easy.
"If she comes, I'm sure she can do it, but it doesn't matter if you come to a winning team or anything," Montoya said. "It's going to take time."