Category archive:

Kyle Busch
June, 2, 2013
06/02/13
11:50
AM ET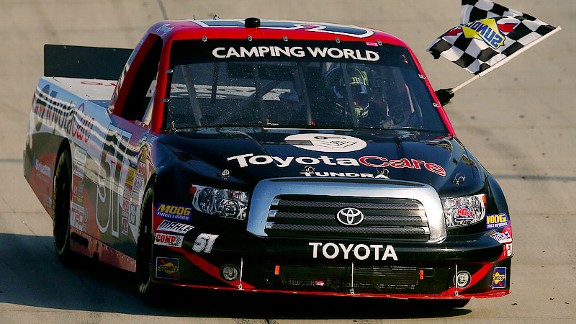 Tom Pennington/Getty ImagesKyle Busch rolled to victory again on Friday, winning a Camping World Truck Series race for the 32nd time in his career.
DOVER, DEL. -- There was anticipation, maybe even wishful thinking, that teenagers Darrell Wallace Jr. and Chase Elliott would battle for the victory in Friday's Truck Series race at Dover International Speedway.
Ryan Blaney and Jeb Burton, too.
The stars of the future.
Instead, Sprint Cup regular Kyle Busch collected his second consecutive victory and 32nd in this series, his 89th in NASCAR's two lower-tier national touring series, counting 57 Nationwide Series wins.
Enough is enough.
While Busch's ability as a driver truly is respected, and this is in no way aimed personally at him, he is ruining the Trucks and Nationwide series with his domination. He is preventing fans from seeing future stars in Victory Lane and future stars from experiencing those moments.
While his presence behind the wheel may bring sponsors and money to Kyle Busch Motorsports in Trucks and Joe Gibbs Racing in nationwide that otherwise might not be there, it's hard to imagine he is putting fans in the seats.
If anything, from comments heard during a jog around the track following the Trucks race, the domination is turning fans off.
Busch, who has six wins this year in the Nationwide Series, understandably has a different viewpoint. After his latest triumph he said, "Yeah, people say it's too easy to win and we're cherry-picking. Whatever. This is a sport we're all welcome to participate in. That's why we're here."
Whatever?
Perhaps if he saw it from the fans' perspective he might feel differently. Perhaps he and NASCAR need to listen to readers such as the one that sent this: "Kyle Busch and the other Cup regulars do the sport no good deed by racing in the lower series and taking wins from the regulars trying to make a name for themselves.
"Today at Dover was a good example. Kyle beat a bunch of children and old men, while having the best equipment. That is NOT a fair fight. One might argue that promoters want a 'big name' in the race. I would suggest that racing for the title among the rising stars of the future would build the sport more.
"The young ones need to win in order to grow the series. Allowing Cup regulars to race in the truck series is a bad decision."
He's right, and he'd be right if we were talking about Dale Earnhardt Jr., Jimmie Johnson or any Cup regular. It is time for NASCAR to take a stand before the 2014 season and limit Cup drivers to no more than 10 events between the Nationwide and Trucks series.
And even that may be too much.
While it may mean fewer entries into both series, maybe even a few less ticket sales and sponsor dollars, fewer ultimately would be better for the long-term health of the sport if it means drivers like Wallace and Elliott get to race for wins.
In case you missed it, Wallace finished 10th, Elliott fourth, Blaney third and Burton ninth.
Anticipation crushed.
May, 15, 2013
05/15/13
12:00
PM ET
CHARLOTTE, N.C. -- Before Kyle Busch wrecked him for the second time in two weeks and the third time this season, I asked Kasey Kahne what it would take for him to get red-in-the-face mad.
You know, so mad that he would go out and retaliate the way Busch and others have done when they believe another driver has wronged them.
"I don't know," Kahne said last week in his usual soft tone. "It might happen."
Maybe it's time.
Maybe the only way for Kahne to send the message to Busch and others that he simply won't tolerate being wrecked -- even if it's unintentional -- is to send the Joe Gibbs Racing driver into a spin.
It probably won't happen, although Saturday night's Sprint All-Star Race is the perfect setting since no points are involved. It's not in Kahne's makeup to retaliate, at least in such an obvious way as Busch did to Ron Hornaday Jr. in the Camping World Truck Series two years ago at Texas or the way Jeff Gordon did to Clint Bowyer last year at Phoenix.
His way of sending a message is more subtle, like the not-so-friendly tap he gave to Mark Martin after Martin crashed him at Richmond.
"At Richmond, I was really mad," Kahne said.
Kahne shows his anger the way the Mona Lisa shows she's happy: You have to look hard to see it.
But you could hear it Saturday night in the sarcastic tone he used to describe how Busch "screwed up" and what likely will happen this week.
"I imagine he will call me again tomorrow and say he's sorry," said Kahne, referring to the apology he got after Talladega.
Busch knows he messed up, just as he knew he did at Daytona and Talladega. You could hear it in his voice over his in-car radio even if you didn't get to hear it after the race. He left Darlington Raceway without talking to media after a late tire issue left him with a sixth-place finish in a race he dominated.
Kahne stayed and talked after a 17th-place finish that could have been a win.
Maybe he is reaching a boiling point.
"Well, he needs to quit. … I mean he's got to just race me," Kahne said of Busch, who's not known as a dirty driver.
But when asked how he would race Busch moving forward, Kahne gave the answer you would expect.
"I will race him the way I've always raced him, the way I have always raced everybody," he said. "You try not to screw up and take people out when you are around them."
Maybe he needs to make an exception. Like in school, sometimes you have to stand up to the bully to let them and others know they can't walk all over you without consequences.
Were it not for Busch, as I wrote last week when Kahne told of the Talladega apology, Kahne would be near the points lead instead of in sixth. He might be the one with a series-best three wins instead of Busch's teammate Matt Kenseth.
Maybe this will work itself out. Maybe Busch will pull over and let Kahne pass the rest of the season when he knows Kahne has a faster car.
But that's not in Busch's makeup.
So maybe it's time for Kahne to send a message he's not to be messed with, to let people know he's a serious championship contender.
The All-Star Race would be the perfect place.
May, 8, 2013
05/08/13
10:22
AM ET
CONCORD, N.C. -- Kasey Kahne and Kyle Busch have agreed to stay away from each other the next time they compete on a restrictor-plate track.
They said it in fun on Monday when Busch called to apologize for wrecking Kahne in Sunday's race at Talladega Superspeedway, but it would be a smart move.
Twice this season -- first in the February Daytona 500 and again on Sunday -- Busch wrecked Kahne in almost the same way. If Busch had done that to almost any other driver in the garage, there might have been a brawl.
[+] Enlarge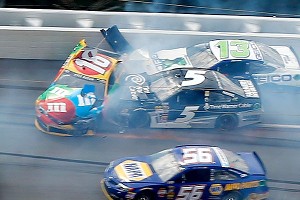 Jared Wickerham/Getty ImagesKyle Busch (18) wrecked Kasey Kahne (5) for the second time in two plate races this season.
If he had done that to Kevin Harvick or Tony Stewart, who were innocent victims in Sunday's Lap 42 incident that triggered a 16-car melee, it could have gotten real ugly.
Kahne's reaction?
"When I first got in that accident, I was sitting there and was like, 'Where is he?' I was looking for him and thinking, 'What should I do? Should I run down and grab him? Should we wrestle?'" Kahne said during a Tuesday event promoting the May 26 Coca Cola 600 at Charlotte Motor Speedway.
"See, that's what I'm thinking, but that's really not me. I just got in the ambulance."
Kahne appreciated Busch's apology, saying by the end of the conversation, "I told him at Daytona [in July] I'll stay away from him and he said he'll stay away from me."
He smiled as he said this.
That doesn't mean Kahne wasn't surprised a driver of Busch's talent wrecked him for the second time in as many plate races. It also doesn't mean he wasn't frustrated.
Were it not for those two crashes, Kahne likely would be no worse than second in points behind Jimmie Johnson instead of sixth, 84 points back. With a little luck, Kahne could be in the lead.
Consider: Kahne finished 36th at Daytona and 42nd at Talladega. He collected a mere 10 points between the two races. If he finished fifth in both races, which was entirely reasonable because he had a fast car in each, he would have another 68 points, without bonus points for leading a lap.
That would have put him in second, 16 behind Johnson.
If he won both races -- highly unlikely, but possible -- he would be at least tied for the points lead with his Hendrick Motorsports teammate. If he led the most laps for additional bonus points, he would have the outright lead.
But Kahne isn't losing sleep over all the lost points. He was more upset that he lost the Las Vegas race to Matt Kenseth and that Mark Martin wrecked him at Richmond, where the driver has more control over his car than at Dega or Daytona.
"At Richmond, I was really mad," Kahne said.
Not that anyone could really tell. The soft-spoken Kahne is one of the nicest drivers in the garage. He seldom lets his emotions get the better of him.
And Kahne could tell from the look on Busch's face in the infield care center that the wreck wasn't intentional.
"It's that type of racing there," he said. "There is a couple of times when you're racing at other tracks and you get wiped out by the same guy and you're definitely in a much different place. I don't know. I just try not to let it bother me."
Kahne still needs to stay away from Busch at Daytona.
March, 9, 2012
03/09/12
12:21
PM ET
There's a solution to save Dodge's presence in NASCAR.
It's not totally realistic thanks to existing contracts and a few other not-so-minor details, but if the manufacturer could pull this off, it would remain a major player in the Sprint Cup Series after Penske Racing moves to Ford in 2013.
Busch Brothers Motorsports.
[+] Enlarge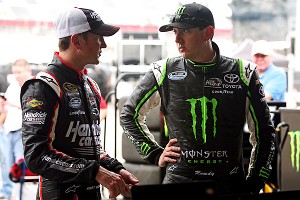 Jerry Markland/Getty ImagesIf Dodge could lure Kurt Busch, left, and Kyle Busch into its Sprint Cup program, the manufacturer would have two of the most talented drivers in NASCAR.
Yes, throw a ton of money at Kyle and Kurt Busch the way Dodge did with Ray Evernham when he re-entered the series in 2001, persuade Kyle to turn his Nationwide Series organization into a Cup organization, and have at it.
There are issues. Kyle is under contract with Joe Gibbs Racing and Toyota. He also doesn't have an engine shop at Kyle Busch Motorsports.
Otherwise, it's the best solution to keep Dodge viable.
And Dodge wants to remain a player. Otherwise, it wouldn't be revealing the 2013 Charger designed for NASCAR's premier series before Sunday's race at Las Vegas Motor Speedway despite Penske's recent announcement that leaves the manufacturer basically homeless.
But look at the options:
Hendrick Motorsports and satellite team Stewart-Haas Racing aren't leaving Chevrolet. Neither is Richard Childress Racing. Earnhardt-Ganassi Racing could, but it also doesn't have an engine shop, and the Earnhardt part of the equation never will leave Chevy.
Roush Fenway Racing is more committed to Ford than many husbands are committed to their wives. Richard Petty Motorsports could be a viable option, and Petty has a big history with Dodge. But RPM doesn't have an engine shop, and there's no realistic reason to believe that the financially strapped organization could survive on its own.
Toyota might be susceptible to a raid. Michael Waltrip always is open to ideas, but like others, he doesn't have an engine shop and is heavily invested with the Japan-based manufacturer.
Joe Gibbs Racing left a comfortable situation at Chevrolet a few years ago to stand on its own, and it has the infrastructure to build engines again. Outside of Busch Brothers Motorsports, that may be the best option, but it's not likely.
So the best option is BBM. Kyle and Kurt are two of the most talented drivers in the series, and without great talent you have no chance. Kurt is in the market for a ride, and the brothers might behave better if they're forced to apologize for themselves instead of having an owner do it for them.
It might be a costly initial investment for Dodge, which was totally blindsided by Penske's decision. But it's better than throwing money into a dark hole with smaller teams that will reap few benefits.
Maybe it would be a gradual process. Put Kurt in the Monster Energy Drink Dodge for a year or two until Kyle's contract with JGR expires or JGR simply releases him.
But Busch Brothers Motorsports is the best solution despite all the roadblocks.
September, 15, 2011
09/15/11
5:44
PM ET
CHICAGO -- First, I'm not a huge fan of Chicagoland Speedway hosting the first race of the Chase, which NASCAR already has said will happen again next season, too.
The third-largest media market in the country is too wrapped up in the Chicago Bears to get NASCAR on the front page of the local paper.
Imagine if the Cubs or White Sox were contenders.
Well, it could happen.
I'd rather see the Chase begin somewhere such as Darlington or Bristol. They're smaller markets -- OK, tiny compared to Chicago -- but they would embrace the sport, and the style of racing at those tracks is more likely to create drama that captures the imagination.
But I love the Windy City, at least three months out of the year, when it isn't cold as heck.
And I loved Thursday's gathering of the 12 Chase drivers at the LaSalle Power Co. in downtown Chicago, the former site of Michael Jordan's restaurant.
The animosity drivers showed toward a few media members a week ago at Richmond was gone. Everybody, from 12th-place Denny Hamlin to first-place Kyle Busch and Kevin Harvick, believes they have a chance to knock five-time defending Sprint Cup champion Jimmie Johnson off the throne.
Check that.
Two-time champion Tony Stewart already has eliminated five drivers, scratching Hamlin, Kurt Busch, Dale Earnhardt Jr., Matt Kenseth and himself from the list of realistic contenders.
Kenseth laughed at Stewart's generosity with the media that he had berated a week ago for asking questions that weren't what he considered original.
"Stirring the pot," Kenseth motioned.
In case you haven't been paying attention, Stewart's list of contenders are Johnson, Harvick, Kyle Busch, Ryan Newman, Carl Edwards, Jeff Gordon and Brad Keselowski, in no particular order.
"The winner of the championship will come out of that group," Stewart said.
And if Stewart is standing on stage, hoisting the championship trophy above his head 10 weeks from now at Homestead-Miami Speedway?
"Then I'll declare I'm a total bumbling idiot," Stewart said.
I thought he only said that about the media.
Anyway, there wasn't a driver among the 12 that wasn't in a good mood. Harvick took a fun stab at Kurt Busch, noting all the reporters during one interview session had laptops -- and not papers -- and didn't "leave me anything to tear up." Busch, remember, took a transcript from a reporter and tore it up in a heated moment after Saturday night's race at Richmond.
Newman cracked a similar joke, saying, "Keep all the papers away from me."
Yes, drivers pay attention to all the trivial stuff that happens off the track.
Kenseth took a joking shot at the reporter who at Richmond was shot down by Stewart, saying, "Ask me an original question."
There were a few. Gordon took advantage to push his conspiracy theory that Richard Childress Racing driver Paul Menard spun out intentionally to bring out the final caution at Richmond, allowing teammate Harvick to catch up and win.
Harvick pushed the theory that Gordon and other Hendrick Motorsports drivers bring out cautions to help Earnhardt get back laps.
It was that kind of entertaining day.
Hopefully, the racing at Chicagoland Speedway will be just as entertaining and give me reason to like opening the Chase here.
September, 12, 2011
09/12/11
4:28
PM ET
The odds are in and the favorite to win the 2011 NASCAR Sprint Cup championship is ...
Hot off the press from sports publicist Jimmy Shapiro are the odds for the 10-race Chase that begins Sunday at Chicagoland Speedway. Busch, who begins this quest tied for the points lead with Kevin Harvick based on four regular-season wins each, is a 3-to-1 favorite.
Following closely is Jimmie Johnson at 7-2, which puts him five spots ahead of the driver (Kurt Busch) who thinks he is in the five-time defending champion's head.
But that's another story.
The rest of the 12-driver odds: Jeff Gordon, 5-1; Carl Edwards, 13-2; Harvick, 13-2; Matt Kenseth, 10-1; Kurt Busch, 11-1; Brad Keselowski, 12-1; Denny Hamlin, 16-1; Tony Stewart, 16-1; Dale Earnhardt Jr., 20-1; Ryan Newman, 25-1.
There were no odds given on how many bad questions Stewart would field from the media or how many transcripts Kurt Busch would tear up. There also were no odds on whether Earnhardt would win the most popular driver award again, but I can tell you that's where my money would be if I were a betting man.
I agree with the odds for the most part, although it seems Keselowski should be much higher with the momentum he has.
As for my overall pick, for consistency I'll stick with the driver I chose before the season: Kyle Busch. But I like the way Gordon is running and it wouldn't surprise me if he won his fifth title.
Let me know who you'd pick to win it.
August, 24, 2011
08/24/11
12:25
PM ET
CHARLOTTE, N.C. -- "Want the special?" the man at the hot dog stand outside the North Carolina District Courthouse of Iredell County asked on Tuesday.
I politely said no and asked whether there was a nearby restaurant where I could work and eat while waiting for Kyle Busch to appear in court for the speeding penalty he received in May.
"Sure you don't want it?" the man asked, pointing to a sign.
Sometimes you miss what's staring you in the face. You know, a "can't see the forest for the trees" sort of thing.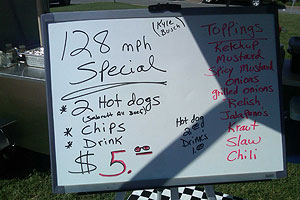 David Newton/ESPN.comOnly in America: A hot dog vendor outside of a North Carolina district courthouse was offering a special meal deal in honor of Kyle Busch.
But there in big black-and-red handwriting on a whiteboard was the "Kyle Busch 128 mph special" -- two hot dogs, chips and a drink for $5.
You couldn't help but laugh.
A few hours later, NASCAR's Sprint Cup points leader was fined $1,000 and had his licensed suspended for 45 days by Judge Thomas Church for going 128 mph in a 45 mph speed zone down a rural road near Mooresville, N.C.
Case closed.
"This is it," Busch said outside the courthouse, adding that the hearing for him brought closure to the incident.
It did from a legal standpoint, but Busch still has this image thing to deal with. So does NASCAR.
First, Busch. As long as people such as the man running the hot dog stand are making jokes about Busch, there'll be a certain part of the NASCAR fan base who won't take the 26-year-old superstar seriously -- even if he goes on to win the Cup title.
There will be a certain part who will consider Busch a punk no matter how much good he does -- and he is doing a lot of good, supporting the B.R.A.K.E.S (Be Responsible and Keep Everyone Safe) program that NHRA dragster Doug Herbert began for teenage drivers and other charities through his foundation.
Busch wants people to realize that as a driver, he's special -- not to have specials named after him.
Which brings me back to the "can't see the forest for the trees" phrase. Perhaps fans are so caught up in Busch's past mistakes that they can't see what's staring them in the face -- that he has changed.
Jimmie Johnson, the driver Busch wants to knock off the throne, nailed it after finishing second to the Joe Gibbs Racing driver on Sunday at Michigan. He reminded us that he didn't come into Cup full time until he was 26, the same age Busch is now with almost seven full seasons under his belt.
"At the time I thought that opportunity had passed me by, and I wasn't sure I was ever going to get a shot," said Johnson, the five-time defending Cup champion. "But looking back, I'm very thankful getting my late start. It helped me mature in a lot of ways. I made my mistakes more on the lower levels instead of in the spotlight with the pressure of the Cup series.
[+] Enlarge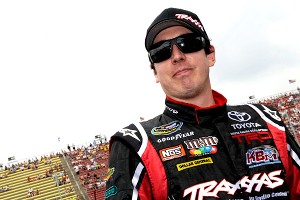 John Harrelson/Getty ImagesSprint Cup points leader Kyle Busch has put the infamous speeding ticket in his rearview.
"He's getting into that in his mid-20s now. So he's getting into his sweet spot, I think."
Perhaps it is time to look at Busch for what he is now, not what he was coming into the sport. How many people would like to be judged on what they did during their first few years in business? Probably not many.
Yes, Busch made a big mistake when he sped 128 mph down a winding rural road in that bright-yellow Lexus LFA that he had on loan for a day. Yes, he endangered lives regardless of what his attorney, Cliff Homesley, argued so eloquently in court.
Yes, he also deserves a chance to prove that he has changed so the jokes will stop.
Now for NASCAR: If the governing body really wants to send a message that will make its stars think twice before doing immature things, how about making it mandatory that you have a driver's license to compete in the top three series?
I understand there are arguments against it. NASCAR officials will note that driving on a racetrack has nothing to do with driving on a highway and that there are ways to lose a license that have nothing to do with speeding or reckless driving.
And they would be right. You can lose a license in North Carolina for being delinquent in child-support payments or failure to appear in court. You can lose a license for accumulating a certain number of points on your driving record from numerous minor violations.
But as Busch's attorney repeatedly said, his client is looked at differently because of his celebrity status. What he didn't say is with that comes a responsibility, and if the way you make a living is threatened because you don't have a driver's license, the line would be clearer.
Maybe Nationwide Series driver Michael Annett would have called a cab instead of climbing behind the wheel when he was three times the legal level of intoxication, which cost him his license for one year.
Maybe that's one of those "can't see the forest for the trees" things as well.
It happens to all of us, whether it's specials on hot dogs or hot dogs that are special.
July, 27, 2011
07/27/11
3:21
PM ET
Kyle Busch is doing a good thing.
Not because I suggested it in a May column, but because it was the right thing to do.
Busch is joining Doug Herbert to promote the B.R.A.K.E.S (Be Responsible and Keep Everyone Safe) program that the NHRA Top Fuel drag racer began in 2008 after his sons Jon and James were killed in an automobile accident while speeding.
Busch is doing this to help teenage kids avoid doing stupid things such as driving 128 mph in a 45 mph zone, as Busch was caught doing in May. He is doing this because something he says may help save a life one day.
He is doing this because he understands now better than ever what it means to be a role model and how one well-publicized mistake can have a negative impact.
He is doing this because despite his bad-boy image there's a good guy inside.
I saw it two years ago after watching Busch visit the Gleaners Food Bank in Indianapolis. I saw it a year ago as he told the romantic story about how he got down on one knee and proposed to his soon-to-be-wife, Samantha.
I heard it on Wednesday as Busch talked about his decision to join Herbert's cause and shared what his message to teenagers will be when he speaks to one of the classes.
"I've always had kids come up to me and tell me I'm their favorite driver,'' Busch said. "When you look at how much public attention this drew, it certainly caused an uproar. It shows a little about what kind of public figure you may or may not be sometimes.''
Say what you want about Busch's driving style, about the significance of his 100 wins in NASCAR's top three series, about whether he has matured or not, about whether you like him or not -- this is a good thing.
Busch simply could have taken whatever punishment the judge gives him at his Aug. 23 hearing and move on. Instead, he became involved with a program that will, as Herbert told me, "make a difference, and something good is actually going to happen because of it.''
That is Busch's goal. He truly was upset that Michael Waltrip and New Hampshire Motor Speedway president Jerry Gappens, to name two, have joked about his situation over the past few months.
There is a sincerity in Busch's voice that wasn't quite there the first time he addressed the situation.
"It certainly isn't a joking situation, and I'm not taking it lightly,'' Busch said. "Certainly, you can get involved in an accident. Ultimately, you can hurt yourself or someone else, kill yourself or someone else, so it's not something that should be taken lightly.''
That will be Busch's message when he speaks.
It's a strong message, one that hopefully will save a life.
It's a good thing he's doing.
May, 10, 2011
05/10/11
1:05
PM ET
CHARLOTTE, N.C. -- Words you don't read here every day: NASCAR got this one right.
The governing body had no choice but to punish Kyle Busch and Kevin Harvick for Saturday night's postrace pit road confrontation at Darlington Raceway. The incident potentially put crewmen and NASCAR officials at risk when Busch shoved Harvick's car into the inside retaining wall as Harvick took a swing at him.
Knocking each other silly on the track in competition is one thing.
Endangering lives on pit road can't be tolerated.
Placing both of them on a four-race probation and fining them each $25,000 may seem like a slap on the wrist for those who aren't fans of either driver, but a slap is all that was needed.
To have docked either points would have been heading back down the slippery slope of over-governing that NASCAR vowed to get away from with "boys, have at it.''
To have put them on probation for the remainder of the season would have deprived us of the opportunity to see this rivalry grow when the probation ends on June 15.
As Harvick said Tuesday on Twitter, "I didn't say it was over.''
Let's hope not.
So now we all can look forward to the June 19 Michigan race and the rest of the season to see what happens, and there'll be plenty of opportunities since both race in the Sprint Cup, Nationwide and Truck series.
Keep in mind this feud wasn't born late in Saturday's race when Harvick and Richard Childress Racing teammate Clint Bowyer wrecked in a three-wide racing incident with Busch. Harvick and Busch have been taking shots at each other in the Truck series for years.
And then there was last year's Cup finale at Homestead-Miami Speedway, when Harvick wrecked Busch with 25 laps remaining, ending Busch's season in a fiery crash.
Harvick didn't run away from the fact he wrecked Busch intentionally then, either.
"He raced me like a clown all day -- three wide, on the back bumper, running into me, and I just had enough," Harvick said at the time. "[He] cut me off and ran up in front of me. The last time I just didn't lift."
To which Busch responded, "I don't know where his brain is at, but it's obvious not all [the] wires are connected.''
And Harvick gave Busch what he considered good, friendly advice when Busch started his own Truck team last season.
"He's two-faced,'' Busch said at Homestead. "He'll talk to you all day long straight to your face and be the nicest guy to you, but when you get out there on the racetrack, he ain't your friend.''
Nor should Harvick be.
Same for Busch.
This is the stuff of rivalries. That Busch and Harvick should be competing for wins in all three series this season, and for wins and a championship in Cup this season and many more to come, makes this potential rivalry more likely to stick than others.
Say what you want about the reported physical confrontation inside the NASCAR hauler between Ryan Newman and Juan Pablo Montoya -- officials, by the way, made the right decision in not penalizing them -- rivalries are much more intriguing when those involved are battling for something more significant than a spot on the track.
Busch and Harvick already have two Cup wins each this season, with Busch third in points and Harvick fifth. They also have edgy personalities that will continue to rub each other the wrong way.
So, as Harvick suggested, this isn't over.
"Boys, have at it" will continue because NASCAR didn't overreact.
May, 9, 2011
05/09/11
4:21
PM ET
DARLINGTON, S.C. -- A few humorous leftovers from Saturday night's Sprint Cup race at Darlington Raceway that got tossed in the trash in the aftermath of Regan Smith's win and the postrace confrontation between Kevin Harvick and Kyle Busch:
---
Juan Pablo Montoya and Ryan Newman stayed clear of each other after their physical confrontation in the NASCAR hauler on Friday, but Montoya did make a new enemy in five-time defending Cup champion Jimmie Johnson.
On Lap 83, Montoya got into the back of Johnson's car, sending the No. 48 into a spin.
Montoya immediately and repeatedly apologized, saying, "really sorry" and how he didn't mean that.
Told what Montoya said, Johnson sarcastically responded, "I'm sure he is."
---
Kurt Busch, a week after his profanity-laced tirade at his Penske Racing organization, remained relatively calm despite countless issues. After receiving a one-lap penalty on 224 he was told to keep his head.
To which Busch calmly responded, "I have to turn off my radio now."
He's learning.
---
David Ragan's car turned into a can opener and peeled the left side of Brian Vickers' car off, shredding the blue foam blocks underneath that help protect the driver.
Vickers later said the car was "the best it's been all night."
Go figure.
---
After losing to Smith on the green-white-checkered finish, Carl Edwards said he needed a mattress, so he might go to Furniture Row and buy one.
Smith is sponsored by Furniture Row Racing.
---
Soon after the pit-road confrontation with Kyle Busch, Harvick tweeted he was going to run the Truck race this weekend at Dover.
Busch will be in it as well.
Hmmm.