Category archive:

Jeff Gordon
November, 16, 2012
11/16/12
7:23
PM ET
HOMESTEAD, Fla. -- Fliers are floating around the Sprint Cup garage at Homestead-Miami Speedway that aren't very complimentary to Jeff Gordon.
Yes, someone's attempt at humor -- while taking potshots at the four-time champion for wrecking Clint Bowyer and his championship hopes last Sunday at Phoenix International Raceway -- seems a little off-base.
It is undeserved.
Read for yourself:
"AARP has announced that Jeffrey Michael Gordon is the first ever recipient of its Motorsports Over-the-Hill award. Gordon has been recognized for appropriately representing AARP by taking actions consistent with its member base at the NASCAR event this past weekend in Phoenix. AARP had this to say of Gordon: 'This man was once young and tough enough to forcefully push other drivers on pit road and fearlessly slap at competitors on the race track, but he has recently curbed his response to confrontation into a quick retreat to a nearby hauler. Many drivers and crew members may still face adversity wearing a helmet like he once did, but it takes a person of AARP membership caliber to scurry to safety before their opponent arrives. Combine that with his inability to clearly identify when accidents are his fault and his frequent wandering from lane to lane, and we feel we have found the perfect candidate to illustrate our support for elderly drivers and their rights."
There's another entitled "Holly Farms Joke of the Week" recognizing Gordon for "single-handedly taking a driver out of the Chase."
Was Gordon wrong in wrecking Bowyer? Yes. He admits that. Should he have been parked instead of fined $100,000, docked 25 points and placed on probation? I still believe that would have been just.
But to ridicule a driver who has done more for the sport than most will dream of isn't just. It is a cheap attempt at getting a reaction at a time when we should be focused on the championship battle between Brad Keselowski and Jimmie Johnson.
It becomes even more insensitive when you realize what led Gordon to lose his temper went beyond Bowyer wrecking him at the end of the spring Martinsville race that Gordon appeared ready to win.
It went all the way back to Martinsville of 2004.
If we didn't realize before Friday how deep the remaining scars from the 2004 plane crash that took the lives of 10 people on the way to Martinsville are with Hendrick Motorsports, we do now.
Team owner Rick Hendrick was emotional almost to the point of tears as he discussed how the wife of his brother and the wife of a DuPont executive were at Martinsville for the first time since that tragic event when Bowyer wrecked Gordon.
He talked about how the low he felt losing the opportunity to get his organization's 200th win at the track where he "lost so much'' was more than the joy he had after winning some of his 10 Cup championships.
He explained that he and Gordon kept that emotion bundled up and it simply exploded at Phoenix after Bowyer got into Gordon hard enough to cut a tire.
Gordon admittedly still shouldn't have let his temper get the best of him. He'll have to explain that to his children one day.
But that is no reason for a prankster to make light of his career with the fliers.
Over the hill? Ninety percent of the garage can only hope they perform next season the way Gordon has this season at 41. His 10 top-5s are one more than Bowyer. His 17 top-10s are as many as Denny Hamlin.
Were it not for a stretch of bad luck during the regular season and the Chase, Gordon might be contending for a fifth title. He is far from over the hill, and what happened at Phoenix should remind everyone that he still has the fire to race among the best.
To make fun of the future Hall of Famer with fliers was cheap.
And very undeserved.
September, 20, 2012
09/20/12
1:36
PM ET
CONCORD, N.C. -- Here we go again. Jeff Gordon with another promise.
The four-time Sprint Cup champion made good on his last promise to bring back that not-so-GQ-ish mustache he donned in the early 1990s if he made the Chase.
He shaved the 'stache on Monday, a day after his title hopes took a major setback when the throttle stuck and turned a potential top-5 finish into a 35th that left him 47 points in the hole.
On Thursday at Charlotte Motor Speedway, while introducing the "Teenage Mutant Ninja Turtles" paint scheme he will use in conjunction with his "Drive To End Hunger" program in the October race, Gordon promised to break-dance with TMNT's Leonardo in Victory Lane if he wins.
[+] Enlarge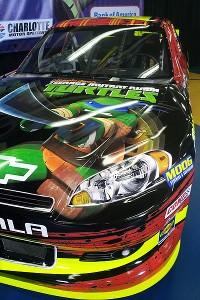 David Newton/ESPN.comLeonardo of Teenage Mutant Ninja Turtles fame will be on the hood of the No. 24 Chevy at the Oct. 13 Charlotte race.
He even volunteered that his 2-year-old son, Leo, would break-dance with him.
"If I win, I will,'' Gordon said. "I mean, it might be light. I've got to teach Leo to dance. I've already shown I'm a man of my word. I can pull off a couple of little moves, and that maybe won't hurt me too bad.''
In case you didn't know, Gordon has been break-dancing since middle school. He went so far as to sneak into the school bathroom to practice because it wasn't allowed in the hallways.
Gordon showed he still has a move or two in him in December when he danced in front of the crowd at the "NASCAR After The Lap" event in Las Vegas during Champion's Week.
OK, he didn't spin on his head.
But at least he tried.
Gordon may be 41 and married, and he has two kids and is showing a bit of gray, but he's still one of the coolest drivers in NASCAR. With a break or two on the track, he still could climb back into Chase contention.
Hey, he made up almost 47 points over the final 10 races to make the Chase.
"We're not going to stop, we're not going to give up,'' Gordon said.
Believe him.
But Thursday was about family. Gordon came to the news conference featuring the Teenage Mutant Ninja Turtles -- which will be reintroduced in a Nickelodeon television series on Sept. 29 -- with his wife, Ingrid, and Leo.
Gordon wanted Leo to see the Turtles, particularly Leonardo with the blue ninja mask, which will be on the hood of his car.
Daughter Ella didn't make this trip.
But as Gordon said, they're all excited because they wake up every morning watching cartoons on Nickelodeon.
"They would have been a fan regardless of whether they were on my car,'' Gordon said. "The fact that one of them is named Leo, my daughter is going to be jealous and my son is going to be pretty excited about it.''
Gordon's family brings balance to his life. That's where his attention has been the past few days as he's put the disappointment of Sunday behind him.
He's barely watched the news or read the newspaper to see what people have been saying about him. He avoided Twitter as well, although he admits he tweeted a picture of a car that drove into his front yard earlier in the week.
"I knew it would take about 10 seconds,'' Gordon said. "Somebody was like, 'Did the throttle stick?' I did get a good laugh at that.''
Gordon was all laughs and smiles on Thursday as well. He was in such a good mood that he made yet another promise that I'd selfishly like to see him have to keep.
September, 12, 2012
09/12/12
6:22
PM ET
CHICAGO -- The biggest news during Wednesday's pre-Chase media blitz at the House of Blues wasn't that Clint Bowyer is getting a new spotter or that Dale Earnhardt Jr. is a contender for the championship.
It was Jeff Gordon's mustache.
Or mustache in progress.
Gordon vowed to his crew more than a month ago that if he made the Chase he would grow back that god-awful mustache he had in the early 1990s, when he entered the sport as a 21-year-old rookie.
[+] Enlarge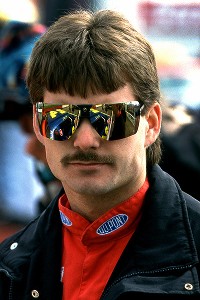 Bob Harmeyer/Getty ImagesJeff Gordon admits today the mustache he wore in the early '90s wasn't his best look.
So after finishing second in Saturday's race at Richmond, Gordon began letting the facial hair go.
It's still in that rough stage -- actually, it just looks like Gordon hasn't shaved his entire face for four days -- but Gordon promises to shave the beard portion and have a full-blown mustache by Friday's first Chase practice at Chicagoland Speedway.
And for the record, I can say "god-awful" because even Gordon admits now it wasn't a good look in the '90s.
"Trust me, it has nothing with being cool," Gordon said in response to a reporter's question.
Gordon's '90s mustache often was compared with that of one worn in the 1970s by men in a not-so-reputable profession. Since cleaning up his act and going GQ on us before his first championship in 1995, Gordon has become the epitome of style in NASCAR.
As much as making the Chase advances his career, the mustache is a step back.
And it likely will draw many funny remarks, such as the ones we heard from fellow drivers.
"He's got to grow back the eyebrows to match it, too," defending Sprint Cup champion Tony Stewart said of Gordon's once-bushy brows. "It was kind of a matching set."
Said teammate Jimmie Johnson: "You can't leave out the mullet. I've seen discussions of old trucker hats, too."
"I'm just impressed," Johnson added. "I wasn't sure he had the stones to follow this through, and he's doing it gray and all. He's older now. His mustache is going to be more defined and he might not be so porn-stache.
"It might be more of a Tom Selleck."
Gordon admits, hair care products aside, there's little he can do about the graying. He also blames his wife, Ingrid, for reminding the world of his promise on Twitter after the race.
But Gordon and crew chief Alan Gustafson, who made good on a promise to shave his head if the 24 team made the Chase, are so thrilled to be in NASCAR's playoff that they would do just about anything.
"So we're committed," Gordon said. "We're committed."
February, 19, 2012
02/19/12
4:57
PM ET
DAYTONA BEACH, Fla. -- How do you explain to your 4-year-old daughter that daddy is all right after she watched him flip three times in a 3,400-pound stock car before coming to a rest upside down?
Jeff Gordon found out when he talked to Ella Sofia the morning after Saturday night's horrific crash in the final laps of the Budweiser Shootout.
Bottom line: Keep her away from mom.
"I showed it to [Ella] on TV," the four-time Sprint Cup champion said Sunday after qualifying sixth fastest for the Daytona 500. "Her first question was, 'Were you OK?'
Obviously, with me sitting there and her sitting on my lap I could explain how I was and she could watch it.
"Had she been awake and heard the reaction of my wife, that would have gotten her more concerned than anything else."
Gordon was joking, but he was serious when talking about the safety innovations in the car and on the track that allowed him to escape with only a stiff neck and small cut on his finger.
And he may not have suffered the cut had he listened to safety workers and waited for them to flip his car upright before he crawled out.
"I'm a little guy," Gordon said. "I felt like I could do it. And I did, but I can tell you it was a lot of work. It didn't go smooth."
Drivers face death every time they climb into a racecar, which separates them from athletes of most other sports and most other families. NASCAR fortunately hasn't had a death in the three national touring series since Dale Earnhardt here on the last lap of the 2001 Daytona 500.
The IndyCar Series experienced one in October during the season finale at Las Vegas when Dan Wheldon was killed when his car went airborne and was ripped apart in the catchfence. He left behind a wife and two sons.
"As a parent, all you can do is reassure them of the safety as well as understanding what we do has its dangers," Gordon said. "I think it's tougher as she gets older."
But because all that has gone into eliminating those dangers in NASCAR, Gordon was able to explain that to his daughter with her on his knee and only a cut on his finger.
October, 24, 2011
10/24/11
3:25
PM ET
Trevor Bayne beat himself up on Twitter following Sunday's Sprint Cup race at Talladega Superspeedway for abandoning Chevrolet driver Jeff Gordon in favor of fellow Ford driver Matt Kenseth in the final two laps.
The reigning Daytona 500 champion went so far as to write he was "strong-armed" into hooking up with Kenseth once Kenseth lost dancing partner David Ragan, adding, "I won't race restrictor plate races next year before I'm put in that situation."
Roush Fenway Racing executives told me no team orders came from them for Bayne -- in the No. 21 Wood Brothers car that gets its engines and chassis from RFR -- to leave his childhood hero after promising to push him before the final restart.
Kenseth wrote on Twitter afterward, "For the record I had no verbal contact with [Bayne] today, or for that matter weeks. Not sure who 'strong armed' him but I assure you it wasn't me."
Kenseth wrote strong-armed in response to Bayne writing on Twitter, "I would have rather pulled over and finished last than tell [Jeff Gordon] I would work with him and then be strong armed into bailing."
Jamie Allison, the director of Ford Racing, said the only mention of Ford drivers helping other Ford drivers if the opportunity arose came before the Chase during conversations "to thank them for their relationship with Ford Motorsports."
"I can tell you unequivocally that we did not issue any team orders before, during or in this race," Allison said. "I wasn't even there. … None of this team orders or mandates.
"At the end of the day, when you look at it, it's very cut and dry. Trevor did what he needed to help a teammate."
Even if Bayne was given orders or strong-armed, even if this scenario was discussed at some point prior to the race or Chase, what's the big deal? Richard Childress, the owner of the winning car driven by Clint Bowyer, said "We were going to help Chevy try to win it."
He didn't mind Paul Menard pushing Chevy driver Tony Stewart, but you can bet your bottom dollar he wouldn't have wanted Menard pushing Kenseth.
Do people really believe team orders don't exist on some levels?
Had Gordon been in the same position with a fellow Hendrick Motorsports or Stewart-Haas Racing teammate, he surely would have done the same thing Bayne did. As the four-time champion said on Twitter, "Shud have known what wud happen with #21. My bad 4 thinking different."
Bayne, whose contract is owned by RFR even though he drives a limited Cup schedule for the Wood Brothers, obviously felt bad about what happened. He went to Gordon's car immediately after the race and said, according to Gordon, "Hey, it wasn't me; it wasn't me. That's what I'm being told to do."
Bayne shouldn't feel guilty for trying to further Kenseth's run at a championship any more than he should feel guilty for furthering his own career that hinges on sponsorship for 2012. Allison actually called Bayne and told him he was "proud of what he did."
But knowing Bayne is a 20-year-old with strong Christian beliefs, you can understand his dilemma about going back on what many would consider a promise.
Gordon's only real complaint was it wasn't "handled better."
"If somebody is going to screw you, you'd like them to say it to your face, you know? Or, at least on the radio," Gordon told reporters with a laugh after the race. "I would have been totally fine with that and understood."
That's a bit unrealistic when you're making a split-second decision with two laps left and trying to reach speeds of 200 mph.
Gordon didn't help with Bayne's guilt when he added, "I don't think he really ever had any intentions [of] pushing me, and I think, you know, the Ford folks said if he did, um, told him that he was gonna do something different."
This simply is a product of tandem racing, which makes for a lot of strange bedfellows. Kenseth lost Ragan as a partner because the No. 6 RFR driver had engine problems. Gordon was dealing with Bayne, his partner for much of Daytona Speedweeks, because he lost partner Mark Martin.
As Bayne wrote on Twitter, "At that time Matt and David were supposed to be working together … I had no idea what was coming. I'm sorry."
I believe him.
I also believe there's no need for Bayne to apologize or beat himself up about it. He did what any good teammate would do.
And should do.
October, 27, 2010
10/27/10
5:40
PM ET
CONCORD, N.C. -- Perhaps it's the ridiculous amount of AARP mail I've received since turning 50 more than a year ago. Perhaps it's just my natural tendency as a reporter to question everything.
But when it was announced that AARP -- through its "Drive To End Hunger" campaign -- would sponsor Jeff Gordon's car for 22 races beginning in 2011, red flags went off because we've never seen a deal like this in NASCAR.
So I started trying to connect dots: Wal-Mart was among the companies being wooed by Hendrick Motorsports to sponsor Gordon, but couldn't work out a deal. Wal-Mart has a big relationship with AARP through its pharmacies and a recent program to help 40=and-older unemployed women get back to work.
Maybe, I thought, this is a way Wal-Mart could be involved with Gordon without actually being on the car, and at the same time strengthen its relationship with AARP.
Maybe AARP will even find a way to get Wal-Mart exposure on the car without violating any other sponsor codes.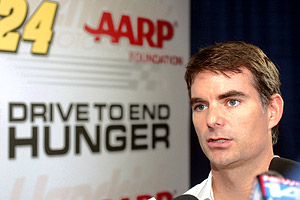 AP Photo/Nell RedmondJeff Gordon may be paving the way for a new kind of sponsorship.
I was told I was over-thinking the whole deal, that there was no deal broker and that the relationship with HMS and AARP came together on its own.
So I put my dots aside.
The important thing here, as Gordon, team owner Rick Hendrick and AARP Foundation president Jo Ann Jenkins reiterated time and time again during Wednesday's media conference, is the cause.
Did you know there are six million Americans 60 years and older who face hunger issues? I didn't. Neither did Gordon. It's a staggering number in a country that is supposed to be rich and plentiful.
If being on the hood of a race car gets the message out, more power to all parties involved. If it meant circumventing ways to get sponsors involved that couldn't because of conflicts, which parties from both sides say isn't the case, then even more power to them.
This sport has suffered enough under a brutal economic climate with sponsors such as Verizon and AT&T not being allowed on cars because it conflicted with series sponsor Sprint.
But that's another story.
Some have questioned why AARP would spend in excess of $10 million, likely $15 million or more, to promote its program on Gordon's car when it could just put that money toward feeding the hungry. You can buy a lot of food with that kind of change.
But what people forget is that sometimes you have to spend money to make money, or in this case make people aware of the need.
As Jenkins said, she expects the return on AARP's investment to outweigh the cost.
Gordon is the perfect spokesperson, too. He is one of the most visible drivers in the sport, arguably the most visible because of non-NASCAR relationships such as guest hosting "Live with Regis and Kelly," being on President Bill Clinton's Global Initiative committee to address world challenges and being the spokesperson for the Sounds of Pertussis Campaign.
Maybe having a charitable organization on the hood for more than one or two races is a way of making NASCAR seem less commercial, or as Gordon said, show people they are human.
Maybe this will, as Hendrick insisted it might, open doors for new sponsors that never would be aware of the sport if it wasn't for the campaign.
It's a win-win scenario for all parties.
Unfortunately, it won't make me any less suspicious, younger or stop all that AARP mail from piling up on my desk.
October, 23, 2010
10/23/10
5:48
PM ET
MARTINSVILLE, Va. -- The crowd around Jeff Gordon's hauler during Friday's media availability at Martinsville Speedway was sparse.
Most reporters stayed in the media center where Denny Hamlin was discussing Sunday's showdown with Chase leader Jimmie Johnson and how the two have won the past eight races at this paperclip-shaped track.
But Gordon shouldn't be overlooked.
The four-time Sprint Cup champion was about 100 yards from the white flag and a possible victory here in March when one of those infamous mystery cautions came out to force overtime. He's won here seven times, more than any active driver. His driver rating of 123.0 on the half-mile track is second only to Johnson's 123.8.
Hamlin is third at 111.4.
So if you're looking for a spoiler, Gordon is your man.
"We might not have the wins here in recent years like those guys have, but we have been really, really strong," said Gordon, who qualified 11th.
He's not kidding. Gordon has 15 consecutive Martinsville finishes of ninth or better. During the same eight-race span that Johnson and Hamlin have dominated, Gordon's worst finish is fifth and his average finish is 3.5.
He's led 847 laps.
"All we have to do is get a little better and we can pull ourselves right back into Victory Lane here," Gordon said. "Even when we're not winning, we're putting those guys in position not to make mistakes.
"If they make a mistake we're going to be right there and pounce on them, but they haven't made a lot of mistakes over the last few years."
Gordon has gone 60 races without a victory, so a win would help ease the pain of being 156 points behind Johnson in the Chase. As much as he'd like to think he can get back in contention, his championship hopes are all but done.
"Yeah, unless some major things happen, I think we are [done]," Gordon said. "I know it's not something that I'm thinking about. We're approaching the races the same way. It doesn't change how we do that, but I can't say that we've got this weight on our shoulders of the pressure of a championship.
"I feel like in some ways that's been taken off of us, because I think we're too many points back."
Probably. But Martinsville, like Talladega next week, is considered a wild-card race. Because of the tight confines and typical beating and banging, a driver can lose a lot of points in a hurry.
Because only three drivers are between Gordon and first place, Gordon can't completely give up hope.
"He's not out of it because if those three wreck at Talladega, where is he at?" Greg Biffle said. "That's very possible. … Now, if they all run in the top 15 or top 10 at Texas, Phoenix and Homestead, yeah, he's out.
"But next week is gonna determine how far. He's got to gain points next week on at least two of those guys that are furthest ahead of him."
Gordon just wants a win, and Martinsville is the place he could get it. This arguably is his favorite track. It's definitely one of his best tracks.
The thought of coming to this facility in the Virginia hills made forgetting last week's 23rd-place finish at Charlotte after sitting on the pole easier.
"I've been excited about Martinsville for several weeks," Gordon said. "I love this track. We run good here. I guess if we weren't coming to Martinsville it would be a little harder to put a race like Charlotte behind us. I felt like we had an opportunity there to maintain that points gap (85) that we had.
"To lose as many points as we did was certainly no fun, but we moved past it pretty soon, pretty quick."
Don't be surprised to see Gordon move past Hamlin and Johnson for a win on Sunday.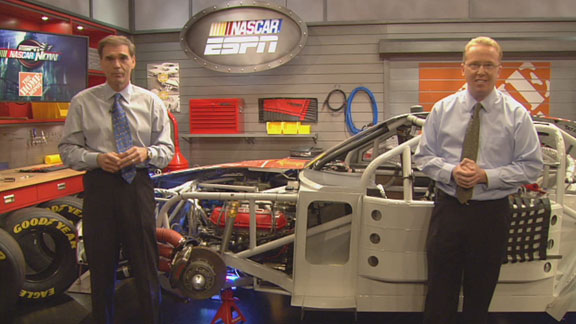 August, 4, 2010
08/04/10
1:43
PM ET
CHARLOTTE, N.C. -- Tony Stewart was having one of his be-cute-and-difficult moments with the media Friday at Pocono Raceway when asked if he noticed Jimmie Johnson's qualifying speed didn't mesh with his practice laps.
"You got to remember, everything doesn't revolve around Jimmie Johnson," Stewart said smugly.
Kurt Busch apparently thinks it does.
Or at least he thinks Johnson thinks it.
When asked about the wreck between him and Johnson that triggered Elliott Sadler's horrific crash, Busch responded, "Got wrecked on the straightaway. Jimmie drove straight through us."
Keep an eye on this one as they head to Watkins Glen. Busch and the four-time defending Sprint Cup champion got into it last year on the road course at Sonoma and had a bumper exchange battling for the lead at New Hampshire in June.
They talked through those, but Busch didn't seem all that interested in mediation as he left the Pocono infield medical center.
"Kurt is not very fond of me, never has been, so I think whenever he has a chance to take a shot at me, he'll probably do so," Johnson said Sunday. "But [it was] certainly nothing intentional, and if he'd like to talk, I'd be more than willing to talk about it."
Stay tuned.
• Speaking of two people who need to talk, did you hear the radio chatter Sunday between Juan Pablo Montoya and crew chief Brian Pattie during a late rain delay after a four-tire pit stop?
Pattie felt Montoya wasn't quite sharp on that stop and at least one other, so he radioed that Montoya was going to come to Charlotte to practice pit stops. Montoya responded, "Screw you!"
When another voice came over the radio and asked Montoya to calm down, the fiery Colombian-born driver yelled, "Calm down my a--. This is bull----. It's always the same crap."
Montoya muttered something about how taking four tires was a mistake -- again -- apparently referring to the previous week at Indianapolis when a late four-tire stop ended a dominating performance.
Stay tuned.
• Jeff Gordon on his first race with new spotter Jeff Dickerson: "I thought he did a great job. He gave me all the right information that I needed on the restarts. I mean, we had a solid day as a team. Overall, I thought we had a really, really solid day."
Dickerson was Kyle Busch's Camping World Truck Series crew chief and business partner, but after Dickerson made it clear he had different plans for 2011, the two parted. Gordon's crew chief, Steve Letarte, quickly snatched Dickerson up, calling him one of the best spotters in the garage and a potential difference-maker in putting Gordon back in Victory Lane.
Asked if Dickerson could help Gordon win races, Busch said, "I don't think a spotter can help you win races. I mean, restrictor-plate track, yeah, I think there's some help there. Keeping you out of messes and keeping you out of the wrong lane and stuff like that. Places like [Pocono], it's not going to help Jeff Gordon go to Victory Lane."
Stay tuned.
March, 16, 2010
03/16/10
5:45
PM ET
TALLADEGA, Ala. -- Call me crazy -- and I'm sure a few of you will -- but I'm not crazy about the look of the spoiler.
Maybe after three years of watching Sprint Cup cars with wings and noticing there are more street cars with wings than spoilers I finally swallowed the Kool-Aid that NASCAR sold us when the new car was introduced.
But I truly can't see where the car looks better with a spoiler. If anything it looks a little silly, and at least one engineer went as far as to say "it looks stupid."
Finding a driver to agree with me is tougher than finding a Tennessee football fan in Alabama. From Jeff Gordon to Brad Keselowski to Jimmie Johnson, they all agree the spoiler looks cooler and the car looks racier with the spoiler.
That Gordon believes this doesn't surprise. He was one of the first to say the new car looked nothing like a stock car and was reminded of that during Tuesday's test at Talladega Superspeedway.
"Yeah, I was never crazy about the way the wing was mounted to the back of the car," Gordon admitted with a smile. "When I envisioned a wing being put on our car, I envisioned it a little bit more like a Trans-Am car, where it was raised up, more of a cool-looking concept.
"But you know, the wing that we put on there was just a glorified spoiler. It sat down on the deck lid. It wasn't very appealing. We weren't really using it efficiently. So when I heard about going back to the spoilers I was totally fine with it."
That's apparently what the fans wanted. NASCAR has been hearing that from Day 1 and finally succumbed to the pressure.
I admit in the beginning I wasn't fond of the wing, but it has grown on me. Part of me wishes they weren't transitioning back to the spoiler, particularly since crew chiefs and engineers have honed in on the wing to the point the competition is the best it's been in years.
I fear we may go backward, at least for a while, even though I was assured by most that racing will get even better.
Maybe the spoiler will grow on me.
All I know is when I asked for a spoiler on a rental car to come to this test I was given a wing, and it looked pretty cool.
February, 25, 2010
02/25/10
4:39
PM ET
A fan called the Las Vegas Motor Speedway ticket office recently with a single focus: "I want tickets to that Danica race."
Not the Nationwide Series race.
Not the Saturday NASCAR race at LVMS.
The Danica race.
"He didn't ask what time it starts or how much tickets were," said Jeff Motley, the public relations director at LVMS. "He just said, 'that Danica race.' That gives you an indication of the impact she's had here."
The she -- if not obvious -- is Danica Patrick. Although a 30-to-1 longshot to win Saturday's Nationwide race in Sin City, her last before taking a four-month break to focus on the IndyCar Series, she already is a winner in NASCAR.
At least she is in terms of marketing, television ratings and ticket sales.
First marketing. Dale Earnhardt Jr., Jeff Gordon and Tony Stewart hold down the top three spots in trackside merchandise sales, but Patrick ranks among the top five. That, according to those who follow such trends, is unheard of, particularly for a part-time Nationwide driver.
If you ranked Patrick on single-trailer sales -- Earnhardt, Gordon and Stewart have multiple trackside trailers compared to one for Patrick -- she'd be first.
Studies indicate Patrick is resonating fairly equally with males and females, as well as young and old NASCAR fans. Both are good signs for a sport yearning to branch out beyond its traditional borders.
This shouldn't come as a surprise. Before Patrick climbed into a stock car, the Davie Brown Index that measures a celebrity's ability to influence brand affinity and consumer purchase intent had Patrick tied for third in NASCAR with seven-time Sprint Cup champion Richard Petty.
Gordon and Earnhardt held the top two spots.
In terms of consumer likability, Patrick ranked second only to Petty.
Gamblers apparently like Patrick as well, even though she crashed and finished 35th at Daytona and was 31st at California.
"Despite Danica's two first races being a disappointment, money still rolls in on her to win a race," said Richard Gardner of Bodog Sportsbook.
Cha-ching, cha-ching.
Patrick also has exposed NASCAR to markets not normally associated with the sport. She recently appeared on "The Ellen Degeneres Show," "The Bonnie Hunt Show," "Jimmy Kimmel Live" and the "Ryan Seacrest Show." She made a guest appearance on "CSI: NY" and is a candidate to be on the cover of Self Magazine.
The sport can't buy that kind of publicity.
Now for ratings. After events at Daytona and California, ESPN2's coverage is averaging a 2.5 rating -- an increase of 19 percent over last year's 2.1 average. Most of that can be attributed to the record 3.2 rating, an increase of 33 percent from 2009, at Daytona.
California ratings actually dropped from 1.9 to 1.7.
Still, not bad overall.
Last but not least: attendance. Daytona president Robin Braig estimated Patrick accounted for at least a 10 percent increase in ticket sales for his race. Attendance at California Speedway grew from a reported 15,000 in 2009 to about 36,000 last weekend.
Motley said the phones have been ringing constantly at LVMS since it was announced Patrick would race there. He added that 13,000 people entered a recent online contest to win $10,010 if Patrick finishes in the top 10.
"That blew away anything else we've ever done," Motley said. "We had entries from all over the country. Pretty remarkable."
And "remarkable" pretty much sums up the impact Patrick has had on NASCAR so far.