Category archive:

Mark Martin
March, 31, 2012
03/31/12
12:34
PM ET
MARTINSVILLE, Va. -- NASCAR finally has entered the wacky world of college football.
There could be a split champion in the Sprint Cup Series.
For the first time since the sport went to a playoff format in 2004, there is the opportunity for a different driver and owner champion. What's next? A BCS poll to determine who makes the Chase?
Here's how this scenario -- that few if any in NASCAR ever imagined when making the guidelines -- would work. Michael Waltrip Racing's No. 55 driven by Mark Martin, Brian Vickers and Waltrip is eighth in owner points. If it is in the top 10 after 26 races the car's points will be reset just like the driver's points and it is eligible for the owner's championship.
[+] Enlarge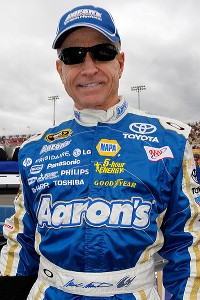 Jonathan Ferrey/Getty ImagesIs Mark Martin going to be the key to a split Sprint Cup title?
If the car has the most points after the 10 Chase races, it wins the title, not the owner of the car for the driver who wins the title, as has been the case so far.
That means there would be two tables on the stage for the banquet in Las Vegas, one for the driver's champion and one for the owner's champion.
If you really want to get crazy, try this scenario: MWR's Clint Bowyer or Martin Truex Jr. wins the driver title and the 55 has the most owner points. Where does owner Michael Waltrip sit in Vegas?
"On cloud nine," Waltrip joked.
But trust me, the split title is a possibility. It's on Page 36 of the NASCAR rulebook under Section 17-3-B. And you thought the only rule that existed was Section 12-4-A, aka "actions detrimental to stock car racing."
Here's what the rulebook says, "After the completion of the first 26 Events of the current NASCAR Sprint Cup Series Championship season, the top 10 drivers in the driver championship point standings and the top 10 car owners in the car owner championship point standings will each have their accumulated aggregate total adjusted to $2,000 points."
"It's always been there," Series director John Darby said.
Darby said the odds of that happening are long. The 55 could fall out of the top 10 on Sunday if Brian Vickers has another run here like he had in October.
Darby also admits that anything is possible when you have Martin driving a majority of the races.
Wouldn't that be crazy?
August, 26, 2010
08/26/10
11:08
AM ET
CHARLOTTE, N.C. -- A few weeks ago, I issued a proposal to Mark Martin as a way of saying I was wrong to write Kasey Kahne would drive the No. 5 at Hendrick Motorsports next season instead of him.
I proposed that since I couldn't eat crow, I would eat everything on Martin's diet regimen for the next four weeks.
[+] Enlarge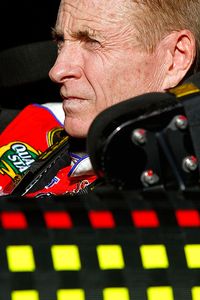 Jason Smith/Getty ImagesMartin trails Clint Bowyer by 101 points for the final Chase spot.
It would be my race to the Chase, so to speak, to run in conjunction with his.
It never materialized because Martin wanted to put all of his focus on the Chase, which probably was a good thing for me. Those familiar with the 51-year-old's diet say I never would have made it anyway. They made eating crow sound pretty good.
Now it looks like neither of us would have made it. Martin is 101 points behind Clint Bowyer for the 12th and final spot for the Chase with two races remaining. In the two races since the proposal, Martin has finished 28th and 23rd.
Crew chief Alan Gustafson never was more frustrated than Saturday night at Bristol Motor Speedway, where Martin never was a factor.
"We sucked," he said. "That's about all you're going to get out of me -- we sucked. We're still in it, but not the way we've run. We've got to focus on getting better. I don't feel we have the speed to go over there and take it from those guys. We get in right now, we won't do much."
Martin was in no mood to talk Saturday about his midpack run at Bristol, offering three words after climbing out of his car: "I can't talk."
Gustafson and Martin came in with high expectations this season. After winning five races and finishing second in points to teammate Jimmie Johnson in 2009, they felt a championship was within reach.
Now they're just hoping for a top-10.
"I can't paint you a pretty picture," Gustafson said.
Exactly what went wrong nobody can say for sure. Some will argue team owner Rick Hendrick moving Martin's head engineer and mechanic to Dale Earnhardt Jr.'s team triggered the downfall, but the No. 5 team still had access to those people and their information working out of the same shop.
Some will say the handling of the car changed just enough with new tire compounds, and switching from the wing to the spoiler was a factor.
Whatever it is, Martin's struggles show just how fragile success is in NASCAR's top series.
"This season is a shock," Gustafson said. "It's just the way the sport is. It switches really quickly. Obviously, we didn't stay on top of it. That's the way it goes. No one to blame but ourselves."
INDIANAPOLIS -- Mark Martin isn't very happy with the media these days. He believes we're trying to push him out of the No. 5 car at Hendrick Motorsports in favor of Kasey Kahne in 2011. He says we're being disrespectful because we don't fully buy what he's saying.
Silly Season in the Sprint Cup garage continues to be silly.
What will happen with Martin and Kahne next season is one of several burning issues in the Indianapolis Motor Speedway garage. There are multiple questions about 2011 sponsorship for everybody from four-time Cup champion Jeff Gordon to points leader Kevin Harvick.
There are questions about whether Richard Petty Motorsports can survive with none of its drivers and only one sponsor under contract for next season.
There are questions about what changes to the Chase and schedule NASCAR will make next season.
[+] Enlarge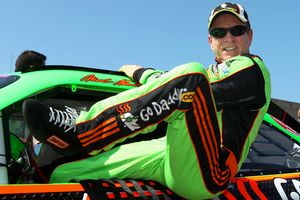 Christian Petersen/Getty ImagesWhich car will Mark Martin be driving in 2010? The rumors are flying.
But to me no question is more intriguing than what will happen to Martin and Kahne. This has become personal to the 51-year-old driver from Arkansas. He feels the media is making it look like "I am about to get fired."
"That's very disrespectful, guys," Martin said.
No, it's not about disrespect. Nobody is insinuating Martin is going to get fired. Just the opposite. Many believe he will step aside out of respect to team owner Rick Hendrick and the long-term interest of Kahne and Hendrick Motorsports.
The issue keeps coming up because the overwhelming sentiment in the garage and among a lot of people close to the situation seems to be that Kahne will be in the 5 next season.
Martin says we're focused on the wrong issue, that we should concentrate on what Kahne is going to do, ruling the 5 out before we get started.
Hendrick says there are more options than he imagined when he signed the RPM driver three months ago. But are there really? We've ruled out Stewart-Haas Racing because, well, Tony Stewart insists he's not adding a third team. We've ruled out JR Motorsports because co-owner Dale Earnhardt Jr. insists he's not moving his Nationwide program to Cup.
Red Bull Racing has been heavily speculated as a possibility even though team officials insist that's not in the cards. It heated up again after Martin spent part of his off weekend at the Red Bull Formula One facility in Europe.
For more details on that one go to Jeff Burton, who made himself Martin's F1 agent.
"He came to me back in March and seriously approached me about being my agent," Martin said with a laugh.
There have been conversations with other organizations as well, including Earnhardt Ganassi expanding to three teams for either Kahne or Martin and RPM taking Martin on as a partner.
The scenario that makes the most sense to many is Phoenix Racing, where Hendrick's good friend James Finch is the owner. But for that to really be the best scenario you need to put Martin in the car and give him half ownership of the company to ensure his long-term participation in the sport.
Whatever happens it won't be media-driven and Martin shouldn't take it as disrespect. It will be business-driven, what is best for HMS. It's no different than when Hendrick let go arguably the most talented driver in the garage, Kyle Busch, in favor of Earnhardt.
As for the other issues, let's take a quick look at several:
• All signs point to Richard Childress Racing announcing the week of the Watkins Glen Race next month that Budweiser will be on Harvick's car. Mobile 1 had been courting Gordon, but HMS ended that by reupping with Quaker State. Don't be surprised to see that sponsor pop up at Stewart-Haas.
• RPM's future seemingly hangs on what AJ Allmendinger does. If he and sponsor Best Buy stay, then Paul Menard and his sponsor may hang around, as well. But Allmendinger has talked to several teams, including Penske Racing. Menard is beating the bushes as well, with speculation he'll be in the fourth car at Richard Childress Racing.
All we know for sure is Stanley is the only sponsor contractually committed to the organization beyond this season.
Odds are RPM will shrink from four teams to three, two or none. The last would be a huge blow to the garage and increase the possibility of fields of fewer than 43 cars next season.
It also could end Richard Petty's presence in the garage, which would be sad to see.
• As for the Chase, there are going to be changes. Look for the field to be expanded and an elimination process put in place. There's a good chance the points will be reset at some point over the final three races, maybe before the finale at Homestead to ensure at least three drivers are fighting for the title.
The schedule also is going to change, but maybe not as much as once thought. Speedway Motorsports chairman Bruton Smith wants to put a race in Kentucky and add a second date at Las Vegas. Between adding seats and potentially having to repave the surface, it's probably 50-50 that Kentucky will be on the schedule.
If Kentucky does get a date the tracks at risk of losing a race are Atlanta, New Hampshire and even Sonoma. NASCAR would be reluctant to let Sonoma disappear because it's one of only two road courses on the schedule. New Hampshire is one of the best-attended races of the season and deserves two dates. Atlanta, for all its attendance woes, is in an important market.
A second date for Kansas could be the biggest change, with California continuing to be the front-runner for losing a date.
None of this, by the way, is meant as disrespect to anybody.
April, 19, 2010
04/19/10
12:12
PM ET
CHARLOTTE, N.C. -- While sifting through all the news conference transcripts from the weekend at rain-plagued Texas Motor Speedway -- and hoping they finally get to race Monday -- the following comment by
Mark Martin
jumped out.
"I'm going to drive for a long time, and I might get involved in other capacities as well," Martin said. "For the first time ever, I would consider an opportunity like Tony Stewart had. I don't want to be an owner, but if I can be an owner like Tony Stewart, maybe I want it."
Maybe this is part of the master plan Rick Hendrick has for Kasey Kahne in 2011.
Stick with me here.
Martin made it clear Friday that he doesn't plan to give Kahne the wheel to the No. 5 Chevrolet at Hendrick Motorsports before 2012. He also made it clear he plans to drive in 2012 and perhaps beyond.
But until now the 51-year-old Martin never showed any interest in owning a team.
So what if Hendrick offered to supply Martin engines and chassis for a new team as he did Stewart in 2009, when the two-time Sprint Cup champion took over Haas Racing? Stewart proved such an arrangement could work from the get-go, putting his car and teammate Ryan Newman's in the Chase in their first season.
Maybe the ownership could be part of third team at Stewart-Haas. Maybe it could be with another Chevrolet organization that could use the experience and expertise of a veteran such as Martin to take it to another level as Stewart did at Haas.
Hendrick could put Kahne in that car for a year and then flip the drivers in 2012 when Kahne is scheduled to replace Martin. If you really want to use your imagination, Kenny Francis and many of his crew now with Kahne at Richard Petty Motorsports could move over and run that team, making it even stronger as a start-up organization.
Take it another step and sponsor Budweiser could move there as well, backing Kahne for a year and then moving to Martin. According to reports, Budweiser isn't likely to move to HMS with Kahne anyway because of Hendrick's longtime affiliation with Pepsi.
Think about it: This would solve Hendrick's dilemma of what to do with Kahne, keep Martin in racing with sponsorship and give HMS another way to circumvent NASCAR's four-car cap.
You also need to consider that Stewart and officials at JR Motorsports, the most obvious choices for Kahne to land next year, said they'd had no conversations about Kahne before Hendrick announced the deal last week.
And as owner Joe Gibbs said over the weekend, he believes Kahne already knows where he'll be racing in 2011.
You know Hendrick has something up his sleeve, and helping make Martin an owner might just be it.
"I've been in the sport long enough to know and have the confidence to know that really interesting opportunities come up," Martin said. "And they will, and they'll be fun and exciting, and I'll explore driving and other things as well."
April, 14, 2010
04/14/10
4:35
PM ET
CHARLOTTE, N.C. -- It is May 2007, and Rick Hendrick is discussing whether he will go after free-agent Sprint Cup driver Dale Earnhardt Jr. He says there's no room at the inn, that "right now, I'm full."
Fast forward to Wednesday's conference call in which Hendrick tries to explain what will happen to his newest driver, Kasey Kahne, when he goes under contract in 2011 and Mark Martin, who is under contract through 2011 and is still in the No. 5 car.
Specifically, he is answering whether there is any way Kahne could be in the No. 5 in 2011.
[+] Enlarge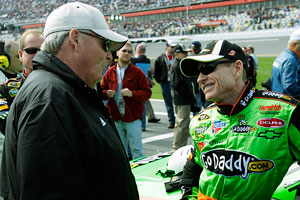 AP Photo/John RaouxMark Martin, right, is under contract to drive one more season for Rick Hendrick. Whether it'll be in the No. 5 Chevy remains to be seen.
"Mark wants to drive that car, and that's where we are headed, right now," Hendrick says.
Right now.
There seems to be a theme here.
Here's what I think will happen. At some point, the 51-year-old Martin will tell Hendrick, if he hasn't already, that he will step aside next season for the betterment of the organization. He might agree to go to Hendrick's satellite team, Stewart-Haas Racing, for his final full season. Hendrick might find a way to keep him in his equipment with another team.
But no matter how many times Hendrick and Kahne tell us they finalized this deal without knowing exactly what will happen in 2011, anything short of Kahne being in the 5 makes no sense.
To put Kahne at SHR for a year means he'll have to start over with a new team in 2011 and then another new team in 2012. Kahne, 30, is far from an old man, even though he doesn't look a day past 21.
But he is at an age at which he doesn't need to throw away two seasons for what Hendrick calls a long and successful future.
This deal didn't just happen overnight, either. Kahne said they've been working on it for several months. I was told before the start of the season by one person close to the situation that Kahne would wind up at Hendrick. The same person said Martin was willing to step aside if it was in the best interest of Hendrick Motorsports.
It is.
And remember, Hendrick said Martin was one of the first to go to him as far back as last season and say Kahne should be the next driver of the 5.
You've got to believe Martin appreciates the opportunity Hendrick gave him to resurrect his career at an age when most are retired enough to step aside.
Hendrick says he has a "ton of options" and that no decision has been made yet. He also said in May 2007 that there was no room at the inn for Earnhardt. A month later, Earnhardt had a five-year deal with NASCAR's top organization.
"Right now" became right now.
I might be wrong, but I believe "right now" will land Kahne in the 5 in 2011. Hendrick didn't become NASCAR's most powerful owner flying by the seat of his pants.
"We're going to figure out '11," Hendrick said. "It if it was under the old regime, I'd add a building over here and have five teams. I understand that and [Kasey] understands that. We're just gonna figure it out."
Maybe they already have.
September, 18, 2009
09/18/09
3:09
PM ET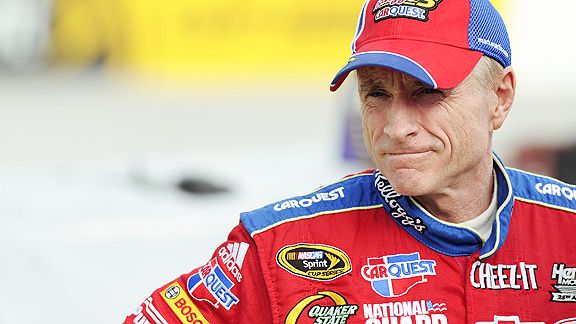 John Harrelson/Getty ImagesMark Martin had already announced he would be back with Hendrick Motorsports in 2010. He will also return in 2011, with GoDaddy.com as his sponsor for both seasons.
We all like to speculate on why certain things happen. Like the fans on my Thursday chat who decided Matt Kenseth overshot his pit box in Saturday night's Sprint Cup race at Richmond on purpose to force Michael Waltrip, who appeared on numerous occasions to block the 2003 champion in his pit box, to make an extra lap.
The conspiracy theory here is that Waltrip was doing what he could to keep Kenseth out of the Chase and help fellow Toyota driver Brian Vickers get in.
Makes sense when you think about it.
So when it was announced Friday that 50-year-old Mark Martin had extended his contract with Hendrick Motorsports yet another season into 2011, I began to wonder why.
Here are a few theories:
• Martin will drive the No. 5 GoDaddy.com-sponsored car until IRL darling Danica Patrick is ready to take over. Patrick, who already has a relationship with GoDaddy.com, will drive two years in the Truck and Nationwide Series for Kevin Harvick Inc., with an assist from Tony Stewart.
In 2011, Stewart will have expanded to four teams with Kevin Harvick, who will leave Richard Childress Racing, and Kasey Kahne, who will say goodbye to Richard Petty Motorsports -- or whatever it is called by then. Stewart doesn't hold a seat open for Patrick because, quite frankly, the two-time Cup champion has a hard time keeping a woman.
Patrick will become the fourth member of HMS with Jimmie Johnson, Dale Earnhardt Jr. and Kyle Busch. Oh, did I mention, Jeff Gordon will have retired and Busch will be brought back to drive the No. 24? OK, so that part is a bit far-fetched, but everything else could happen.
• Martin will sign his third extension with HMS, keeping him in the No. 5 GoDaddy.com car through 2012. By then Brad Keselowski's deal with Penske Motorsports will have expired and he'll return to drive the car he was meant to have before Martin signed his first extension.
Remember, Hendrick already warned fellow owners he might get Keselowski back one day.
• Martin will drive the No. 5 until his son, Matt, is married and starting a family. GoDaddy.com will change its name to GoGranddaddy.com and Martin will win his first championship at the age of 55 and retire to replace Ellen DeGeneres as a judge on "American Idol."
Hey, the guy knows music almost as well as he drives.
• Martin will drive the No. 5 through 2011, and by then another sponsor and another up-and-coming driver will be in the picture. Maybe it will be Austin Dillon, who by then will realize he's better off in HMS equipment than sticking with his granddaddy in the No. 3 at RCR.
Oh, did I mention the No. 3 would be back on the track again?
I have no evidence to suggest any of this will occur. As a friend in the sport often has said, he likes discussing scenarios with me because I think outside the box and about 70 percent of them wind up coming true.
Got a better scenario? Let's hear it.
August, 15, 2009
08/15/09
3:53
PM ET
BROOKLYN, Mich. --
Jeff Gordon
was irritated Friday at Michigan International Speedway. Not by the back pain that has been bothering him all season, but by the constant questions concerning how his lower back was holding up after Monday's horrific crash at Watkins Glen.
Finally, he snapped. Not his back, but his demeanor.
The four-time Sprint Cup champion told reporters to stop asking about his back, to move on to another topic. He said he was fine.
Not everyone believes that to be true. Some would suggest that the injury is more serious than Gordon lets on, that not wanting to talk about it was his way of avoiding how serious it is.
[+] Enlarge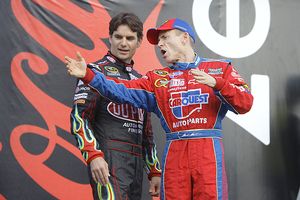 AP Photo/John RaouxIf anyone knows what Jeff Gordon is going through, it's Mark Martin, who has a history of back trouble.
Some believe the ailing back could be career-shortening.
Gordon did offer that doctors had told him that another hard lick wouldn't damage him permanently, which is good news if true. But it is clear that this isn't something that will clear up overnight or by taking a weekend off.
Mark Martin understands. The back pain he endured through the 1998 and 1999 seasons was so intense that he became a miserable man. He felt as though his life had "a restrictor plate on it that was just choking the sweet part right out."
He finally had surgery the week after the '99 season to fuse two degenerative vertebrae in his lower back. He was back in a car in January.
Today, at 50, he is a happy man, living life to its fullest. He'll start beside pole-sitter Brian Vickers on the front row for Sunday's Sprint Cup race hoping to duplicate his June victory at MIS and solidify his position in the Chase with a fifth victory.
He also empathizes with Gordon, who despite the back is third in points. Although their injuries are different, he says the pain is just as debilitating.
"It was a setback," Martin said of his injury. "It was a physical setback."
But Martin no more thought of taking a weekend off than Gordon will. He actually had one of his best seasons under the most intense pain, winning seven races and finishing second to Gordon in '98.
He sees no reason Gordon can't compete for a title with his problem.
"You might smile less, but I don't think it has any impact on performance," Martin said. "We're not trying to squat 275 pounds."
Again, Martin's problem was different. The most comfortable place for him was the car because of the way the seat hugged his body and the heat produced in the seat. It was almost like a massage.
Gordon, who earlier this year had a facet block to relieve the pain, still has spasms in the car. There are times, like the spring race at Bristol, where the pain was so severe that he admitted it could shorten his career.
"I can't race like that for long periods of time," he said at the time.
Martin understands that as well. He's talked to Gordon about the pain. He's offered the best advice he can.
"You just have to grit it out," he said.
Martin gritted it out because he loves to compete more than anything. That's why, at an age that sees most drivers fishing or playing golf, he's working harder than ever to stay in shape so he can keep up with young guns such as Kyle Busch and Carl Edwards.
He's doing a good job of that, too. If the Chase field were reshuffled today, he'd jump from 11th in points to first because he has a series-leading four wins.
Gordon loves to compete as well, but not to the point that he wants to do this at 50. He wants to spend more time with his wife and daughter and pursue other opportunities outside of racing.
With longtime sponsor DuPont looking to take a lesser role and perhaps get out of the sport, the back problem may speed up the retirement process. Gordon is 38 now, and the consensus is that he likely won't race past 40.
But for now he wants to win another title, and back pain won't stop him from giving his all to do that. It definitely won't get him to take a weekend off.
"I was worse at the beginning of the year than I am now, and I had the whole offseason," he said with a laugh. "So no, I haven't considered it."
Martin felt the same way in '98 and '99. At times he barely could walk from his hauler to his car, but he would have driven in a full body cast rather than skip an event.
So Martin drove on, just as Gordon will drive on. Some might argue the safety improvements of the new car should ease any concern of further damage. Martin doesn't buy that.
"I don't really feel safer in this car, not really," he said. "You have to understand you get injured by weird, freaky deals."
Martin does agree with Gordon that all the technology designed to protect the head and shoulders -- the HANS (head and neck support) and carbon seat -- after Dale Earnhardt's 2001 death puts more strain on the lower back in hard crashes.
He admittedly was made nervous by the pain he felt after a hard crash on the sixth lap at Talladega earlier this year.
"I'm not sure what all is going on there," he said.
He's not totally sure what all is going on with Gordon's back, either. As he likes to remind us, he's not a physician.
"All I know is his [back] isn't requiring fusion, based on what he's told me," he said.
But Martin is living proof that Gordon can compete for a title despite the pain, and that if he gets through these back issues and decides to extend his career well into his 40s, he can.
Meanwhile, as Martin said, he might smile a little less.
Or get as irritated as he did Friday.