Category archive:

Clint Bowyer
November, 16, 2012
11/16/12
7:23
PM ET
HOMESTEAD, Fla. -- Fliers are floating around the Sprint Cup garage at Homestead-Miami Speedway that aren't very complimentary to Jeff Gordon.
Yes, someone's attempt at humor -- while taking potshots at the four-time champion for wrecking Clint Bowyer and his championship hopes last Sunday at Phoenix International Raceway -- seems a little off-base.
It is undeserved.
Read for yourself:
"AARP has announced that Jeffrey Michael Gordon is the first ever recipient of its Motorsports Over-the-Hill award. Gordon has been recognized for appropriately representing AARP by taking actions consistent with its member base at the NASCAR event this past weekend in Phoenix. AARP had this to say of Gordon: 'This man was once young and tough enough to forcefully push other drivers on pit road and fearlessly slap at competitors on the race track, but he has recently curbed his response to confrontation into a quick retreat to a nearby hauler. Many drivers and crew members may still face adversity wearing a helmet like he once did, but it takes a person of AARP membership caliber to scurry to safety before their opponent arrives. Combine that with his inability to clearly identify when accidents are his fault and his frequent wandering from lane to lane, and we feel we have found the perfect candidate to illustrate our support for elderly drivers and their rights."
There's another entitled "Holly Farms Joke of the Week" recognizing Gordon for "single-handedly taking a driver out of the Chase."
Was Gordon wrong in wrecking Bowyer? Yes. He admits that. Should he have been parked instead of fined $100,000, docked 25 points and placed on probation? I still believe that would have been just.
But to ridicule a driver who has done more for the sport than most will dream of isn't just. It is a cheap attempt at getting a reaction at a time when we should be focused on the championship battle between Brad Keselowski and Jimmie Johnson.
It becomes even more insensitive when you realize what led Gordon to lose his temper went beyond Bowyer wrecking him at the end of the spring Martinsville race that Gordon appeared ready to win.
It went all the way back to Martinsville of 2004.
If we didn't realize before Friday how deep the remaining scars from the 2004 plane crash that took the lives of 10 people on the way to Martinsville are with Hendrick Motorsports, we do now.
Team owner Rick Hendrick was emotional almost to the point of tears as he discussed how the wife of his brother and the wife of a DuPont executive were at Martinsville for the first time since that tragic event when Bowyer wrecked Gordon.
He talked about how the low he felt losing the opportunity to get his organization's 200th win at the track where he "lost so much'' was more than the joy he had after winning some of his 10 Cup championships.
He explained that he and Gordon kept that emotion bundled up and it simply exploded at Phoenix after Bowyer got into Gordon hard enough to cut a tire.
Gordon admittedly still shouldn't have let his temper get the best of him. He'll have to explain that to his children one day.
But that is no reason for a prankster to make light of his career with the fliers.
Over the hill? Ninety percent of the garage can only hope they perform next season the way Gordon has this season at 41. His 10 top-5s are one more than Bowyer. His 17 top-10s are as many as Denny Hamlin.
Were it not for a stretch of bad luck during the regular season and the Chase, Gordon might be contending for a fifth title. He is far from over the hill, and what happened at Phoenix should remind everyone that he still has the fire to race among the best.
To make fun of the future Hall of Famer with fliers was cheap.
And very undeserved.
October, 17, 2012
10/17/12
3:46
PM ET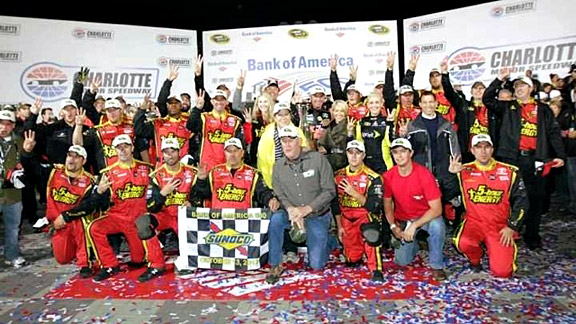 Getty ImagesKnow the man in the red T-shirt and jeans in the front row? That's OK, Clint Bowyer doesn't, either.
CHARLOTTE, N.C. -- Kyle Nelson never had been on pit road before Saturday night's Sprint Cup race at Charlotte Motor Speedway.
Next thing you know, he was pushing Clint Bowyer's car into Victory Lane, posing for pictures during the traditional "hat dance," meeting team owner Michael Waltrip, and having the time of his life as the mystery man in Bowyer's life.
Next thing you know, discovering his identity became the focus of my blog, and Nelson was getting treated like a celebrity by his friends.
Only in America.
"For me, somebody who lives [NASCAR] so much, it was awesome," Nelson told me on Thursday after his identify was revealed. "I was like the kid in the candy shop. It was the greatest feeling in the world."
Nelson, a 22-year-old senior at North Carolina State, is in that 18-34 age demographic NASCAR wants to reach so badly. Crashing Bowyer's postrace party already has helped introduce the sport to some of his young friends.
Maybe we're on to something.
"All these sorority girls are always like, 'What is NASCAR?'" Nelson said. "Now that they've seen me [in Victory Lane], they think it's like being at the Super Bowl with me holding up the Lombardi Trophy.
"Everybody I know wants to go to a race now."
A civil engineer major, Nelson didn't go to Saturday's race expecting to be a part of Bowyer's victory party. He'd gotten tickets from a vendor and actually was on his way to the grandstands when he and his buddies decided to stop by pit road.
Next thing you know, they were standing in an empty pit stall next to Ryan Newman's pit box, so close Nelson could see Newman's eyes when he came in for stops.
When the race ended, Nelson innocently was sitting on the pit wall as Bowyer's team pushed the car from the track after it ran out of gas. Next thing you know, he was high-fiving the crewmen as they went by him, then pushing the car to Victory Lane with them.
Then he saw team owner Michael Waltrip and shouted, "Michael!"
"He hands me a hat," Nelson said. "He thought I was one of Clint's dirt-car guys, I think. Then Mark Martin comes up and congratulated me. I guess he thought I was another part of the team. I was getting splashed with energy drink just like everybody.
"I think it all worked because I was in this red shirt."
That would be his red Pi Kappa Alpha frat shirt from NC State, which blended right in with the red 5-hour Energy drink firesuits Bowyer and his crew wore.
The way Bowyer tells the story, he finally kicked Nelson out because the team needed a picture without him. But Nelson says he wasn't physically removed or treated badly. He simply rejoined his buddies who were waiting for him and disappeared into the darkness.
For the record, Nelson had a hot pass that allowed him on pit road, and he's not in trouble with track officials or the police -- although his parents were a bit concerned when he got home.
"There was no ill intent," said Nelson, from nearby Gastonia, N.C. "I just got in there and got so happy, next thing you know I was in Victory Lane holding up the No. 1. When I got back to the camper, I couldn't go to sleep I was so excited."
He still is.
***
Posted Oct. 17
CHARLOTTE, N.C. -- Clint Bowyer has a "mystery man" in his life.
Sounds a bit weird, but it's true.
This mystery man appeared in almost every one of Bowyer's team photos following Saturday night's victory at Charlotte Motor Speedway. He's the guy in the front row wearing a red shirt, blue jeans and one of the team hats.
Bowyer noticed him during the traditional Victory Lane "hat dance" while the team posed for countless pictures -- holding up the traditional No. 1 sign each time -- wearing the hats of team sponsors, NASCAR sponsors and track sponsors.
Bowyer eventually turned to the guy below him to the left and asked, "Hey, who are you?"
The man confidently offered that Michael Waltrip said he could be there, so Bowyer turned to his team owner and asked if he knew "who the hell he is."
"I [told the guy], 'This is Michael. Michael, do you know this guy?' He said no. The guy just turned around and got right back in the game and began to pose again.
"I think it ruined his day when I told him to beat it, but we needed at least one photo with the regular team in it."
Bowyer still doesn't know who the guy is and probably never will. But he thought it was "funnier than hell" and appreciated the resourcefulness because he's been known to crash a party and photograph himself.
Yes, another crazy side of Bowyer we're getting to know as he becomes a factor in the Chase, only 28 points out heading into Sunday's race in his home state of Kansas.
A few years ago, Bowyer found himself in the middle of a family picture with five-time Sprint Cup champion Jimmie Johnson that wound up being the Christmas card for Johnson's dad.
"That's exactly what I did," Bowyer said. "I photo-bombed their photo."
There might have been tequila involved, but that's another story for another day on how Bowyer has vowed to outdo Johnson's Las Vegas Champion's Week party if he were to win a championship.
"His dad [was taking] a picture with all the brothers and I stumbled outside," Bowyer recalled. "I didn't even know they were taking a picture. I look up and grandma is taking the picture."
Then it went out for Christmas.
Then it went out the following Christmas.
"His dad didn't realize he … sent it again," Bowyer said. "So I'm two years running."
Maybe Bowyer's mystery man will show up in a Christmas card somewhere. Maybe Bowyer will show up in somebody else's Christmas card again one day.
This kind of stuff apparently happens in big-time racing.
August, 30, 2012
08/30/12
3:57
PM ET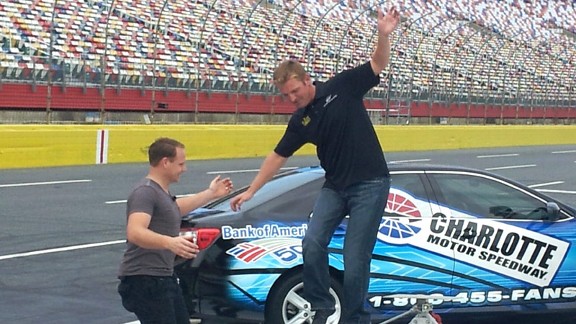 David Newton/ESPN.comHigh-wire daredevil Nik Wallenda coaches Sprint Cup driver Clint Bowyer across a cable set up at Charlotte Motor Speedway.
CONCORD, N.C. -- I am 100 feet above Charlotte Motor Speedway, my black Converse Chuck Taylors clinging to a 5/8-inch steel cord stretching 750 feet from the frontstretch grandstand to a crane behind Victory Lane.
I don't have a safety tether.
I could become a grease spot on the concrete below at any moment.
I am distracted by Sprint Cup driver Clint Bowyer, taunting me as though I somehow was responsible for the 150-point penalty he received during the 2010 Chase because his car was 39,000th of an inch out of tolerance.
I slip.
I recover.
I slip again, and plummet to earth.
OK, I was only 18 inches above the track and I had to walk only about 10 feet over the tightrope used to demonstrate what legend Nik Wallenda will do on the dimensions above before the Oct. 13 Chase race at CMS.
I'm not crazy.
Wallenda is. So is Bowyer.
[+] Enlarge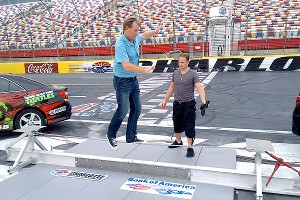 David Newton/ESPN.comIntrepid writer David Newton tries the high-wire act for himself.
Both do things few of us would attempt, Wallenda tightrope-walking over Niagara Falls and Bowyer driving 200 mph against the walls. They each are daredevils in their own right.
But as much as Bowyer is willing to put life and limb on the line, he does it with a steel roll cage encasing his body. He can't even imagine doing what Wallenda will before the Chase's only night race.
"It's insane," Bowyer said Wednesday. "I watched his Niagara Falls tightrope. That's high. If you look up there at the top of those grandstands … man, I'm telling you, it's a little nerve-racking to get up there and look over the edge.
"Can you imagine on a 5/8ths cable standing in the middle of hundreds of thousands of people just waiting for you to make a mistake and have a bobble? I couldn't imagine the pressure and feeling that goes through your mind."
Wallenda can't imagine the pressure Bowyer must feel driving at high speeds in close quarters with cars all around him. But unlike Bowyer, who couldn't be paid to walk a tightrope higher than 18 inches off the ground, Wallenda would jump at the opportunity to drive a stock car.
"I'd love to try going 180 [mph] around here," Wallenda said during the promotion for his event. "Each one has their challenges. There's a lot of danger in driving a car at 180. I have deep respect for these guys."
Bowyer's biggest risk was leaving Richard Childress Racing after last season for Michael Waltrip Racing. And it looks like it was a good risk to take. He's sixth in points heading into Sunday's race at Atlanta.
Wallenda's stunt will mark the 26th anniversary of The Flying Wallendas' high-wire act here in 1986. It's another example of how tracks try to provide great prerace shows as well as great races.
I'll be watching this one with Bowyer from the ground.
For the record, Bowyer made it across the cord during the demonstration. I was a foot short.
But I lived to tell about it.
August, 31, 2011
08/31/11
4:50
PM ET
A word of advice for Clint Bowyer: Don't procrastinate in contract negotiations with your current team when the boss' grandson is waiting in the wings.
Hey, it could happen.
Richard Childress' passion these days -- outside of getting back at Kyle Busch -- is getting his grandsons, Austin and Ty Dillon, to the Sprint Cup level. Austin is first in line, ranked fourth in the Truck series standings and poised to move full time to the Nationwide Series in 2012.
Austin Dillon already has competed in four Nationwide races this year and collected three top-10s with no finish worse than 14th. Fast-forwarding him into a handful of Sprint Cup races with another driver -- say, a Mark Martin -- handling the rest of the season for RCR's fourth car wouldn't be a bad option.
Martin needs a part-time ride for 2012, and if there isn't sponsorship to help him split the Cup season with Danica Patrick at Stewart-Haas Racing, this would be a good option.
Bowyer seemingly is feeling the pressure judging by his comments before Saturday night's race at Bristol Motor Speedway. He has to see the leverage he might have had two months ago when he was inside the top 10 is gone now. Only the top 10 drivers are guaranteed a spot in the Chase. Bowyer is 12th, but he is behind in the wild-card battle because he hasn't won.
Not that Bowyer doesn't have other options, but would any other team give him a better chance to compete for the title than RCR? Doubtful.
Here's what we know:
• Bowyer wants to stay at Richard Childress Racing, where he has driven all 205 of his Cup races since entering the series in 2005. How do we know that? He says he does.
• Bowyer has talked to almost every team in the garage and has had several offers, including Red Bull Racing before that company announced it was leaving the sport in 2012, Richard Petty Motorsports with a current offer and, of course, RCR. Joe Gibbs Racing also is interested, but only if sponsorship can be found.
• Money and sponsorship are factors. If they weren't, Bowyer would have re-signed with RCR more than a month ago when Childress said he hoped to have a deal done in two weeks.
Here's what we don't know:
• Can RPM or anybody else really offer Bowyer more money than RCR? And if they can, is Bowyer willing to take more money for perhaps a less competitive ride?
• Has Childress become disenchanted with Bowyer to the point he would consider going back to three cars? Or better yet, would he put Austin in the fourth car with somebody like Martin? Childress may have an easier time selling Dillon and Martin, particularly if he were to look at bringing back the famous No. 3 Dillon drives in the Truck series.
• How much does Bowyer's stock rise if he slips into the Chase? He needs either a win or for Brad Keselowski to get into the top 10 to be in position for a playoff spot.
Something should happen within the next two or three weeks. My gut says Bowyer will wind up back at RCR. Look at how many times Kevin Harvick seemingly has been out the door in his past two negotiations.
But the longer the negotiations take, the more skeptical I become. Until then, as Bowyer told a few members of the media at Bristol, "I'm wasting my time talking to you."
October, 5, 2010
10/05/10
5:35
PM ET
CONCORD, N.C. -- It was a tough call today. Sit outside of NASCAR's Research and Development Center and wait for the final appeal of Clint Bowyer's penalty at New Hampshire, or go to Martinsville and take laps around the half-mile track with David Reutimann.
Reutimann was the sexier story considering his run-in with Kyle Busch on Sunday at Kansas. It started the debate on whether a non-Chase driver has the right to pay back a Chase driver, something Reutimann addressed with reporters before taking them for a spin.
"Sometimes in life there comes a time when you've got to stand your ground and sometimes you have to do what, at the time, you know is not right and you look back and you may could have done things differently," Reutimann told reporters in Martinsville. "But in the end you sometimes have to stand up and do what's right by you.
"It's a slippery slope because if you're talking to a child, you're trying to project the right way to do things, you also have to explain that is not the way you want things to be done but sometimes you're backed into a corner and you don't' have a choice."
This was a huge topic of conversation as about half a dozen of us sat outside of the R&D Center for what I've dubbed "Survivor Concord: The Final Appeal." Greg Biffle even stopped by and shared his thoughts, ultimately saying he wouldn't put himself in the position Busch did by wrecking Reutimann earlier in the race.
For the record, I'm on the side that if payback is OK -- as NASCAR has allowed all season -- then it shouldn't matter whether you're in the Chase or not.
As you see from the dateline on this blog, I chose to go to Concord. I had to finish what was started last Wednesday when the National Stock Car Racing Commission ended a five-hour marathon by unanimously rejecting Richard Childress' appeal.
Today was much different. Instead of rain and cold, it was sunny and breezy. We also brought supplies such as chairs, power cords and food.
Childress' mood coming out of this appeal was just as different as the weather. A week ago he was angry, defiant, calling the process unfair. On Tuesday he was smiling, much more pleased with the way this process went.
He called it fair.
He is right. If NASCAR wants to end the bashing of its appeals process, then make the initial appeal more like Tuesday's before chief appellate officer John Middlebrook.
Allow both parties to have their say in front of each other. Allow them to cross-examine each other.
Put all the cards on the table.
That way more owners may leave that appeal like Childress left this one, believing they had been completely heard and feeling they had all the facts, not feeling like they were cheated.
"[If] today's procedure was done similar to that at the other appeal, we wouldn't be here today," Childress said.
And I wouldn't be sitting in a blue camping chair waiting to hear Middlebrook's final verdict. I would have been in Martinsville hearing Reutimann defend his right to take out Busch.
September, 19, 2010
09/19/10
12:48
PM ET
FAR AWAY FROM FRIDGE -- Jeff Gordon will win the Sprint Cup championship, NASCAR will change the Chase format after the season and Dale Earnhardt Jr. will win one of the final 10 races.
I wanted to get those out of the way now so when Four-Time becomes Five-Time and everything else comes true nobody will say it was a lucky guess of a delirious reporter whose judgment was impaired by a lack of food.
Yes, Day 1 of the Mark Martin diet is under way. For 21 days I'm eating and working out as close as I can to the driver who finished second in last season's Chase. But I may have to do it for 10 weeks. If you need more details on that, check out my column.
But before we move forward with everything that will happen in the world of NASCAR, let's revisit what my boss so bluntly called "The Last Supper." He wanted to throw salt into the wound of a man who can have little salt under the MM plan. He asked me to share what my last day of eating like Tony Stewart was like.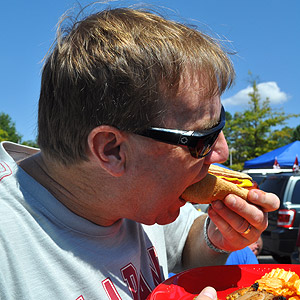 Debby Robinson for ESPN.comThat's not an approved Mark Martin move that David Newton is making on that hot dog.
Pause while I close my eyes, reminisce and savor.
Ahhhhhhhh!
It began with a country ham biscuit and coffee from Bojangles on the ride to Durham, N.C., to watch No. 1 Alabama destroy Duke. It got better from there. Sausage and cheese balls to kick off the tailgating, washed down with the first of many adult beverages that have been outlawed on the diet.
From there let's just say my cholesterol shot up more points than the 62 Bama posted on the hapless Blue Devils. There was barbeque, hotdogs, chips, more barbeque, Heath bar brownies, a funnel cake, more sausage balls and more barbeque.
Also tossed down four large sodas, another thing not allowed on this harebrained diet.
Oh, forgot about the Zantac after the country ham biscuit.
And the bacon cheeseburger on the ride home.
The only thing missing was a dozen or so fried chicken wings. My sister forgot them.
Now I'm feasting on whey shakes, goji berries and other various assortments of goodies purchased at the Concord Mills GNC for roughly the equivalent of a car payment. Did you know goji berries were $17.95 a pound?
Can I write this humiliation off on the expense report, bossman? [No. The Ed]
To add insult to injury, I had to walk past the entire food court -- bad directions which had to be part of a conspiracy theory -- which included almost every greasy food known to mankind. And there was a Starbucks almost directly across from the GNC.
No lattes for 21 days? No fair.
I don't know how many bites of bread or sips of wine the disciples got at their Last Supper, but I took triple helpings of everything on Saturday.
And by the way, thanks for all the encouragement on Twitter, particularly the dude who said he was going to have a midnight cheeseburger -- "extra greasy."
As for my predictions, they're going to happen.
I'm not delirious -- yet.
September, 10, 2010
09/10/10
12:17
PM ET
RICHMOND, Va. -- The plan for today is to make this blog better than the last one. Take more chances. Use bigger words. Type faster. Put more effort behind my keystrokes.
Sounds silly, right?
So does talk of Saturday night's Sprint Cup race being the best regular-season finale in the short history of NASCAR's playoff, because the field is all but set and nobody really has anything to lose.
Do you really think Ryan Newman can drive any harder to make up the 117-point deficit he has to Clint Bowyer in the 12th position than he has at any other point in the season? Can Kyle Busch really take more chances than normal hoping to pick up an additional 10 bonus points?
Get real.
If you set this up to be the Super Bowl of Chase deciders, then you'll probably be disappointed. This race isn't going to be any wilder than last week at Atlanta Motor Speedway or Bristol the weekend before that.
Sure, crew chiefs can take gambles on two tires or no tires and fuel mileage. Kenny Francis went with a two-tire stop here in 2004 to get Jeremy Mayfield into the lead of a race they had to win and lead the most laps to make the Chase.
It worked.
But Mayfield didn't all of a sudden inherit Jimmie Johnson's talent and drive better.
Bowyer needs to finish only 28th to clinch, but he's not going to drive any differently unless it's to protect his position at the end. As the RCR driver said Friday, "We're here to win the race."
"Drivers can't do anything [to drive faster]," Bowyer said. "If they're at this level in this sport, they're giving 100 percent."
If Bowyer is nervous, he's not showing it, because he knows this for the most part is out of his hands.
"Man, I tell you, with a 117-point lead, that's a pretty good pad," he said. "With any luck at all, with any luck at all, we'll be in this thing. If we're not, I'll just say it was not meant to be."
Points leader Kevin Harvick may be more nervous than Bowyer, knowing if he makes a mistake around his teammate it could cost RCR getting three cars into the Chase.
"I just don't even want to be near him," Harvick said with a laugh.
So how's the blog? Better than the last one?
Thought so.