Category archive:

Jeremy Mayfield
January, 17, 2013
01/17/13
11:25
AM ET
LENOIR, N.C. -- I'm no Oprah, and apparently Jeremy Mayfield is no Lance Armstrong.
More than three and a half years after being suspended from NASCAR, on the eve of Thursday night's Oprah Winfrey television show in which Armstrong ends a decade of denying he used performance-enhancing drugs to win the Tour de France, Mayfield still insists he never took methamphetamine.
Athletes come clean all the time after years of denial -- Mark McGwire, Marion Jones and Alex Rodriguez to name a few.
Others have maintained their innocence despite the evidence.
Count Mayfield among those.
In this society of forgiveness, the 43-year-old driver has nothing to lose in the court of public opinion by confessing now. His racing career is in ruins even if he goes through NASCAR's recovery program necessary for reinstatement, and he's facing 19 felony charges from stolen goods and methamphetamine found in a November 2011 search of his North Carolina home.
Still, Mayfield remains adamant that he never took the illegal drug that resulted in his May 2009 suspension. He remains adamant that his positive test was the result of a false positive that came from mixing Adderall prescribed for attention deficit disorder and an over-the-counter drug for allergies.
He looked me in the eye on Wednesday outside the Catawba County Courthouse, where the case for his felony charges was pushed to March 4 as attorneys negotiated a possible plea bargain, and said it just as clear as he did in 2009.
"No Lance Armstrong moments coming up for me," Mayfield said.
You can decide whether Mayfield is telling the truth. The courts sided with NASCAR, and that isn't going to change.
[+] Enlarge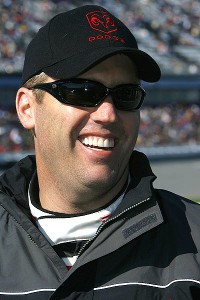 Rusty Jarrett/Getty ImagesJeremy Mayfield says he's willing to do what it takes to get back into NASCAR.
What has changed is Mayfield's attitude. Instead of fighting the system that has him in this seemingly never-ending nightmare, he's willing to embrace it.
His hair still spiked with gel, as it has been for years, he said he would do "whatever it takes" to get reinstated.
That now includes drug rehabilitation.
Only a week earlier, Mayfield said he would do everything short of drug rehabilitation to complete the recovery process. He said this because he doesn't believe it to be necessary because he denies ever using drugs.
Apparently, the realization that rehab might become necessary has become real.
That doesn't mean he'll pull an Armstrong and confess, though.
"I did admit to what I took," he said, reiterating the Adderall and Claritin-D scenario. "When I get there [rehab], it's going to be kind of boring."
Had he known what he does today, Mayfield might have entered NASCAR's Road to Recovery program in 2009. He said the string of events that landed him in court on Wednesday were probably why AJ Allmendinger, suspended last season, went through the program despite denying he knowingly did anything wrong.
Allmendinger, after losing his ride at Penske Racing, came back late last season to drive a few races for Phoenix Racing. He is scheduled for more this year.
See, it is a forgiving society.
And although society might be willing to forgive Mayfield, sponsors and team owners are another story -- particularly three and a half years out.
"I'm sure he wasn't going to take my path after what happened to me," said Mayfield of Allmendinger.
Mayfield made many accusations over the years as to how he wound up on this path. He accused NASCAR of setting him up with the felony charges he faces after he fought the system to the point of attacking the character of chairman Brian France.
He's past that now. He knows the least resistant path to reinstatement is to make amends. He recently called France on a live Motor Racing Network radio show and asked what it would take for him to be reinstated.
To France's credit, he took the call and told Mayfield he had to take the same path Allmendinger and others have.
Mayfield insists the call was sincere, that he wasn't trying to be confrontational or cause problems.
On that, I do believe him.
Mayfield is simply ready to move on and seek a second chance, whether that is in NASCAR's top series, where he has won five times, or at a lower level.
"Everybody loves a comeback story," he told me as he walked out of the courthouse.
This would be a big one. And if Mayfield goes through the process, if he is reinstated and proves he still has the talent to compete, he deserves that chance.
Chances are, in a sport built around the image of drivers and sponsors, he won't get it. But Mayfield is quick to remind us that some of the sport's biggest names -- team owners Rick Hendrick and Michael Waltrip, plus driver Tony Stewart -- have thrived after overcoming legal issues.
"A lot of people have been in trouble and are racing again," Mayfield said.
Mayfield is saying all the right things now. He says he and his wife, Shana, are doing well even though they had their house and property -- assessed at $3 million -- auctioned off in foreclosure for $1.7 million. He says he's finding enough odd jobs for them to "survive."
"It's been tough," he said. "But I feel like I'm a better person."
And according to him, he's an innocent person, saying there are others who have had careers ruined from false positive drug tests before and since him.
"I wanted them to realize it happens," he said, again explaining his long fight. "It happens every day."
Say and believe what you want about Mayfield, he is a fighter. He is willing to stand up for what he believes even if most of the world doesn't believe him.
"I can take it," Mayfield said just before heading for his white Ford pickup parked outside the courthouse. "I can take it. Lots of other people couldn't have."
June, 10, 2009
06/10/09
1:37
PM ET
Dale Earnhardt Jr
. hasn't had a good season on the track, but he made the most profound statement of the year last month when asked about
Jeremy Mayfield
's indefinite suspension for violating NASCAR's substance abuse policy.
"Don't do drugs. Don't do stupid stuff," he said. "It's stupid to do it anyways, regardless if you're driving race cars or not. It's a dumb idea. Just don't be ignorant."
Nothing else really needs to be said. We have known for weeks that Mayfield was suspended, according to court documents, for taking an amphetamine that NASCAR attorney Paul Hendrick called a "dangerous, illegal, banned substance."
We got more specific Tuesday, calling the illegal substance methamphetamine.
It could have been crack cocaine or marijuana. It doesn't really matter.
It is illegal. There is no defense against that.
Unless Mayfield's attorneys can prove the test was tainted and that the driver hasn't taken drugs, his career is over. No major sponsor will touch a driver proved to have taken illegal drugs, and without sponsorship it's nearly impossible to get on the track.
That is why Mayfield has no choice but to challenge NASCAR. Going through the rehabilitation process mandated for readmittance basically is an admission of guilt.
With that stigma at the age of 40, unless Mayfield strikes oil on his North Carolina farm he'll never have the financial backing to put a competitive car -- or maybe any car -- on the track.
So he's fighting.
How this will turn out is up to the court. Mayfield's attorneys would like the entire test thrown out, arguing that the "B" sample was tested at the same laboratory as the "A" sample, and that goes against federal employee drug testing guidelines.
NASCAR will argue it is not a federal institution and that it was perfectly within its rights to test at the same laboratory. That the NFL and Olympic guidelines are the same can't hurt.
More importantly, they will argue that a driver with an illegal substance in his system shouldn't be allowed to compete.
Duh!
So what have we really learned over the past 24 hours? Not much. Drivers are no more willing to rush to judgment now than they were a month ago. Most are waiting for the legal system to run its course before making bold statements.
Do they want to be on a track with somebody taking an illegal substance? No more than any of us want to drive down the interstate with somebody on drugs or alcohol. Did they suspect Mayfield was on drugs? No. And some aren't even sure it's fair to say he was until this is settled.
"Let me put it this way," Carl Edwards said Wednesday in a conference call. "I never have been racing people that are incapable of racing at this level. Most of the time I feel like I'm the idiot out there, like I'm in somebody's way or I have been screwing up.
"I always have looked up to these people in racing, Jeremy included. I never have gotten out of the car and said, 'Man, that guy is dangerous. Something is crazy here.' "
That NASCAR now has a legitimate system in place to catch somebody on drugs is the real story here. Under the old system of testing for reasonable suspicion, this likely would have slipped through the cracks.
Nobody suspected Mayfield was guilty of anything until he took a random drug test in Richmond that turned up positive.
And even that's not a guarantee in NASCAR or any sport. Suppose Mayfield hadn't been randomly selected?
"When you go in for surgery you don't know if the doctor cutting you open has some sort of personal problem," Edwards said. "That's life. All you can do is the best you can. I don't know what Jeremy did. I have no clue.
"Nobody would say it's all right to race on the track with somebody that is impaired. NASCAR is trying to do their best, and I feel good about it."
That being said, the federal judge who some time later this month will be asked to grant Mayfield a temporary restraining order allowing him back on the track until the case has been solved has no choice but to say no.
As long as there's any question a driver is guilty of taking an illegal drug, he shouldn't be allowed on the track.
"Either one of two things has happened," Edwards said. "Either he was into meth or he wasn't. If he was, then he's got a bigger problem than they think and we should try to help him out. If he didn't use any meth, we sure the hell should not be talking about it. It's certainly destructive to somebody's life and public image."
Or, as Earnhardt said, "Don't do stupid stuff."
That's all we really need to know.