Category archive:

Denny Hamlin
April, 23, 2013
04/23/13
4:12
PM ET
CHARLOTTE, N.C. -- Showcased in the middle of the Carolinas Aviation Museum is the Airbus A320 that in 2009 Capt. Chesley "Sully" Sullenberger successfully landed in the Hudson River.
One-hundred fifty-five lives were saved.
None were lost.
[+] Enlarge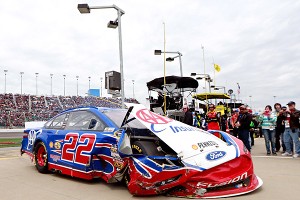 Chris Trotman/Getty ImagesAn early exit at Kansas left Joey Logano 39th in the race and 20th in the Sprint Cup standings.
Makes the feud between Joey Logano and Denny Hamlin seem kind of small, doesn't it?
So does standing in front of an Air Force war plane surrounded by military personnel promoting the Memorial Day weekend Coca-Cola 600 at Charlotte Motor Speedway.
"A tough day at the track is hard," Logano said during the Tuesday event outside the museum. "Nothing compared to what these guys are doing. It does put it in perspective. Compared to what all these military guys are doing, I'm not really doing much at all."
Logano has had a lot of tough days at the track lately. It began March 24 with his last-lap crash with Hamlin at Auto Club Speedway that ended his chance of winning and sidelined his former Joe Gibbs Racing teammate with a compression fracture in his lower back.
It continued two weeks later at Texas. NASCAR confiscated the rear-end housings of his No. 22 car and the No. 2 of Penske Racing teammate Brad Keselowski, then penalized the drivers 25 points each and suspended their crew chief, car chief and lead engineer pending an appeal.
It continued on Sunday at Kansas Speedway. Logano was the innocent bystander in a spinout of another former JGR teammate -- Kyle Busch -- that destroyed his car and left him with a 39th-place finish.
So in four weeks Logano has gone from a potential win at California and move near the top five in points to 20th.
"I'm still very confident and I know my team is very confident and I'm going to lead that team to make sure it stays confident," Logano said as he awaits a May 1 appeal of the penalties. "I don't feel like it is as big of a downswing as it may look on the outside.
"I feel like I'm still right where we need to be, like we were at California, to make sure we can go win."
No, Logano isn't concerned that JGR and Hendrick Motorsports have won seven of the first eight races and have led about 73 percent of the laps.
"They obviously have some great race car drivers, they have great teams," he said of JGR and HMS. "But I don't feel like it's anything we don't have.
"So, yes, the numbers may show one thing, but the way I feel doesn't relate to the numbers."
Logano also isn't worried about whether his issues with Hamlin will continue once Hamlin returns over the next few weeks.
He took the high road when given the chance to respond to a tweet by Hamlin -- "I know Joey felt bad but he doesn't have to keep falling in the points on my count :) #seeyasoon" -- after the Kansas crash.
"Personally, I don't like being in drama and I stay away from drama and I'm not going to get carried into any drama on this situation," Logano said. "I'm going to stay focused on what my task is, and that's winning the race.
"And the rest of it is whatever to me. I'm here to win and put the past in the past."
And keep things in perspective.
March, 27, 2013
03/27/13
12:37
PM ET
CHARLOTTE, N.C. -- Can Denny Hamlin still make the Chase?
Yes.
And it might not be as difficult as it appears.
Hamlin is expected to miss the next five races recovering from a compression fracture in his lower back suffered on a last-lap wreck with former Joe Gibbs Racing teammate Joey Logano on Sunday at Auto Club Speedway.
He had 180 points during that span a year ago, which is a ton for one of only two drivers -- Jimmie Johnson is the other -- to have never missed NASCAR's 10-race playoff. It basically ends any chance he has of automatically qualifying in the top 10.
But earning one of the two wild-card berths, given to the drivers with the most wins inside the top 20, isn't a reach at all.
A year ago, Jamie McMurray was 20th in the standings with 640 points when the Chase was set after 26 races. Hamlin, now 10th in the standings, has 145 points.
Hamlin would need approximately 495 points -- and one or two wins -- over the 16 races before the September Richmond race to be in position for the top 20 under 2012 standards. To do that he would need an average of 30.9 points per race, or an average finish of around 13th.
Throw in bonus points for a few wins in which he leads the most laps for a maximum 48 points and his average finish could be slightly higher.
It's possible. A year ago, Hamlin's average finish was only 14.1 from race 11 to 26. But he won at Bristol and Atlanta and accumulated 499 points, three more than he would have needed to get into the Chase.
If he did the exact same thing a year ago after missing five races, he would have knocked Jeff Gordon out of the final wild-card spot.
Based on what 20th place has done so far this year Hamlin may have even more leeway. Ryan Newman is in the bubble slot with 121 points, an average finish of 24.2. Average that out over 26 races and the total is only 629.
If you need more proof this is possible, 13 of Hamlin's 22 career wins have come at the tracks he'll compete between his likely return at Darlington and Richmond. Four have come at Pocono, where he'll have two opportunities to win.
As wild as it sounds, the Chase remains a realistic goal.
CHARLOTTE, N.C. -- Well, NASCAR, you wanted to reach a broader audience.
So far in 2013, you've done that.
The past few weeks the sport has been all over CNN, MSNBC and even MTV between Danica Patrick setting history at the Daytona 500, the Daytona Nationwide Series crash that left more than 28 injured, little-known Nationwide driver Jeremy Clements being suspended for using a racial slur and the NRA sponsoring a race at Texas Motor Speedway.
Only a few days ago you had CNN host Piers Morgan passionately talking about the sport -- albeit in a not-so-positive way -- in a gun control debate with a Texas politician.
"I'm slightly baffled why you can't have a tobacco company sponsoring this race because, presumably, it's bad for Americans' health -- but you can have the NRA, which is basically funded by gun manufacturers," an outraged Morgan said to Texas State Sen. Dan Patrick.
Speaking of outraged, Denny Hamlin kept the TMZ mood going on Thursday when he lashed out at NASCAR for docking him $25,000 for being critical of the new "Gen-6" car.
It probably won't land on headline news, but it'll draw national attention.
When will it end?
Next thing you know Dale Earnhardt Jr. will be on "The Dr. Oz Show" talking about his detox diet.
In case you missed it, Earnhardt told reporters in Phoenix last weekend that he's down 15 to 20 pounds after a 15-day diet that included prune juice and carrot juice.
[+] Enlarge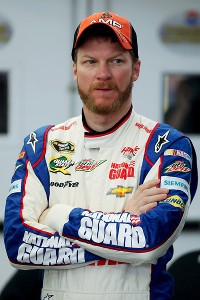 Chris Graythen/NASCAR/Getty ImagesA slimmer Dale Earnhardt Jr. is coming to a track near you.
It apparently was prompted by a "shrinking" firesuit last year.
"That's really what it's about for me is just trying to maintain my weight so I don't have to keep getting my driver suits altered throughout the season," Earnhardt explained. "Last year, I was like, 'Man, they're shrinking, something is wrong with the washer.'
"This offseason I lost a lot of weight … just trying to do a better job of managing my calories and stuff like that. I never really worried about it before. Just eat all kinds of stuff like pizza and wings and stuff every day and not really watching portion controls and stuff like that. Just getting out of control so reining all that back in. Not getting too crazy about it though. I'm no health freak by no means."
That is a relief. The sport may not be able to handle its most popular driver being a health freak around all the other issues.
The good news is all these other issues drowned out much of the debate -- much of that negative, too -- over whether the new Gen-6 car has been a success or failure yet at Daytona and Phoenix.
Hopefully, all will settle down and we'll get a better grip on that this weekend at Las Vegas Motor Speedway, one of the mile and a half tracks.
It's time for the talk to return to the drivers and competition, although NASCAR fining Hamlin for what seemed like harmless comments about the new car and single-file racing at Phoenix probably didn't help any.
Particularly since Hamlin is so mad he nearly begged to be suspended.
The bad news? The drivers and competition likely won't connect to a broader audience like everything else has.
August, 3, 2012
08/03/12
6:19
PM ET
LONG POND, Pa. -- There's something in the water in the Sprint Cup garage.
Babies are turning up left and right. OK, all left since that's the way they turn in this sport with the exception of road courses.
Jeff Gordon, Jimmie Johnson, Kevin Harvick, Jamie McMurray, Greg Biffle, Ryan Newman, Matt Kenseth and Sam Hornish Jr. all have become fathers in the past few years, several in the past few months.
Now it's Denny Hamlin's turn.
The difference between Hamlin and the rest is they're all married.
[+] Enlarge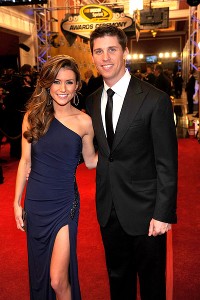 Ethan Miller/Getty ImagesDenny Hamlin and girlfriend Jordan Fish attend the NASCAR Sprint Cup Series Champion's Week Awards Ceremony in Las Vegas last December.
"No need to rush into anything," Hamlin said on Friday at Pocono Raceway as he delivered the news that he and girlfriend Jordan Fish are expecting in January.
But we can rush into picking names. If it's a boy, Michael Jordan Hamlin might work since the Joe Gibbs Racing driver is good friends with Charlotte Bobcats owner Michael Jordan.
Or maybe Bubba Hamlin after Hamlin's good golfing buddy and Masters champion Bubba Watson. Or maybe General Lee Hamlin after Watson's "Dukes of Hazzard" car. Or Fed Ex Hamlin after his primary sponsor.
If it's a girl, maybe Butter Hamlin after Hamlin's nightclub in Charlotte. Or Michelle Jordan Hamlin. Or Toyota Hamlin. Or Jordan Jordan Hamlin. Chesterfield Hamlin.
If you have any better suggestions, please send them.
Hamlin admits he'll lean heavily on his parents, Dennis and Mary Lou, who he said were inspirational while raising him.
"My family has done a lot for me to get to this point, obviously, and just all of the sacrifices and all that they've gone through," Hamlin said. "My dad tells me all of the time that some of the best times he had is just carrying me around in his pickup truck every day taking me to work with him and things like that.
"It's going to be a great experience, and so I'm really excited about it and really just excited to be a part of it. For my parents to have grandkids is all going to be good."
Later, he added, "I turned out just fine, other than my head's all turned around at times."
He got that right.
Congrats.
September, 8, 2011
09/08/11
2:04
PM ET
WASHINGTON -- The 45-minute postrace "come to Jesus meeting" that Denny Hamlin and crew chief Mike Ford had a few weeks ago apparently has improved the outlook for last year's Sprint Cup runner-up.
Hamlin said during Wednesday's visit to the White House with five-time defending Cup champion Jimmie Johnson and others from the 2010 Chase class that the communication issues that sparked rumors of a split with Ford have been resolved.
That's not good news for the rest of the Chase field with the 10-race playoff set to begin next weekend in Chicago.
"I think it's great," Hamlin said of his relationship with Ford, with whom he entered the final race a year ago with a 15-point lead over Johnson only to see it turn into a 39-point loss. "Personally, from the inside perspective, me and Mike's communication is getting a lot better."
Hamlin still has some work to do to make the Chase. He ranks 12th in points and holds the second wild-card spot thanks to his win at Michigan, but there are several drivers with a chance to move ahead of him should one of them win Saturday night's regular-season finale at Richmond International Raceway.
Hamlin knows this is no time to relax.
The good news for Hamlin is he's won the past two September races at RIR, which he considers his home track, having grown up in nearby Chesterfield, Va. The better news for the Joe Gibbs Racing driver: Since his meeting with Ford, the team has finished seventh and eighth to stop a string of four finishes of 15th or worse.
Hamlin is so confident that he's talking championship again.
"If we can get in the Chase," Hamlin said, "we've got some good stuff coming in these next few weeks that hopefully will show the hard work we're putting in now."
January, 27, 2011
01/27/11
5:12
PM ET
CHARLOTTE, N.C. -- If you were worried that Denny Hamlin lost his swagger after losing the 2010 Sprint Cup championship to Jimmie Johnson in the final race, think again.
During a recent trip to the Bahamas, the Joe Gibbs Racing star found himself surrounded by some of the top poker stars in the world. Being the competitor he is, Hamlin issued a challenge.
In stepped 21-year-old Daniel Cates, or Jungleman12 as he's known online. Hamlin didn't realize who Cates was until Phil Laak and other poker stars started surrounding the table.
"They told my friends, 'Don't feel bad when your friend loses to him. He's the No. 1 Internet player in the world,' " Hamlin recalled Thursday on the final stop of the NASCAR media tour.
Hamlin didn't lose.
"I was reading he charges $2,000 an hour for poker lessons," Hamlin said. "He got about a three-hour lesson."
Hamlin wouldn't reveal how much he won, saying only "it was a good amount." But there was that swagger in his voice we all became accustomed to during his amazing run that came up 39 points short at Homestead-Miami Speedway.
"It's just something I always wanted to do," Hamlin said. "It's not too often you can play Michael Jordan one-on-one or play Tiger Woods one-one-one. It's about the competition. I'm such a competitor. No matter what sport I want to be the best. I throw myself out there to the sharks."
Today's best moment: It's hard to pick between talking to Hall of Famer David Pearson in front of a red and white Motorcraft Ford with a gold No. 21 painted on the side like the Silver Fox drove for the Wood Brothers and the 20th anniversary reunion at Joe Gibbs Racing that included a visit from two-time Cup champion Tony Stewart and 2000 champ Bobby Labonte.
Heck, we'll call it a tie with no bonus points.
Let's start with Pearson. Trevor Bayne will drive the Wood Brothers car -- painted to honor the man second only to Richard Petty in career wins (105) -- in 17 races this season. It's a fitting tribute for the man I call the best ever in NASCAR as he prepares for his May induction into the sport's shrine.
[+] Enlarge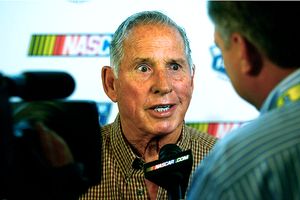 Jason Smith/NASCAR/Getty ImagesTrevor Bayne will drive the iconic red and white No. 21 Ford for the Wood Brothers in honor of 2011 Hall of Fame inductee David Pearson, above.
Honestly, Pearson probably could do better in the car than Bayne.
"I might could," said Pearson, never shy about how good he is.
Later, at JGR, we relived the amazing 20-year history of an organization started by Pro Football Hall of Fame coach Joe Gibbs. There were so many jokes and stories they almost had to extend the tour an extra day.
That Stewart and Labonte took time out of their busy schedules to be on hand shows just how much of an influence Gibbs was on their careers.
One of the funnier moments came when Norm Miller, who took a big chance committing Interstate Batteries to sponsor JGR's first car, wondered what it would have been like if he'd never partnered with Gibbs.
"I'd probably have a $100 million," Miller said.
Today's flattest moment: Team owner Jack Roush, after promising to keep his speech short, rattled on for more than 10 minutes about the numbers that represent the accomplishments of his team.
Did you know Roush had 298 team entries last season? Or that his drivers have logged more than 1 million miles, not counting tests, of course? Or that his company -- and kudos for this -- recycles 96 percent of its race cars?
You do now.
Today's best quote: There were many good choices, but my pick goes to Pearson on Dale Earnhardt Jr.: "If I was him and had as much money as he does, I'd retire. He don't need to be running."
He said what?: As Joe Gibbs tried to explain how similar the NFL and NASCAR are, Kyle Busch interrupted and asked, "Does that mean Joey Logano could play quarterback?"
Said Logano, "I was thinking linebacker."
Said Denny Hamlin, "I was thinking kicker."
Said Stewart, "I was thinking the guy that picked up the tee after the kicker kicked."
He said what II?: Gibbs, when asked if he had more headaches from NFL players or NASCAR drivers, said, "Are you kidding? Both of them are up here."
Stewart and Busch, in case you're wondering.
Today's stunner: Ever wonder what it would be like to have your boss announce to the world that you're going to have a baby? Carl Edwards, Greg Biffle and Matt Kenseth found out during the lunch media stop at Jack Roush's airplane hangar in Concord, N.C.
Yes, all three drivers are having kids this season. Kenseth's is due the Monday after the Feb. 20 Daytona 500. Edwards' is due around Darlington week in May and Biffle's due date is near the July race at Daytona.
Kenseth doesn't know the gender of his. Asked if he wants to know, he sarcastically said, "Yeah, as soon as it pops out."
Closing thought: From NASCAR chairman Brian France introducing us to a new points system that really doesn't change much to Hamlin regaining the confidence that will make him a threat to end Johnson's run of five straight titles, we learned a lot over the past four days.
We'll find out more in the coming weeks as we head to Daytona for the 10th anniversary of Dale Earnhardt's tragic death.
So I'll leave the media tour with this advice from Hamlin:
"The truth is, you know how they say you win some and lose some in life? You win some and lose a lot [gambling]."
November, 17, 2010
11/17/10
5:18
PM ET
CORAL GABLES, Fla. -- Joe Gibbs has been around too many NFL deals where you get a first-round draft pick for a player or pick to be named later.
He opened Wednesday's conference call with the three owners of the Sprint Cup Chase contenders by offering to let Rick Hendrick (Jimmie Johnson) and Richard Childress (Kevin Harvick) win the championship the next two years if they let him win this year with Denny Hamlin.
[+] Enlarge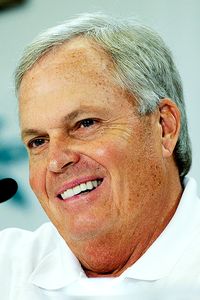 Sam Greenwood/NASCAR/Getty ImagesRick Hendrick, above, jokes to fellow Sprint Cup team owner Joe Gibbs: "If I knew how good you were going to be, Joe, I wouldn't have helped you."
"That's on scout's honor,'' said the owner of Joe Gibbs Racing, who won three Super Bowls as head coach of the Washington Redskins before turning to NASCAR. "And next year I might go, 'What?' I've been known to renege on stuff.''
Hendrick and Childress didn't bite.
But it was an interesting way to start a call that offered much insight on the Chase, the sport and the three teams that hope to win a championship on Sunday at Homestead-Miami Speedway.
Here are a few highlights as Hamlin takes a 15-point lead over Johnson and 46-point advantage of Harvick into the weekend:
• What would surprise you on Sunday?
"I would be surprised if we had an answer before the white flag,'' Hendrick said.
"What would surprise me is if any of these three teams were to go down easy,'' Gibbs said.
• Are all three of you sitting in the same room for this?
"No,'' Childress said. "We're the owners. We have to all still be here and work.''
Well, not all. Hendrick was fishing on his yacht somewhere in South Florida.
• The Chase arguably is the best since the inaugural one in 2004 that Kurt Busch won by eight points over Johnson and 16 over Jeff Gordon. So why are television ratings and attendance sagging?
"I don't think Rome is burning in NASCAR,'' Childress said. "We still have a great sport. We have great fans. The economy has touched every sport at some point. We will come back and be as strong as we ever were.''
Ditto, said the other two.
• Who has the biggest knot in their stomachs -- the owners, drivers or crew chiefs?
"I definitely do,'' Gibbs said. "Great athletes in pro sports, the ones I've been around, they have an amazing ability to relax.''
• What is your greatest fear on Sunday?
"From my standpoint, I hope there is no debris in the last few laps,'' Hendrick said.
For the record, he didn't come out and say that mystery debris is what got Hamlin in trouble with NASCAR earlier this year.
• Considering Hendrick Motorsports has won the past four titles with Johnson and finished 1-2-3 in points a year ago, would this season be a disappointment if Johnson doesn't win the title (with Gordon, Mark Martin and Dale Earnhardt Jr. not having won a race)?
"I don't think this is a disaster by any stretch, but we're not satisfied,'' Hendrick said. "I don't think we've made as much improvement as Richard's organization has made or Joe's organization.''
We're still waiting on an answer to the follow-up question about whether the pressure is on Earnhardt (19th in points) to turn things around since Hendrick has thrown everything he can into the No. 88 team.
• Did Hendrick and Gibbs study RCR, in the midst of six championships with the late Dale Earnhardt, when entering the sport?
Hendrick definitely did, saying "Richard showed us how you have to prepare and run for a championship. You've got to be there and you've got to race every race and every lap, and you've got to finish.''
Gibbs reminded us that Hendrick loaned then-general manager Jimmy Johnson to work with him on starting up a team. The owner with three titles also reminded us that he has nothing but respect for Hendrick with nine titles and Childress with six.
"Hey, it's only fair for those guys to at least give us another one or two here to at least even this thing up,'' Gibbs said.
Replied Hendrick, "If I knew how good you were going to be, Joe, I wouldn't have helped you.''
• Is there a special reward owners offer for winning the title?
All three agreed that after paying bonuses and incentives within the organization, they'll clear very little, if any, and that the biggest thing is winning the trophy for the pride of being champion.
But Gibbs added, "Every week I walk up to the drivers and say, 'Hey, you've got the good end of this deal. You make all the money, get all the girls and get to have all the fun.' ''
Still no takers on the opening deal, by the way.
November, 16, 2010
11/16/10
6:06
PM ET
CHARLOTTE, N.C. -- I was catching up on leftover thoughts during the Phoenix-to-Philadelphia-to-Charlotte red-eye home.
OK, so there was a nap in between.
But there were a lot of side stories that might have been overlooked while the focus was on the closest Chase in history -- Denny Hamlin is 15 points ahead of Jimmie Johnson and 46 up on Kevin Harvick -- after Sunday's Sprint Cup race at Phoenix International Raceway.
Here are a few:
---
The RPM saga: Although Richard Petty Motorsports made it to PIR and will be in Homestead-Miami for the season finale, what's going on behind the scenes remains intriguing.
I'm told that most of the work normally done on the RPM cars has moved to Roush Fenway Racing in the adjacent shop in Concord, N.C. Whether that's to save money or to ensure the cars don't get released without the latest installment check, nobody could verify.
Bottom line, Roush Fenway wants to keep RPM alive not only for Ford but also for its chassis and engine-rental business.
As for next year, Richard Petty says things remain in limbo while he continues to talk to investors about taking over majority interest from financially strapped George Gillett.
And the Charlotte television report that Petty received an infusion of money from Ray Evernham, who's still owed a large sum of money from Gillett after selling majority interest of Evernham Motorsports in 2007, was not true. But Evernham has made provisions to help Petty if needed.
---
Limbo Part II: Scott Speed likely will drive in his last Sprint Cup race for Red Bull Racing at Homestead. Team officials are confident that Brian Vickers, sidelined in the spring after blood clots were discovered, will pass all tests when he is taken off blood thinners in the near future and be ready to retake his spot in the No. 83.
Kasey Kahne will drive the car currently occupied by Speed.
Speed said he has no clue what he'll do in 2011, in part because Red Bull Racing hasn't given him permission to talk to other teams.
---
Busch-whacked II: Remember Kurt Busch's run-in with Avondale's finest while leaving PIR in 2005? Little brother Kyle had a little run-in leaving the track on Sunday night.
Driver J.J. Yeley tweeted that while leaving the track, "Kyle Busch tried to cut the exit line. Almost ran over a PIR employee."
He also tweeted that Busch was stopped by local law enforcement. Team and track officials said Busch didn't hit anybody with his car and wasn't ticketed or arrested.
Kurt wasn't so lucky in 2005. He was cited for reckless driving by the Maricopa County Sheriff's Office and suspended for the final two races by the Roush Fenway team he was leaving for Penske Racing after the season.
Kurt went on to perform 50 hours of community service and became friends with local sheriff Joe Arpaio.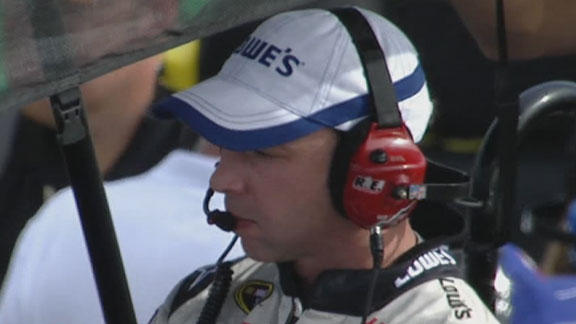 November, 13, 2010
11/13/10
1:58
PM ET
AVONDALE, Ariz. -- Mike Ford smiled as he looked at the group of reporters that gathered in the Sprint Cup garage for the pit-stall selection process Saturday morning at Phoenix International Raceway.
"Where were you guys at Kansas?" Denny Hamlin's crew chief asked.
Ford was referring to Chad Knaus' decision to pit Jimmie Johnson in front of Hamlin during the third Chase race, violating what he considered a gentleman's agreement not to pit around each other.
It came to light last weekend at Texas Motor Speedway when Ford returned the favor and pitted ahead of Johnson, a move Ford believes worked since Johnson's pit crew performed so poorly that Knaus swapped over-the-wall gangs with teammate Jeff Gordon during the race.
That brought us to Phoenix for arguably the most highly anticipated and media-covered pit-stall selection process in the history of NASCAR. Ford, Knaus and the officials running the show had smirks on their faces as we documented their every move.
Why?
" 'Cause it's funny," Ford said.
It wasn't funny at Kansas. Ford was angry then and still talking about it before Saturday's process, which was intriguing for those of us who have paid little attention to it in the past.
Most races, we take a quick look at the selection chart placed at our seat and then bury it in the pile of quote sheets. But with so much on the line, with Hamlin 33 points ahead of Johnson and 59 ahead of Kevin Harvick, and with such a big deal made about last week's selection, it became an event.
For the record, it appears Harvick won. He'll be pitting in the 37th spot, with start-and-parker Dave Blaney ahead of him and potential start-and-parker Bobby Labonte behind him. Johnson has the 39th stall, with Labonte behind him and Paul Menard ahead of him, so he at least has a chance to have lapped-down cars around him late in the race.
Hamlin is surrounded by trouble on both sides in the No. 18 stall, with Johnson teammate Dale Earnhardt Jr. in front of him and Harvick teammate Jeff Burton behind him. For the record, this could be the first time Earnhardt has been involved in the outcome of the Chase in a while.
Yep, there's strategy involved.
Mind games, too.
Hamlin will have to wonder every time he pits whether Earnhardt or Burton will do something to slow him down. It happens. Robbie Loomis reminded me of it last week when recalling the Chase finale at Homestead-Miami Speedway when he crew-chiefed for Gordon.
"Chad and I had a deal we never picked around each other," said Loomis, now the vice president for competition at Richard Petty Motorsports. "In '04 we qualified good and he qualified bad, and he picked right ahead of us. He finished second in points and we finished third.
"I'll remember that the rest of my life. I think the quote from Jeff was, 'You tell him if he leaves that right rear hanging out one more time, I'm going to drive through him.'"
Drivers aren't allowed to leave the right rear of the car outside the box anymore, but the strategy to disrupt neighboring pit crews remains.
Because of it, we'll all be back next week at Homestead making Ford smile again.
March, 28, 2010
03/28/10
4:09
PM ET
MARTINSVILLE, Va. -- Denny Hamlin had to reschedule Monday's surgery to repair the torn ACL in his left knee. Juan Pablo Montoya had to reschedule a trip to his native Colombia. Jeff Burton had to reschedule a fly-fishing trip on Lake Norman in Charlotte, N.C.
Sunday's rainout of the Sprint Cup race at Martinsville Speedway not only inconvenienced fans who drove hundreds of miles but also drivers and crew members who looked forward to vacations and other activities during an open week on the calendar. The Goody's Fast Pain Relief 500 was rescheduled for Monday at noon ET.
"My plans to Aruba just got canceled," Regan Smith said.
OK, Smith was joking. He doesn't have big plans, although he was booked for the Final Four in Indianapolis before top seed Syracuse lost to Butler.
[+] Enlarge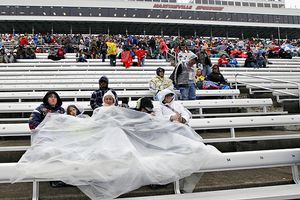 AP Photo/Steve HelberNASCAR fans were hopeful as they waited out a rain delay Sunday at Martinsville Speedway.
As disappointed as Burton was that he won't be able to hone his fly-fishing skills -- "I never said I had fly-fishing skills," he joked -- the rain probably inconvenienced Hamlin the most.
He tentatively rescheduled his surgery for Monday night, but because the driver of the No. 11 Toyota would have to fast before the procedure and there's a problem with the doctor's schedule Tuesday, a more likely scenario is Wednesday.
That means Hamlin will have two fewer days to recover before the April 10 race at Phoenix.
"I haven't talked to him, but I'm sure he's frustrated," crew chief Mike Ford said. "He was pretty anxious to get this taken care of so he could get back to all the active things he likes to do."
Hamlin injured the knee playing basketball in January. He originally planned to wait until after the season for surgery, but increased pain and a concern of further damaging the knee convinced him to take advantage of the upcoming open week.
Hamlin also, according to Ford, simply wants to get back to his lifestyle.
"I'm surprised he made it this long," the crew chief said. "I gave him to Charlotte [race in May]; I wanted it done before Daytona."
Ford isn't concerned with the delay caused by the rainout. The way the procedure was described to him, the knee will be stronger the day after surgery than it was before, and the biggest issue will be how much pain Hamlin can endure, if pain is an issue at all.
Ford said there are no plans for Hamlin to wear a brace or be fitted for a new seat because there simply isn't enough room. He added Hamlin will continue to use his left foot to brake without further injuring the knee.
"There's not a lot we can do," Ford said.
He pointed out that Hamlin has a high pain tolerance, having driven with a broken toe and being "beaten up a couple of times." So no, Ford doesn't anticipate Hamlin will get out of the car and turn it over to backup driver Casey Mears.
Ford also isn't worried that the injury will keep Hamlin, 19th in points, from rallying to make the Chase. He noted the No. 11 team traditionally has started slow, but he also said, "We excel in catching up."
The only thing to catch up on Sunday was rest, which came at a good time after a busier-than-normal week because of a Tuesday and Wednesday spoiler test at Charlotte Motor Speedway following a long weekend at Bristol.
The switch from the wing to the spoiler has generally had most teams working overtime for several weeks in anticipation of the Martinsville debut.
"Sometimes boring is not a bad thing," Burton said. "We all put in a lot of hours. Sometimes you need to stop and catch your breath."
Burton planned to catch his breath watching his favorite basketball team, Duke, in the NCAA regional final and talking with crew members about ways to make his team better.
Asked if they might come up with a plan to stop Jimmie Johnson, who has won three of the first five races, Burton smiled and said, "Ask me tomorrow after the race and I'll tell you."
Yes, there's always tomorrow.