Category archive:

Michael Waltrip
March, 31, 2012
03/31/12
12:34
PM ET
MARTINSVILLE, Va. -- NASCAR finally has entered the wacky world of college football.
There could be a split champion in the Sprint Cup Series.
For the first time since the sport went to a playoff format in 2004, there is the opportunity for a different driver and owner champion. What's next? A BCS poll to determine who makes the Chase?
Here's how this scenario -- that few if any in NASCAR ever imagined when making the guidelines -- would work. Michael Waltrip Racing's No. 55 driven by Mark Martin, Brian Vickers and Waltrip is eighth in owner points. If it is in the top 10 after 26 races the car's points will be reset just like the driver's points and it is eligible for the owner's championship.
[+] Enlarge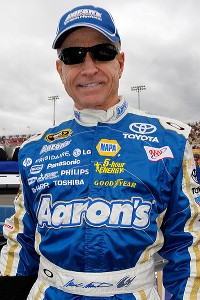 Jonathan Ferrey/Getty ImagesIs Mark Martin going to be the key to a split Sprint Cup title?
If the car has the most points after the 10 Chase races, it wins the title, not the owner of the car for the driver who wins the title, as has been the case so far.
That means there would be two tables on the stage for the banquet in Las Vegas, one for the driver's champion and one for the owner's champion.
If you really want to get crazy, try this scenario: MWR's Clint Bowyer or Martin Truex Jr. wins the driver title and the 55 has the most owner points. Where does owner Michael Waltrip sit in Vegas?
"On cloud nine," Waltrip joked.
But trust me, the split title is a possibility. It's on Page 36 of the NASCAR rulebook under Section 17-3-B. And you thought the only rule that existed was Section 12-4-A, aka "actions detrimental to stock car racing."
Here's what the rulebook says, "After the completion of the first 26 Events of the current NASCAR Sprint Cup Series Championship season, the top 10 drivers in the driver championship point standings and the top 10 car owners in the car owner championship point standings will each have their accumulated aggregate total adjusted to $2,000 points."
"It's always been there," Series director John Darby said.
Darby said the odds of that happening are long. The 55 could fall out of the top 10 on Sunday if Brian Vickers has another run here like he had in October.
Darby also admits that anything is possible when you have Martin driving a majority of the races.
Wouldn't that be crazy?
January, 25, 2010
01/25/10
1:49
PM ET
CHARLOTTE, N.C. -- Brad Keselowski dribbled awkwardly around the orange cones at the Charlotte Bobcats' Time Warner Arena on Saturday, completed a shaky chest pass through a large ring and stepped to the free throw line.
Air ball. Air ball. Air ball.
Rim shot. Rim shot.
Air ball.
Finally, swish.
It got worse on the other end when the Penske Racing driver went in for a layup off the wrong foot and tossed the ball toward the rim with the wrong hand -- three times before making it.
Keselowski didn't make a good argument for NASCAR drivers being athletes, even though four-time defending Sprint Cup champion Jimmie Johnson was named the Associated Press Athlete of the Year in 2009.
But he did cement the argument that drivers will do anything -- even if it means embarrassing themselves in front of more than 18,000 people -- for a good cause.
In this case Keselowski, Michael Waltrip, Ricky Stenhouse Jr. and Kelly Bires competed in a basketball skills competition as part of a joint effort between NASCAR and the Bobcats to raise relief funds for Haiti.
No one cared how ridiculous he looked, and a few did look ridiculous in the competition won by Stenhouse, subbing for Denny Hamlin, who was sidelined with a torn ACL suffered the day before playing basketball.
"I say this all the time about drivers, they'll do anything for charity," said Kyle Petty, one of many other drivers also on hand to raise funds. "After watching those four there, that proves it. There were a bunch of 8-year-olds over there laughing at them."
Petty sacrificed, as well. The game originally was scheduled to raise money for his Victory Junction Gang camp for terminally and chronically ill children. But after earthquakes devastated Haiti, he and his wife Pattie agreed to forego a majority of the proceeds earned through ticket sales and donations to send funds to Haiti.
On top of that, the NASCAR Foundation donated $250,000 to Missionary Flights International, the group out of Florida that is coordinating planes such as the ones Hendrick Motorsports supplied to fly doctors, relief crews and supplies into and out of Haiti.
Keselowski's brother actually wound up on a Hendrick plane to Haiti after flying from his home in Michigan with a Christian mission group.
"We're all doing a little bit to help out," Keselowski said.
That included going outside their comfort zone to play basketball.
"Was that a skills competition or unskilled competition?" Petty asked with a laugh.
Yes, they had fun with this. Waltrip, who has donated one of his planes to fly doctors and supplies to Florida, was in rare form when it was noted that he and Keselowski looked the most out of place.
"I can't even believe you put me on the same level as Keselowski," said Waltrip, who claims his awkwardness was the result of a flagrant trip from a spectator. "[Keselowski is ] in a sissy league. I can play basketball pretty good when I'm in a more confined environment. Get me in the paint, baby, and I'm good."
At least he knew the free throw lane is called the paint. Otherwise, he looked as foreign there as he does in Victory Lane. Sorry, Michael, couldn't resist. At least I didn't say you dribbled like a girl. Or did I?
Or was that Keselowski that was directed at?
"Hey, I never said I could play basketball," said Keselowski , whose last-place time of 52 seconds was 20 seconds slower than Stenhouse's winning run. "I get paid to drive race cars.
"And I might have been the worst one out there, but the fans had more fun watching me."
They probably did. And it all was for a good cause, so that made it worth it.
***
Speaking of Hamlin.
Orthopedic specialist Dr. Robert Wyker says the torn ACL Hamlin suffered over the weekend should not limit him in competition once the swelling goes down.
Wyker said Hamlin should be ready to go with little to no pain in the left knee when Cup drivers begin preparing on Feb. 4 for the Budweiser Shootout and Daytona 500.
"Once the swelling goes down, the ACL in my opinion will not interfere with driving at all," said Wyker, who works for Raleigh (N.C.) Orthopaedic Clinic that represents the NHL's Carolina Hurricanes, N.C. State athletics and the Carolina ballet. "It's usually only a problem with cutting-type activities, people that play basketball and football and sports like that."
Hamlin tore the ACL in a pickup basketball game on Friday.
A team spokesman told ESPN.com's Marty Smith that the injury should not limit the driver. Wyker concurred.
"Lots of people can have a torn ACL and if you're running in a straight line or walking, you can do OK," said Wyker, who has spent time in a stock car in the Richard Petty Driving Experience.
Hamlin's movement in the car basically will be pushing in and out on the clutch and brake.
Wyker said Hamlin's biggest problem might be getting in and out of the car, which often requires a twisting motion. He agreed with the driver's decision to wait until the offseason for surgery, noting it normally takes four to six weeks for the knee to heal enough to handle the stress required in NASCAR competition.
He said there should be no long-term complications.
"The knee would be pretty swollen initially [after surgery]," Wyker said. "My question then would be drive duration. The knee might start aching and giving discomfort, taking his mind off what it should be on. After that, he should be fine."
Hamlin, who was limping badly at the Bobcats' game, remains optimistic. Considered a threat to end Jimmie Johnson's string of four straight Cup titles, he posted on his Twitter page Sunday night that "no matter what people may think this injury will not stop me from being a contender this year."
"I have always been very active outside of racing, mostly to stay in shape," he continued on his page. "This is a minor setback that will only serve as motivation for me."
September, 18, 2009
09/18/09
3:09
PM ET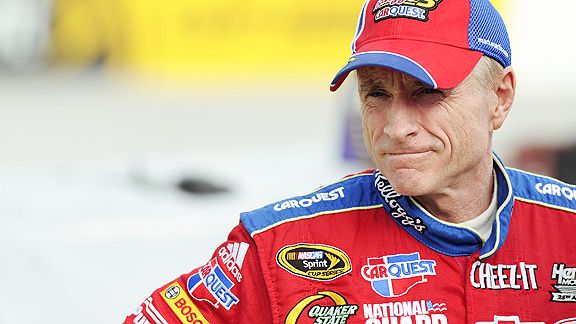 John Harrelson/Getty ImagesMark Martin had already announced he would be back with Hendrick Motorsports in 2010. He will also return in 2011, with GoDaddy.com as his sponsor for both seasons.
We all like to speculate on why certain things happen. Like the fans on my Thursday chat who decided Matt Kenseth overshot his pit box in Saturday night's Sprint Cup race at Richmond on purpose to force Michael Waltrip, who appeared on numerous occasions to block the 2003 champion in his pit box, to make an extra lap.
The conspiracy theory here is that Waltrip was doing what he could to keep Kenseth out of the Chase and help fellow Toyota driver Brian Vickers get in.
Makes sense when you think about it.
So when it was announced Friday that 50-year-old Mark Martin had extended his contract with Hendrick Motorsports yet another season into 2011, I began to wonder why.
Here are a few theories:
• Martin will drive the No. 5 GoDaddy.com-sponsored car until IRL darling Danica Patrick is ready to take over. Patrick, who already has a relationship with GoDaddy.com, will drive two years in the Truck and Nationwide Series for Kevin Harvick Inc., with an assist from Tony Stewart.
In 2011, Stewart will have expanded to four teams with Kevin Harvick, who will leave Richard Childress Racing, and Kasey Kahne, who will say goodbye to Richard Petty Motorsports -- or whatever it is called by then. Stewart doesn't hold a seat open for Patrick because, quite frankly, the two-time Cup champion has a hard time keeping a woman.
Patrick will become the fourth member of HMS with Jimmie Johnson, Dale Earnhardt Jr. and Kyle Busch. Oh, did I mention, Jeff Gordon will have retired and Busch will be brought back to drive the No. 24? OK, so that part is a bit far-fetched, but everything else could happen.
• Martin will sign his third extension with HMS, keeping him in the No. 5 GoDaddy.com car through 2012. By then Brad Keselowski's deal with Penske Motorsports will have expired and he'll return to drive the car he was meant to have before Martin signed his first extension.
Remember, Hendrick already warned fellow owners he might get Keselowski back one day.
• Martin will drive the No. 5 until his son, Matt, is married and starting a family. GoDaddy.com will change its name to GoGranddaddy.com and Martin will win his first championship at the age of 55 and retire to replace Ellen DeGeneres as a judge on "American Idol."
Hey, the guy knows music almost as well as he drives.
• Martin will drive the No. 5 through 2011, and by then another sponsor and another up-and-coming driver will be in the picture. Maybe it will be Austin Dillon, who by then will realize he's better off in HMS equipment than sticking with his granddaddy in the No. 3 at RCR.
Oh, did I mention the No. 3 would be back on the track again?
I have no evidence to suggest any of this will occur. As a friend in the sport often has said, he likes discussing scenarios with me because I think outside the box and about 70 percent of them wind up coming true.
Got a better scenario? Let's hear it.