Category archive:

Sam Hornish Jr.
November, 12, 2011
11/12/11
7:01
PM ET
AVONDALE, Ariz. -- A former IndyCar Series driver won Saturday's Nationwide Series race at Phoenix International Raceway, but it wasn't Danica Patrick.
The JR Motorsports driver spent more time driving from her Phoenix home to the track than she did on the lead lap of a race won by 2006 Indianapolis 500 champion Sam Hornish Jr.
Patrick was involved in a multicar crash on the first lap that immediately put her two laps down. She finished 21st, four laps down.
[+] Enlarge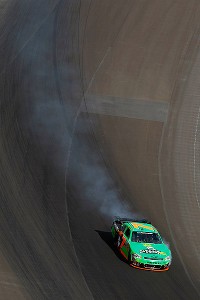 Todd Warshaw/NASCAR/Getty ImagesDanica Patrick limped off the track at Phoenix International Raceway after getting tangled up in a Lap 1 accident.
"Sorry," Patrick said over her radio immediately after the wreck.
Patrick, outside of this race at her home track, hasn't had much to be sorry about this season. Her average finish going into the race had improved from 28.0 in 2010 to 15.6. At one point she had three top-10s in four races.
She had nothing really to be sorry for Saturday as the wreck wasn't her fault.
"If I qualified higher I wouldn't have been in that situation," radioed Patrick, who qualified 25th.
Good point.
But Patrick did, despite a heavily damaged car, miss the six other multicar wrecks. Not everybody can say that. Elliott Sadler saw his championship hopes dashed because Jason Leffler dumped him, virtually locking Ricky Stenhouse Jr. into the championship.
"It just sucks when it happens so early," Patrick said of being knocked out of contention. "The early ones and the late ones are real sucky for me."
Patrick later settled into a groove and told crew chief Tony Eury Jr., "we can use this as an entire test session."
"Whatever you want me to try so when we come back in the spring we'll know what we are doing," she said, referring to the second race next year when she'll be competing in her first full Nationwide season.
She did.
"It sucks," Eury said. "You have them kind of days. You've just got to minimize them next year. That she got through the race is a positive. That's part of the game."
The improvement Patrick has made this season and what we saw out of Hornish set the stage for two former IndyCar drivers to be contenders for the 2012 championship.
As much as Patrick was disappointed that she didn't have a chance to compete, you had to feel good for Hornish. He failed miserably when elevated to the Cup series way too fast, finishing no better than 28th in the standings in three full seasons for Penske Racing.
That ultimately cost him his ride after 2010 and forced him to move back to Nationwide to start over.
"You're going to see a lot of Hornish in the winner's circle in the future," said team owner Roger Penske, who conceded he rushed Hornish into Cup too soon.
You may not see Patrick in Victory Lane anytime soon, but she is taking the right approach. She's shown after two part-time Nationwide seasons that she's ready for full-time competition next year.
Only time will tell if she'll be ready for a full-time Cup ride in 2013, but she's doing the right thing by easing into NASCAR's top series with a part-time schedule in 2012.
The best part of this weekend for Patrick was she got to sleep in her own bed.
The best part for that other IndyCar driver was he got to spend it in Victory Lane.
March, 24, 2010
03/24/10
11:33
AM ET
CONCORD, N.C. -- Darrell Waltrip, as usually the case, was on a roll Monday at the unveiling of his No. 11 Mountain Dew Buick that will be on display when the NASCAR Hall of Fame opens on May 11.
Here are some of the highlights:
• The driver with three Sprint Cup championships and 84 career wins obviously thinks he should be in the Hall's second class. Until he realized founding fathers Bill France and Bill France Jr. were eligible, you can read between the lines and figure he thought he should be in the first class.
"If someone said, 'How would you do that?' I'd have made the Frances the founding fathers of the Hall,'' Waltrip said. "The father and son that started the sport. They would have been the big plaques and statues out front of the place. That would have opened up room for a couple more drivers.
"My first impression was the place was just going to be drivers. If they took five drivers, I'm on the edge. Me, Bobby [Allison], Cale [Yarborough]. We have similar records. Wins, championships, performancewise, we all are about the same.''
Waltrip had no problem with Richard Petty, Dale Earnhardt and driver/owner Junior Johnson being the first three drivers. He admitted David Pearson being left out threw a wrench in things, but Waltrip said he still thinks he deserves a shot at the 2011 class.
"I heard Richard say they need to honor the old guys,'' said Waltrip, referring to those that began the sport but had lesser records than more recent stars. "Well, that's easy to say whenever you're already in.''
By the way, Waltrip believes his broadcasting career should count in his overall body of work.
Here are some more of his thoughts:
• On why points leader Kevin Harvick got into the Brad Keselowski-Carl Edwards feud by calling Edwards a fake in a radio interview: "This is just my observation. He's leading the points, none of you all were noticing. He's running really well. You all were noticing that a little bit. But he hasn't been the center of attention and Carl and Brad were, and he thought he ought to get his dog in that fight.
"That's where those comments came from. There are people in this sport who are antagonists, and he likes to be one of those. He stirs the pot.''
For the record, Harvick disagreed, saying, "No. You guys want it so you can give your opinion, then you want to bury us after we give it to you to make somebody look as bad as possible. It is one of those things. You say something, it goes as far as everybody wants to take it. But I have an opinion on a lot of things.''
• On what Steve Addington, the crew chief for Kurt Busch, has brought to Penske Racing: "I don't know what he's brought over there, but you look at Sam Hornish and Keselowski. Last year, Keselowski ran a few races in the 12 car and you didn't know he was in the race. Had a slow start this year, but Addington has helped the whole Penske program. He's a Penske prototype. That's where he helped the whole organization.''
• On Dale Earnhardt Jr.: "I told Rick [Hendrick] I'd run him in truck races. He needs to get somewhere he can win. I'd get him in a truck, not a Nationwide car, but a truck. They're fun to drive. You have a good time in the Truck Series. If I were Junior, I'd talk to Harvick and ask to drive the 2 truck.
"And I'd win a couple races. That's what he needs. Would really help his confidence, and his fans would enjoy seeing him do that. It'd be a win-win.''
Earnhardt's response: "Well, I mean, I don't have any interest in driving those trucks. I want to drive a truck race, I guess, before I retire just to see what they feel like. And Harvick said I could drive his truck anytime I wanted to. Hopefully, that offer will be around for quite a while, because I don't plan on doing it anytime soon. I have plenty of confidence in myself."