Super Bowl and 500 would not mix well
March, 27, 2009
03/27/09
11:08
AM ET
CHARLOTTE, N.C. -- If you don't understand the power of the NFL, you will after you read this piece.
Owners at the NFL's league meetings this past week discussed lengthening the regular season by a few games, likely by the 2011 season. That means the Super Bowl would be pushed deeper into February than normal, likely falling on the date of the 2012 Daytona 500.
[+] Enlarge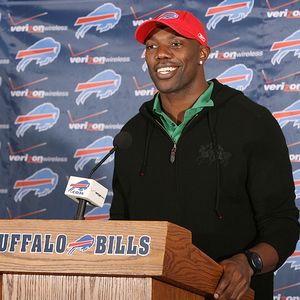 James P. McCoy/Buffalo NewsWant proof the NFL rules the roost? Just remember the Terrell Owens saga.
That means the 500, NASCAR's Super Bowl event, would have to move.
Sponsors certainly don't want a Super Bowl-Daytona 500 doubleheader, especially Sprint, which plays a big role in the NFL and owns the title name for NASCAR's premier series. Television partners certainly don't want it because that would kill ratings and make selling ads for the 500 even tougher than it was this past season.
NASCAR doesn't want the events to coincide because of all of the above.
And if you think the number of media attending the 500 and other NASCAR events has shrunk, wait until you see the 500 trying to go head-to-head with the biggest annual sporting event in the country.
There may be more media covering the NFL meetings than the 500.
To those who wonder whether the NFL would adjust its schedule, perhaps starting its regular season in mid-August to alleviate such a conflict, get real. The NFL has 10 times the audience of NASCAR, and NASCAR is promoted as the second-most-viewed sport on television.
When a colleague thought Terrell Owens' release by the Dallas Cowboys was overblown, I tried to tell him that he hasn't been paying attention. I later noted the Owens news story on ESPN.com had almost 7,000 comments within a few hours.
A good Dale Earnhardt Jr. story is lucky to draw 200 comments.
That's no knock on NASCAR's most popular driver, who garners 10 times the attention of any other driver. It just shows the power of the NFL.
Here's my suggestion: If the NFL lengthens its season, NASCAR should shorten its season and start it later. Cut the season back to 34 or even 32 races. Cut Speedweeks at Daytona from two weeks to one. Run the Budweiser Shootout on Wednesday, the qualifying races on Thursday and the big show on Sunday.
Take advantage of this situation and do what fans and even some drivers have been asking for.
The season already is too long.
In a dream world, the NASCAR season would end when the NFL season starts anyway. But that's another story for another time.
This is about the power of the NFL, and when it comes to Super Bowls, there isn't room for two on the same day.