Martin says back pain won't stop Gordon
August, 15, 2009
08/15/09
3:53
PM ET
BROOKLYN, Mich. --
Jeff Gordon
was irritated Friday at Michigan International Speedway. Not by the back pain that has been bothering him all season, but by the constant questions concerning how his lower back was holding up after Monday's horrific crash at Watkins Glen.
Finally, he snapped. Not his back, but his demeanor.
The four-time Sprint Cup champion told reporters to stop asking about his back, to move on to another topic. He said he was fine.
Not everyone believes that to be true. Some would suggest that the injury is more serious than Gordon lets on, that not wanting to talk about it was his way of avoiding how serious it is.
[+] Enlarge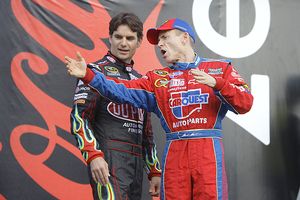 AP Photo/John RaouxIf anyone knows what Jeff Gordon is going through, it's Mark Martin, who has a history of back trouble.
Some believe the ailing back could be career-shortening.
Gordon did offer that doctors had told him that another hard lick wouldn't damage him permanently, which is good news if true. But it is clear that this isn't something that will clear up overnight or by taking a weekend off.
Mark Martin understands. The back pain he endured through the 1998 and 1999 seasons was so intense that he became a miserable man. He felt as though his life had "a restrictor plate on it that was just choking the sweet part right out."
He finally had surgery the week after the '99 season to fuse two degenerative vertebrae in his lower back. He was back in a car in January.
Today, at 50, he is a happy man, living life to its fullest. He'll start beside pole-sitter Brian Vickers on the front row for Sunday's Sprint Cup race hoping to duplicate his June victory at MIS and solidify his position in the Chase with a fifth victory.
He also empathizes with Gordon, who despite the back is third in points. Although their injuries are different, he says the pain is just as debilitating.
"It was a setback," Martin said of his injury. "It was a physical setback."
But Martin no more thought of taking a weekend off than Gordon will. He actually had one of his best seasons under the most intense pain, winning seven races and finishing second to Gordon in '98.
He sees no reason Gordon can't compete for a title with his problem.
"You might smile less, but I don't think it has any impact on performance," Martin said. "We're not trying to squat 275 pounds."
Again, Martin's problem was different. The most comfortable place for him was the car because of the way the seat hugged his body and the heat produced in the seat. It was almost like a massage.
Gordon, who earlier this year had a facet block to relieve the pain, still has spasms in the car. There are times, like the spring race at Bristol, where the pain was so severe that he admitted it could shorten his career.
"I can't race like that for long periods of time," he said at the time.
Martin understands that as well. He's talked to Gordon about the pain. He's offered the best advice he can.
"You just have to grit it out," he said.
Martin gritted it out because he loves to compete more than anything. That's why, at an age that sees most drivers fishing or playing golf, he's working harder than ever to stay in shape so he can keep up with young guns such as Kyle Busch and Carl Edwards.
He's doing a good job of that, too. If the Chase field were reshuffled today, he'd jump from 11th in points to first because he has a series-leading four wins.
Gordon loves to compete as well, but not to the point that he wants to do this at 50. He wants to spend more time with his wife and daughter and pursue other opportunities outside of racing.
With longtime sponsor DuPont looking to take a lesser role and perhaps get out of the sport, the back problem may speed up the retirement process. Gordon is 38 now, and the consensus is that he likely won't race past 40.
But for now he wants to win another title, and back pain won't stop him from giving his all to do that. It definitely won't get him to take a weekend off.
"I was worse at the beginning of the year than I am now, and I had the whole offseason," he said with a laugh. "So no, I haven't considered it."
Martin felt the same way in '98 and '99. At times he barely could walk from his hauler to his car, but he would have driven in a full body cast rather than skip an event.
So Martin drove on, just as Gordon will drive on. Some might argue the safety improvements of the new car should ease any concern of further damage. Martin doesn't buy that.
"I don't really feel safer in this car, not really," he said. "You have to understand you get injured by weird, freaky deals."
Martin does agree with Gordon that all the technology designed to protect the head and shoulders -- the HANS (head and neck support) and carbon seat -- after Dale Earnhardt's 2001 death puts more strain on the lower back in hard crashes.
He admittedly was made nervous by the pain he felt after a hard crash on the sixth lap at Talladega earlier this year.
"I'm not sure what all is going on there," he said.
He's not totally sure what all is going on with Gordon's back, either. As he likes to remind us, he's not a physician.
"All I know is his [back] isn't requiring fusion, based on what he's told me," he said.
But Martin is living proof that Gordon can compete for a title despite the pain, and that if he gets through these back issues and decides to extend his career well into his 40s, he can.
Meanwhile, as Martin said, he might smile a little less.
Or get as irritated as he did Friday.