Evernhams live happily ever after
August, 27, 2009
08/27/09
3:27
PM ET
LAS VEGAS -- Sometimes stories have happy endings.
Let me introduce you to Erin Crocker Evernham.
That's right. The once-controversial first couple of NASCAR is married.
[+] Enlarge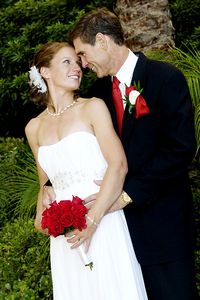 Jill JenningsRay Evernham and new bride Erin Crocker Evernham married Wednesday night in Las Vegas.
Ray Evernham and Erin Crocker exchanged vows Wednesday night in a Las Vegas hotel in front of immediate family members and friends -- and me. I ironically witnessed the event because my wife, a close friend and associate of the couple, was asked to plan it.
Being a part of this story was a bit surreal. No, a lot surreal. Let me digress.
Three years ago, Ray was sole owner of what was then Evernham Motorsports. When he began dating Erin, his company's developmental driver, it became a story.
Ray brought that up during a Tuesday night rehearsal dinner. We laughed about it then, how he actually fingered me in the chest at a Chicago race and in very stern words suggested I shouldn't be digging into his personal life.
That's not an issue anymore. Evernham sold most of his Sprint Cup organization to Montreal Canadiens owner George Gillett. He's now an analyst for ESPN, the owner of a small dirt track near Charlotte, N.C., a part-time karaoke singer (more on that later) and the proprietor of Ray Evernham Enterprises, which includes an automotive museum and houses a stable of sprint, modified and late-model race cars.
And he's a husband.
A very happy one.
Ray and Erin aren't a soap-opera story for NASCAR anymore. Erin drives sprint cars, and in lieu of the honeymoon, she will spend the weekend racing in Knoxville, Iowa.
But on Wednesday she was a beautiful bride, proud to be walking down the aisle to the man of her dreams. Racing and all that the couple endured a few years ago were well in their rearview mirror. The loving smiles they exchanged said all anybody needed to know.
Before this gets sappy, let's get back to the karaoke singing. Ray occasionally takes the microphone from a small stage in his museum that has a restaurant designed after a 1950s diner. He loves Motown music and loves to sing it.
As he said at some point during the night, he'd rather be reincarnated as a Motown singer than win another Daytona 500. Like most who indulge in karaoke, Ray believes he can sing. His wedding band, The Next Movement, allowed him to partake in a version of "Under the Boardwalk." The vocals were a bit pitchy, and Ray has a ways to match the band's slick arm and dance movements.
My advice to Ray: Stick to your day job.
Erin seemed to enjoy it, though. I guess love is not only blind, but also deaf.
And she is in love. They both are.
Sometimes stories have a happy ending, and this one had a very happy one.