Martin's extension sets off flurry of weird scenarios
September, 18, 2009
09/18/09
3:09
PM ET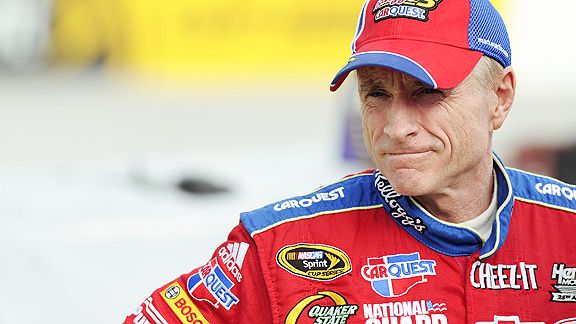 John Harrelson/Getty ImagesMark Martin had already announced he would be back with Hendrick Motorsports in 2010. He will also return in 2011, with GoDaddy.com as his sponsor for both seasons.
We all like to speculate on why certain things happen. Like the fans on my Thursday chat who decided Matt Kenseth overshot his pit box in Saturday night's Sprint Cup race at Richmond on purpose to force Michael Waltrip, who appeared on numerous occasions to block the 2003 champion in his pit box, to make an extra lap.
The conspiracy theory here is that Waltrip was doing what he could to keep Kenseth out of the Chase and help fellow Toyota driver Brian Vickers get in.
Makes sense when you think about it.
So when it was announced Friday that 50-year-old Mark Martin had extended his contract with Hendrick Motorsports yet another season into 2011, I began to wonder why.
Here are a few theories:
• Martin will drive the No. 5 GoDaddy.com-sponsored car until IRL darling Danica Patrick is ready to take over. Patrick, who already has a relationship with GoDaddy.com, will drive two years in the Truck and Nationwide Series for Kevin Harvick Inc., with an assist from Tony Stewart.
In 2011, Stewart will have expanded to four teams with Kevin Harvick, who will leave Richard Childress Racing, and Kasey Kahne, who will say goodbye to Richard Petty Motorsports -- or whatever it is called by then. Stewart doesn't hold a seat open for Patrick because, quite frankly, the two-time Cup champion has a hard time keeping a woman.
Patrick will become the fourth member of HMS with Jimmie Johnson, Dale Earnhardt Jr. and Kyle Busch. Oh, did I mention, Jeff Gordon will have retired and Busch will be brought back to drive the No. 24? OK, so that part is a bit far-fetched, but everything else could happen.
• Martin will sign his third extension with HMS, keeping him in the No. 5 GoDaddy.com car through 2012. By then Brad Keselowski's deal with Penske Motorsports will have expired and he'll return to drive the car he was meant to have before Martin signed his first extension.
Remember, Hendrick already warned fellow owners he might get Keselowski back one day.
• Martin will drive the No. 5 until his son, Matt, is married and starting a family. GoDaddy.com will change its name to GoGranddaddy.com and Martin will win his first championship at the age of 55 and retire to replace Ellen DeGeneres as a judge on "American Idol."
Hey, the guy knows music almost as well as he drives.
• Martin will drive the No. 5 through 2011, and by then another sponsor and another up-and-coming driver will be in the picture. Maybe it will be Austin Dillon, who by then will realize he's better off in HMS equipment than sticking with his granddaddy in the No. 3 at RCR.
Oh, did I mention the No. 3 would be back on the track again?
I have no evidence to suggest any of this will occur. As a friend in the sport often has said, he likes discussing scenarios with me because I think outside the box and about 70 percent of them wind up coming true.
Got a better scenario? Let's hear it.