Pushing the envelope is what good crew chiefs do
October, 2, 2009
10/02/09
11:22
AM ET
CHARLOTTE, N.C. -- The Sprint Cup cars of Jimmie Johnson and Mark Martin, which finished first and second on Sunday at Dover, were deemed "extremely close on some of the tolerances" during a postrace inspection at NASCAR's Research and Development Center.
Big deal.
Crew chiefs and now engineers have been pushing the gray areas for as long as the sport has existed. That is their job. As long as they stay within the rules, no matter how close to the tolerances, they have done nothing wrong.
[+] Enlarge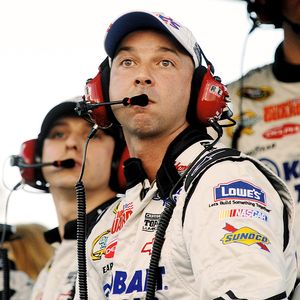 Mark J. Rebilas/US PresswireChad Knaus has been considered an innovator, and the car he put under Jimmie Johnson for the AAA 400 victory last Sunday apparently fit that bill.
NASCAR didn't penalize the two Hendrick Motorsports teams, so the cars are legal. Period.
You knew at some point a team would find a way to push tolerances in the new car, which supposedly has such a tight box that you can't push them without breaking the rules. You probably knew that it would be Johnson's crew chief, Chad Knaus.
Knaus has been referred to as one of NASCAR's greatest innovators. He's right there with his mentor, Ray Evernham, who pushed the gray area so far with Jeff Gordon's "T-Rex" car that won the 1997 All-Star race that the governing body told him not to bring it back to the track.
According to HMS officials, there has been no such mandate to the teams of Johnson and Martin this time. NASCAR's only statement has been this: "While both cars passed postrace inspection, we informed the 48 and 5 they were extremely close on some of the tolerances."
That doesn't make them cheaters, although Knaus has been called this more than his fair share of times. In 2006, he was suspended for the first four races after Johnson's car failed postqualifying inspection when a device that pushed the rear window out was discovered.
In 2007, he was suspended for six races after NASCAR found "unapproved" modifications to the fenders of the new car.
In both instances, NASCAR felt he and the team went past the line and brought down the hammer. There was no hammer this time for Knaus or Alan Gustafson, Martin's crew chief.
Not even a slap on the wrist.
"Kudos. Good job," said Evernham, now an analyst for ESPN. "Hey, that's why there are tolerances. As long as you know they didn't break the rule, they didn't break the rule. Take the limits as far as you can.
"If something is an advantage, wouldn't you go as far as you can go? In my opinion, they just did a great job. That's why those cars are winning. They're working harder at it to get an edge. If more is better, I'll take all I can get."
In this case the teams apparently found a way to offset the tail just enough to help the car stick to the track better and stay within NASCAR's rules. Unless the governing body makes it illegal, other teams surely will try it this weekend at Kansas or sometime in the near future.
That's why crew chiefs are paid the big bucks. If they sat back and did nothing, their drivers would be battling for a spot in the top 35 instead of a championship.
Yes, other crew chiefs and owners will gripe. What they should do is ask their crew chiefs why they can't find an edge.
This is almost a nonstory. It's like accusing Carl Edwards of being too close to the edge when he made that daring pass of Johnson last season at Kansas that didn't turn out so well.
He was just doing whatever he could within the rules to win a race.
That's what happened here.
Big deal.