Warning to Keselowski at Kansas uncalled for
October, 8, 2009
10/08/09
11:01
PM ET
CHARLOTTE, N.C. -- In the NBA, officials typically let players get away with contact in the playoffs that might be called a foul in the regular season. It's the same way in the NFL and NHL.
Officials don't want a coach, owner or anybody else claiming they influenced the outcome.
Apparently, it's not that way in NASCAR -- at least for non-Chase drivers.
Brad Keselowski received a warning from Sprint Cup officials midway through Sunday's third race of the Chase at Kansas. They apparently felt he was too aggressive racing Chase contender Juan Pablo Montoya for position and told him to be "mindful" of the situation.
[+] Enlarge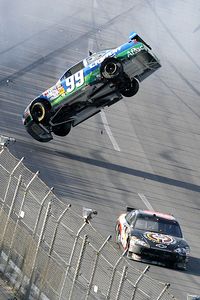 AP Photo/Glenn SmithNASCAR didn't have much to say when Brad Keselowski sent Carl Edwards flying at Talladega earlier this year, so what's the problem now?
Here was the explanation given a few days later: "Brad Keselowski is a young driver with limited experience as it relates to Sprint Cup Series racing. With that in mind, in NASCAR's opinion there were several instances in the early stages of a 400-mile race that he was being overly aggressive and NASCAR communicated that to his team.
"NASCAR has done that from time to time with other drivers. It had nothing to do with him racing against Chase drivers."
You can be the judge of that. A few reports after the race quoted NASCAR officials as saying they wanted Keselowski to be "aware and cognizant of who he was racing against."
Sounds as if it had everything to do with Montoya's being a Chase driver. This left many wondering whether this was NASCAR's way of making sure a non-Chaser didn't influence the outcome of the championship.
Let's hope not. If you're going to have a system that allows non-playoff drivers to compete for wins and top-10s, you can't tell them how to drive. Nobody warned Keselowski at Talladega earlier this season when he got underneath Carl Edwards and caused that horrific last-lap wreck en route to his first Cup win.
It was called a racing incident.
What Keselowski and Montoya, who has been called overaggressive more than once the past two seasons, were doing was racing. That, and nothing more, nothing less.
Montoya seemed to understand that because he didn't call out the rookie in the No. 25 Hendrick Motorsports car. Keselowski seemed to understand because he didn't change the way he raced the driver who is third in points. He almost laughed at the suggestion that he should back off.
"I thought it was kind of funny," he reportedly said after the race.
Rick Hendrick, the owner of Keselowski's car, took a more diplomatic approach, as one would expect.
"I can understand the Chase guys, that you've got a guy that's not running for the championship or points being careful," he said. "But Brad races hard, and that's what the fans come to see.
"I see both sides of it. We just kind of said, 'Hey, don't take a chance and wreck any of those guys.'"
Nobody wants to see anybody taken out of championship contention because of a mistake by a non-Chase driver -- or a Chase driver, for that matter. But it surely will happen in the Chase, just as it happened outside the Chase.
In 2007, Denny Hamlin finished 38th in the second race of the Chase at Dover because of an incident with Kyle Petty.
Kyle Busch might have won the 2009 Daytona 500 and been in the Chase had Dale Earnhardt Jr. and Brian Vickers, both a lap down, not caused a wreck that ended his day in the opener.
Nobody got a warning or even a slap on the hand for either of those incidents.
Fans, as Hendrick noted, come to see all the drivers race as hard as they can regardless of who they are or what they're running for. Unless there is a reason to believe a driver deliberately is trying to influence the outcome, let him drive.