Did Tom Logano cross the line at Fontana?
October, 14, 2009
10/14/09
11:17
AM ET
CHARLOTTE, N.C. -- Before we get to the first five selections for NASCAR's inaugural Hall of Fame class that will be named at 4 p.m. ET on Wednesday, let's get this out of the way: Tom Logano won't be on the list.
[+] Enlarge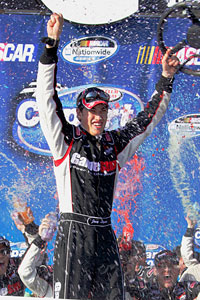 AP Photo/Reed SaxonWhile Joey Logano celebrated his Nationwide Series win Saturday at Auto Club Speedway, daddy Tom Logano was getting reprimanded by NASCAR.
His son, Joey, may one day 20 or 30 years from now.
But Daddy Logano won't ever be there. He also lost some votes for NASCAR's 2009 Father of the Year Award -- if there were such a thing -- after Saturday's pit road incident following the Nationwide Series race at Auto Club Speedway in California.
Let's rewind.
Greg Biffle sent Joey into the wall on Lap 50 after reportedly hinting over his in-car radio that he planned to do so. Joey received some damage, but not enough from keeping the 19-year-old phenom from winning the race.
While running down pit road toward Victory Lane, Tom, I'm told, saw Biffle's car headed to its pit stall. Instead of running past, Tom paused and made a gesture -- he gave him the finger, if you must know -- and said a few words that can't be repeated on a Web site owned by Disney.
Tom then was called to the Nationwide Series principal's office to meet with series director Joe Balash and a few Sprint Cup series officials. They took his hard card that gives him full access to the garage, which meant he had to stand in line for a single-event pass for Sunday's Cup race.
It was an inconvenience that Tom may have to deal with the rest of the season, but only an inconvenience.
I have mixed emotions about this. Having seen Little League fathers embarrass themselves countless times, my first inclination was to suggest the elder Logano be banned from a couple of races. What he did set a bad example.
But we're not dealing with 12-year-olds in Little League here. These are grown men, even if one of them still is a teenager.
And this is a family sport where family members curse and flip opponents off every weekend. You can count way past your middle finger how many times drivers flip each other off during a race, and NASCAR doesn't limit their access.
That Biffle reportedly said he was going to put Joey into the wall, apparently still miffed that Joey smashed in his fender a week earlier at Kansas, is the bigger issue.
If Brad Keselowski is warned for driving too aggressively against Juan Pablo Montoya in a Cup race as he was at Kansas two weeks ago, then a premeditated shot at another driver should warrant some sort of punishment, don't you think?
I'm not condoning what Tom did, but as a father I can imagine the anger he felt after thinking another driver purposely put his son in harm's way. It had only been a couple of weeks since he saw Joey roll the No. 20 seven times at Dover.
That day we saw images of him on television running toward the infield medical center to check on his son as any father would. I understood how he felt then, just as I understand how he felt on Saturday.
Could he have shown better judgment? Definitely. He told team president J.D. Gibbs he "messed up." He admitted to others I have talked to that he was embarrassed.
He also has been judged enough for it.
He wasn't a candidate for NASCAR's Hall anyway.