Drivers, fans weather rainy Martinsville
March, 28, 2010
03/28/10
4:09
PM ET
MARTINSVILLE, Va. -- Denny Hamlin had to reschedule Monday's surgery to repair the torn ACL in his left knee. Juan Pablo Montoya had to reschedule a trip to his native Colombia. Jeff Burton had to reschedule a fly-fishing trip on Lake Norman in Charlotte, N.C.
Sunday's rainout of the Sprint Cup race at Martinsville Speedway not only inconvenienced fans who drove hundreds of miles but also drivers and crew members who looked forward to vacations and other activities during an open week on the calendar. The Goody's Fast Pain Relief 500 was rescheduled for Monday at noon ET.
"My plans to Aruba just got canceled," Regan Smith said.
OK, Smith was joking. He doesn't have big plans, although he was booked for the Final Four in Indianapolis before top seed Syracuse lost to Butler.
[+] Enlarge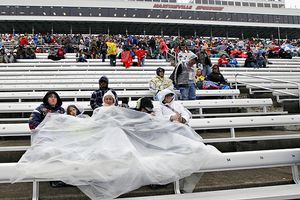 AP Photo/Steve HelberNASCAR fans were hopeful as they waited out a rain delay Sunday at Martinsville Speedway.
As disappointed as Burton was that he won't be able to hone his fly-fishing skills -- "I never said I had fly-fishing skills," he joked -- the rain probably inconvenienced Hamlin the most.
He tentatively rescheduled his surgery for Monday night, but because the driver of the No. 11 Toyota would have to fast before the procedure and there's a problem with the doctor's schedule Tuesday, a more likely scenario is Wednesday.
That means Hamlin will have two fewer days to recover before the April 10 race at Phoenix.
"I haven't talked to him, but I'm sure he's frustrated," crew chief Mike Ford said. "He was pretty anxious to get this taken care of so he could get back to all the active things he likes to do."
Hamlin injured the knee playing basketball in January. He originally planned to wait until after the season for surgery, but increased pain and a concern of further damaging the knee convinced him to take advantage of the upcoming open week.
Hamlin also, according to Ford, simply wants to get back to his lifestyle.
"I'm surprised he made it this long," the crew chief said. "I gave him to Charlotte [race in May]; I wanted it done before Daytona."
Ford isn't concerned with the delay caused by the rainout. The way the procedure was described to him, the knee will be stronger the day after surgery than it was before, and the biggest issue will be how much pain Hamlin can endure, if pain is an issue at all.
Ford said there are no plans for Hamlin to wear a brace or be fitted for a new seat because there simply isn't enough room. He added Hamlin will continue to use his left foot to brake without further injuring the knee.
"There's not a lot we can do," Ford said.
He pointed out that Hamlin has a high pain tolerance, having driven with a broken toe and being "beaten up a couple of times." So no, Ford doesn't anticipate Hamlin will get out of the car and turn it over to backup driver Casey Mears.
Ford also isn't worried that the injury will keep Hamlin, 19th in points, from rallying to make the Chase. He noted the No. 11 team traditionally has started slow, but he also said, "We excel in catching up."
The only thing to catch up on Sunday was rest, which came at a good time after a busier-than-normal week because of a Tuesday and Wednesday spoiler test at Charlotte Motor Speedway following a long weekend at Bristol.
The switch from the wing to the spoiler has generally had most teams working overtime for several weeks in anticipation of the Martinsville debut.
"Sometimes boring is not a bad thing," Burton said. "We all put in a lot of hours. Sometimes you need to stop and catch your breath."
Burton planned to catch his breath watching his favorite basketball team, Duke, in the NCAA regional final and talking with crew members about ways to make his team better.
Asked if they might come up with a plan to stop Jimmie Johnson, who has won three of the first five races, Burton smiled and said, "Ask me tomorrow after the race and I'll tell you."
Yes, there's always tomorrow.