Kahne in the 5 car in '11? It could happen
April, 14, 2010
04/14/10
4:35
PM ET
CHARLOTTE, N.C. -- It is May 2007, and Rick Hendrick is discussing whether he will go after free-agent Sprint Cup driver Dale Earnhardt Jr. He says there's no room at the inn, that "right now, I'm full."
Fast forward to Wednesday's conference call in which Hendrick tries to explain what will happen to his newest driver, Kasey Kahne, when he goes under contract in 2011 and Mark Martin, who is under contract through 2011 and is still in the No. 5 car.
Specifically, he is answering whether there is any way Kahne could be in the No. 5 in 2011.
[+] Enlarge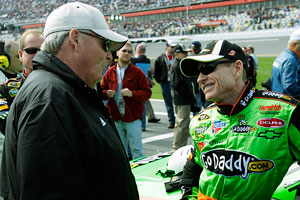 AP Photo/John RaouxMark Martin, right, is under contract to drive one more season for Rick Hendrick. Whether it'll be in the No. 5 Chevy remains to be seen.
"Mark wants to drive that car, and that's where we are headed, right now," Hendrick says.
Right now.
There seems to be a theme here.
Here's what I think will happen. At some point, the 51-year-old Martin will tell Hendrick, if he hasn't already, that he will step aside next season for the betterment of the organization. He might agree to go to Hendrick's satellite team, Stewart-Haas Racing, for his final full season. Hendrick might find a way to keep him in his equipment with another team.
But no matter how many times Hendrick and Kahne tell us they finalized this deal without knowing exactly what will happen in 2011, anything short of Kahne being in the 5 makes no sense.
To put Kahne at SHR for a year means he'll have to start over with a new team in 2011 and then another new team in 2012. Kahne, 30, is far from an old man, even though he doesn't look a day past 21.
But he is at an age at which he doesn't need to throw away two seasons for what Hendrick calls a long and successful future.
This deal didn't just happen overnight, either. Kahne said they've been working on it for several months. I was told before the start of the season by one person close to the situation that Kahne would wind up at Hendrick. The same person said Martin was willing to step aside if it was in the best interest of Hendrick Motorsports.
It is.
And remember, Hendrick said Martin was one of the first to go to him as far back as last season and say Kahne should be the next driver of the 5.
You've got to believe Martin appreciates the opportunity Hendrick gave him to resurrect his career at an age when most are retired enough to step aside.
Hendrick says he has a "ton of options" and that no decision has been made yet. He also said in May 2007 that there was no room at the inn for Earnhardt. A month later, Earnhardt had a five-year deal with NASCAR's top organization.
"Right now" became right now.
I might be wrong, but I believe "right now" will land Kahne in the 5 in 2011. Hendrick didn't become NASCAR's most powerful owner flying by the seat of his pants.
"We're going to figure out '11," Hendrick said. "It if it was under the old regime, I'd add a building over here and have five teams. I understand that and [Kasey] understands that. We're just gonna figure it out."
Maybe they already have.