Rain or shine, Hall of Fame won't disappoint
May, 11, 2010
05/11/10
4:55
PM ET
CHARLOTTE, N.C. -- As rain began dotting the brick plaza on Tuesday, a familiar, red-and-blue No. 43 STP Plymouth driven by Richard Petty and a black 1940 No. 3 Ford coupe driven by Junior Johnson came roaring up to the stage.
The wet stuff has delayed a few Sprint Cup races this season, but it wasn't going to dampen the grand opening of NASCAR's Hall of Fame.
"We got in just under the flag," Petty said with his famous smile.
A few minutes after their arrival, Hall director Winston Kelley declared the 150,000-square-foot facility that has been in the works for more than four years officially open. Fireworks blared. Streamers filled the air.
[+] Enlarge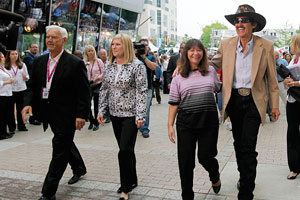 AP Photo/Chuck BurtonRichard Petty, right, and Junior Johnson, left, give two lucky fans the royal treatment during the NASCAR Hall of Fame's grand opening Tuesday.
There was no more fitting way to open the doors to the public than having two of the first five inductees, two of the most influential men in the sport's history, arrive in cars that helped make them legends.
If you weren't caught up in the moment, you're not a fan of the sport.
"That was so cool," said team owner Rick Hendrick, who one day will have a spot in this shrine to stock car racing. "I think about all the neat things we could do if we had the champion [celebration] here and we did a parade in Charlotte. The fans could be a big part of it. I could see the searchlights and the red carpet and all of these guys like Bobby Allison showing up because they feel comfortable here.
"I think there would be so much energy here between the teams and city and Hall of Fame. … It's endless what we could do."
Whoa! Hendrick is getting a bit ahead of himself. The Hall hasn't been open more than an hour, and already he is moving the season-ending banquet from Las Vegas to Charlotte.
Don't get me wrong. There would be no better place to stage the banquet than the Hall, where NASCAR's past and present come together like the start and finish line at a track.
If the man who owns Greg Biffle's original Late Model Sportsman car can drive from Washington state to the Queen City for Tuesday's opening, just think how big the crowd would be for the championship celebration in the home of NASCAR.
If the Hall belonged in Charlotte, the banquet does, too.
But that's another story. This day was about telling stories, and no one was more proud to tell them than Junior Johnson.
"This is the greatest thing that's ever happened to me," he said.
Johnson means that with the utmost sincerity. He also believes the Hall is the greatest thing to happen to North Carolina. That's why he made the 90-mile trek from his farm in North Wilkesboro to help reconstruct a 1930s moonshine still that is displayed prominently here.
"And it will work," Johnson said with a laugh.
The still wasn't Johnson's idea. NASCAR, which for years fought to bury its early history of bootleggers and outlaws, wanted to make sure the accurate story of the sport was told here.
"If it had been my idea, I'd be making whiskey in it now," said Johnson, who has constructed more than his share of stills throughout the years.
Tuesday's celebration was an all-star event, from past champions such as Petty and Allison to government officials to the wife of legendary driver Wendell Scott, the only black driver to win a Cup race (1964). But the day was mostly about the fans who got to view the city's crown jewel for the first time.
"Today, I am a fan," Hendrick said. "I love this kind of stuff. I never get tired of walking through our past. To me this is our heritage."
Biffle felt the same way. He couldn't believe he was "rubbing shoulders and talking B.S." with legends.
"I'm from the West Coast, so I didn't grow up around NASCAR," he said. "I feel ignorant because I don't know as much about the sport as other guys do."
And like most, he was blown away by the entrance of Petty and Johnson and seeing how much technology in cars has changed from those days to now.
"I see stock cars from back then, and it's almost like I don't believe it, thinking, 'Is that really the way it was?'" Biffle said.
That's the way it was.
And thanks to the Hall of Fame, everyone now can share in it -- rain or shine.