Is Junior the new JJ or vice versa?
June, 5, 2010
06/05/10
7:12
PM ET
LONG POND, Pa. -- He drives for the top organization in NASCAR and has finished 31st or worse in three of the last five races. He is starting 25th in Sunday's race at Pocono Raceway, qualifying 2 mph slower than pole-sitter Kyle Busch. He recently has been questioned about making mistakes, and some question whether he will make the Chase.
Who is he?
If you said Dale Earnhardt Jr. you are wrong, although the last five weeks haven't been very good to the No. 88 team either.
This is Jimmie Johnson we're talking about, the four-time defending Sprint Cup champion who will start 22 spots behind his Hendrick Motorsports teammate Sunday.
Johnson is going through one of those rough spells that Earnhardt has suffered through a lot the past two seasons. Johnson's had two DNFs in the past five races and easily could have had three were it not for a yeoman's effort to rebuild the No. 48 after a hard crash in Sunday's Coca-Cola 600.
[+] Enlarge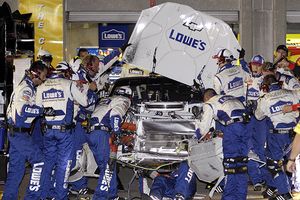 AP Photo/Chuck BurtonJimmie Johnson's Coca-Cola 600 finish may have been worse if his crew hadn't done such a good job getting his crashed car back on the track.
He's fallen from first in points to seventh, 204 points behind leader Kevin Harvick after being 103 points clear of the field eight races into the season.
But before you feel sorry for Johnson and proclaim Earnhardt is on his way back after Friday's strong qualifying effort, before you say they are ready to swap positions in the standings, remember Johnson has led 270 laps during this skid.
Remember he easily could have won the past two races were it not for the kind of misfortune he seemed immune when he was winning three of the first five races. And remember Earnhardt has led only 18 laps, never seriously threatening for a win this season.
"We've seen them struggle in the past, but we've seen them bounce back stronger than ever," Busch said of Johnson. "They'll get back on it."
That's the feeling throughout the garage about Johnson, not necessarily Earnhardt. That's because we've seen how Johnson and crew chief Chad Knaus rebound from past struggles, how when the Chase rolls around they're on top of their game.
"We always have a little stretch of four or five races every year where people get kind of concerned with the 48 and how he's running, but it's just his expectations are so high," said Denny Hamlin, who will start fifth Sunday. "We expect him to win every week, and the fans expect him to win every other week so when he doesn't, everyone has questions.
"They're still not having bad luck as far as engine failures, mechanical issues or things like that. It's just on-track stuff. They're going to be tough to beat no matter what."
Hamlin is right. A year ago, Johnson had a three-race stretch in which he finished 33rd, eighth and 36th to fall 290 points behind Tony Stewart in the standings. He then ran off eight straight finishes off 11th or better, including three wins, to build a 184-point lead over Mark Martin with three races remaining.
Most of the questions surrounding Johnson's team this year simply are wishful thinking from fans and maybe even a few competitors hoping Superman is human.
[+] Enlarge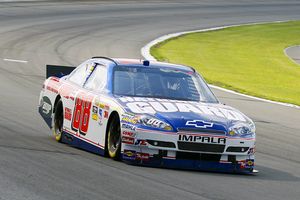 AP Photo/Mel EvansDale Earnhardt Jr. said his team can only get a boost of confidence from a solid qualifying run at Pocono on Friday.
"Everybody is reading into it too much," said Steve Addington, the crew chief for 600 winner Kurt Busch. "In the end they're going to be just fine. They are probably working on some stuff and they're in a position to.
"They are going to have to buckle down a little bit tighter and you'll see the performance right back there. You have four years of seeing them win a championship. They're not stupid. They're not going to take themselves out of it."
Knaus is so confident that he suggested Johnson might miss a race entirely to be with his wife when she gives birth to their first child sometime over the next five weeks. Johnson is so confident he's running back and forth between Watkins Glen for a Grand-Am race this weekend.
"We're doing fine," Johnson said. "You read between the headlines and it's like the No. 48 is shutting down."
But in Johnson's world he's doing a lot better than Earnhardt, whose team is struggling to find the confidence it takes to compete at a level even close to Johnson's. That's why Earnhardt was so thrilled with Friday's qualifying effort, his first in the top 10 in more than a month.
"We've had a terrible month," Earnhardt said. "Every little thing helps the confidence. We didn't prove nothing to nobody outside the racetrack by qualifying [third]. But to ourselves, it helps our confidence a little bit as a team."
But don't think there is a changing of the guard at HMS. Earnhardt and Johnson haven't swapped places.
When the Chase begins in three months Johnson will be the driver to beat no matter how much he's struggling now.
"There is no doubt we've been slipping in the points because of mistakes that have been made," said Johnson, who was first in Saturday's first practice. "But I think we're going to be good."
That's more than Earnhardt confidently can say at this point.