Junior a joker about road-race prowess
June, 19, 2010
06/19/10
3:18
PM ET
SONOMA, Calif. -- Several reporters are standing at the back of the No. 88 hauler at Infineon Raceway late Friday afternoon as Dale Earnhardt Jr. explains that his fiery crash here in a 2004 sports car race has nothing do with his struggles at the road course.
"I've been running that way since I got here," NASCAR's most popular driver says. "Hopefully, we can improve from mediocre to subpar."
Um, Earnhardt quickly is told, mediocre to subpar isn't an improvement.
"What's better than mediocre?" he asks.
Average, someone says.
"I'm average now?" Earnhardt says.
No, decent, somebody else replies.
"That's like seventh," Earnhardt says. "So what would be like 10th?"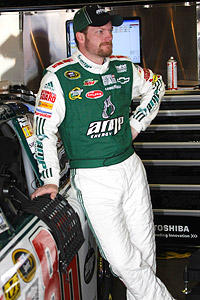 AP Photo/Bob BrodbeckDale Earnhardt Jr. said he is looking forward to being above average at Sonoma someday.
He's told above-average, explaining that if he does that he's meeting expectations, something the son of seven-time Sprint Cup champion Dale Earnhardt has been chasing his whole career.
"Really?" Earnhardt says. "Can I get that in the news?"
This was part of an entertaining 13 minutes and change with Earnhardt, who was in a very good mood, much better than one should be after ranking 44th in practice and qualifying 24th.
He knows the high expectations that follow him around most of the circuit are thrown out the window when it comes to this sweeping course where he's never finished better than 11th in 10 tries and has an average finish of 21.4.
"I raced ovals all my life not to make it to Formula One," Earnhardt jokes.
It's a much more relaxed mood than the one in Victory Lane hours earlier when team owner Rick Hendrick was drilled on how the change to the spoiler has affected NASCAR's top organization.
That one had its bizarre moments as well.
We're not used to Hendrick's using phrases such as "fumbled the ball" and "caught by surprise." It's hard to imagine those words were even in the vocabulary of a man who has won nine of the past 15 Sprint Cup championships and the last four with Jimmie Johnson.
The organization didn't go from mediocre to subpar, but it did go backward to a degree, as is evidenced by Johnson's average finish falling from 10 in the first five races to 15.5 in the last 10 with no wins. Earnhardt has gone from 14.4 to 17.6.
"Definitely, we've had to work harder on the spoiler," Hendrick says. "It caught us a little by surprise. It upset the balance of our cars. We just have to work to get it fixed.
"I'm kind of glad it happened when it did, and we have time to get ready for the Chase."
That should scare the competition, but if you ask Earnhardt, the organization wasn't caught off guard at all.
"I just think you take the wing off and put the spoiler on it, the sideforce and drag numbers all change and the rear package changes a little bit, and you have to seek that out," he says. "Some of these guys found it really quickly and were really smart about it."
This is the technical part of the 13 minutes and change. Earnhardt explains how the spoiler changes the rear spring package and that the Hendrick team's biggest problem is speed in the corner. He duly notes that Richard Childress Racing and Joe Gibbs Racing have figured things out -- JGR in particular with seven wins in the last 10 races.
This same territory was covered in the Hendrick conversation as well.
"I'm not going to take away from these guys who are running so good," Hendrick says. "If we had our balance where we need to be, they still might be beating us. It's just one of those things where you can't be the top dog and the best car every time you unload. It's not possible."
Back to Earnhardt. As much as he wants to be the best, he knows he has to improve from mediocre to above par. He also knows that if he can survive this race with a decent finish, he'll be in solid Chase contention, entering Sunday's event 14th in points, only 81 behind the 12th spot currently -- the Chase cutoff -- occupied by teammate Mark Martin.
He knows that to survive he'll have to find a better setup and learn the patience to put together solid laps instead of racing the competition.
"I guess my biggest problem is I get to racing everybody around me and the guy in front of me and I want to catch him in the next corner, and I drive into the corner like it's a short track trying to roll in on him and get in the throttle center and then we have another corner coming and I'm totally off line for it and I'm slow," Earnhardt says. "Whatever I gain he gets back. We sit there and do that s--- all day long, all of us back there in 20th, 15th, whatever."
He means with all the other mediocre road-course drivers.
Now that we have that straight, the conversation turns to Wednesday's shooting of ABC's "Shaq Vs." Earnhardt, who has agreed to take on NBA star Shaquille O'Neal in a stock car race at the half-mile Concord (N.C.) Speedway, is asked whether he can win that race, which is expected to be aired sometime in August.
"I should be able to," he says.
Told it would be bad if he lost to the 7-foot-1, 325-pound center, Earnhardt smiles and says, "He's going to get a handicap. It's going to depend on who plays the best poker hand sandbagging prior to the race."
Earnhardt has spent as much time with O'Neal as he has in Victory Lane at Infineon Raceway.
"I'm looking forward to meeting him," he says. "I just built this little basketball court in my house to have something to do. So I'm excited what he thinks about it, whether he thinks it's goofy or it's good."
This session is starting to get goofy, but it had to be asked: "How will O'Neal fit into a stock car?"
"A COT," Earnhardt says. "It's pretty big in there."
Reminded O'Neal is five times larger than him, Earnhardt smiles and says: "Well, we'll see. Him getting in will take up a large majority of the show."
Everyone laughs. This show is over, and Earnhardt knows it.
"Talk to y'all later," he says as he disappears into his hauler.