An epic turnaround for Harvick
June, 29, 2010
06/29/10
1:17
PM ET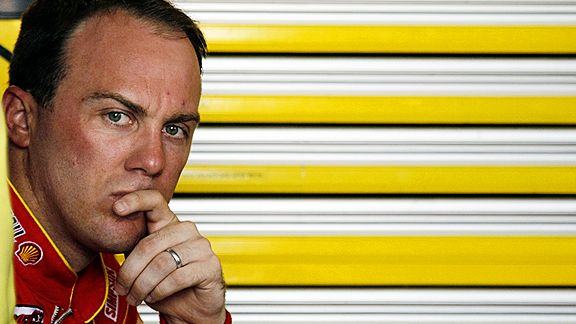 AP Photo/Matt SlocumThrough 17 races, points leader Kevin Harvick has improved his year-over-year position by 26 spots.
CHARLOTTE, N.C. -- I'm not a professional numbers cruncher like my ESPN.com colleague Matt Willis, but these are worth repeating.
After 17 races in 2009, Kevin Harvick had 1,598 points and was 27th in the Sprint Cup standings.
After 17 races in 2010, Harvick has 2,489 points and ranks first.
That's an improvement of 891 points.
That's phenomenal.
That is also the reason Harvick isn't complaining that he has only one win while second-place Jimmie Johnson, 105 points back, has five to tie for the series lead with Denny Hamlin.
"When you follow the year that we have had compared to what we had last year, you learn not to get greedy," Harvick said. "I've been around this deal long enough to know that we keep running like we are, we'll win our share of races.
"It doesn't irk me at all. We have been fortunate to be where we are and, you know, five race wins and five DNFs won't win a championship."
No, but wins certainly do help. If the Chase started today, Harvick would enter 40 points behind Johnson and Hamlin. If one or both of them run off a couple of early wins in the 10-race playoff, Harvick would find himself in a hole no matter how well he does.
Therefore, Harvick admits wins are important.
"I do," said Harvick, who is so happy with the direction of Richard Childress Racing that he re-signed with the team last month. "You're going to have to win one or two races in the Chase to be in contention, but you can't have those disasters.
"We had a 100-point disaster at Martinsville with a brake failure. Obviously, you can see the DNFs that the 11 and 48 have had. You have to prevent those DNFs from happening, and you have to prevent those 35th- to 40th-place finishes."
Actually, Hamlin is DNF-free despite three finishes of 29th or worse. Johnson has three DNFs this season.
Johnson has led 689 laps this year, and his position after 17 races isn't much different than it was a year ago en route to his fourth straight title. He has scored 29 -- a number Harvick is familiar with -- fewer points and is one position better in the standings than at this point in 2009.
But Harvick makes a valid point. Unless the points system has changed, consistency still wins championships, and no team has been more consistent than his with seven top-5s and 12 top-10s.
If you're crunching numbers, that is five more top-5s and 10 more top-10s than a year ago.
"This is the best opportunity that we've ever had to win a championship," said Harvick, who was in such a funk last year that he was ready to look outside RCR for employment. "This is the best opportunity we've ever had to prepare for a championship because of where we are in the points.
"I feel like the ball is in our court. Obviously, you're going to have to knock off the 48 [Johnson]. Those are the guys that have made it happen in the Chase and been consistent and won races and done what they have had to do over the last 10 weeks [of the past four seasons]. Until somebody proves they can do that, those are the guys that you have to beat, and they have done that the last couple of weeks."
It doesn't take number crunching to figure that out.