Have at it, boys? No … not this way
July, 19, 2010
07/19/10
10:51
AM ET
CONCORD, N.C. -- The Legends Million had just ended Saturday night, with Daniel Hemric making a clean pass for the win in the closing laps at Charlotte Motor Speedway. Track President Marcus Smith was feeling good about the event as he discussed it on a radio show.
Then Smith saw on a computer monitor how the Nationwide Series race at Gateway International Raceway ended.
[+] Enlarge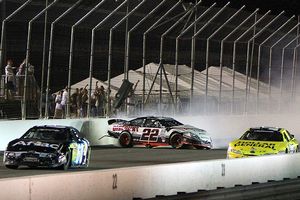 Dilip Vishwanat/NASCAR/Getty ImagesBrad Keselowski's No. 22 car is spun sideways by Carl Edwards, left, on the final lap at Gateway International Raceway.
His mood got even better.
"Alllllll riiiiiiiight!" Smith said. "That's the way racing ought to be."
My jaw nearly hit the floor. I asked if he saw the same finish I did. I asked if Carl Edwards wrecking Brad Keselowski on the straightaway to take the lead as he approached the checkered flag was the way racing ought to be.
Smith said it should be anything goes if it's the last lap and you're going for the checkered. He said more races should end like that, even though it ruined a lot of good equipment and good finishes for other drivers who were innocent bystanders.
He said if this incident incited payback, well, that's a good thing, too.
Cha-ching! Cha-ching!
It may be good if you're a race promoter trying to sell tickets.
But there has to be a limit. Wrecking somebody intentionally, even for a win, can't be what NASCAR meant by "have at it, boys."
Apparently many of you agree. My e-mail and Twitter accounts have been working overtime with fans outraged by the way Edwards got the victory. Some of you have called for having the win taken away. Some of you have suggested Edwards should be suspended for the rest of the Nationwide season before he, as Keselowski's father said, kills somebody.
Likely nothing will happen. NASCAR has backed itself into a corner by letting much worse go unpunished. If it didn't penalize Edwards for sending Keselowski into an airborne flip in the Sprint Cup race at Atlanta Motor Speedway earlier this season, it's not going to do so now.
But eventually NASCAR must step in. If not, there will be chaos and somebody is going to get hurt.
We're pretty close to it now.
Bumping in the corners as Keselowski and Edwards did in Turn 1 when Keselowski put himself in position to win is one thing. Turning somebody at high speed on the straightaway is another.
I'm not sure even the late Dale Earnhardt would approve.
But I am sure this is going to get worse before it gets better. I don't think Martin Truex Jr. has forgotten that he promised to get Jeff Gordon back for an incident at Sonoma. He's probably just waiting for the most opportune time, like maybe in the Chase when he could cost the four-time champion a shot at the title.
It wouldn't surprise me if Keselowski did something to prevent Edwards, 10th in the Cup standings, from making the Chase over the next two months. At 26th in points, Keselowski has nothing to lose.
Juan Pablo Montoya probably has a few targets in mind once the Chase begins as well.
They can think like this because NASCAR allows them to. No, because NASCAR encourages them to.
Is that the way racing was meant to be?
"Wrecking down the straightaway is never cool, whether he's at 200 mph or 120," Keselowski said.
Edwards argued differently. He said it was his job to win the race no matter how. He insisted he was justified because of the way Keselowski bumped him earlier.
"That's my job, to win the race, and to make sure I don't get walked on or get something taken away from me that's mine," Edwards said. "I'm sure tempers are up right now, but hopefully after looking at it, we can each step in the other's shoes and see it from the other perspective."
Doubtful. Keselowski has been in enough incidents with Edwards over the past two years -- including several of his own doing -- to know what it's like to walk in his shoes.
"I'm sure he'll say how sorry he is or how cool he thinks he is or how great of a guy he is in his own mind," Keselowski told reporters after having his points lead trimmed to 168 over Edwards. "But that's not reality."
Neither is the argument that this is how racing ought to be.