INDIANAPOLIS -- Mark Martin isn't very happy with the media these days. He believes we're trying to push him out of the No. 5 car at Hendrick Motorsports in favor of Kasey Kahne in 2011. He says we're being disrespectful because we don't fully buy what he's saying.
Silly Season in the Sprint Cup garage continues to be silly.
What will happen with Martin and Kahne next season is one of several burning issues in the Indianapolis Motor Speedway garage. There are multiple questions about 2011 sponsorship for everybody from four-time Cup champion Jeff Gordon to points leader Kevin Harvick.
There are questions about whether Richard Petty Motorsports can survive with none of its drivers and only one sponsor under contract for next season.
There are questions about what changes to the Chase and schedule NASCAR will make next season.
[+] Enlarge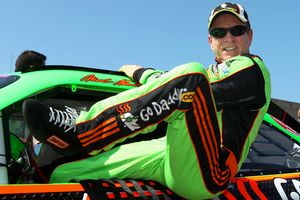 Christian Petersen/Getty ImagesWhich car will Mark Martin be driving in 2010? The rumors are flying.
But to me no question is more intriguing than what will happen to Martin and Kahne. This has become personal to the 51-year-old driver from Arkansas. He feels the media is making it look like "I am about to get fired."
"That's very disrespectful, guys," Martin said.
No, it's not about disrespect. Nobody is insinuating Martin is going to get fired. Just the opposite. Many believe he will step aside out of respect to team owner Rick Hendrick and the long-term interest of Kahne and Hendrick Motorsports.
The issue keeps coming up because the overwhelming sentiment in the garage and among a lot of people close to the situation seems to be that Kahne will be in the 5 next season.
Martin says we're focused on the wrong issue, that we should concentrate on what Kahne is going to do, ruling the 5 out before we get started.
Hendrick says there are more options than he imagined when he signed the RPM driver three months ago. But are there really? We've ruled out Stewart-Haas Racing because, well, Tony Stewart insists he's not adding a third team. We've ruled out JR Motorsports because co-owner Dale Earnhardt Jr. insists he's not moving his Nationwide program to Cup.
Red Bull Racing has been heavily speculated as a possibility even though team officials insist that's not in the cards. It heated up again after Martin spent part of his off weekend at the Red Bull Formula One facility in Europe.
For more details on that one go to Jeff Burton, who made himself Martin's F1 agent.
"He came to me back in March and seriously approached me about being my agent," Martin said with a laugh.
There have been conversations with other organizations as well, including Earnhardt Ganassi expanding to three teams for either Kahne or Martin and RPM taking Martin on as a partner.
The scenario that makes the most sense to many is Phoenix Racing, where Hendrick's good friend James Finch is the owner. But for that to really be the best scenario you need to put Martin in the car and give him half ownership of the company to ensure his long-term participation in the sport.
Whatever happens it won't be media-driven and Martin shouldn't take it as disrespect. It will be business-driven, what is best for HMS. It's no different than when Hendrick let go arguably the most talented driver in the garage, Kyle Busch, in favor of Earnhardt.
As for the other issues, let's take a quick look at several:
• All signs point to Richard Childress Racing announcing the week of the Watkins Glen Race next month that Budweiser will be on Harvick's car. Mobile 1 had been courting Gordon, but HMS ended that by reupping with Quaker State. Don't be surprised to see that sponsor pop up at Stewart-Haas.
• RPM's future seemingly hangs on what AJ Allmendinger does. If he and sponsor Best Buy stay, then Paul Menard and his sponsor may hang around, as well. But Allmendinger has talked to several teams, including Penske Racing. Menard is beating the bushes as well, with speculation he'll be in the fourth car at Richard Childress Racing.
All we know for sure is Stanley is the only sponsor contractually committed to the organization beyond this season.
Odds are RPM will shrink from four teams to three, two or none. The last would be a huge blow to the garage and increase the possibility of fields of fewer than 43 cars next season.
It also could end Richard Petty's presence in the garage, which would be sad to see.
• As for the Chase, there are going to be changes. Look for the field to be expanded and an elimination process put in place. There's a good chance the points will be reset at some point over the final three races, maybe before the finale at Homestead to ensure at least three drivers are fighting for the title.
The schedule also is going to change, but maybe not as much as once thought. Speedway Motorsports chairman Bruton Smith wants to put a race in Kentucky and add a second date at Las Vegas. Between adding seats and potentially having to repave the surface, it's probably 50-50 that Kentucky will be on the schedule.
If Kentucky does get a date the tracks at risk of losing a race are Atlanta, New Hampshire and even Sonoma. NASCAR would be reluctant to let Sonoma disappear because it's one of only two road courses on the schedule. New Hampshire is one of the best-attended races of the season and deserves two dates. Atlanta, for all its attendance woes, is in an important market.
A second date for Kansas could be the biggest change, with California continuing to be the front-runner for losing a date.
None of this, by the way, is meant as disrespect to anybody.