Fining drivers is no big deal
July, 27, 2010
07/27/10
4:42
PM ET
In 2008, the NFL fined Pittsburgh Steelers safety Ryan Clark $5,000 for wearing eye black with the No. 21 etched into it in honor of former Washington Redskins teammate Sean Taylor, who had been murdered in his home.
After a 2002 NFL game in which then-San Francisco 49ers wide receiver Terrell Owens pulled a Sharpie out of his sock to autograph a football after scoring a touchdown the league's Uniform Police fined him $5,000 because his shirttail was hanging out.
Can't tell you how many players have been fined for wearing either the wrong color socks or having them too low.
The NBA recently fined Cleveland Cavaliers owner Dan Gilbert $100,000 for his harsh comments in an open letter to fans after LeBron James signed with the Miami Heat.
All leagues have rules, some silly and some a bit over the top, but rules no less. When those rules are violated, there are fines.
So nobody should be surprised that NASCAR this season fined two of its drivers -- one up to $50,000, according to The Associated Press -- for comments that were considered bad for the sport.
It's not the first time it has happened and it won't be the last. Leagues are all about control of their participants and doing what's best for the brand.
NASCAR probably should have cracked down long before this season.
I know, you're wondering what negative impact this will have on the "have at it boys" edict. Simple. None, just as Nationwide Series penalties dished out to Carl Edwards and Brad Keselowski shouldn't deter aggressive driving.
[+] Enlarge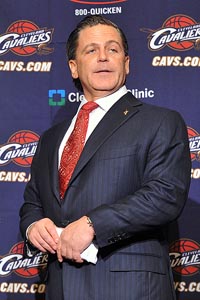 Garrett W. Ellwood/NBAE/Getty ImagesCleveland Cavaliers owner Dan Gilbert ran afoul of the NBA -- to the tune of $100,000 -- for comments the league deemed inappropriate.
The fines weren't the result of drivers showing their personality, getting too aggressive on the track or complaining about a speeding penalty on pit road. They were made to keep drivers from steering public opinion about the sport in a negative direction, for giving even more fans reason to turn off the television or not buy a ticket when ratings and attendance are a concern.
Did you happen to notice all the empty seats at Indianapolis Motor Speedway on Sunday?
Exactly.
"It is the sanctioning body's obligation on behalf of the industry and our fans to protect the sport's brand," NASCAR spokesman Ramsey Poston said in a statement. "We have specifically discussed this in meetings with teams, drivers and stakeholders."
Yes, drivers and owners were warned before the season this could happen. We didn't hear anything about it before now because most embraced it, otherwise they would have complained to the media in January.
Sure it's colorful when Kyle Busch, after winning the inaugural COT race, says the car "sucks.'' Or when Jeff Gordon roars from the back to the front at Talladega and calls it a boring race. Or even when Stewart compares the sport to wrestling.
It makes for stories that editors like to put headlines on and fans like to talk about.
That doesn't mean NASCAR has to like them. That doesn't mean NASCAR should tolerate them.
Research likely shows such comments have a negative impact, otherwise the sport would let them pass.
We could spend hours trying to figure out what was over the line, whether it was Denny Hamlin and Jeff Gordon talking about mystery debris cautions or Dale Earnhardt Jr. referring to Daytona International Speedway as a "s---hole'' after pavement came up during the Daytona 500.
It really doesn't matter. If it was something NASCAR felt might turn off one fan then it has the right to step in just as my boss has the right to tell me things I can't say on Twitter or Facebook [Editor's note: Yeah, that's working real well for me].
If you've ever listened to a scanner during a race or a behind the hauler chat, NASCAR gives its participants more leeway than athletes in most other sports.
Imagine the fines Juan Pablo Montoya and Elliott Sadler might get if the governing body had a rule against gaudy white sunglasses. Or if fines were given out for dying your hair black and blue (see Scott Speed).
NASCAR for the most part is pretty laid back with rules on what drivers can say or do.
So for those getting in an uproar because two unnamed drivers were fined for saying something officials didn't like, get over it. It happens in every sport.