Bud deal seems to fit a happier Harvick
August, 17, 2010
08/17/10
5:22
PM ET
WELCOME, N.C. -- There was a bit of anxiety. Kevin Harvick hasn't always handled questions about replacing Dale Earnhardt at Richard Childress Racing so well, and I was about to ask what it was like to replace Dale Earnhardt Jr. -- albeit a few years removed -- as the new face of Budweiser.
He didn't snap.
He didn't shrug his shoulders and move onto the next question.
He actually laughed.
"If you're going to be successful in this sport, especially at RCR, you're going to have all those ties," Harvick said Tuesday after announcing a three-year deal with his new sponsor beginning in 2011. "That used to bother me. I've learned if you're going to be a part of this company and be successful in this sport those ties are always going to be there.
"You learn to take that as a compliment instead of being frustrated about it. If you can do anything that Dale Earnhardt did in a car, you're doing something OK."
Amen to that.
But Harvick didn't always see it that way. He saw the comparisons as people were trying to make him into what the driver of the No. 3 Goodwrench car was before his tragic death in 2001, when all Harvick wanted to do was make his own way.
[+] Enlarge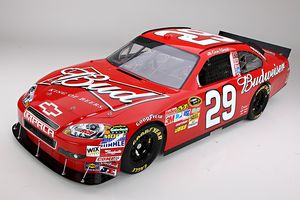 HHP ImagesKevin Harvick's car for 2011.
He fought it to the point it was uncomfortable, and he made others uncomfortable asking about it.
"It took me a long time," Harvick said of getting over his Earnhardt-phobia. "I had always beaten my own path. Everything [here] had an Earnhardt connection to it. It's just like anything else, as you grow in life you learn who you are and what you do and how things work."
The Sprint Cup point leader is comfortable in his skin. You can see it in the way he talks to the media and even in the way he drives. He's not out to prove anything because he already has, winning two Nationwide Series titles, the Daytona 500, Brickyard 400 and the last two Budweiser Shootouts.
The only thing missing on his résumé is a Cup title, and he's making people believe he can do that after Sunday's victory at Michigan International Speedway.
"He's really come into his own and more comfortable than I've seen in the last two or three years," said Harvick's wife, Delana. "He does view [comparisons to Earnhardt] as a compliment now, and that's because he is more comfortable in his own skin.
"Kevin is a very individualistic type of person. That's not easy walking into the situation he did in 2001. He was just so wanting to prove himself, and a lot of people misinterpreted that."
Being the Bud Man gives Harvick an identity he didn't have with Goodwrench initially or even Shell Pennzoil the past few years. He may not meet the ideal 21 to 34 age demographics the company talks about, but he'll represent it well because he has the confidence and track record that his predecessors -- Kasey Kahne and Earnhardt Jr. -- didn't always demonstrate.
"They want me to be who I am and do the things I normally do," Harvick said. "For the most part I don't act my age, anyway, so that'll be pretty easy for me to do."
Yes, Harvick is relaxed, as relaxed as he's ever been in his career. He can even talk about Earnhardt -- either one of them -- as he did on Sunday when he mentioned his first meeting with the seven-time champion and studying film of his son to prepare for a race.
"After a while you realize all the special accomplishment we've been able to accomplish in this company," Harvick said. "They [Earnhardt] accomplished the same thing. So what?
"I tell myself those were compliments, those weren't something somebody was trying to frustrate you by."