My 'last supper'? Plenty of junk!
September, 19, 2010
09/19/10
12:48
PM ET
FAR AWAY FROM FRIDGE -- Jeff Gordon will win the Sprint Cup championship, NASCAR will change the Chase format after the season and Dale Earnhardt Jr. will win one of the final 10 races.
I wanted to get those out of the way now so when Four-Time becomes Five-Time and everything else comes true nobody will say it was a lucky guess of a delirious reporter whose judgment was impaired by a lack of food.
Yes, Day 1 of the Mark Martin diet is under way. For 21 days I'm eating and working out as close as I can to the driver who finished second in last season's Chase. But I may have to do it for 10 weeks. If you need more details on that, check out my column.
But before we move forward with everything that will happen in the world of NASCAR, let's revisit what my boss so bluntly called "The Last Supper." He wanted to throw salt into the wound of a man who can have little salt under the MM plan. He asked me to share what my last day of eating like Tony Stewart was like.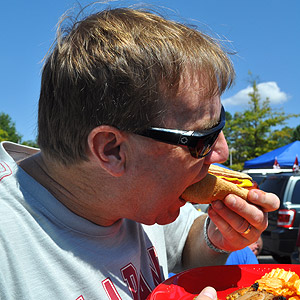 Debby Robinson for ESPN.comThat's not an approved Mark Martin move that David Newton is making on that hot dog.
Pause while I close my eyes, reminisce and savor.
Ahhhhhhhh!
It began with a country ham biscuit and coffee from Bojangles on the ride to Durham, N.C., to watch No. 1 Alabama destroy Duke. It got better from there. Sausage and cheese balls to kick off the tailgating, washed down with the first of many adult beverages that have been outlawed on the diet.
From there let's just say my cholesterol shot up more points than the 62 Bama posted on the hapless Blue Devils. There was barbeque, hotdogs, chips, more barbeque, Heath bar brownies, a funnel cake, more sausage balls and more barbeque.
Also tossed down four large sodas, another thing not allowed on this harebrained diet.
Oh, forgot about the Zantac after the country ham biscuit.
And the bacon cheeseburger on the ride home.
The only thing missing was a dozen or so fried chicken wings. My sister forgot them.
Now I'm feasting on whey shakes, goji berries and other various assortments of goodies purchased at the Concord Mills GNC for roughly the equivalent of a car payment. Did you know goji berries were $17.95 a pound?
Can I write this humiliation off on the expense report, bossman? [No. The Ed]
To add insult to injury, I had to walk past the entire food court -- bad directions which had to be part of a conspiracy theory -- which included almost every greasy food known to mankind. And there was a Starbucks almost directly across from the GNC.
No lattes for 21 days? No fair.
I don't know how many bites of bread or sips of wine the disciples got at their Last Supper, but I took triple helpings of everything on Saturday.
And by the way, thanks for all the encouragement on Twitter, particularly the dude who said he was going to have a midnight cheeseburger -- "extra greasy."
As for my predictions, they're going to happen.
I'm not delirious -- yet.