Where does Kasey Kahne go from here?
October, 20, 2010
10/20/10
11:34
PM ET
CONCORD, N.C. -- Welcome to NASCAR's version of musical chairs.
It began around 10 p.m. ET on Wednesday when Richard Petty Motorsports announced that Kasey Kahne had been released from his contract and that Aric Almirola would drive the No. 9 this weekend at Martinsville Speedway.
[+] Enlarge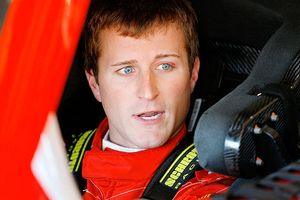 Tom Pennington/NASCAR/Getty ImagesKasey Kahne will drive the 83 car for Red Bull Racing for the remaining five races in 2010 after being released by Richard Petty Motorsports.
A source then told me that Kahne would move into Red Bull Racing's No. 83 Toyota for the final five races of the season.
Another source said this opened the door for Marcos Ambrose to step into the 9 for the final four races before taking over that ride full-time next season. The same source said if that happens, Bobby Labonte will step into the No. 47 car Ambrose has been driving at JTG Daugherty Racing.
All this was in the works before Kahne became an unhappy camper on Saturday night at Charlotte Motor Speedway, but more on that later.
Yes, we often have to deal with anonymous sources, particularly in a breaking story this late at night. Until all parties have had time to sit down and talk, nobody wants to go on the record until seeing what others have said.
Or they just want to sleep.
Kahne's crew chief, Kenny Francis, talked on the record, but as he subtly put it, "I don't want to get involved."
What we do know is that an ailing Kahne was very frustrated after Saturday's race at Charlotte Motor Speedway, that he refused to finish the race after brake issues forced a wreck with Sam Hornish Jr., and that he failed to run a 17-minute 5K at his charity event on Sunday morning a day after throwing up at the racetrack.
We also know that being in a lame-duck situation isn't easy on either side.
Kahne doesn't show a lot of emotion, but after an RPM official told him at Charlotte that he needed to "do his part," implying that he hadn't been, then Kahne cut loose as much as you'll see him cut loose. He complained at the 5K event about the brake issues that have sidelined him three times, twice in the past three races, and about all the other parts that have broken on his car. He said he'd never been so mad inside a car as he was on Saturday.
The irony here is that while Kahne has struggled, RPM teammate AJ Allmendinger has enjoyed moderate success. He has qualified inside the top 10 in four of the past six races and finished 12th or better four times during that stretch.
The difference? Allmendinger is staying at RPM next season and Kahne isn't.
Maybe Kahne felt he was being slighted in terms of quality of equipment because of his lame-duck status, although he sat on the pole two weeks ago at Kansas and qualified fifth and finished fourth the next week at California.
Maybe we'll learn more on Thursday or Friday at Martinsville if and when Kahne and RPM officials decide to speak on the record. Maybe Kahne will go back to biting his tongue as he often does and start looking ahead to the next 41 races he has with Red Bull Racing.
All we know for sure is that NASCAR's version of musical chairs apparently has no respect for Major League Baseball's playoffs. Otherwise, I'd be watching Game 4 of the National League Championship Series instead of talking to sources.