Kasey Kahne-RPM split good business
October, 21, 2010
10/21/10
3:05
PM ET
CONCORD, N.C. -- The Kasey Kahne-Richard Petty Motorsports split Wednesday night was nothing more than a sound business decision and likely only a small piece of the big picture of what's really happening.
[+] Enlarge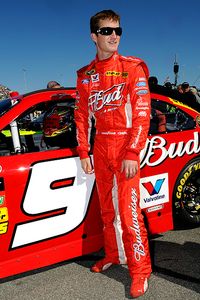 John Harrelson/Getty ImagesKasey Kahne has driven his final race in the No. 9 Budweiser Ford.
Let's look at what we know.
Kahne is scheduled to drive full-time for Red Bull Racing in 2011 so it makes sense that he gets a head start on that switch by driving the final five races for that team. That Red Bull Racing wanted him there now -- as general manager Jay Frye said, there was a sense of urgency -- makes the release make even more sense.
By releasing Kahne early, RPM relieved itself from the financial responsibility of paying the driver for the rest of the season. Since the organization is under somewhat of a financial strain based on published reports regarding owner George Gillett and his issue with selling the Liverpool soccer team, making the change now makes sense for him.
In other words, Red Bull will pay Kahne for the final five races.
You could say it's a win-win scenario, sort of.
But the bigger story here isn't that Kahne was released (by the way, he has been paid in full for services rendered to this point). It's the future of RPM.
There have been rampant rumors that Roush Fenway Racing, which supplies engines and chassis to RPM, was not providing engines or parts beyond this weekend's race at Martinsville until it was paid. There have been crew members suggesting they're not guaranteed a job past this weekend, and according to one source close to the situation, "the s---" is about to hit the fan.
Perhaps there will be some layoffs, but there are no signs that RPM won't be at Talladega next weekend. Team officials said the Talladega cars were delivered and being prepared, but they would not comment further on RPM's financial picture.
Roush Fenway president Geoff Smith told me "with us they are working to finishing the year and get ready for a minimum two[-car] team operation for next year."
Did RPM have to release Kahne to free up the bottom line for accountants? If it did, it makes financial sense. Companies trim fat all the time to make ends meet, and you can bet it'll be a lot cheaper having Aric Almirola in the car this weekend than Kahne.
As I was told late Wednesday night when all this was unfolding, the release had nothing to do with performance or Kahne being upset that his brakes went out Saturday night at Charlotte for the third time this season and second time in three races.
What we've all learned under these tough economic situations is that NASCAR is a business now more than ever. Tough business decisions have to be made, and usually when all the facts are in, they make sense, as sad as it may be for some people involved.
Will RPM implode at some point? Or will Gillett once again find a way to survive? Nobody knows, or can say, for sure.
All we can say until people start to elaborate is the split between Kahne and RPM from a business standpoint needed to happen.