New Gordon sponsor may pave new way
October, 27, 2010
10/27/10
5:40
PM ET
CONCORD, N.C. -- Perhaps it's the ridiculous amount of AARP mail I've received since turning 50 more than a year ago. Perhaps it's just my natural tendency as a reporter to question everything.
But when it was announced that AARP -- through its "Drive To End Hunger" campaign -- would sponsor Jeff Gordon's car for 22 races beginning in 2011, red flags went off because we've never seen a deal like this in NASCAR.
So I started trying to connect dots: Wal-Mart was among the companies being wooed by Hendrick Motorsports to sponsor Gordon, but couldn't work out a deal. Wal-Mart has a big relationship with AARP through its pharmacies and a recent program to help 40=and-older unemployed women get back to work.
Maybe, I thought, this is a way Wal-Mart could be involved with Gordon without actually being on the car, and at the same time strengthen its relationship with AARP.
Maybe AARP will even find a way to get Wal-Mart exposure on the car without violating any other sponsor codes.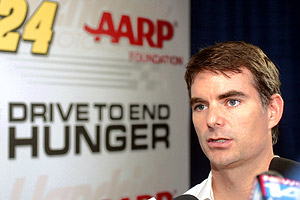 AP Photo/Nell RedmondJeff Gordon may be paving the way for a new kind of sponsorship.
I was told I was over-thinking the whole deal, that there was no deal broker and that the relationship with HMS and AARP came together on its own.
So I put my dots aside.
The important thing here, as Gordon, team owner Rick Hendrick and AARP Foundation president Jo Ann Jenkins reiterated time and time again during Wednesday's media conference, is the cause.
Did you know there are six million Americans 60 years and older who face hunger issues? I didn't. Neither did Gordon. It's a staggering number in a country that is supposed to be rich and plentiful.
If being on the hood of a race car gets the message out, more power to all parties involved. If it meant circumventing ways to get sponsors involved that couldn't because of conflicts, which parties from both sides say isn't the case, then even more power to them.
This sport has suffered enough under a brutal economic climate with sponsors such as Verizon and AT&T not being allowed on cars because it conflicted with series sponsor Sprint.
But that's another story.
Some have questioned why AARP would spend in excess of $10 million, likely $15 million or more, to promote its program on Gordon's car when it could just put that money toward feeding the hungry. You can buy a lot of food with that kind of change.
But what people forget is that sometimes you have to spend money to make money, or in this case make people aware of the need.
As Jenkins said, she expects the return on AARP's investment to outweigh the cost.
Gordon is the perfect spokesperson, too. He is one of the most visible drivers in the sport, arguably the most visible because of non-NASCAR relationships such as guest hosting "Live with Regis and Kelly," being on President Bill Clinton's Global Initiative committee to address world challenges and being the spokesperson for the Sounds of Pertussis Campaign.
Maybe having a charitable organization on the hood for more than one or two races is a way of making NASCAR seem less commercial, or as Gordon said, show people they are human.
Maybe this will, as Hendrick insisted it might, open doors for new sponsors that never would be aware of the sport if it wasn't for the campaign.
It's a win-win scenario for all parties.
Unfortunately, it won't make me any less suspicious, younger or stop all that AARP mail from piling up on my desk.