Remembering a go-to, stand-up guy
October, 30, 2010
10/30/10
11:23
AM ET
CHARLOTTE, N.C. -- Whenever I had a concern about something in NASCAR I took it to Jim Hunter. Such was the case a few weeks ago when Cale Yarborough and Darrell Waltrip were left out of the second Hall of Fame class.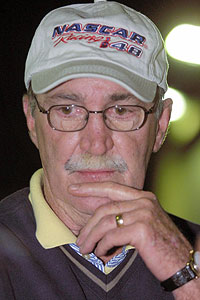 AP Photo/Caroline BairdJim Hunter could frequently be found talking to the media in his official capacity as NASCAR vice president of corporate communications.
I felt it was political.
I felt it was wrong.
I wanted to know if I was right to feel that way, so I sent an e-mail to the man I respected more than any in the sport, one who would speak his mind even though he represented the governing body.
Here's what Hunter said:
"At this point in the selection process it's hard to figure out where voters are coming from because politics are huge," Hunter wrote. "Cale definitely should have made it. Politics. He never went out of his way with the media … and has walked away from the sport. He always blamed NASCAR for his failure as a car owner instead of bad business deals.
"Waltrip self-imploded. His arrogance is unacceptable to a majority of the media. Most the media today don't know how good he was and they only saw him puttering around the back of the pack, much the same way Richard Petty did at the end," he wrote.
"Richard, however, had 200 wins. Bobby Allison [who made it in this year] was always popular with media because he always figured a way to carry a fight to NASCAR, warranted or not. Lee Petty was around long enough to cross the bridges of several generations. Wish I could have been there."
I wish he were here today.
Hunter, NASCAR's vice president for corporate communications, died Friday night after a year-long battle with cancer. He was 71.
More importantly, he was a legend in the sport, a Hall of Fame voter who was a hall of fame race promoter, ambassador and friend, a big reason many of us are involved with NASCAR today. Talladega Superspeedway chairman Grant Lynch summed up -- as well as anyone could -- a man there aren't enough words to describe.
"He was just a larger than life figure in our sport," Lynch said. "It wasn't because he sought the spotlight either, but because he was genuine and real. He was someone that people wanted to gravitate to, even if for only a moment."
Outside of Darlington, where Hunter was the track president from 1993 to 2001 and where he built a retirement home, Talladega was one of Hunter's favorite places. It was this weekend a year ago that he was diagnosed with small-cell lung cancer in his right lung.
It was after that weekend that I wrote a column that summed up the man as well as I could. During an interview that was more like a conversation, we discussed the first Hall of Fame vote in which we both agreed David Pearson should have been included.
I was reminded it was Hunter who stood up among the 50 voters that day and put at ease everyone who was nervous about speaking their minds with NASCAR chairman Brian France and other high-ranking officials in the room.
"No one in here will take [anything] personal, including me," Hunter told the group.
That was what made Hunter so great in public relations and life. He always kept things in perspective.
He did so that day two weeks ago in the e-mail on Yarborough and Waltrip not making the HOF. I responded and asked for the more important news, an update on his health.
Here, as tears melt on my keyboard, was his response on his own keyboard that had become one of his best friends during the past year of treatments.
"I'm hanging in there," Hunter wrote. "Going for brain scan later today and then readout. We'll see where that goes. I probably know more people on Golf Channel than SPEED channel. Don't know when I'll get back out to a race. But will eventually …"
God speed, Jim.