Aric Almirola rolls the dice on Nationwide
November, 3, 2010
11/03/10
5:21
PM ET
LAS VEGAS -- I'm in the heart of Sin City talking to Aric Almirola about playing the odds.
Not at the slot machines or tables in Las Vegas, where Almirola spent Tuesday and Wednesday appearing at the SEMA Show, but in choosing between the Sprint Cup and Nationwide series in 2011.
[+] Enlarge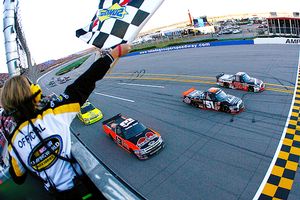 Jason Smith/Getty Images/NASCARAric Almirola, center, lost to Kyle Busch, far right, by 0.002 seconds Saturday at Talladega.
He told me the fact full-time Cup drivers likely won't be allowed to run for a Nationwide title next season -- at least that's what he's been led to believe and other team owners are preparing for -- made his decision easy.
He believes it would be more beneficial long term to run for a title with a top-tier Nationwide Series team such as JR Motorsports -- Almirola signed a multiyear deal with JRM in August -- than to run 20th for one of the lower-tier Cup teams that offered him a ride.
He's probably right. Brad Keselowski finished third in Nationwide points at JR Motorsports in 2008 and 2009 with only Cup drivers ahead of him. That translated into a Cup ride with Penske Racing this season.
"I feel we have a good shot to win it either way, but when you take those Cup guys out of the mix, it really opens the door wide open for that," Almirola said as he signed autographs. "I feel like that is a legitimate possibility to go run for the championship next year."
And he believes not allowing Cup drivers to run for the title is "great for our sport."
He's not alone, judging from what I've heard from many of you.
"There's got to be opportunities for young guys to move up in the sport," Almirola said. "The only way to really further your career is to build a résumé. What better thing to put on your résumé than you are a Nationwide Series champion when you're going out to sell sponsors on going with you to Cup?
"If you're able to do that and can run for a championship without the competition from the Cup guys and you can put that on your résumé, it's going to do nothing but help."
Almirola already is one of the hottest young talents in the garage. When four-time defending Cup champion Jimmie Johnson was preparing for fatherhood, he picked Almirola to be his backup in case he had to miss a race or get out of the car.
When Kasey Kahne was released from Richard Petty Motorsports three weeks ago, Almirola stepped into the No. 9 Budweiser Ford at Martinsville and Talladega. He's set to drive again this weekend at Texas and the rest of the season unless something changes.
Almirola also will be in the truck series race this weekend at Texas, trying to secure his position of second in points.
Ask him what has helped his stock rise and he'll tell you point-blank his performance in the trucks.
"But from the PR side of the fact that Chad Knaus, Jimmie Johnson and Rick Hendrick believed enough in me to put me in their car in case Jimmie wasn't going to be able to drive it meant a lot to me," Almirola said. "It opened eyes to other people.
"It's like, 'Hey, if he's good enough to drive the 48 for Hendrick Motorsports, he's good enough for us, too.'"
Hopefully, NASCAR goes through with not allowing Cup guys to win the Nationwide title next year and Almirola gets the chance to open a lot more eyes.
He likes the odds.