Sprint Cup owners offer Chase insight
November, 17, 2010
11/17/10
5:18
PM ET
CORAL GABLES, Fla. -- Joe Gibbs has been around too many NFL deals where you get a first-round draft pick for a player or pick to be named later.
He opened Wednesday's conference call with the three owners of the Sprint Cup Chase contenders by offering to let Rick Hendrick (Jimmie Johnson) and Richard Childress (Kevin Harvick) win the championship the next two years if they let him win this year with Denny Hamlin.
[+] Enlarge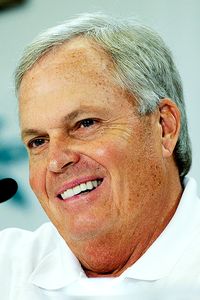 Sam Greenwood/NASCAR/Getty ImagesRick Hendrick, above, jokes to fellow Sprint Cup team owner Joe Gibbs: "If I knew how good you were going to be, Joe, I wouldn't have helped you."
"That's on scout's honor,'' said the owner of Joe Gibbs Racing, who won three Super Bowls as head coach of the Washington Redskins before turning to NASCAR. "And next year I might go, 'What?' I've been known to renege on stuff.''
Hendrick and Childress didn't bite.
But it was an interesting way to start a call that offered much insight on the Chase, the sport and the three teams that hope to win a championship on Sunday at Homestead-Miami Speedway.
Here are a few highlights as Hamlin takes a 15-point lead over Johnson and 46-point advantage of Harvick into the weekend:
• What would surprise you on Sunday?
"I would be surprised if we had an answer before the white flag,'' Hendrick said.
"What would surprise me is if any of these three teams were to go down easy,'' Gibbs said.
• Are all three of you sitting in the same room for this?
"No,'' Childress said. "We're the owners. We have to all still be here and work.''
Well, not all. Hendrick was fishing on his yacht somewhere in South Florida.
• The Chase arguably is the best since the inaugural one in 2004 that Kurt Busch won by eight points over Johnson and 16 over Jeff Gordon. So why are television ratings and attendance sagging?
"I don't think Rome is burning in NASCAR,'' Childress said. "We still have a great sport. We have great fans. The economy has touched every sport at some point. We will come back and be as strong as we ever were.''
Ditto, said the other two.
• Who has the biggest knot in their stomachs -- the owners, drivers or crew chiefs?
"I definitely do,'' Gibbs said. "Great athletes in pro sports, the ones I've been around, they have an amazing ability to relax.''
• What is your greatest fear on Sunday?
"From my standpoint, I hope there is no debris in the last few laps,'' Hendrick said.
For the record, he didn't come out and say that mystery debris is what got Hamlin in trouble with NASCAR earlier this year.
• Considering Hendrick Motorsports has won the past four titles with Johnson and finished 1-2-3 in points a year ago, would this season be a disappointment if Johnson doesn't win the title (with Gordon, Mark Martin and Dale Earnhardt Jr. not having won a race)?
"I don't think this is a disaster by any stretch, but we're not satisfied,'' Hendrick said. "I don't think we've made as much improvement as Richard's organization has made or Joe's organization.''
We're still waiting on an answer to the follow-up question about whether the pressure is on Earnhardt (19th in points) to turn things around since Hendrick has thrown everything he can into the No. 88 team.
• Did Hendrick and Gibbs study RCR, in the midst of six championships with the late Dale Earnhardt, when entering the sport?
Hendrick definitely did, saying "Richard showed us how you have to prepare and run for a championship. You've got to be there and you've got to race every race and every lap, and you've got to finish.''
Gibbs reminded us that Hendrick loaned then-general manager Jimmy Johnson to work with him on starting up a team. The owner with three titles also reminded us that he has nothing but respect for Hendrick with nine titles and Childress with six.
"Hey, it's only fair for those guys to at least give us another one or two here to at least even this thing up,'' Gibbs said.
Replied Hendrick, "If I knew how good you were going to be, Joe, I wouldn't have helped you.''
• Is there a special reward owners offer for winning the title?
All three agreed that after paying bonuses and incentives within the organization, they'll clear very little, if any, and that the biggest thing is winning the trophy for the pride of being champion.
But Gibbs added, "Every week I walk up to the drivers and say, 'Hey, you've got the good end of this deal. You make all the money, get all the girls and get to have all the fun.' ''
Still no takers on the opening deal, by the way.