A wild, wild ride with Kevin Harvick
December, 3, 2010
12/03/10
1:18
PM ET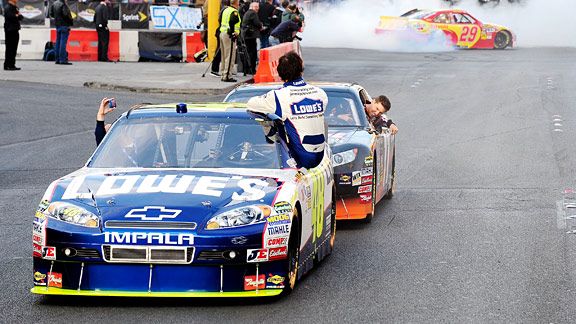 Rusty Jarrett/NASCAR/Getty ImagesKevin Harvick's burnout in Vegas caught the attention of five-time Cup champ Jimmie Johnson.
LAS VEGAS -- I'm sitting in a tailored black suit on a piece of cracked plastic foam on what has to be the thinnest stadium seat in the history of sports. The chair sits on top of the fuel line on the passenger side of Kevin Harvick's show car.
The gentleman who helped me through the window is concerned my weight might break the fuel line as I prepare for Thursday's 45-minute Victory Lap down the famous Las Vegas Strip.
He was even more concerned when Harvick hinted he wants to make his last ride in the yellow Shell Pennzoil car memorable, or at least do enough damage that the name of his soon-to-be former sponsor (which is leaving for Penske Racing) would be hard to read.
Great. I'm leaving this world as a human fireball with a driver nicknamed "Happy" at the wheel.
[+] Enlarge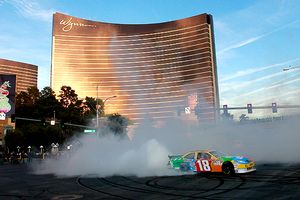 Chris Trotman/Getty ImagesKevin Harvick wasn't the only driver havin' fun on the Strip. Kyle Busch, above, was on cloud nine Thursday.
Close.
As we sit near the intersection near the MGM CityCenter for the second of two burnouts, Harvick has a twinkle in his eye that has me wishing I'd asked for one of his wife's famous firesuits.
"Are you going to blow the engine?" I ask.
"I hope so!" Harvick says.
The wheels start churning. Smoke begins filling the cockpit to the point I can't see.
Boom!
The left rear tire explodes. But Harvick keeps churning on the rim until he is blocked by the cars of Jimmie Johnson and Denny Hamlin, who by now are out of their cars and laughing uncontrollably as they survey the damage.
As I check to survey my damage, Johnson points and says, "Dude, look at your suit."
Not only do I smell like burnt rubber, but I look like the aftermath of someone caught in a volcanic ash cloud -- there's so much tire dust.
Harvick laughs.
The Sprint Cup world might be in Sin City to celebrate Johnson's fifth straight championship, but the driver who finished third is stealing the spotlight.
The first moment came during Wednesday's dysfunctional "Family Feud" contest between the 12 Chase drivers at Las Vegas Motor Speedway when a fan was told to pick a smart driver for the fast money round.
He picked Harvick, who was more of a smart aleck even though he earned 174 of the 200 points needed.
Later that night at the club Surrender, Harvick figured out how to party until 4:30 a.m. and get in a plug for his new sponsor, ordering 750 Budweisers, which almost sent his waitress into shock.
Before drivers were introduced for Thursday's luncheon at the Bellagio, Harvick got under the skin of Kyle Busch, reminding us how he took out NASCAR's bad boy in the season finale.
But nothing topped the burnout that had Johnson and Hamlin envious and local police calling for a street sweeper.
"Really a cool deal to get to do this in the middle of Las Vegas Boulevard," Harvick says.
No driver might be having more fun in Vegas than Harvick. Unlike Hamlin, who continues to lament the title he lost, Harvick believes what he accomplished in 2010 has him on track to be the lead car for the Strip ride next year.
(Memo to Richard Childress Racing: Get a permanent passenger seat like the other cars if you want me to ride along.)
But for now Harvick is relishing the spotlight, asking fans on Twitter whether he should spin out Johnson before the Victory Lap begins and then getting a warning from officials for ramming the back of Johnson's car.
His smile never is bigger than during the final half-mile as we ride on the rim to the Hard Rock Hotel with fans covering their mouths and pointing in disbelief at the damage.
"It's all beat to s---," Harvick says. "But it's all right. They have to repaint it anyway."
If only they could do that to my suit.