Note to NASCAR: Make Shootout free-for-all
January, 11, 2011
01/11/11
10:47
AM ET
CHARLOTTE, N.C. -- In case you missed it -- and I did while vacationing where the temperature was in the mid-80s and the drinks were frozen -- the season-opening Budweiser Shootout has adjusted the format again to increase the number of participants from 26 to 30.
Let me save officials the trouble of adjusting again next year.
[+] Enlarge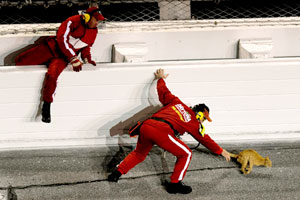 John Harrelson/Getty ImagesAt least officials didn't allow this racer to compete in the 2010 Budweiser Shootout at Daytona.
Let everyone in.
Seriously. If you're going to allow a rookie of the year who finished 35th in points and competed in only 28 of 36 events into the field, then you might as well open the door for everyone who can turn left.
Nothing against Kevin Conway. He can't help he won the ROY award by default anymore than Trevor Bayne can help he'll likely be the top rookie in 2011 due to lack of competition.
But let's get real. The yearly changes are nothing more than a farce to make sure the sport's stars and their sponsors get into the annual kickoff to Speedweeks at Daytona International Speedway.
A year ago, the rules were adjusted to allow Dale Earnhardt Jr. in. This year's change adds Kasey Kahne (Red Bull), Joey Logano (Home Depot), Juan Pablo Montoya (Target) and Regan Smith (Furniture Row). OK, officials weren't interesting in fixing things for Furniture Row. Smith and his sponsor simply are benefactors of the change allowing the past 10 ROY winners to make the field.
Nothing against Smith, but he hasn't done anything to make the field anymore than Conway. His best finish in points was 28th in 2010. He was 34th when he won the ROY award in 2008.
So if you're going to now allow the 12 Chase drivers from the previous season, past winners of the Budweiser Shootout, Daytona 500 and July Daytona race, as well as former Cup champions and the top rookies from the past decade -- what, no media entries? -- why not just let everyone in?
They've already opened the door for Ken Schrader, John Andretti and Bill Elliott to drive if they can get a ride. Why not let a few start-and-parkers in as well so they can get practice for the qualifying races and Daytona 500? Let Richard Petty field a car, too. That would spark interest.
Seriously. This race is long past the tradition of pole winners from the previous season. If you're going to throw tradition under the bus, throw it all the way.
Let everyone play.