Richard Petty no fan of bonus points
January, 26, 2011
01/26/11
3:27
PM ET
CHARLOTTE, N.C. -- If you want a king's perspective on the new points system NASCAR is considering for the 2011 season, read on.
Richard Petty, otherwise known as The King of NASCAR, won seven championships under five points systems. If anybody is an authority, he is.
[+] Enlarge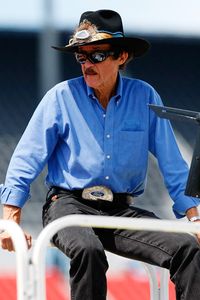 Geoff Burke/NASCAR/Getty ImagesRichard Petty, who won seven titles under five points systems, is a fan of simplified scoring.
Petty likes that the governing body is simplifying the system to award 43 points for first, 42 for second and so on by increments of one point through last place. He doesn't like that three points will be awarded for a win, one for a lap led and one for the most laps led.
He doesn't like bonus points at all, particularly when you see a driver in the back of the pack stay out under caution to lead a lap for the bonus.
"That has nothing to do with the race," Petty said Wednesday during the NASCAR media tour. "We're the only sport there is that gives points or gives relief for leading a race or winning a race. ... Basketball, the last shot has got to count. You could lead the whole ballgame or golf game and get beat on the last deal and that's it, you're beat.
"That's the way it ought to be in NASCAR. They ought to make it so simple a 10-year-old can keep up with points."
In other words, no bonus points, which goes against fans saying they want wins to count more.
"The guy that wins the race, he gets the trophy, he gets all the money, he gets publicity for himself, for his crew, for his sponsors," Petty said. "Hey, man, he won. That's all he needs. He needs 43 points. Of course, that's the way Richard Petty thinks."
No offense to The King, but in other sports the team that wins the last game wins the title. There are no guarantees that happens under the new system. Under Petty's scenario, and even under the new format, consistency is rewarded more than wins.
Petty also doesn't like that NASCAR is allowing 10 drivers in on points and two more on the most wins outside the top 10. He used the NFL's Carolina Panthers (two wins this past season) as an example, suggesting somehow they were allowed to compete for the title.
"That's how dumb it is from that standpoint," Petty said. "If a guy wins five races or six races, so what? The points is what it's all about and the championship is what it's all about, which is a collection of winning and losing, and who does the best.
"Anything that is complicated, people are not going to sit down and learn about it. But if you've got 43 for winning and one for last, then anybody who is just a casual fan can keep up with the points. The only thing that will confuse that is that if they throw in ... bonus points. I don't like bonus points."
Petty let NASCAR chairman Brian France know that, too. But, as he pointed out, "I've been here since 1949 and they haven't listened to me yet."