Denny Hamlin a good bet in 2011
January, 27, 2011
01/27/11
5:12
PM ET
CHARLOTTE, N.C. -- If you were worried that Denny Hamlin lost his swagger after losing the 2010 Sprint Cup championship to Jimmie Johnson in the final race, think again.
During a recent trip to the Bahamas, the Joe Gibbs Racing star found himself surrounded by some of the top poker stars in the world. Being the competitor he is, Hamlin issued a challenge.
In stepped 21-year-old Daniel Cates, or Jungleman12 as he's known online. Hamlin didn't realize who Cates was until Phil Laak and other poker stars started surrounding the table.
"They told my friends, 'Don't feel bad when your friend loses to him. He's the No. 1 Internet player in the world,' " Hamlin recalled Thursday on the final stop of the NASCAR media tour.
Hamlin didn't lose.
"I was reading he charges $2,000 an hour for poker lessons," Hamlin said. "He got about a three-hour lesson."
Hamlin wouldn't reveal how much he won, saying only "it was a good amount." But there was that swagger in his voice we all became accustomed to during his amazing run that came up 39 points short at Homestead-Miami Speedway.
"It's just something I always wanted to do," Hamlin said. "It's not too often you can play Michael Jordan one-on-one or play Tiger Woods one-one-one. It's about the competition. I'm such a competitor. No matter what sport I want to be the best. I throw myself out there to the sharks."
Today's best moment: It's hard to pick between talking to Hall of Famer David Pearson in front of a red and white Motorcraft Ford with a gold No. 21 painted on the side like the Silver Fox drove for the Wood Brothers and the 20th anniversary reunion at Joe Gibbs Racing that included a visit from two-time Cup champion Tony Stewart and 2000 champ Bobby Labonte.
Heck, we'll call it a tie with no bonus points.
Let's start with Pearson. Trevor Bayne will drive the Wood Brothers car -- painted to honor the man second only to Richard Petty in career wins (105) -- in 17 races this season. It's a fitting tribute for the man I call the best ever in NASCAR as he prepares for his May induction into the sport's shrine.
[+] Enlarge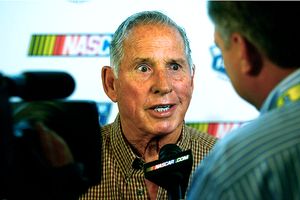 Jason Smith/NASCAR/Getty ImagesTrevor Bayne will drive the iconic red and white No. 21 Ford for the Wood Brothers in honor of 2011 Hall of Fame inductee David Pearson, above.
Honestly, Pearson probably could do better in the car than Bayne.
"I might could," said Pearson, never shy about how good he is.
Later, at JGR, we relived the amazing 20-year history of an organization started by Pro Football Hall of Fame coach Joe Gibbs. There were so many jokes and stories they almost had to extend the tour an extra day.
That Stewart and Labonte took time out of their busy schedules to be on hand shows just how much of an influence Gibbs was on their careers.
One of the funnier moments came when Norm Miller, who took a big chance committing Interstate Batteries to sponsor JGR's first car, wondered what it would have been like if he'd never partnered with Gibbs.
"I'd probably have a $100 million," Miller said.
Today's flattest moment: Team owner Jack Roush, after promising to keep his speech short, rattled on for more than 10 minutes about the numbers that represent the accomplishments of his team.
Did you know Roush had 298 team entries last season? Or that his drivers have logged more than 1 million miles, not counting tests, of course? Or that his company -- and kudos for this -- recycles 96 percent of its race cars?
You do now.
Today's best quote: There were many good choices, but my pick goes to Pearson on Dale Earnhardt Jr.: "If I was him and had as much money as he does, I'd retire. He don't need to be running."
He said what?: As Joe Gibbs tried to explain how similar the NFL and NASCAR are, Kyle Busch interrupted and asked, "Does that mean Joey Logano could play quarterback?"
Said Logano, "I was thinking linebacker."
Said Denny Hamlin, "I was thinking kicker."
Said Stewart, "I was thinking the guy that picked up the tee after the kicker kicked."
He said what II?: Gibbs, when asked if he had more headaches from NFL players or NASCAR drivers, said, "Are you kidding? Both of them are up here."
Stewart and Busch, in case you're wondering.
Today's stunner: Ever wonder what it would be like to have your boss announce to the world that you're going to have a baby? Carl Edwards, Greg Biffle and Matt Kenseth found out during the lunch media stop at Jack Roush's airplane hangar in Concord, N.C.
Yes, all three drivers are having kids this season. Kenseth's is due the Monday after the Feb. 20 Daytona 500. Edwards' is due around Darlington week in May and Biffle's due date is near the July race at Daytona.
Kenseth doesn't know the gender of his. Asked if he wants to know, he sarcastically said, "Yeah, as soon as it pops out."
Closing thought: From NASCAR chairman Brian France introducing us to a new points system that really doesn't change much to Hamlin regaining the confidence that will make him a threat to end Johnson's run of five straight titles, we learned a lot over the past four days.
We'll find out more in the coming weeks as we head to Daytona for the 10th anniversary of Dale Earnhardt's tragic death.
So I'll leave the media tour with this advice from Hamlin:
"The truth is, you know how they say you win some and lose some in life? You win some and lose a lot [gambling]."